Rio de Janeiro is a bustling coastal city in Brazil. This sought-after destination has historic landmarks, gorgeous beaches, and vibrant nightlife. Thinking of heading to this iconic location? Check out our list of the top 13 must-see sites in Rio to make your trip the best it can be.
Cristo Redentor aka Christ the Redeemer Statue
Arguably the most notable site in Rio de Janeiro is the iconic Christ the Redeemer Statue. Located on the 2,300-foot Corcovado Hill in Tijuca National Park, this massive structure sits 30 meters (98 feet) tall! The statue itself is made out of concrete, but it's covered in tiny triangle soapstone tiles, a sight you can admire if you head up to the summit to get up close and personal with this renowned piece of artwork.
Not only is the statue a sight to be seen, but from the top of the summit, enjoy some of the most breathtaking views of the city! Christ the Redeemer in Rio is the largest art deco sculpture in the world. In 2007, it was informally named one of the New Seven Wonders of the World. During your visit, you'll see why!
Sugarloaf Mountain
Another main attraction and iconic location in Rio de Janeiro is Sugarloaf Mountain. Atop this popular tourist destination, you can enjoy 360-degree views and gorgeous sunsets over the city, Guanabara Bay, Niteroi, Copacabana Beach, and the azure waters of the Atlantic Ocean.
The mountain stands at 396 meters high (1,299 feet), and is accessible by two cable cars. Sugarloaf Mountain actually houses the first Brazilian cable car and the third cable car system in the world! The first cable car takes you to the top of Urca Mountain, and the second brings you to the summit, where you can enjoy the views, a snack, and a glorious sunset if you time it correctly. The cable cars run from 8:00 am through 9:00 pm, and the last car leaves the base at 7:50 pm. Get your cameras ready and your phone charged for views you won't find anywhere else!
Pedra do Telégrafo
Popular with hikers, Pedra do Telégrafo (aka Telegraph Stone) rises 354 meters (1,161 feet) high and provides a grand view of Rio's coastline, encompassing the breathtaking Restinga de Marambaia sandbank that separates the sea from the swamp. Get unique views from the summit and take an iconic picture from its rocky cliff. This massive overhang gives the impression of a huge drop — perfect for all your social media pics! Psych out friends and family as you "hang" off the cliff and snap the perfect photo for the gram.
The trail takes about one hour to climb with about a mile trek up and back. The hike is moderately difficult, so bring some snacks, comfy footwear, and water for the journey. Put your exploring shoes on for a hike (and views) that are sure to impress!
Ipanema
You may have heard of the girl from Ipanema, and there's a reason she's so famous! Well, maybe we're talking more-so about the beach, but this area of Rio is a must-see. From the gorgeous shoreline to the seafront promenade, you'll find golden sands, turquoise waves, large hotels, sidewalk cafés, and restaurants of all kinds. Enjoy an array of Brazilian fare and cocktail options, stroll through the art galleries, and catch a show at one of the theaters or cinemas. There is always something to do in this area of Rio, especially if you love the beach!
However, the fun isn't over when the sun begins to set in this vibrant location. Many flock to Arpoador Rock to catch a glimpse of the colors changing in the sky! From locals to worldly visitors, this is a place where many come to capture the perfect sunset pictures. Grab your camera, snap some pictures, then enjoy the area as it comes to life with nighttime fun.
Lapa
You can't leave Rio without experiencing some samba, which means you must take a trip to Lapa! This vibrant, boho neighborhood is known for its traditional bars, music clubs, dance halls, and open-air samba jams. Held beneath the Roman-style Arcos da Lapa aqueduct, these parties will get your feet moving and your body grooving with incredible live music and dancers of all kinds. Don't worry if you don't know the moves. Just grab a partner and let the music take you away!
Jardim Botânico
Nature-lovers unite at Rio's Jardim Botânico, a gorgeous botanical garden filled with wonders waiting to be explored. The gardens were created in 1808, and while its grounds are a marvel to see, creator D. João VI of Portugal also sought the scientific importance of the plants he collected. Wander through the orchid house, take pictures next to giant Amazonian water lilies, snap the perfect selfie in the walkway of imperial palms, or simply immerse yourself in this pristine respite within the heart of the city.
We encourage you to check out the thematic gardens, such as the Japanese Garden, and walk the various paths that will take you through an array of landscapes. Every moment of this experience is sure to fill your eyes and heart with joy. The surrounding area is also home to chic bars and elevated dining spots. (This is the place to be if you're a foodie.) From gardens to gastronomy, a trip here has it all!
Parque Lage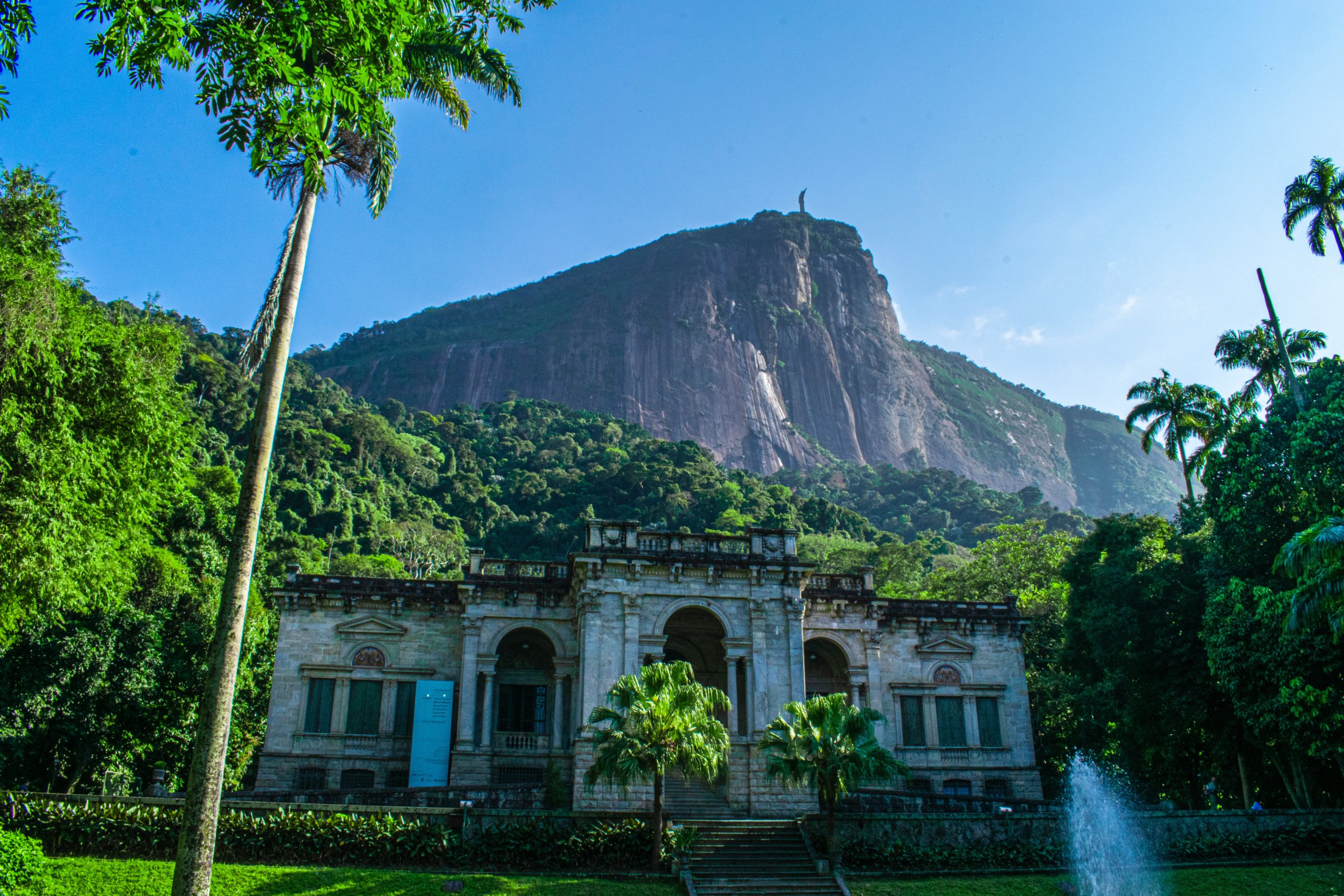 After you visit Jardim Botânico, make your way to Parque Lage, a public park located at the foot of the gardens. Once a sprawling estate and mansion, this beautiful area is an open space for all to enjoy. The best part? It's free!
The park once housed an old sugar mill, but now, it's a great space for group picnics, romantic dates, artistic inspiration, and the best social media-worthy pics, which can be taken against the gorgeous courtyard pool featuring mountains in the distance. Enjoy an organic breakfast, lunch, or dinner at the on-site BistrôPlage cafe, soak in the local art, and enjoy the various music events that take place year-round.
Escadaria Selarón aka the Selarón Steps
Looking for another great picture-worthy site? Look no further than the Selarón Steps. Created by the Chilean-born artist, Jorge Selarón, this tribute to the Brazilian people is located in the lively neighborhood of Lapa. So if you're looking for a dance party, you can kill two birds with one stone on a day/night trip to the area.
The project started when Selarón moved to Rio and noticed the steps near his home were in terrible condition. He took it upon himself to renovate them, using bright colors, football-inspired art, and mosaic tiles to restore the area. When the project became costly, Selarón would sell some of his art to buy more supplies. However, many travelers from around the world brought Selarón tiles to add to the collection. The stairs now feature tiles from over 60 countries! Grab your cameras, bring a tile or two from home, and enjoy this gorgeous display of color, passion, and cultural history in downtown Rio de Janerio.
Copacabana
Copacabana is a high-energy neighborhood in Rio de Janeiro. It's widely known for its four-kilometer (2.5-mile) crescent beach with golden sands, eclectic restaurants and cafes, and vibrant nightlife scene. From historic buildings to high-end hotels, this area is a mix of past and present, and it always offers something fun to experience.
Whether you choose to stay in this area or make trips over to the shoreline for food, sun, and fun, we also recommend checking out the Copacabana Fort, which was completed in 1914. And if you have time, stop by the Copacabana Palace, too. This beautiful property is now protected as a national monument, and it's been featured in many Hollywood films!
Maracanã Stadium
Maracanã is Brazil's largest stadium. It's known throughout the world for hosting the opening and closing ceremonies of the 2016 Summer Olympic Games. The stadium hosts matches between Rio's major football clubs, including the Flamengo, Botafogo, Fluminense, and Vasco da Gama. We recommend trying to catch a game, as seeing a live match here is surely a bucket-list experience. If your schedules don't align, you can always book a stadium tour and enjoy some behind-the-scenes action.
Museu do Amanhã aka The Museum of Tomorrow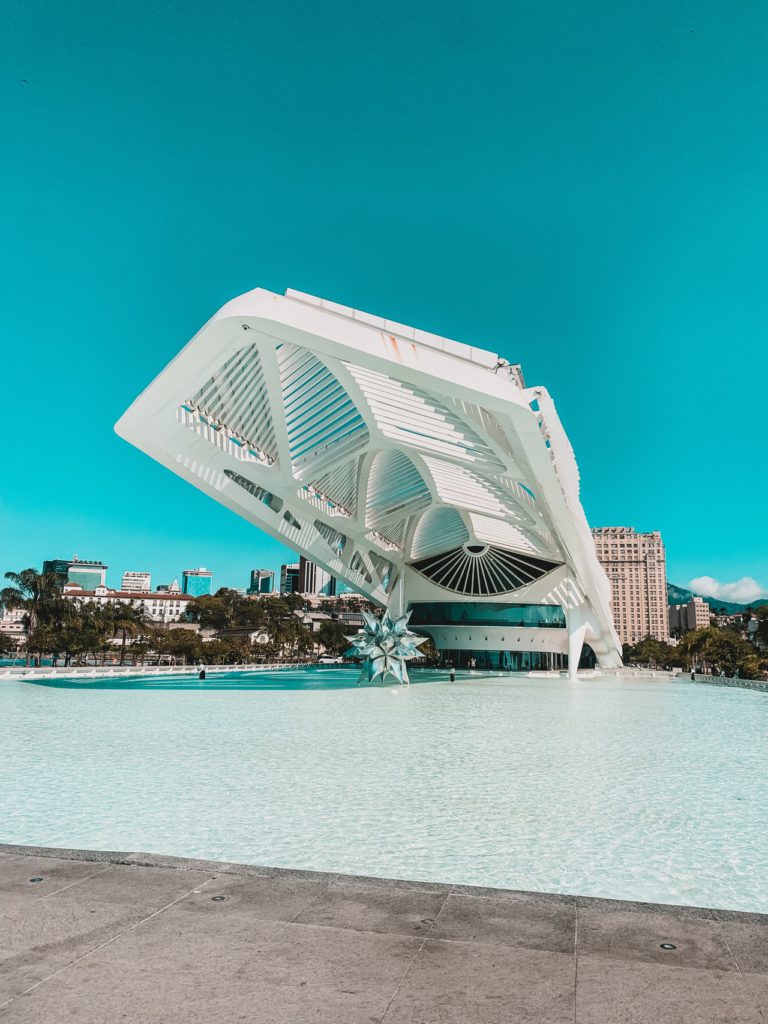 Museu do Amanhã, also known as The Museum of Tomorrow, is a high-end science museum that showcases a possible future for all mankind. The atmosphere encourages questions surrounding people, culture, technology, the environment, space, and much more, by acknowledging that tomorrow is not promised to anyone. The museum encourages people to use the 'now' to invest in the collective future by considering what our present choices mean for future generations.
The museum contains a mixture of permanent and temporary exhibitions, featuring interactive multimedia narratives about the cosmos, food and work, and current reflections regarding the pandemic. From kids to adults, this innovative property has something for everyone, and its visual mastery will stick with you for years to come.
Theatro Municipal aka the Municipal Theater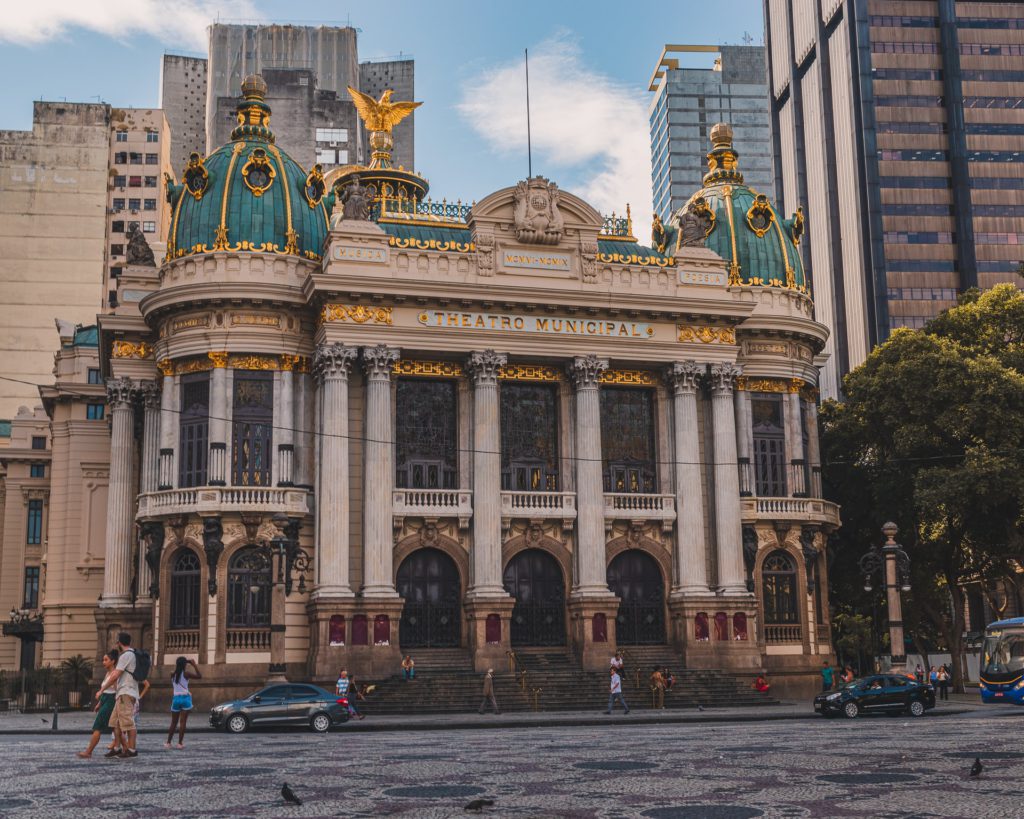 While you're strolling through downtown Rio, we suggest stopping by the Theatro Municipal, a stunning opera house in the Centro district of Rio de Janeiro. Inspired by the Paris Opéra, the building features an eclectic array of architecture inside and out. Take a few pictures from the outside, tour the grounds, or enjoy a formal show during your time in the city. From ballet to classic Brazilian performances, take a night off from the party scene to experience a stunning show in a timeless building.
Parque Natural Dois Irmãos
Parque Natural Dois Irmãos is an outdoor sanctuary featuring walking paths and lookouts that offer some of the best views of the city and the coastline. Hike along the trails to six main lookouts featuring views of Lagoa Rodrigo de Freitas, Jardim Botânico, Corcovado, and the major beaches.
Along your journey, you'll also enjoy a magnificent array of flora and fauna, with various sporting areas, gardens, and picnic points. Whether you're looking for a romantic picnic space, some stellar social media-worthy pictures, or body movement, Parque Natural Dois Irmãos is the perfect option for all of the above.
Thinking of booking a trip to Rio?
Whether Rio has been on your bucket list for some time, or you've been considering booking a quick trip as of late, reach out to us at TourHero, and let us help you put together the perfect Brazilian getaway. From jungle tours and cultural experiences to beach days and party nights, we can build your ideal itinerary to fit all your needs. Party at Carnaval, spend NYE at an iconic beach party, tour all the major landmarks, or sit on the beach. No matter your travel style, TourHero can make it happen!
---
About TourHero
TourHero is a social travel platform that enables you to travel with like-minded people and fall in love with the journey. We work closely with handpicked local operators to ensure every experience curated is unique and exclusive to your travel group. Come with us on epic adventures and create memories that last a lifetime!