Culinary ambition in Cusco is something to behold. The city is widely considered a close second to Peru's capital city of Lima when it comes to gastronomy. Formerly the capital of the Inca Empire, Cusco sits in the Peruvian Andes and is well-known for dishing out the best cuisine in the region, highly influenced by the geography of its mountainous surroundings. While it is mesmerizing to wander Cusco's historic Plaza de Armas and the city's cobblestone streets, the best way to discover the place is through its food. Read on to discover 14 recommended restaurants in Cusco, Peru. From sophisticated fusion restaurants to cozy local establishments, there's something for everyone on this list.
A note about opening times
Please note: At this time, some of these restaurants may be temporarily closed. Also remember to check with the establishment for revised opening hours related to regional COVID-19 health and safety rules before heading out in Cusco. Refer to our article on Peru's international and domestic travel restrictions for more information.
Top restaurants in Cusco, Peru
Limo
If you want a great view of the city's town square while indulging in a unique fusion experience, this is the place to be. Limo has made its name as one of the most popular restaurants in Cusco. Bringing Peruvian-Japanese food to the local scene, Limo highlights Nikkei fusion cuisine with a touch of contemporary finesse. Peruvian flavors defined by local ingredients are combined with a blend of Eastern-influenced dishes and served elegantly plated. And the reviews don't lie — visitors are always pleasantly surprised by the inventive menu and the restaurant's unparalleled ambiance. Discover signature main dishes like the udon saltado (a fusion of Limo's lomo saltado tossed in Japanese udon noodles) and their version of tuna ceviche tastefully plated with avocado and Japanese cucumber, paired with shoyu and Nikkei flavors.
Address: Portal de Carnes 236, 2nd floor, Plaza de Armas, Cusco
Phone: +51 84 240668
Opening hours: Monday to Sunday, 11:30 am – 11 pm
Map Cafe
Not many restaurants can replicate the atmosphere of Map Cafe seeing as it sits in the spacious courtyard of Cusco's Pre-Columbian Art Museum. The museum itself is housed in a colonial mansion that exudes old-world charm and character. Serving traditional gourmet Peruvian dishes to match the ambiance, you'll find local favorites presented in creative ways at Map Cafe. Selections include free-range trout in corn puree, slow-cooked pork seasoned in classic cusquenian adobo sauce, and grilled alpaca medallions served with native roots and potatoes dauphinoise. You can also expect to deliberate over a list of mouthwatering desserts for your after-meal treat; we suggest the warm chocolate truffles made of organic Peruvian chocolate served with pisco-infused aguaymanto berries and flanked by homemade vanilla ice cream.
Address: Plazoleta Nazarenas 231, Cusco
Phone: +51 84 242476
Opening hours: Monday to Sunday, 11:30 am – 3 pm (lunch), 6 – 10 pm (dinner)
Chicha
Chicha is all about regional food — homely, classic Cusqueño dishes with a gourmet touch that pulls from local produce, local traditions, and local culture, elevated with an expert culinary hand. Chicha is part of Gaston Acurio's collection of restaurants, the famous Peruvian chef himself celebrated for his vision of bringing Peruvian cuisine into the limelight all around the world. Seasonal menus mean the freshest ingredients available. You'll want to try the lomo saltado with its juicy beef tenderloin chunks. Or, if you're planning on going the seafood route, start with the grilled octopus and end with the pachamanquera trout served with fava beans and Andean sautéed spinach.
Address: Plaza Regocijo 261, 2nd floor, Cusco
Phone: +51 84 240520
Opening hours: Monday to Sunday, 12 – 10:30 pm
Marcelo Batata
Specializing in Novoandina and criollo cuisine, Marcelo Batata prides itself on applying modern cooking techniques to ancient recipes with the goal of transforming traditional dishes into something special. A perfect dining location with a rooftop terrace and a beautiful city view, it's the type of restaurant where you can indulge in crowd-favorites from salted avocado served with homemade pita bread to alpaca chili con carne, surrounded by a relaxed atmosphere. If you're staying in town for a while, you'll want to add this to your Cusco bucket list.
Address: Calle Palacio 121, Cusco
Phone: +51 84 222424
Opening hours: Monday to Saturday, 12 – 11 pm
Healthy eating restaurants in Cusco, Peru
Green Point
With an Instagram feed full of photos depicting a laid-back, nature-inspired interior and beautiful plant-based creations, this is one place where healthy eating gets a dose of good vibes. This small and cozy restaurant serves a great variety of vegan dishes made of organic products. Go fresh with a colorful and textural Buddha bowl crowded with quinoa, chickpeas, avocado, diced cucumber, tomatoes, chopped carrot, broccoli, and a delicious sauce to slather it all. For something more substantial, try the vegan chicharron sandwich for an explosion of flavor — it looks like the real deal!
Address: Carmen Bajo 235, Cusco
Phone: +51 84 431146
Opening hours: Monday to Sunday, 8 am – 10 pm
Shaman Vegan Raw
A hidden gem for anyone looking for vegan and raw-vegan cuisine in Cusco, Shaman Vegan Raw has a comfortable atmosphere and a variety of options on the menu for clean eating. If almond milk shakes, homely soups, ripe fruit salads, and stuffed avocados served with a smile sounds like heaven, then this is the place to be. With a collection of healing crystals, eclectic art, and shamanic artifacts on display along the walls, the space strives to evoke a spiritual aura for its guests. Discover a different side of Peruvian eating here.
Address: Santa Catalina Ancha 366 B, Cusco
Phone: +51 984761007
Opening hours: Monday to Saturday, 12 – 4 pm
Vida Vegan Bistro
The reviews speak for themselves here, with plenty of customers raving about the delightful home-cooked Peruvian and Italian food, the charming atmosphere, and the warm service. Vida Vegan Bistro can be easily overlooked as it is a little out of the way and requires an uphill walk, but the cozy hideaway and its made-from-scratch vegan and vegetarian dishes more than make up for this. Innovative pizzas topped with beautiful greens, platters piled high with vegetables and garnished with edible flowers, beautifully decorated desserts made of the freshest fruit… there's a reason why many visitors return time and time again.
Address: Tambo De Montero 508, Cusco
Phone: +51 952176522
Opening hours: Monday to Sunday, 9:30 am – 3 pm (breakfast and lunch), 6 – 10 pm (dinner)
Greens Organic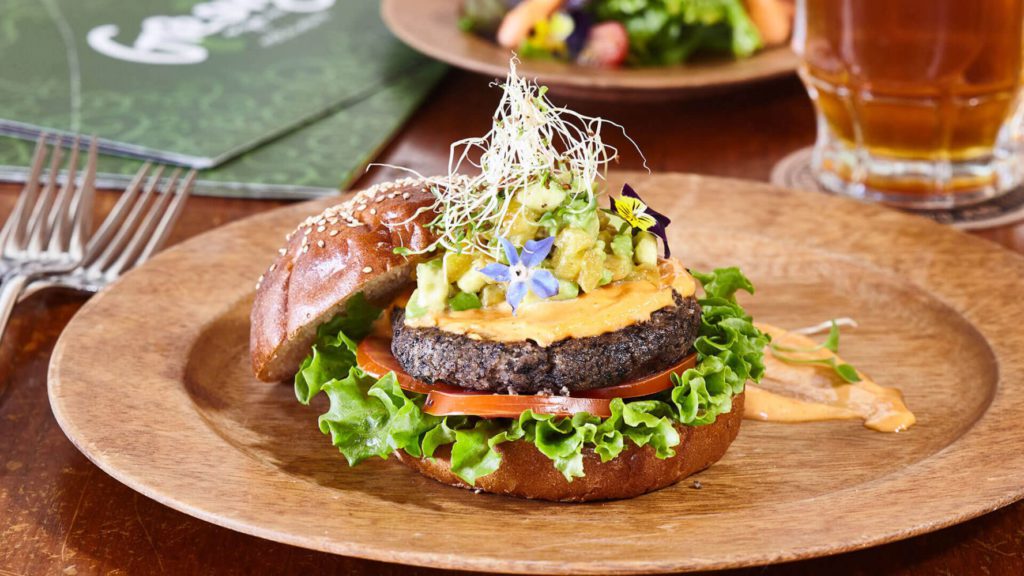 For modern Peruvian food with a healthy twist, Greens Organic offers a varied and fresh menu that takes you from breakfast to dinner. A large percentage of the menu uses purely organic locally-produced ingredients sourced from the Sacred Valley. Main courses are substantial and well-balanced, with meats like trout, alpaca, and lamb used in dishes paired with fresh herbs, vegetables, and spices. Rice, quinoa, and pasta-based dishes served with delectable sauces make up much of their vegetarian mains.
Address: Santa Catalina Angosta 135, 2nd floor, Cusco
Phone: +51 84 254753
Opening hours: Monday to Sunday, 8 am – 11 pm
Classic and regional restaurants in Cusco, Peru
Pachapapa
Nestled in an old colonial building in the San Blas neighborhood, Pachapapa embraces its rustic and rural charm by serving traditional and regional homemade food made from native produce. The restaurant invites you to partake in a culinary ritual here, where your mealtime is treated like a revelation as aromas of the Andes waft out of the kitchen's wood fire oven and into the central courtyard where you sit. Slow-cooked dishes served in clay pots come perfectly infused with flavors that pay homage to the region. Signature oven-cooked dishes include roasted whole trout, roasted guinea pig, roasted lamb shoulder, and oxtail stew. Appetizers are just as delectable: alpaca skewers are marinated in garlic and spices, while the fresh trout ceviche sits in a mouthwatering lime and chili sauce.
Address: Carmen Bajo 120, Cusco
Phone: +51 84 241318
Opening hours: Monday to Sunday, 11:30 am – 11 pm
Cicciolina
Treat yourself to comfort food at its best at this Peruvian-Italian fusion restaurant in the center of Cusco. The welcoming space at Cicciolina is split into bustling open kitchens, a buzzing tapas bar, and a formal dining area on the second floor of an old colonial house, capturing a vibe that is warm, intimate, and rustic-chic. Perfect bites of octopus and scallops, freshly-made bread, outstanding risotto and gnocchi, mouthwatering osso buco with a side of ravioli… the selection is decidedly moreish and very Italian indeed. Dress smart casual here.
Address: Calle Triunfo 393, Cusco
Phone: +51 084 239510
Opening hours: Monday to Thursday, 12:30 – 7:30 pm
Incanto
"Incanto is like an Italian traveler who has fallen in love with Peru, merging his culture with our customs, our ingredients, and our special way of life", the restaurant wants its guests to know. Clearly, there is something special about Peruvian-Italian dishes. At this contemporary Cusqueña trattoria, great pasta and fusion dishes are the talking point, along with the solid adobe oven that sits in plain sight in the dining room. Casual and laid-back, it's a fabulous space for good company and good food.
Address: Santa Catalina Angosta 135, Cusco
Phone: +51 84 254753
Opening hours: Monday to Sundays, 11:30 am – 11 pm
Kion
Kion is ambitious. This Peruvian-Chinese fusion (chifa) restaurant melds local ingredients with Cantonese-influenced cooking techniques, serving up the likes of dim sum plates, fried rice renditions, wonton soups, and flavorful noodles with a localized twist. Food here is designed to be savored and shared with a close group of friends and family. Expect an up-market setting embellished with elegant yet modern Chinese motifs. This is the perfect place to discover why Peruvian-Chinese cuisine has gained so much ground in Peru.
Address: Calle Triunfo 370, 2nd floor, Cusco
Phone: +51 84 431862
Opening hours: Monday to Sunday, 11:30 am – 11 pm
Uchu Peruvian Steakhouse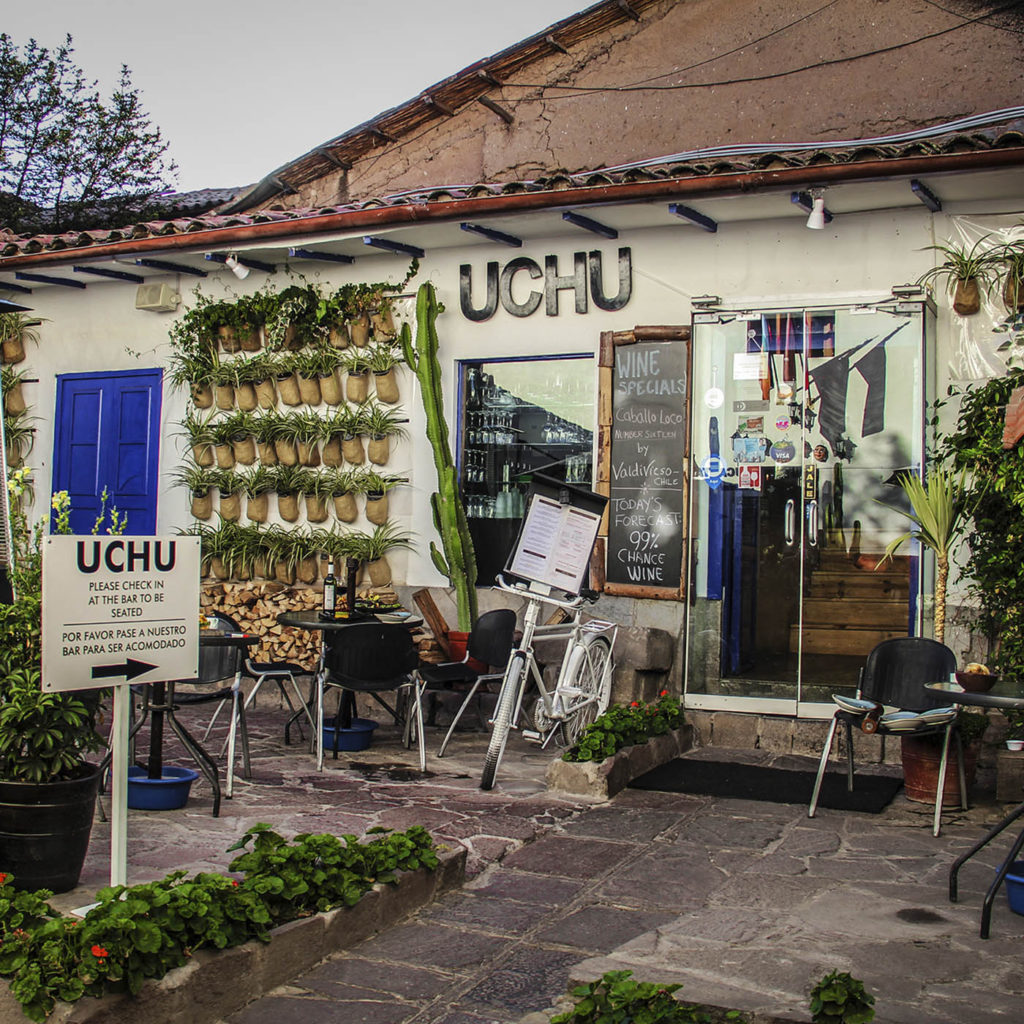 For your fix of juicy steaks served on a hot slab of volcanic stone, look no further. The cozy Uchu Peruvian Steakhouse is housed in a colonial home in the heart of Cusco. With exposed abode walls, clay and aged wood, candles, and avant garde textiles, it's a setting that might not immediately call to mind a steakhouse, but it works. Of course, Uchu's kitchen may have the arsenal for an extravagant steak dinner, but there's more than just steak on the menu — try some BBQ ribs, succulent prawns, and various Peruvian skewers. The extensive wine list and delicious appetizers are also worth deliberating over.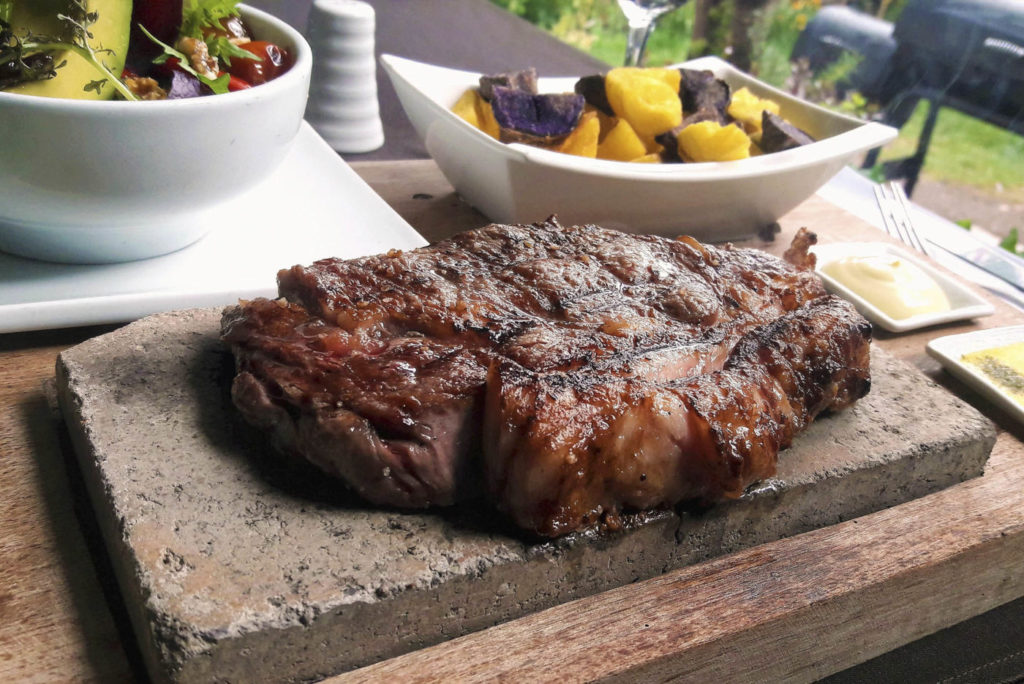 Address: Calle Palacio 135, Cusco
Phone: +51 84 246598
Opening hours: Monday to Sunday, 12:30 – 11 pm
Casual cafes in Cusco, Peru
Jacks cafe
Worth a mention, Jacks Cafe is an American-style cafe that sits on the edge of the traditional neighborhood of San Blas. It's incredibly popular with tourists, and you'll see why it is so loved: the portion sizes here are satisfyingly large, and the American breakfast, lunch, and dinner options clearly offer something familiar to out-of-towners. We're talking eggs and bacon, syrupy pancakes, giant burgers, loaded sandwiches, and tuna melts. If you need a break from traditional Peruvian cuisine, Jacks Cafe will be an easy choice.
Address: Choquechaka 509, Cusco
Phone: +51 84 254606
Address: Choquechaka 509, Cusco
---
About TourHero
TourHero is a social travel platform that enables you to travel with like-minded people and fall in love with the journey. We work closely with handpicked local operators to ensure every experience curated is unique and exclusive to your travel group. Come with us on epic adventures and create memories that last a lifetime!