⚠️ Update: June 24, 2021

Border measures and domestic travel restrictions have been updated amidst a resurgence of COVID-19 cases:

Tightening of border measures for travelers arriving from higher-risk countries

– Travelers with a travel history to higher-risk countries in the last 21 days must quarantine in a dedicated SHN facility for 14 days
– Travelers with travel history to Israel and Taiwan in the last 21 days must quarantine in a dedicated SHN facility for 14 days, and another 7 days in their place of residence

Visit Singapore's SafeTravel website for updates

Domestic restrictions

– Most businesses are allowed to operate with safety measures and capacity limitations in place
– Social interaction is capped at five people per group
– Dining in at restaurants is permitted, capped at two people per table
COVID-19 has transformed travel as we know it. With borders around the world still closed and many of us taking a cautious approach to travel, taking a flight overseas can be a tricky affair. Thankfully, in direct response to the pandemic, a growing number of countries have been making big changes to entry conditions and safety procedures. Singapore is one such example. While the country slowly settles into a state of normalcy amidst new safety regulations, it is also slowly reopening its borders to certain travelers. Here, we seek to answer the important question: Is it safe to travel to Singapore right now? Read on to find out what the Southeast Asian country is doing to make everyone feel comfortable in light of the pandemic.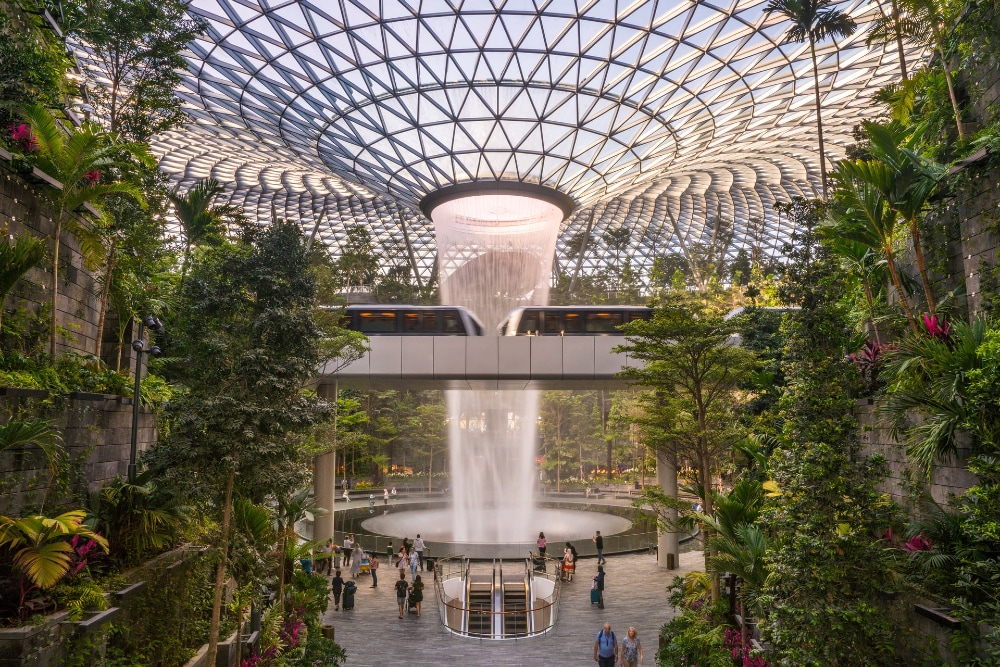 Who can enter Singapore for leisure travel?
Travelers from the following countries are eligible to apply for a single-entry Air Travel Pass (ATP) to facilitate short-term entry into Singapore for any purpose of travel, including holiday travel:
Australia
Brunei Darussalam
Mainland China
New Zealand
Taiwan
Applications must be made between 7 and 30 days prior to the date of entry into Singapore. ATP holders must complete certain obligations prior to departure. This includes purchasing travel insurance with a minimum coverage of SGD 30,000 for COVID-19-related medical costs, submitting SG Arrival Card details electronically no earlier than 3 days before arrival, and registering for an on-arrival COVID-19 PCR test. Other entry conditions apply.
Flying into Singapore: Safety at Changi Airport
Ready to fly? To ensure smooth air travel on your journey, it's worth taking note of additional protocols implemented at Singapore Changi Airport.
Screening of all inbound passengers: Passengers on all arrival flights are subject to non-invasive temperature screening procedures at aerobridges to identify unwell passengers. Travelers who exhibit symptoms of COVID-19 will be attended to by a doctor on duty and may be conveyed to a hospital for a follow-up.
Singapore Changi Airport has gone the extra mile to ensure all visitors feel safe and comfortable. In addition to installing 1,200 hand sanitizers across the airport and deploying carpet cleaning robots armed with disinfectant, many innovative features have also been implemented, including:
UV-C lights that sanitize escalator handrails
Proximity sensors at check-in kiosks that eliminate the need for physical contact with touchscreens
Upgraded facial and iris recognition biometric systems at auto-clearance immigration lanes that eliminate fingerprint scanning
Protective long-lasting antimicrobial coating sprayed onto frequently-touched surfaces such as trolleys, security trays, and lift buttons
While moving around Singapore Changi Airport, travelers should follow these guidelines:
Wear a face mask at all times
Observe safe social distancing and adhere to markings on the floors when queuing
Adhere to alternating seating arrangements marked out at restaurants, lounges, and boarding gate seating areas
Look out for the SG Clean quality mark
Singapore rolled out its SG Clean certification to raise hygiene standards and transform cleanliness levels of accessible public spaces. Awarded to businesses and agencies across the island, the certification and its quality mark will help patrons identify establishments that have adopted good sanitation and hygiene practices. Within the first month of the campaign, more than 5,000 premises were certified. From hawker centers to shopping malls, airline lounges to hotels, be sure to look out for the mark wherever you go. Click here for a list of all certified premises in Singapore.
Around the island: General health and safety measures
These general health and safety rules should be followed while moving around in public spaces:
Face masks are mandatory when you visit all public areas, including shopping malls, retail shops, food establishments, parks, tourist attractions, and on trains and buses
Exceptions: You are not required to wear a mask while doing strenuous physical activities such as running, jogging, and cycling
There are gathering limits in place — groups are capped at a maximum of 5 people
Social distancing of at least 1 meter must be observed
SafeEntry QR Code: Check-in procedures at malls, shops, and food establishments
All visitors who enter venues around the island must use the SafeEntry national digital check-in system to allow for effective contact tracing. Remember to check out once you leave the premises.
Transportation — trains, buses, and ride-hailing services
Trains, buses, taxis, and ride-hailing services such as Grab and Gojek remain operational with increased health and safety measures. Public transport operators SMRT and SBS Transit have ramped up cleaning efforts to ensure all vehicles and high-touch surfaces are cleaned at a higher frequency. Visitors entering MRT stations are encouraged to check in via the SafeEntry system before hopping on a train.
Hotels and resorts
Accommodation options are plentiful in Singapore, from relaxing resorts close to Sentosa's beaches to luxury hotels in the heart of town. Many providers have already reopened for staycations, taking care to implement extra protocols for guest safety. Capella Singapore, for example, has been working hard to safeguard against COVID-19 under rigorous new health, hygiene, and safety standards. Many others have followed suit in the safety department, such as the iconic Raffles Hotel, and the acclaimed Four Seasons Hotel Singapore.
COVID-19 safety at popular attractions
Singapore Zoo, Night Safari, River Safari, Jurong Bird Park
Singapore's award-winning wildlife parks, managed by Wildlife Reserves Singapore (WRS), have long been regarded as the best in Asia. Well-manicured and spacious, the Singapore Zoo and its sister parks sit amongst sprawling forested gardens that house many delightful creatures, from chittering otters to docile tapirs. Having reopened to the public at a limited capacity, you'll need to pre-book your tickets in advance to avoid disappointment!
These are some preventative and protective measures implemented by Wildlife Reserves Singapore for your safety:
All visitors are required to pre-book tickets online, indicating the date and time they would like to visit
The Night Safari will only be open from Thursdays to Sundays, under shorter operating hours from 7 pm to 11 pm
Parks have capacity limits — arrive no later than 45 minutes from your selected time slot
Masks must be worn at all times, and reusable masks are also made available for purchase at retail shops
Some high-touch and high-proximity exhibits and experiences have been temporarily closed to keep visitors safe
Contactless payment is encouraged
Gardens by the Bay
Few things encapsulate Singapore more than the Supertrees at Gardens by the Bay, which glow a multitude of colors at night. The lush and futuristic grounds are also home to majestic indoor temperature-controlled conservatories. Escape from the heavy tropical heat and head into the rainbow world of the Flower Dome, where it is perpetually spring and its many themed gardens are always in bloom. If you're up for a vertical climb, the mist-veiled world of the Cloud Forest will intrigue you with its 35-meter manmade mountain covered in walkways and plant life. Don't forget to take a photo of the striking indoor waterfall in all its glory!
These are some preventative and protective measures implemented by Gardens by the Bay for your safety:
Before visiting ticketed areas such as the Flower Dome and Cloud Forest, visitors are required to pre-book their timed-entry tickets online or via the Gardens by the Bay Mobile App for effective safe distancing and crowd regulation
Visitors must check into the venue via the SafeEntry system and mandatory temperature screening is conducted at entrances
Face masks must be worn at all times, including while taking photographs
Air-chilling systems in conservatories are quipped with high-performance germicidal UV-C lights to improve air quality
Hand sanitizers are made available at all entrances, exits, and high-contact areas
National Gallery Singapore
Here's some history for you. Before it was converted into the ambitious National Gallery Singapore, this palatial architectural marvel housed the country's City Hall and Supreme Court. Today, the building is where you'll find a large collection of paintings and sculptures from around Southeast Asia. Located in the Downtown Core district, the gallery remains a quiet and peaceful venue for art-lovers who want to escape the buzzing atmosphere of the city without having to go far.
These are some preventative and protective measures implemented by National Gallery Singapore for your safety:
Visitors are encouraged to pre-purchase tickets online before visiting the gallery for quicker redemption of passes at ticketing counters
Visitors must check into the venue via the SafeEntry system and mandatory temperature screening is conducted at entrances
Masks must be worn at all times on the premises
Floor markers and barriers are used to facilitate safe distancing
All interactive exhibitions have been suspended temporarily
Opening hours have been revised, and a capacity limit is in effect
Cleaning and disinfection frequency is increased, particularly for high-touch areas such as door handles and railings
Sentosa Island
Off the mainland to the south, Sentosa Island houses some of Singapore's most enticing attractions. This includes Universal Studios Singapore and the S.E.A. Aquarium, alongside a smorgasbord of restaurants and hotels at Resorts World Sentosa, as well as lovely beaches and beach clubs to unwind at. As a hub for tourist activities, the island has made some necessary safe management changes, such as:
Implementing controlled entry and exit points for guests who visit Tanjong Beach, Palawan Beach, Siloso Beach, and Palawan Green
Implementing queue management systems and floor markings to ensure safe distancing
Encouraging patrons to make restaurant reservations in advance to eliminate the need for queuing
Ensuring SafeEntry system check-in and mandatory temperature screening is conducted at all entrances
Increasing frequency of cleaning and disinfecting at all high-traffic and high-touch areas
Singapore Botanic Gardens
The Singapore Botanic Gardens is the country's first UNESCO Heritage Site. Boasting sprawling grounds perfect for recreational activities like yoga and picnic outings, there are also several botanical-related exhibits and themed gardens that are worth checking out. Plant hobbyists will appreciate a visit to the National Orchid Garden, which houses over 60,000 plants, including the world's largest orchid display.
While the Singapore Botanic Gardens is now open to the public, there are certain restrictions in place:
Feeding of wildlife (fish, swans, birds, turtles, etc) is not allowed
Group sizes of more than 8 people are not allowed.
A distance of at least 1 meter should be maintained between other groups
If exercising, a distance of at least 3 meters should be maintained
All visitors must wear a mask if they are not engaging in strenuous exercise
---
Know of more protocols that answer the question is it safe to travel to Singapore? Share them with us!
---
About TourHero
TourHero is a social travel platform that enables you to travel with like-minded people and fall in love with the journey. We work closely with handpicked local operators to ensure every experience curated is unique and exclusive to your travel group. Come with us on epic adventures and create memories that last a lifetime!