From stews and pies to sweet treats and even the world's largest rodent thrown in, you'll find something for all amongst the best Brazilian foods. There's a heartiness to many Brazilian dishes that those in the west will adore, combined with a unique South American spice mix. As with any foreign travel, be sure to exercise caution — some of these foods require careful preparation. Stick to recommended restaurants instead of gambling on your stomach, and with that in mind, saboroso — bon appetite!
Feijoada
Let's start with the most famous Brazilian food of them all: the mighty feijoada. The country's national dish is something you'll find in all corners of Brazil. If you only try one new dish on your trip, this should be the one. Feijoada is a pork stew that uses both meat and offal as its main ingredient. Combine this with black beans, tomatoes, and vegetables for a really hearty dish, and fill your belly till it bursts! Well, almost.
Where to eat feijoada in Brazil: Bar do Mineiro, Rua Paschoal Carlos Magno, 99 — Santa Teresa, Rio de Janeiro
Moqueca de camarão
If you've tried feijoada and enjoyed it, here's another classic Brazilian food to dive into. Moqueca replaces the pork with seafood, and the coconut sauce makes for a very different taste sensation. As with feijoada, you'll find tomatoes and vegetables added to the sauce and localized versions wherever your hungry legs take you.
Where to eat moqueca in Brazil: Axego Restaurante, R. Maciel de Cima, 1 — Pelourinho, Salvador
Empadão
Chicken pie, anyone? Brazil's version of a 'pie' makes for a delectable snack. An empadão contains chicken with veg and spices. The result is a more varied pastry than you might be used to back home, and they're often served with rice. Whenever you've got space that needs filling, an empadão does a perfect job.
Where to eat empadão in Brazil: Senhor Empadão, Maiolino, 145, R. Jurandir Sanches Maolino — Vila Pedroso
Pão de queijo
Another Brazilian favorite that has parallels with a western staple is pão de queijo — cheese bread. The roots of this foodstuff lie in Africa, and the cassava flour gives a nuttier flavor to a regular white loaf. Pão de queijo are great to snack on at any time of day, but are most often favored by locals for breakfast.
Where to eat pão de queijo in Brazil: Cultivar, Rua Paschoal Carlos Magno, 124 — Santa Teresa, Rio de Janeiro
Farofa
Farofa is traditionally a worker's food, as it brims with carbohydrates and keeps you full all day. In modern times, pretty much every Brazilian eats farofa. It's made from cassava or tapioca flour, which is toasted and mixed with a range of hearty ingredients. Look for farofa in your Brazilian food market of choice — our favorite is the Municipal Market — and you might find it served with chopped meat, beans, eggs, or even stew.
Where to eat farofa in Brazil: Municipal Market of São Paulo
Buchada de bode
A northern dish, buchada may frighten a few visitors to Brazil away, but adventurous eaters will find it delightful. Ever heard of Scottish haggis? Well, this is the Brazilian equivalent. Buchada is made from goat's innards and blood, wrapped up in a goat's stomach and served with vegetables. After eating buchada, don't be surprised if you wake up with more muscles than you went to bed with.
Where to eat buchada de bode in Brazil: Bode & Cia Restaurante, R. Junia Nogueira Farias, 166 — São Miguel, Barreiras
Capybara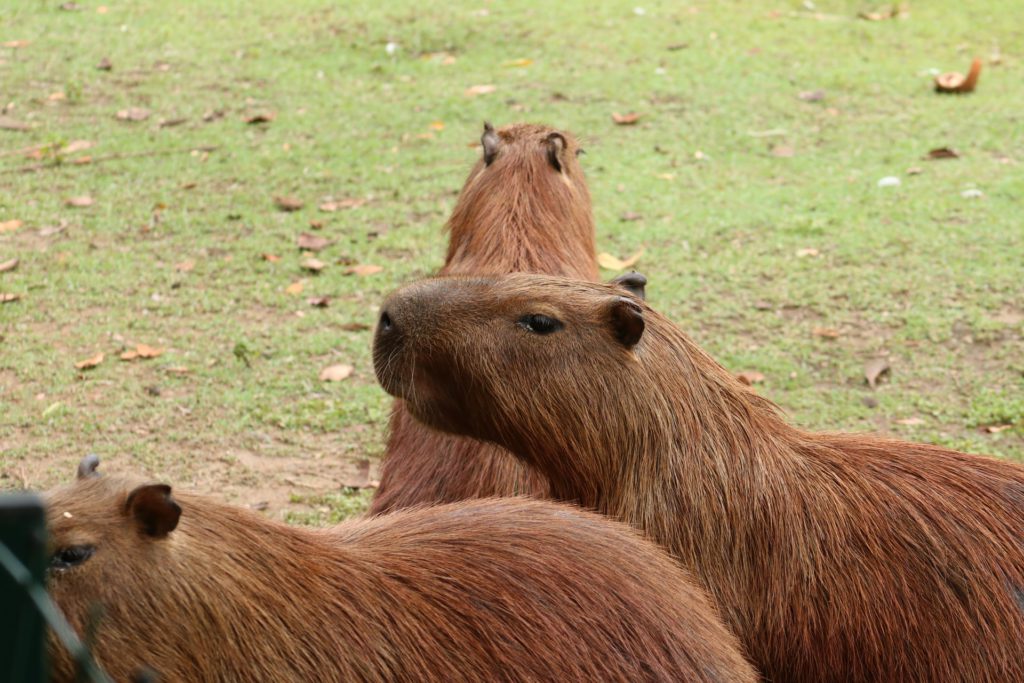 Capybara are large South American animals from the rodent family. The best Brazilian foods are sometimes saved for special occasions and a capybara dish is a luxury for most local people. Capybara resemble a cross between a rat and a beaver, but they don't eat trees or live in sewers! You'll find the meat roasted, dried, or cured, and is said to taste a little like pork.
Where to eat capybara in Brazil: Churrascaria do Gaucho, 20 Rua Costa Rêgo 11380-140 São Vicente
Beijinho de coco
Now, let's move on to dessert! Beijinho de coco may be a great munch at all times of day, and it definitely falls into the 'sweet' camp of Brazilian foods. To make these delicious 'coconut kisses', butter is blended with condensed milk, rolled into balls and coated in dried shredded coconut. Beijinho make a great palate-refresher after a meal and they're simply divine when paired with coffee.
Where to eat beijinho de coco in Brazil: Municipal Market of São Paulo
Canjica
Another dairy delight is canjica. This is a type of porridge made from white corn and coconut, sprinkled with cinnamon. Canjica is not dissimilar to a rice pudding by way of texture and you may find a dash of vanilla added for extra sweetness. It's a delightful dish at any time of year, but the locals tend to save it for the cooler months.
Where to eat canjica in Brazil: Fazenda Rio Do Peixe, Estrada Particular, 79290-000, Bonito
Brigadeiro
If Feijoada is Brazil's savory national dish, brigadeiro is its sweet equivalent! In preparation, it's a little like beijinho de coco, only brigadeiro contains chocolate. A lip-smacking taste sensation, think of a rich truffle and you're almost there. Look out for the milk and white chocolate versions available and be sure to sample them both.
Where to eat brigadeiro in Brazil: Restaurante Don Bei Brigadeiro, Av. Brigadeiro Luís Antônio, 1410 — Bela Vista, São Paulo
We hope you've enjoyed our guide to the top 10 Brazilian foods! See how many you can munch through on your own travels! Wherever your adventure takes you, you'll find a range of unique dishes and desserts, and be sampling a real piece of Brazilian culture with each hungry bite.
---
About TourHero
TourHero is a social travel platform that enables you to travel with like-minded people and fall in love with the journey. We work closely with handpicked local operators to ensure every experience curated is unique and exclusive to your travel group. Come with us on epic adventures and create memories that last a lifetime!