Places like Iceland and Patagonia are known for their endless list of incredible natural wonders, but did you know that the US has its fair share of Mother Nature's best creations, too? If you're looking to add some spectacular must-see sights to your ultimate travel bucket list, keep reading. Here's our hand-picked list of the best natural wonders in the US you ought to visit this year, complete with tips and tricks on the best ways to see each!
Map — where to find all 8 natural wonders
Mesquite Flat Sand Dunes, Death Valley National Park, California
No, you're not in the Sahara! Welcome to Death Valley National Park's mesmerizing and iconic Mesquite Flat Sand Dunes. The shifting sands you see here are deposits that have resulted from the erosion of the nearby Cottonwood Mountains. Thousands of years of extreme weather have chipped away at the feldspar and quartz rocks that make up the mountains, with strong winds transporting sand-sized grains across the desert. Vast and undulating, the Mesquite Flat Sand Dunes can reach up to 100 feet high. Visitors have the perfect opportunity to walk on a silky, rippled sandscape to snap the most incredible photos!
As a bonus, these are the national park's most easily accessible dunes. Visitors can explore to their heart's content!
Best way to see the Mesquite Flat Sand Dunes
Hiking
The Mesquite Flat Sand Dunes can certainly be explored on foot. We recommend wandering the dunes just before sunrise or around sunset because of the incredible interplay of color, light, and shadow. Be sure to take plenty of water with you — hiking in sand can be slow work. There is no formal trail route, so you can improvise your trek and explore these gorgeous dunes as you please!
Sandboarding
Alternatively, you can go sandboarding! It's worth noting that the Mesquite Flat Sand Dunes are one of the only designated sand dune areas in the national park where sandboarding is permitted, so get your adrenaline fix and bring along a board for a good workout!
How to get to the Mesquite Flat Sand Dunes in Death Valley National Park
This location can only be accessed by car. From Furnace Creek, drive 22 miles northwest on Highway 190. Two miles before Stovepipe Wells, turn right into the parking lot for the sand dunes trailhead.
Plan a trip to see the Mesquite Flat Sand Dunes with TourHero! Death Valley National Park is featured in several of our US tours.
Yosemite Falls, Yosemite National Park, California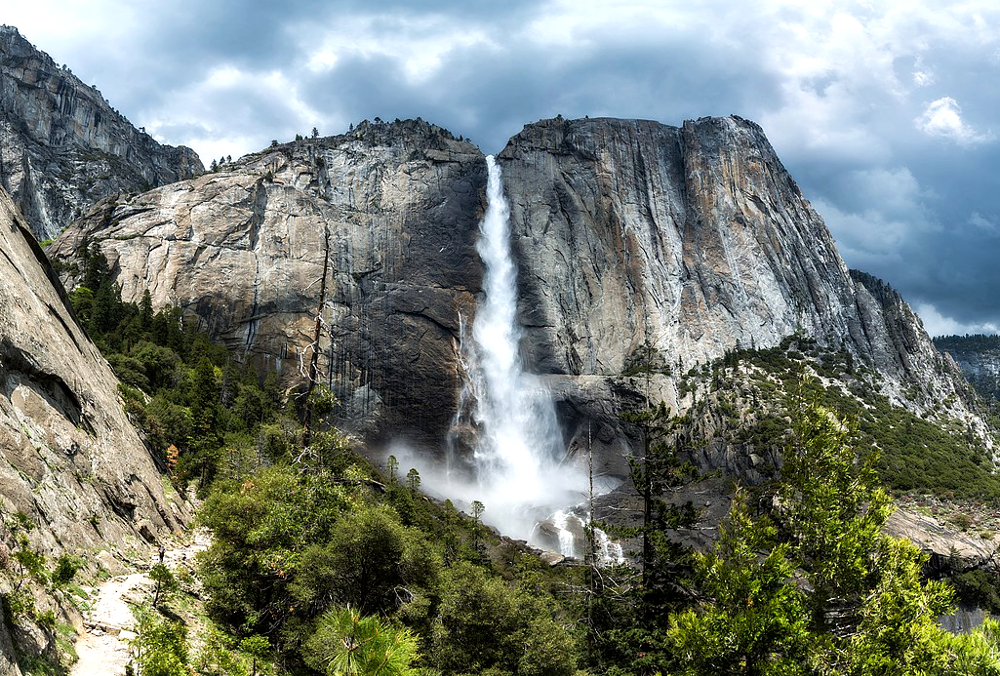 As one of the tallest waterfalls in the world, Yosemite Falls is a cascade that you need to see at least once in your lifetime! Nestled in Yosemite Valley, these falls drop a whopping 2,425 feet from top to bottom. They actually consist of three different waterfalls — Upper Yosemite Falls, the Middle Cascades, and Lower Yosemite Falls. The Upper Falls (1,430 feet) make up over half of the total drop. Its no surprise that its sheer size makes it visible from pretty much anywhere in the valley. In contrast, the Middle Cascades (675 feet) are visible only from the top of the Upper Falls. Finally, Lower Yosemite Falls (320 feet) can be admired when you hike the easy 1.2-mile loop trail at the base. This trail starts at the back of the Yosemite Valley Lodge.
Best way to explore Yosemite Falls
The time of year matters
Yosemite Falls is fed by snowmelt, so if you're looking to check out the falls at their most powerful, head to Yosemite Valley in spring between April and June. By late July, the flow is much less and as winter approaches, the waterfall will dry completely. In winter, look out for the giant ice cone at the base of the Upper Falls. This cone can sometimes grow as tall as 300 feet! For context, that's about as tall as the Statue of Liberty!
Hiking trails
Hiking the surrounding trails will help you get a good look at each of the cascades. Check out our guide on the 5 best hikes in Yosemite National Park for first-time visitors to see how you can discover Yosemite Falls.
How to get to Yosemite Falls in Yosemite Valley
Yosemite Falls is located in Yosemite Valley. The Arch Rock entrance, located on El Portal Road, is the closest entrance to Yosemite Valley. The nearest towns are Mariposa and El Portal. You can drive into and around Yosemite Valley all year (although tire chains may be required from October through April). We recommend parking at Yosemite Village. From here, it's easy to take advantage of the free shuttle bus to get to the Lower Yosemite Falls trailhead.
Mitten Buttes, Monument Valley, Arizona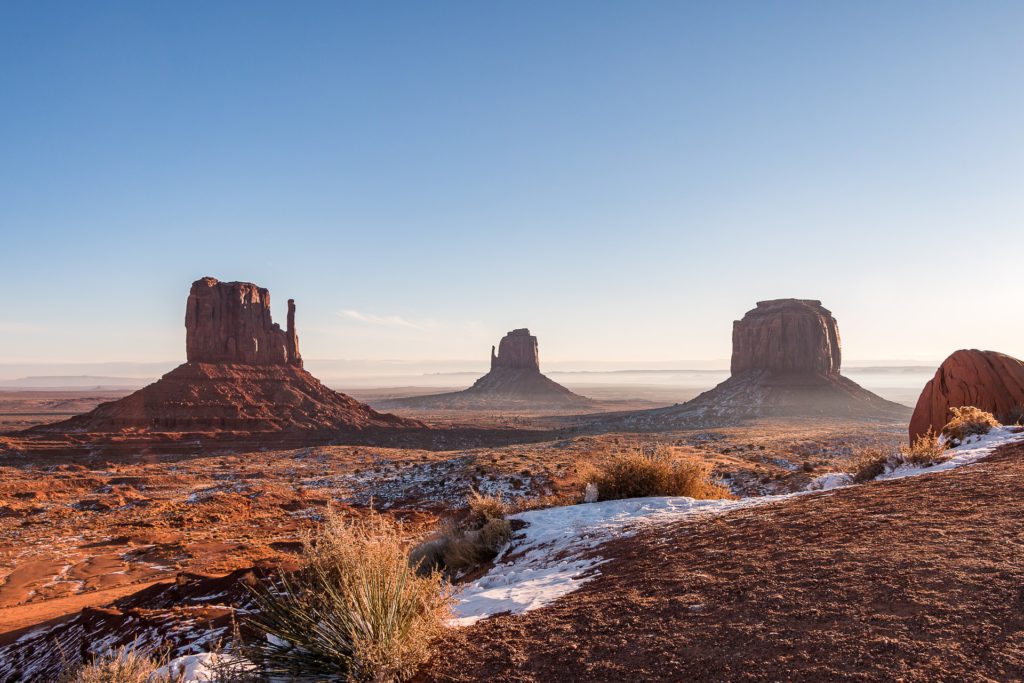 Even if you've never been to the ancient and rugged desert of Monument Valley, you've probably seen it in pictures or at the cinema. Films like Back to the Future III (1990), Forrest Gump (1994), Mission: Impossible 2 (2000), The Lone Ranger (2013), and Transformers: Age of Extinction (2014) have all featured the vast red-sand desert and its soaring sandstone buttes. That said, there is no greater scene that encapsulates Monument Valley than the world-famous panorama of the Mitten Buttes and Merrick Butte, three isolated landforms sitting in the desert like something out of a sci-fi blockbuster.
Buttes are tall, steep, flat-topped towers of rock created through the process of erosion, as wind and rainwater slowly wear away vulnerable rock. As their names suggest, the "Mitten Buttes" are the two buttes (West Mitten Butte and East Mitten Butte) that look like two giant mittens with their thumbs facing inwards when viewed from the south.
Best way to see the Mitten Buttes and Merrick Butte
Self-driving the Tribal Park Loop
To see the buttes on your own, you can drive the Tribal Park Loop (also known as the Valley Drive). This scenic drive starts and ends at the Monument Valley Visitor Center and takes you past some of the most popular sites in the valley. In good weather, it is possible to self-drive this loop without a 4×4 vehicle. However, this road is unpaved, so it's best not to drive a low-riding vehicle or an RV. This is the only part of Monument Valley that you can actually visit without taking a tour.
Monument Valley is part of Navajo Nation land. If you want to dig a little deeper and explore restricted areas, go with a local certified tour guide!
How to get to the Monument Valley Visitor Center
We recommend taking Scenic Byway 163 to get to the Monument Valley Visitor Center (located 121 miles from Page, Arizona). From here, the scenic loop leads through the heart of the valley's buttes, mesas, and spires. Entry fees apply, and scenic drive hours differ depending on the season. Be sure to check the hours of operation on the Navajo Nation Parks and Recreation website.
Plan a trip to see the Mitten Buttes and Merrick Butte with TourHero! Monument Valley is featured in several of our US tours.
Antelope Canyon, Arizona
Antelope Canyon, with its towering sandstone walls and otherworldly natural skylight, is a Navajo natural wonder that has proven to be every Instagrammer's dream. This beautiful marvel is an example of a geological curiosity known as a "slot canyon". As you might guess from the name, slot canyons are little canyons, formed when water seeps into bedrock fissures and wears away the sandstone. Most commonly found in desert areas, slot canyons are the result of millennia of extreme weather. In the case of Antelope Canyon, intermittent flash flooding over thousands of years has carved a path through the rock, and long periods of drought bring windblown sand right through it, polishing the narrow walls into the streaks and swirls we see today. Thus, Antelope Canyon is proof that even the harshest conditions can sculpt something stunning and beautiful, given time.
Best way to explore Antelope Canyon
As one of the most popular attractions in northern Arizona, Antelope Canyon attracts more than a million visitors a year. If you truly want the best experience, it's important to plan your trip carefully — here are a couple of tips to help you!
Planning your tour
Antelope Canyon is located on Navajo Nation land. This means you can only visit the site with approved tour companies who are allowed to take you there.
Upper vs. Lower Antelope Canyon (yes, there are two parts!)
Now here's the thing. There are actually two sections to Antelope Canyon — the Upper Antelope Canyon and the Lower Antelope Canyon. Knowing the difference can save you some time and money as each requires separate tour bookings. The most iconic photos of Antelope Canyon come from the upper canyon, as the space here is wider at the bottom, giving sunlight the opportunity to create aesthetic beams of light to filter down to the canyon floor. The lower canyon, while not as good for photos, is often less crowded and cheaper to visit. Some argue that it's more fun, too, as it features tighter spaces, narrower passageways, and ladders to climb.
How to get to Antelope Canyon in Arizona
Antelope Canyon is situated east of Page, Arizona, south of the Utah border. As mentioned above, you can only reach the canyon by guided tour. Tours can be organized to depart from Las Vegas and you can expect a 4.5-hour journey to get from the city to the canyon.
Plan a trip to see this natural wonder with TourHero! Antelope Canyon is featured in several of our US tours.
Devil's Tower National Monument, Wyoming
Here's another butte worth mentioning. This one's in Wyoming, in the Bear Lodge Ranger District of the Black Hills. Rising an impressive 1,267 feet above the Belle Fourche River, this astounding hunk of rock protrudes out of the prairie that surrounds the Black Hills, its hundreds of parallel cracks visible even from a distance. These cracks divide the tower into huge hexagonal columns, a feature that makes the Devil's Tower one of the finest traditional crack climbing places in the country. Fun fact: President Theodore Roosevelt established this grand geological marvel as the very first United States national monument in 1906!
Best way to see the Devil's Tower National Monument
Different perspectives — driving, hiking, climbing
Its sheer size means that as you gaze up at the Devil's Tower, you see only one side at a time. Driving up to the visitor's center from the park's entrance grants you views of the different sides. However, if you'd like a really close encounter with this mammoth rock, you'll be glad to know that there are at least five different hiking trails in the park that offer you changing views of the Devil's Tower. Adrenaline junkies who love recreational climbing can also take things up a notch by scaling the sheer columns of the tower. Just remember to stick to climbing regulations and register your climb beforehand!
Recommended easy hiking route
For an easy hour spent at the park, we recommend the Amphitheater Circuit, a 1.5-mile loop that combines the Valley View Trail, Red Beds Trail and South Side Trail to deliver great views of the park's prairie dog town, the Belle Fourche River valley, and of course, the Devil's Tower itself.
How to get to the Devil's Tower National Monument in Wyoming
Located 9 miles south of Hulett, the Devil's Tower National Monument is accessible by a single road off Wyoming Highway 24 (Bear Lodge Highway). The most common route is via Interstate 90 — take Route 14 from Moorcroft or Sundance. Wyoming Highway 24 intersects Route 14 six miles south of the Tower.
Old Faithful Geyser, Yellowstone National Park, Wyoming
The glorious Old Faithful Geyser is well-deserving of a place in this list of natural wonders in the US you ought to visit! Erupting around 20 times a day, Old Faithful in Yellowstone National Park is a cone geyser known for its highly-predictable geothermal nature, erupting every 35 to 120 minutes, for up to five minutes at a time. While not the largest geyser in the park (that title belongs to the Steamboat Geyser), it attracts large crowds of people for its reliability. Each massive eruption can shoot up to 8,400 gallons of boiling water to a height of up to 185 feet!
Best way to observe the Old Faithful Geyser
Viewing area
Old Faithful Geyser is easily observed from the semi-circular viewing area located less than a quarter-mile from the Visitor Center. We recommend going in the morning (from sunrise until before 11 am) and in the evenings (from 6 pm until dusk) so you can beat the tour groups and secure a nice spot with an unobstructed view of the geyser in action. While it doesn't cost anything to see Old Faithful, you'll need to pay the entrance fee to get into Yellowstone National Park to check this natural wonder out.
How to get to Old Faithful Geyser in Yellowstone National Park
Old Faithful Geyser can be found in the Upper Geyser Basin in Yellowstone National Park, near the Old Faithful Inn and the Visitor Center. From Madison Junction, follow the Grand Loop Road (Route 89) south for 16.5 miles and take the Old Faithful exit, driving east into the parking area.
Niagara Falls, New York
Ah, the Niagara Falls! A truly impressive creation of nature that has captivated millions of visitors with its raw power and jaw-dropping scenic beauty. These incredible falls straddle the border between the United States of America and Canada, and are fed by four of the Great Lakes: Lake Michigan, Lake Superior, Lake Huron, and Lake Erie. Consisting of Bridal Veil Falls, American Falls, and the Canadian Falls (aka Horseshoe Falls), Niagara Falls boasts the world's highest flow rate. An unbelievable 28 million liters of water run down Niagara Falls every second! Don't worry, this mind-blowing power is harnessed and put to good use: Niagara Falls supplies a full quarter of all electricity used in the state of New York and the Canadian province of Ontario!
Best way to experience the Niagara Falls
Niagara Falls State Park
At the Niagara Falls State Park, family-friendly attractions allow you to experience the falls from different perspectives. At the Cave of Winds, you'll be able to take an elevator 175 feet right down into the Niagara Gorge and wander a series of boardwalks just feet from the Bridal Veil Falls. Want to see the falls from the water? The Maid of the Mist boat tour allows you to sail through the swirling mist and mighty waters of the Niagara Gorge. Yes, you'll get wet, but that's all part of the epic experience!
How to get to Niagara Falls in New York
If you're traveling from New York City, the quickest way to get to Niagara Falls is by flying, with flights to the nearby city of Buffalo only 1.5 hours long. From the Buffalo Niagara International Airport, it's just a 30-minute drive to the falls.
Diamond Head Crater, O'ahu, Hawaii
Standing at an elevation of 762 feet above sea level, Diamond Head is an incredible volcanic cone that sits prominently on the eastern edge of O'ahu's Waikiki coastline. Diamond Head's 350-acre saucer-shaped crater was formed around 3000,000 years ago during a single eruption. Don't worry, this volcano is now dormant! Diamond Head is what's known as a monogenetic volcano, which means it only erupts once in its lifetime. Today, the crater is one of Hawaii's most impressive hiking destinations that offers breathtaking coastal views.
Best way to explore the Diamond Head Crater
Hiking the Diamond Head Summit Trail
There aren't too many places on Earth where you can hike to the edge of a volcano! At Diamond Head, you'll find a fantastic hiking trail that grants you this very opportunity. The trail to the summit was built back in 1908 as part of the island's defense system. You can attempt this 0.8-mile hike from the trailhead to the summit, but be prepared for a steep climb as you'll be ascending about 500 feet from the trailhead. Once you reach the top, you'll be rewarded with an incredible 360-degree view of O'ahu! On a clear day, you may even be able to spot the nearby island of Molokai.
How to get to Diamond Head Crater in O'ahu
Diamond Head Crater is located on the Hawaiian island of O'ahu in Honolulu. The entrance to the attraction's parking lot is off Diamond Head Road, located between Makapuu Avenue and 18th Avenue. Note that there is limited parking at the site, and visitors will need to pay a parking fee. Alternatively, you can take Bus 23 from Waikiki to the Diamond Head Monument stop.
---
We hope this article has inspired you to explore some of these stunning natural wonders of the US! Thinking of exploring parts of North America you've never been to before? Reach out to TourHero today and we'll be more than happy to help you plan the ultimate trip!
---
About TourHero
TourHero is a social travel platform that enables you to travel with like-minded people and fall in love with the journey. We work closely with handpicked local operators to ensure every experience curated is unique and exclusive to your travel group. Come with us on epic adventures and create memories that last a lifetime!