Brazil is the largest country in South America, filled with a variety of wonders to be explored. It's home to iconic historic and modern landmarks, vibrant cultural intersections, the Amazon Rainforest, delicious gastronomy, and stellar beaches. Brazil truly has something for everyone!
When planning your next beach getaway, consider this list of Brazil beaches and beach towns for your tropical escape. These 9 locations are sure to impress and offer something for every type of sun and sand traveler. From quiet respites to party nights, Brazil is ready to make your dream beach trip come true!
Búzios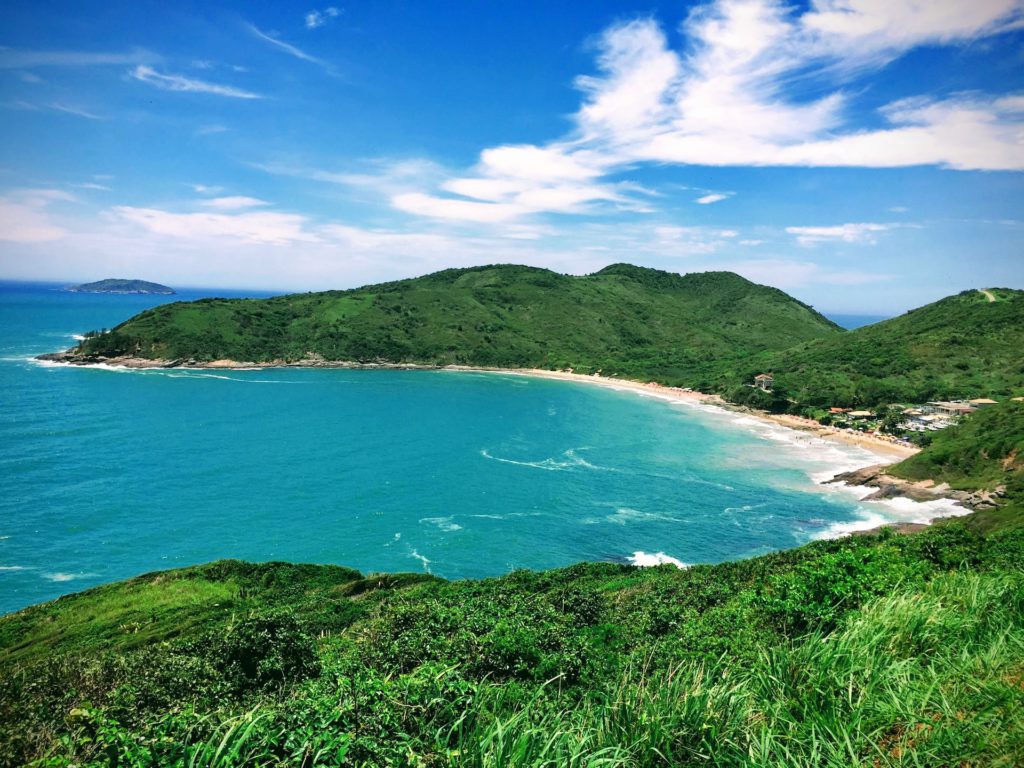 We'll start this journey through Brazil beaches in Armação dos Búzios. Typically called Búzios, this resort town is located on an ocean peninsula east of Rio. It's a high-end destination with a variety of beautiful beaches and great resorts.
The peninsula spans 8 kilometers (5 miles) and hosts 23 beaches for all to enjoy. By day, spend your time lazing in the sun, wind and kite surfing, scuba diving, hiking, and more. By night, spend time in Orla Bardot and Rua das Pedras, both areas featuring gastronomy of all kinds, bars, and clubs. From quiet family getaways to party trips, Búzios can fit the needs of all travelers.
Florianópolis
Florianópolis, aka Floripa, is the capital of Santa Catarina. This beach town features a small mainland area and a 54-kilometer (33-mile) stretch of island beauty. Floripa is known for its beaches and stellar resort areas, but it has a reputation for killer parties and fun nightlife. This area truly has something for everyone, as it also hosts tranquil Azorean fishing villages and quiet beaches away from the resorts.
We recommend checking out Matadeiro Beach and Ilha do Campeche. Matadeiro is for those looking to get away from the crowds, as this beach is only accessible on foot. You'll find a few small cafes and restaurants with shade to give you a respite from that glorious sun. Ilha do Campeche, on the other hand, is for the adventurous. This slice of heaven lies off the coast of Florianópolis and is only accessible by boat. A dedicated nature reserve, it features crystal clear waters, golden sands, and the perfect atmosphere for a half-day trip filled with fun in the sun. It's one of the best Brazil beaches by far!
Pipa Beach
If you know beach towns in Brazil, you've probably heard of Pipa. This beach and surrounding area is one of the most popular in the country and is home to yearly festivals and parties. If you're looking for a beach town with chill vibes and fun nights, Pipa is a great choice.
However, Pipa isn't just for parties, as the area offers quiet beaches and small-town vibes. It's been described as "hippie-luxe", bringing surfers and beach-goers from all over the world. By day, enjoy the golden sands and turquoise waves filled with dolphins, turtles, and other majestic seafaring friends. By night, indulge in the gastronomy and bar scene along the coastline, with great music and even better company.
Jericoacoara
Jericoacoara, aka Jeri, is an idyllic oasis with sand dunes, pristine lagoons filled with hammocks, and a charming downtown that will make you feel like you're in a movie. For lagoons, we suggest Lagoa do Paraíso, Lagoa Azul, and Tatajuba. For beaches, we suggest Jericoacoara Beach (Praia da Vila), Malhada Beach, Preá Beach, and Guriú Beach. And hey, don't leave the area without stopping by Buraco Azul aka the Blue Hole!
This Brazil beach town is off the beaten path and offers a gorgeous respite with picture-perfect backdrops at every turn. The weather here is ideal for wind and kite surfing, and you can enjoy the eclectic mix of restaurants and energetic nightlife, too. From cliffside lookouts to lazy days in the turquoise waters, sunset pics on the dunes to some of the best seafood in the country, this place is for lovers, beach-goers, and those looking to disconnect from it all.
Bahia State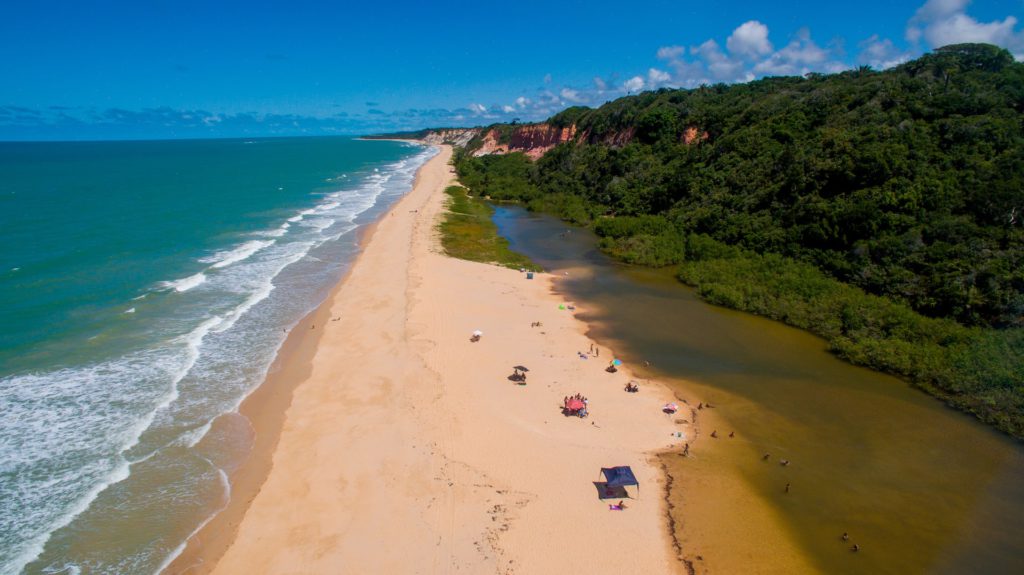 Bahia is a state, not a town, but this area is a must-see and another well-known beach haven in Brazil. This state itself is a beacon of Afro-Brazilian culture with its rooted origins of samba and capoeira. If you're looking for a cultural experience, look no further than Bahia.
While the state, especially the capital of Salvador, offers a wide variety of activities and history, the coastline is sure to impress with gorgeous beach towns, such as Trancoso, Arraial D'Ajuda and Caraiva, in Porto Seguro, Costa do Sauípe in Mata de São João, Morro de São Paulo in the small village of Ilha de Tinharé, and the village Praia do Forte. These beach towns offer a wide variety of accommodations and vibes — from small, unspoiled villages to high-end resorts. If you can dream it, Bahia has it.
Fernando de Noronha
Fernando de Noronha is like no other beach town, as its composition is that of a volcanic archipelago! This protected national marine park and sanctuary features a diverse ecosystem, which makes it a stellar place to snorkel and scuba dive. Make friends with the sea turtles, dolphins, and rays in the azure waters and let the sun soothe that wandering soul.
The island chain is known for its unspoiled Brazil beaches where you can enjoy the rocky coastline views, perfect sunsets, and lazy beach days. You'll quickly see why Fernando de Noronha is a UNESCO World Heritage Site. If you're looking for that exotic island vibe, Fernando de Noronha is a must-see! (An important note: the country limits the number of travelers here per day and getting around can be costly. Be sure to plan ahead!)
Paraty
Paraty is the place to be for paradisiac beaches and small-town vibes. Backed by mountains, this idyllic area features Portuguese architecture and a complex gold rush history, now housing artists and tourists alike. Walk through the ancient streets and enjoy all the delicious seafood this city has to offer to fuel up for more time on the shoreline.
We recommend checking out Praia do Cão Morto, Praia da Lula, Praia Vermelha, and Praia de Santa Rita, some of which you'll venture to by boat. For a more secluded feel, head to Ilha do Araújo, where you can enjoy unspoiled beaches and tiny beach bars for a day like no other on this side of paradise. From hiking and waterfalls to distillery tours and lazy beach days, this quiet slice of heaven is good for the mind, body, and soul.
Ubatuba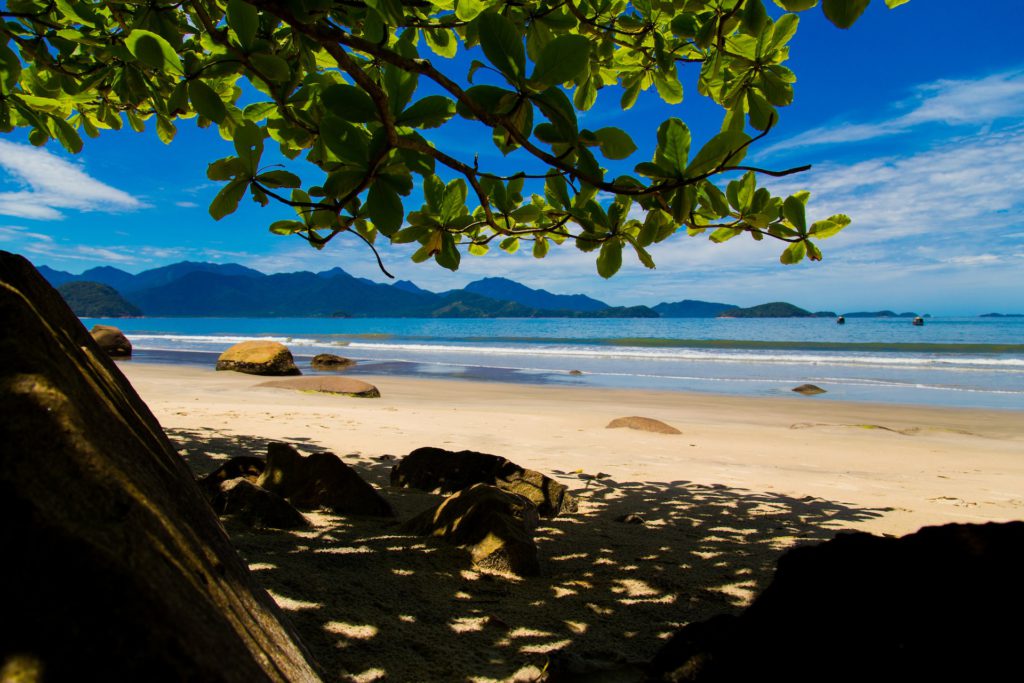 Ubatuba is a gem on the list, hosting over 100 Brazil beaches. The small municipality is surrounded by the lush rainforest of the Serra do Mar National Park. You'll find great food, authentic culture, and prime sunshine.
If you're looking to surf, check out Itamambuca Beach and Praia Vermelha do Norte. You can also take a day trip to Anchieta Island for swimming, snorkeling, and diving. Praia da Fortaleza, Ilha das Couves, and Praia da Santa Rita are great options, too, if you're looking for seclusion and scenic lookouts. However, Praia Grande is the most popular beach in the area, featuring white sands, eclectic food options, and great killer waves for surfers and bodyboarders.
Arraial do Cabo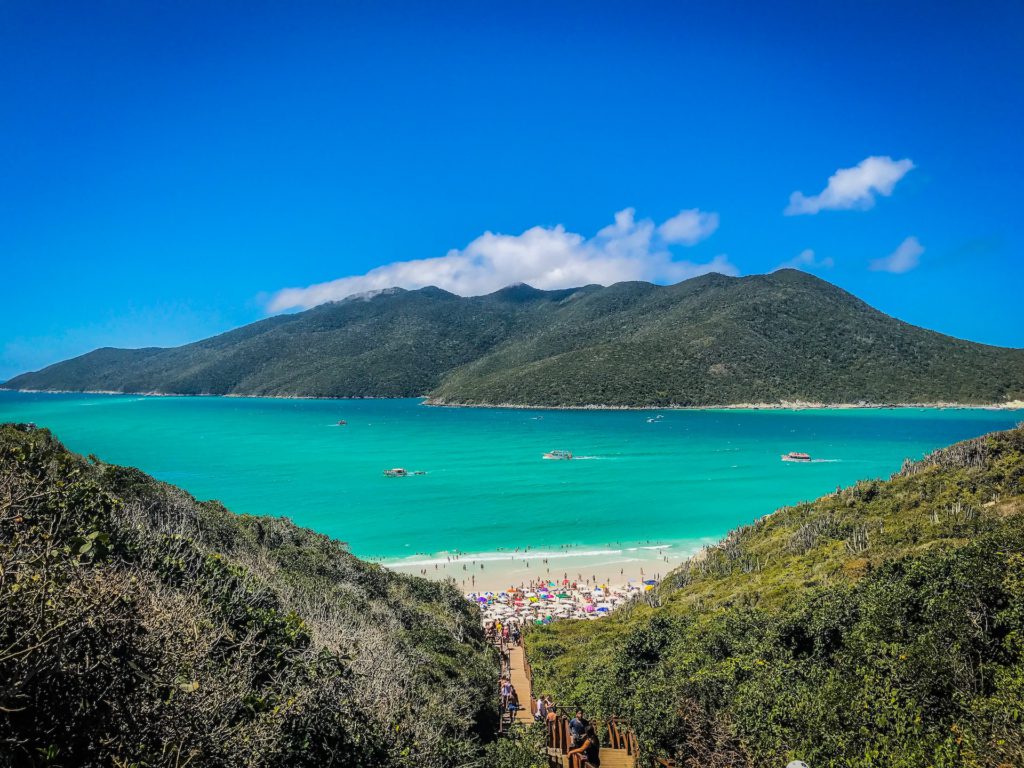 Arraial do Cabo is a coastal town in Rio known for its white-sand beaches and lively nightlife. This small stronghold has everything you want in a beach town: nature, history, parties, and of course, a pristine coastline. From food to fun, Arraial has it all!
We suggest checking out the beaches at Grande, Forno, and Pontal do Atalaia, along with the Gruta Azul (Blue Grotto). For the divers in your group, this place is a dream. You'll find offshore shipwrecks and a host of majestic marine life to encounter. During your time in Arraial do Cabo, you must take a trip to Cabo Frio. Featuring sugar-white sand beaches and historic ruins, sunrise and sunset pictures here are a must.
Thinking of booking a trip to Brazil?
Whether you've been considering a trip to Brazil, desire a beach getaway, or this article has inspired you to pick up and go, let TourHero help you create and plan the perfect itinerary to some of the best Brazil beaches. From quiet beach getaways to NYE parties on the shoreline, we can take your travel dream and make it a reality!
---
About TourHero
TourHero is a social travel platform that enables you to travel with like-minded people and fall in love with the journey. We work closely with handpicked local operators to ensure every experience curated is unique and exclusive to your travel group. Come with us on epic adventures and create memories that last a lifetime!