Ha Giang loop: The basics
Ha Giang is east of the better-known Sapa. It stretches to the Chinese border and comprises of mountains, mountains, and ahem, more mountains. The loop takes you through some of the country's most remote and breathtaking scenery for an experience that will stay with you for life.
There are various options available for those taking the loop, and countless motorbike hire companies in Ha Giang that will be only too happy to help you on your way! Experienced riders can take the loop alone. You can also ride with an expert local rider guiding the way in front. Or you can simply ride pillion on the back of a guide's bike, hold tight, and really take in the scenery.
The loop starts and ends in Ha Giang city, and is a maximum of 350 kilometers long, although many shortcuts can be taken if you're pushed for time.
How do I get from Hanoi to Ha Giang?
There's no quick route from Hanoi to Ha Giang, which of course is part of the appeal. You'll be visiting a part of Vietnam that is truly off the beaten track and miles away from the nearest airport.
Bus/sleeper bus
The cheapest choice of all, a bus from Hanoi takes between five and eight hours and costs between $10 and $25 per person. The cheaper tickets offer less room and take longer as these buses stop more en route, picking up passengers happy to sit on the floor, making some journeys very crowded. More expensive tickets offer small 'cabins' and even mini-TVs.
Private car
If you're traveling in a group, a private car is worth considering. A nine-seater will cost around $200 dollars and take around six hours.
Motorbike
A thrilling route for the experienced rider takes you deep into the north Vietnamese countryside. The distance from Hanoi to Ha Giang is around 300 kilometers and the roads can be dangerous in many places, so this isn't something for novice motorcyclists to try.
A note on accommodation
As much of the route is remote, try to sort out your accommodation in advance for your entire journey. Few rooms are available compared to Vietnam's better-known towns and villages.
When is the best time to visit Ha Giang?
The driest months in Ha Giang are from January to May, bringing the safest conditions to ride in. June and August offer the hottest weather, but often bring the wettest weather too. Some beautiful scenery can be found from September to December, as autumn falls and the land shifts from green to gold. But the latter part of the year can also bring snow and very dangerous riding conditions.
How long does it take to do the Ha Giang loop?
There are various routes you can take when riding the Ha Giang loop, with detours off the main path, which allow you to take in more sights and explore villages and rarely-experienced cultures.
Whilst it is possible for more experienced riders to take a shorter version of the loop in two long days, you'll be missing out by doing it this way. All your time will be spent navigating the roads on your motorbike, with scant time available for taking in the views, meeting the locals, and kicking back to enjoy a scrumptious lunch on the side of a mountain.
Put aside a minimum of three days for a motorbike tour of Ha Giang. Better still, give yourself five days to really enjoy the route and take in everything on offer.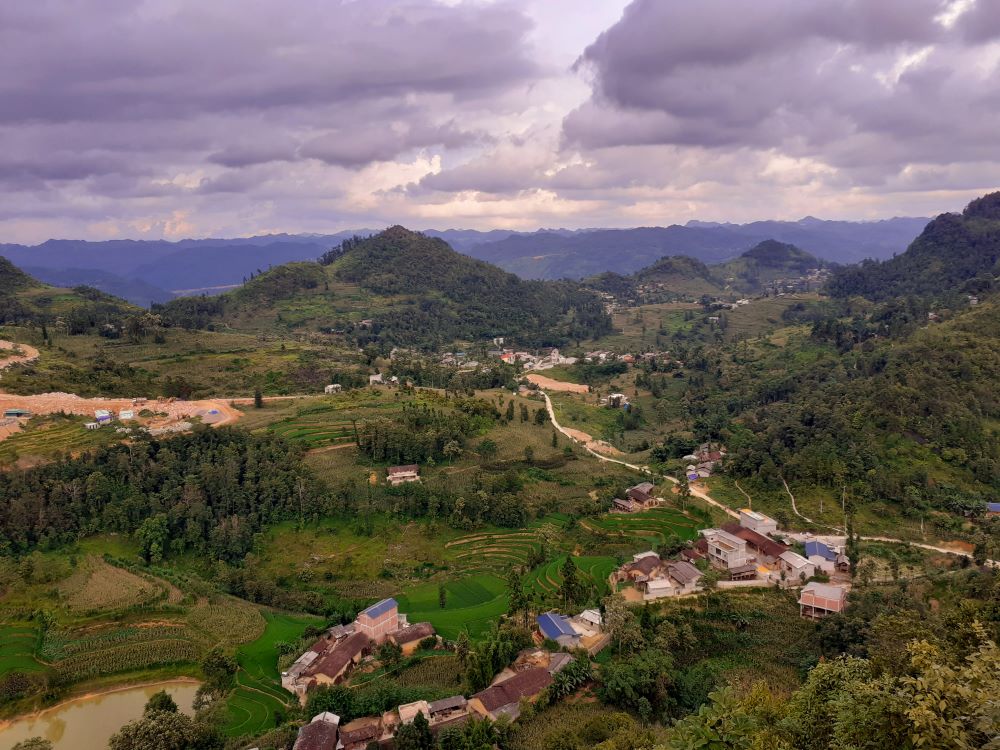 What do I need to wear on the Ha Giang loop?
The loop is in a mountainous region, so expect a range of weather conditions all year round. Bring clothes for all eventualities: shorts and T-shirts, warm clothes, and wet weather gear. Make sure you have sturdy footwear, too. Trainers should be fine, but flip-flops definitely won't be. Consider elbow and knee protectors too. They're cheap to buy or rent and can make a huge difference to even the slightest fall.
Ethnic groups in Ha Giang Province
Vietnam has 54 ethnic minority groups living within its borders, making the country far more diverse than many travelers realize. Each group has its own culture, language, and lifestyle. Ha Giang has 16 different groups of people within its province, with the H'mong people being the largest — around one-third of the ethnic population.
It's well-worth visiting Hanoi's Museum of Ethnology prior to any trip to Ha Giang. Here you can compare the different styles of dress worn by different groups, explore scale models of their houses, and get an introduction to ancient traditions. Even taking the shortest route on the Ha Giang loop will introduce you to people from various minority groups, but it's worth tying in your adventure with a trip to one of the local markets.
These require some planning as they usually take place just once a week, on Saturday or Sunday. Many of the ethnic groups live in the mountains in remote locations and market days provide a great coming-together of friends and families. Meo Vac Market and Hoang Su Phi Market are worth looking out for, but there are many others.
Highlights of the Ha Giang Loop
Pretty much every moment on the loop can be considered a highlight, but here are a few that should not be missed, even if you only have a couple of days.
Tham Ma Pass
The first of many passes on the Ha Giang loop is also one of the most picturesque. A series of climbing hairpin bends eventually cease at a small parking spot. Here you can see the road you've just traveled with a bird's-eye view. There's every chance you'll be able to buy some sugarcane juice from a local seller in order to quench your thirst.
H'mong Kings' Palace
There are plenty of opportunities to visit various villages and historical sites along the Ha Giang loop, but the H'mong Kings' Palace is an undoubted highlight. You'll find it in Sa Phin village. It is a reminder of the wealth the former kings earned from the opium trade.
Lung Cu Tower
Lung Cu Tower marks Vietnam's northernmost point, and from the top, you overlook China on one side and Vietnam on the other. The tower resembles a lighthouse in structure, and winding steps take you all the way to the top. Vietnam's flag takes center-stage amid a glorious panorama.
Ma Pi Leng Pass
Perhaps the most photographed scenery of the whole loop, the winding Ma Pi Leng Pass links the towns of Dong Van and Meo Vac, and is carved into the side of the mountains.
Nho Que River
Nho Que River can be found by taking a detour from the Ma Pi Leng Pass, although you'll see it from various vantage points along the pass itself. A fabulous boat trip can be taken on beautiful blue water, winding in and out of the narrow paths the river has created at the foot of the mountains.
Additional information
Is it safe to travel in Ha Giang?
Ha Giang is generally a safe place to travel, whether you're staying in the main city or in any of its villages and towns. But as always, exercise caution, even though incidents of theft and pickpocketing are few. Keep your belongings close to you at all times. Stick to crowded areas, especially if you're traveling alone. And don't try to complete any part of the loop after dark.
Is the Ha Giang loop safe?
Lots of people undertake the Ha Giang loop having never ridden a motorbike before, and plenty of people have accidents as a result. It's definitely not the kind of territory you should be learning to ride on. Consider taking the back seat to a local rider unless you've had prior experience.
The loop includes steep ascents and descents, hairpin bends, huge drops off the side of mountains, and some very rough roads. Although you won't meet much traffic on the roads around here, there's enough to cause the inexperienced rider plenty of problems, including the occasional buffalo herd!
We hope you enjoy your Ha Giang adventure! For a completely different Vietnamese experience, check out our ultimate sightseeing guide to Phu Quoc, Vietnam's largest island.
---
About TourHero
TourHero is a social travel platform that enables you to travel with like-minded people and fall in love with the journey. We work closely with handpicked local operators to ensure every experience curated is unique and exclusive to your travel group. Come with us on epic adventures and create memories that last a lifetime!