If you have a penchant for curious critters or wondrous wildlife, these Australian parks and reserves are just for you! Australia is rich in biodiversity and home to more than 80 percent of plants, mammals, birds, reptiles, and frogs found almost nowhere else in the world. The multitude of such a variety of endemic species makes Australia one of the 17 identified megadiverse countries of the world. What makes Australia unique is that about 35 percent of the continent is desert, lending to a unique ecosystem of Australian desert flora and fauna. Learn more about these unique creatures, see some of the world's rarest trees, and celebrate Aboriginal culture. Read on to find out!
Before you travel, make sure to refer to our handy article: Is it safe to travel within Australia? COVID-19 protocols to take note of.
Alice Springs Desert Park
Immerse yourself in vibrant desert flora and fauna in Alice Springs Desert Park, your getaway to Australia's outback. Opened in 1997, Alice Springs Desert Park is an educational and wildlife facility located in Alice Springs in Australia's Northern Territory. The park focuses on educating visitors on various desert environments while exploring the relationship between plants, animals, and people.
The park features three distinct habitat areas along a mile-long trail: desert rivers, sand country, and woodland. Each area features the different kinds of wildlife that thrive in these unique conditions.
Address: 871 Larapinta Dr, Alice Springs NT 0871, Australia
See plant life at the desert rivers habitat zone
Your desert journey begins here at the first habitat zone on the park's mile-long trail. Here, a variety of plant life thrives as underground water is abundant. Spot river red gums, coolibah trees, aquatic plants, and reeds as you venture through this spectacular desert environment.
If you're looking for wildlife, gaze upwards to the lush river red gums lining the banks of the trail. A variety of bird species such as cockatoos, finches, brightly-colored parrots, kingfishers, and owls nest in these gumtrees, the area dubbed as "the land of birds". Even dead trees provide a safe home for these feathered friends.
A prominent feature of the desert river's habitat is the presence of waterholes. These waterholes serve as a vital source of life in arid climates such as the desert, an important resource for the local Indigenous people, and an essential home for several desert animals and plants. Animal species such as the Spencer's burrowing frog and the hardy spangled grunter have found ways to survive in this arid environment, a fascinating sight to see when you are roaming through this habitat zone.
Get acquainted with elusive lizards in the sand country zone
Once you've explored the eye-opening desert rivers zone, head to sand country. This section of the trail recreates a sandy desert environment using clay, gypsum, and salt pans with very little surface water running through, rendering the area extremely dry. Despite this, a number of flora and fauna species thrive in this desert environment.
Spinifex, a tall coastal grass plant, dominates the area as these hardy plants are commonly found in Australia's most deficient and most arid soils. Their roots stretch down as far as three meters, and its spiky leaves make them stiff and rigid — an almost indestructible plant. It's only enemy: termites. Termites thrive on spinifex litter, and many formidable termite mounds can be seen throughout the area.
While not many marsupials or mammals can be found here, lizards and frogs reign supreme in these dry desert lands. These lizards and frogs love feeding on the termites inhabiting these desert lands. We recommend visiting this area after a period of heavy rain as you'll be able to catch sight of burrowing frogs emerging from their hiding spots, ready to feast on termites.
Explore the lush woodland region
Finally, conclude your desert exploration with the greenest habitat zone in the park, the woodland. This naturally-occurring habitat is the most common area around Alice Springs, with a diversity of flora and fauna found here.
Apart from the well-loved kangaroos and emus found here, the woodland is also home to flowering trees such as bloodwoods, ironwoods, beefwoods, and corkwoods. These flowering trees attract plenty of birds who come to feast on nectar, fruit, and seeds.
Alice Springs Reptile Centre
A host of weird and wonderful desert creatures await you at the Alice Springs Reptile Centre. Just a 15-minute drive from Alice Springs Desert Park, Alice Springs Reptile Centre houses over 100 reptiles in exhibits recreated from their natural environment. The center houses the largest reptile display in the Northern Territory and has clinched many awards for its eco-tourism efforts, focusing on keeping the environment clean using renewable energy sources.
Alice Springs Reptile Center offers visitors unforgettable encounters with Australian wildlife, from vibrant geckos to some of the world's most venomous snakes. We recommend checking out the gecko cave, exploring the large saltwater crocodile exhibit, and participating in the interactive talk and handling sessions.
Address: 9 Stuart Terrace, The Gap NT 0870, Australia
Venture into the gecko cave
The gecko cave is the ideal place to start your adventure through the Alice Springs Reptile Centre. Here, numerous gecko species are housed in their very own naturally-styled enclosures. These enclosures mimic the natural environments of Alice Springs, the Barkly Tablelands, and the Top End. This truly eye-opening experience brings you into close quarters with rare geckos almost impossible to see in the wild.
Visit the saltwater crocodile exhibit
Meet Terry, a four-meter-long, 200-kilogram saltwater crocodile. First brought to the Alice Springs Reptile Centre in 2006, Terry is a well-loved resident who calls the center's large saltwater crocodile exhibit home. The exhibit lets you get a closer look at Terry's world from above and below the water. Don't miss this cool Instagram-worthy opportunity to get a snapshot of this gargantuan creature!
Participate in interactive talk and handling sessions
Channel your inner Britney Spears and strike a pose with a python at the center's interactive talk and handling sessions. Led by knowledgeable zookeepers, these talks bring you up close and personal with the center's wildlife. See lizards being fed, handle a snake, and learn about some of the world's most venomous snakes housed right here at the center.
Olive Pink Botanic Garden
The Olive Pink Botanic Garden, located in Alice Springs, is Australia's only arid zone botanic garden. This captivating 40-acre garden houses over 600 central Australian plants, including 40 rare or threatened species.
Olive Pink Botanic Garden was first established in the mid-1950s by Olive Pink, its founder and first honorary curator. The reserve served as her home where Pink tirelessly worked on collecting and curating various native flora species. Her vision was to create a public area where guests could enjoy and learn about Australia's arid desert flora. She died in 1975 and the garden was opened to the public in 1985.
Address: Tuncks Rd, Alice Springs NT 0870, Australia
Embark on various walking trails
Olive Pink Botanic Garden features four scenic self-guided walks ranging from 15 to 40 minutes long. If you're looking for an easy stroll, make your way to the Mallee Walk to feast your eyes on multi-stemmed mallee trees or explore the Wattle Walk, a lovely trail highlighting Australia's national flower, the wattle.
For the most extensive collection of native plants, roam the Hill Walk on the Arrernte Trail, a rocky path that leads to Tharrarletneme (Annie Meyers Hill), a revered site for the Arrernte people. Apart from the variety of plant species, find euros (hill kangaroos), black-footed rock wallabies, and western bowerbirds inhabiting this trail. Over 80 bird species have been recorded here!
Mac Clark Conservation Reserve
The Mac Clark Conservation Reserve is unlike anything you've seen before. This striking arid zone is set on a stony windswept plain, one of Australia's driest regions. The reserve protects rare Acacia Peuce, otherwise known as Waddywood trees, found in just two other locations in the world. About 1,000 mature trees are protected here, with trees growing to 17-meters tall and are estimated to live for up to 500 years.
The reserve also serves as an important site for the scientific study of these trees. It is important that visitors do not interfere with the trees when visiting the reserve.
Address: Unnamed Road, Ghan NT 0872, Australia
Feast your eyes on rare desert giants
Step into a Mars-like landscape at the Mac Clark Conservation Reserve to admire these rare desert giants. The area is heavily protected in order to ensure the survival of this rare species. Visitors are encouraged to follow marked paths and respect the surroundings.
Yanga National Park
Above image, German Ugarte, Outback Geo Adventures.
Home to the world's largest river red gum forest, Yanga National Park is a sprawling national park you must visit in New South Wales. This incredible land has served Aboriginal families, early explorers, and, more recently, fishers, hunters, and campers for generations.
Yanga National Park incorporates 12 different wetland types, four significant lakes, hundreds of waterways of canals and creeks, and dense desert shrubland. This dynamic environment makes for the perfect weekend getaway to the outdoors, great for fishing, camping, birdwatching, and learning about Aboriginal culture. You'll never know what you'll find — the park is home to over 150 bird species and more than 300 plant species.
Address: Sturt Highway, Balranald NSW 2715, Australia
Go birdwatching
Above image, German Ugarte, Outback Geo Adventures.
Yanga National Park is one of the best places to go birdwatching in New South Wales. See pelicans and black swans forage for food through the park's meandering waterways. In the summer, the lakes are a buzz of activity with white-bellied eagles and great crested grebes.
Visit the Yanga Lake Red Gum bird hide for panoramic views of these feathered friends. Located on the Yanga Lake walking track, this bird hide is a great spot to quietly observe wildlife, unwind, and experience the wonders of nature. If you'd like to see more of New South Wales, check out our overnight sightseeing guide to the Blue Mountains.
Relive Australia's pastoral history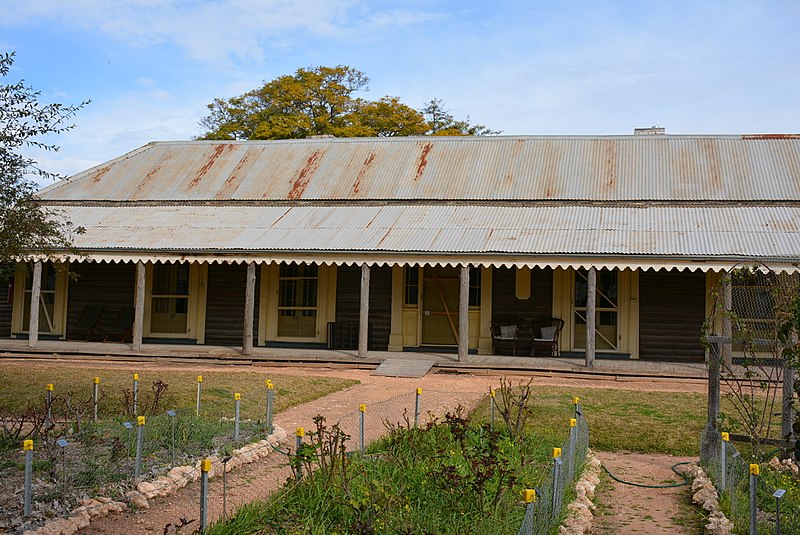 The Yanga Homestead is a historical landmark built around 1870. Yanga was one of the Riverina's most productive pastoral stations, the homestead a reflection of early pastoral activity in the area. The homestead consists of stables, a gardener's shed, a station store, and rose gardens that circle the building. All of this has been well preserved and well maintained by helpful volunteers, restoring the important place to its former glory.
---
About TourHero
TourHero is a social travel platform that enables you to travel with like-minded people and fall in love with the journey. We work closely with handpicked local operators to ensure every experience curated is unique and exclusive to your travel group. Come with us on epic adventures and create memories that last a lifetime!