The holiday season brings joy to many with colorful lights, festive decorations, thoughtful gifts, and delicious feasts. One tradition that has survived the centuries in Europe are Christmas markets. Filled with an array of decorations and goodies, they exude the essence of Christmas spirit.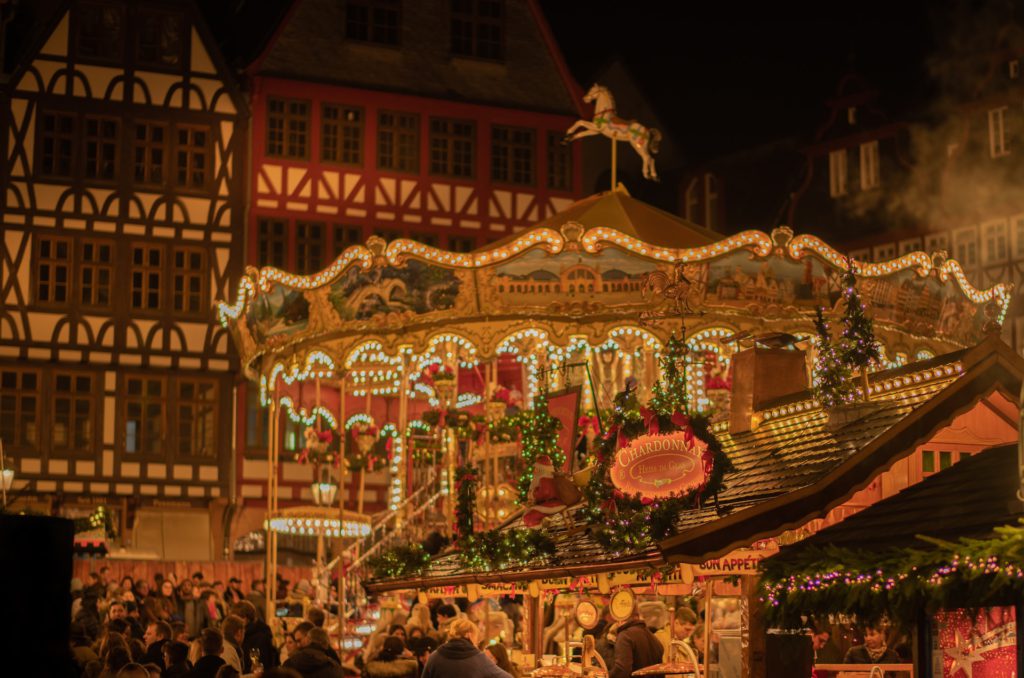 Christmas markets come in all shapes and sizes, but most feature the following:
Food and drink stalls with local/traditional treats
Tables and tents filled with trinkets, ornaments, and crafts
Carnival rides and games
Christmas pyramids, towering trees, and decorations of all kinds
Music and folk shows
There is a magical presence in these open-air markets that bring all who visit a sense of wonder and peace, especially when they are located in quaint European cities with old-world architecture all around. Whether you actively celebrate Christmas or love a marketplace vibe, these top European Christmas markets should find their way on your travel bucket list.
Germany
Home to a variety of landscapes, two millennia of history, and festivals of all kinds, Germany is the top destination for visiting Christmas markets, as the country offers a variety of choices that date back further than most in Europe. From traditional food treats to nightly folk events, you'll find something for everyone in your travel group to enjoy. Plan an epic trip to see one or see them all!
Dresden
Considered to be the oldest Christmas market in Germany, Dresden's Striezelmarkt is a must-see. The yearly event is home to a 14.61-meter-high Ore Mountain step pyramid, hand-crafted treats of all kinds, and a ferris wheel that draws travelers from all over, offering incredible views of the entire extravaganza. The market is typically open from November 23 through December 24 from 10:00 am to 9:00 pm with some slight changes on the days leading up to Christmas. If you're looking to get into the holiday spirit, Dresden is a top choice.
Munich
While Munich is known for its Oktoberfest celebration, it's also home to the delightful Christkindlmarkt at Marienplatz. The festivities are said to date back to the 1500s and feature the largest nativity market in Germany. The Bavarian charm of the locals and the architecture will tickle your senses, inviting the magic of Christmas and the city's history into your soul. You can take the kids to Himmelswerkstatt for free crafting, run from the creepy Krampus during Krampuslauf (Krampus run), and enjoy traditional folk music throughout the night. The market is typically open from November 21 through December 24.
Berlin
Berlin features an array of Christmas markets. You'd be hard-pressed to walk around this famous city and not run into one during the holiday months! Gendarmenmarkt is considered the best, with its gorgeous decorations, exclusive crafts, and warm-up tents with delicious drinks to keep you going during the colder nights. The market is typically open from November 21 through December 24 and costs 1 euro to enter. This is the place to do all your Christmas shopping!
Austria
From the majestic alps to its quaint towns and bustling cities, Austria should already have a spot on your travel bucket list. But when it comes to Christmas markets, Austria has a lot to offer. While there are a variety to choose from, the big cities take the cake!
Vienna
Much like Berlin, no matter where you are in Vienna in December, you'll be a stone's throw away from a stellar Christmas market. The well-known favorite is the Wiener Chriskindlmarkt und Weihnachtstraum. Located in front of the Rathaus (town hall), you'll find 150 stands, an ice skating rink, rides, and a delicious array of local fare. The market is typically open from November 19 through December 26 and remains open from 10:00 am to 9:30 pm.
Salzburg
The Salzburg Christkindlmarkt is another must-see. Located within a UNESCO cityscape, this market is one of the oldest in the world! The event originated in the 1400s, originally called the Tandlmarkt. From mulled wine to the incense burning in the streets, your senses will be overtaken by the smells, the sounds, and the celebratory feel in the square. Not only will you find tasty treats and great Christmas gift options, but there are parades, kid events, sing-alongs, and much more at this festive locale. The market is typically open from November 17 through January 1.
France
France is a beautiful country with art, history, and delicious fare waiting around every corner you turn. It's also home to some beautiful markets, many that have been around for centuries. On your next Christmas trip, add France to your list for some merriment and cheer.
Strasbourg
In 1570, the Christkindelsmärik in Strasbourg was created and is known as France's oldest traditional Christmas market. Today, it's also the largest with 300 stalls! There's a reason this city is known as "the Capital of Christmas". Purchase homemade jams and wine, take your kids on the many rides, and peruse one or all of the 11 markets, featuring everything from Christmas ornaments and food to furniture and clothing. The market is typically open between November 25 and December 25.
Metz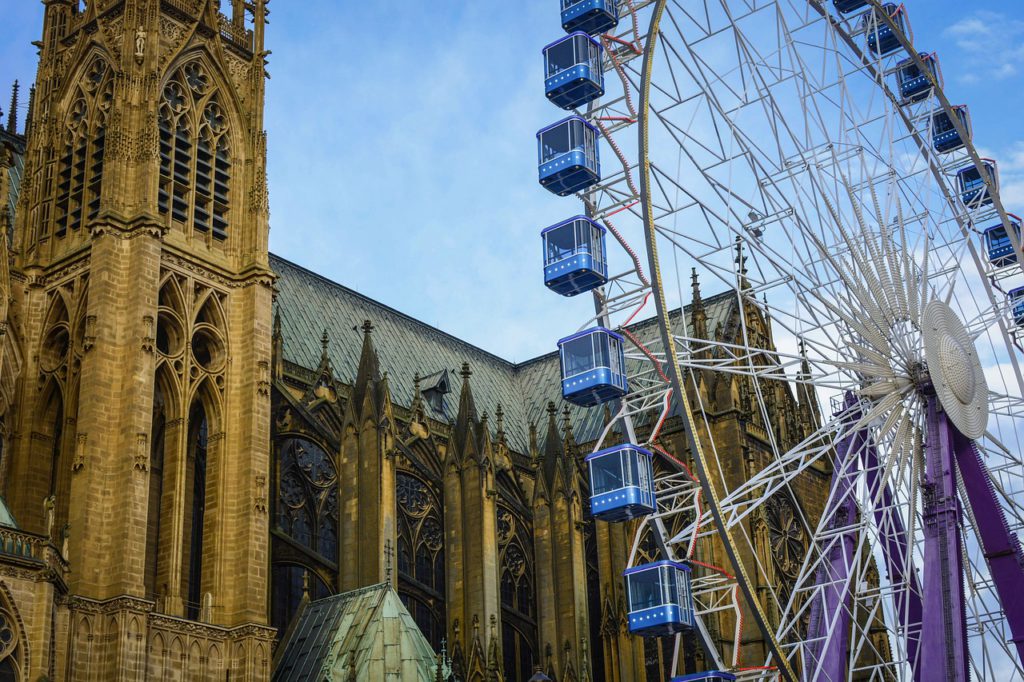 Next to Strasbourg, Metz is a must-see, with its ice sculptures, classic merry-go-round, magic forest, and much more. Snack on some of the best gingerbread in the country from the gourmet food market as you stroll through the stalls next to the towering Christmas pyramid and walk through the animated trees in the Sentiers des Lanternes. The market is typically open between November 18 and December 24 and will provide you with some stunning photo ops from day to night!
Colmar
Filled with wooden chalets, decorated alleys, and festive lights, downtown Colmar is an idyllic Christmas wonderland. This area of the Alsace region is a must-see, as it's home to one of the most photographed Christmas markets in Europe. The historic center contains six Christmas markets, each featuring its own vibe. From ornaments and mugs to delicious treats and warm drinks, you'll have everything you need for a magical Christmas experience. The market is typically open between November 24 and December 28.
Hungary
Hungary is known for its neoclassical buildings and mineral spas, but did you know its capital boasts an array of stellar Christmas markets? If you're checking off European holiday bazaars, Budapest is a location you can't miss!
Budapest
Attracting hundreds of thousands of visitors each year, Budapest features a variety of Christmas markets that will dazzle the eye and fill the stomach. The main market is located in Vörösmarty Square and boasts all the goodies you crave at a Christmas market. While this fair is only a few decades old, it's become quite popular. From the stunning architecture surrounding the square to its transformational history, you can shop for Christmas goodies while you go back in time. The fair is typically open from November 18 through December 28.
However, there is also the Advent Feast at the Basilica (November 18 through January 1) and the Advent Óbudán (November 25 through December 23) to consider when traveling to Budapest during the holiday months. Both events feature open-air ice rinks, delicious gastronomy, live music, and an array of domestic crafts to peruse!
Latvia
Located in Eastern Europe, Latvia brings us back to simpler times with its art nouveau and wooden architecture, a medieval Old Town, and grand market, inviting all who love food, history, and culture to come and play. Get into the Christmas spirit in its sprawling capital city of Riga!
Riga
Riga is the place to be in Latvia with an array of Christmas markets that light up the streets as the snow falls. The Old Riga Christmas Market runs from November 27 through January 1, boasting lights, food, crafts, and much more. From folklore ensembles to dances and games, you'll find something here for every age to ring in the Christmas spirit and close out another great year with family and friends. You'll also find a ton of other markets scattered throughout the city. See one or see them all!
Czech Republic
Many flock to the Czech Republic's well-known capital city of Prague each year to enjoy its architecture, history, and food. A truly beautiful city by day, this area lights up at night during the holiday months, making it a city you can't miss when visiting the Christmas markets of Europe.
Prague
What is more festive than a historic town covered in lights and snow? Grab a cup of mulled wine and start exploring! Prague offers a fine selection of Christmas markets, the two biggest held in Old Town Square and Wenceslas Square (both typically open from November 26 through January 6). Easily walkable from one to the next, you can cross two stellar markets off your list in the same night. The Old Town Square is a must-see with the Church of Tyn as your backdrop and a massive real tree as an epic centerpiece.
While these two markets steal the show, there are many more to see that each bring their own unique vibes, crafts, and experiences to the table. Check out the markets at Republic Square and Havel's Market on Kampa Island, as well as the market at Prague Castle near St. George's Basilica.
Belgium
Beer, food, history, and culture bring many travelers to Belgium's rich lands. However, Christmas time offers guests an exciting show of lights and laughter throughout its ancient streets. From Leuven to Brussels, Christmas markets abound and will get you in a festive mood from the moment you arrive.
Brussels
Plaisirs d'Hiver (Winter Wonders) is the most popular Christmas market in Belgium, featuring a unique array of food, drinks, and fun! Peruse over 260 wooden chalets scattered throughout the area, along with an ice skating rink, fairground rides and games, and the famous light and sound show at the Grand-Place. Ride the neon ferris wheel to capture the entire area lit up under a gorgeous starry sky to close out a great night in Brussels. This market is typically open from November 25 through January 1.
Bruges
Bruges should be on your travel list outside of Christmas, with its medieval architecture and delightful old-world charm. Hit two birds with one stone with a Christmas visit to see its magical markets that make this already picturesque city transcend its idyllic atmosphere. The Bruges Christmas Market covers the city with thousands of lights and holiday decorations lining its cobblestone streets. Enjoy a hot waffle, a horse-drawn carriage ride, and its famous Belgian beer that will keep you warm throughout the night. You'll also find lots to do when it comes to kids and families with the annual Ice Sculpture Festival and ice skating rink. The market is typically open from November 28 through January 8.
Antwerp
Antwerp is a port city known for its diamond trade. At Christmas time, its historic center is buzzing with choirs, over 100 market stalls, and sumptuous food all around. You'll find an ice rink, mini-golf setup, a ferris wheel, and so much more to fill your time in this cultural hub. Grab a glass of jenever, get a souvenir picture at one of the many photo booths, and cheers to a merry Christmas season! The market is typically open from December 9 through January 8.
Poland
A country filled with history, culture, and delicious fare, Poland is the perfect backdrop for a Christmas market. While Christmas traditions have been alive for centuries here, the concept of holiday markets is quite new. However, each town offers a unique experience that you won't find anywhere else on our list.
Warsaw
The Warsaw Christmas Market is said to be the best in Poland. Located in front of the Royal Castle, you can fill up on traditional pierogies and hot chocolate as you wander the stalls and fairytale forest, buying gifts for friends and family back home. Enjoy over 60 chalets filled with treats of all kinds that will warm your heart and fill your stomach with traditional fare. However, what makes Warsaw a must-see is its array of crafts you won't find anywhere else. Hand-painted glass trinkets, embroidered tablecloths, and hand-knit clothing are just a few of the treasures you'll find here each year. The market typically runs from November 25 through January 6.
Wroclaw
While Wroclaw is off the beaten path, it's a must-see at Christmas time. Its market steals the show with colorful buildings in the town center that act as a one-of-a-kind backdrop. You'll find delectable Polish treats, an array of stalls to peruse, and a sense of whimsy you won't find anywhere else in Europe. Don't forget to try Oscypek, a smoked cheese, unique to this area of Poland. The market typically runs from November 25 through January 6.
Poznań
Poznań Bethlehem hosts a wealth of winter delicacies. From ornaments and crafts to delicious fare and festive attractions, you'll be spoiled for choice during Christmas in Poland. Marvel at the designs showcased at the International Ice Sculpture Festival, play some carnival games, and see the entire market from a new perspective on the ferris wheel. Enjoy the music and a visit with Santa to kick off the holiday season! The market typically runs from November 19 through December 27.
---
About TourHero
TourHero is a social travel platform that enables you to travel with like-minded people and fall in love with the journey. We work closely with handpicked local operators to ensure every experience curated is unique and exclusive to your travel group. Come with us on epic adventures and create memories that last a lifetime!