Phu Quoc (pronounced "foo kwok") may not be on every traveler's radar, being just one of many thousands of gorgeous islands in Southeast Asia that compete for attention. You'll definitely want to add this one to the travel bucket list, though! As Vietnam's largest island, Phu Quoc boasts incredible beaches, rich coastal waters, beautiful resorts, and unique sightseeing spots that will delight any visitor. From the charming eastside fishing village of Ham Ninh to the extraordinary Starfish Beach hidden in the north, there are plenty of gems to be discovered. We've created the ultimate traveler's guide just for you. Read on to find out more about the island's must-see attractions and all the best things to do in Phu Quoc!
About Phu Quoc
Phu Quoc is Vietnam's largest island. It spans a total area of 574 square kilometers and has a population of about 107,000 people. The island sits just south of Cambodia in the Gulf of Thailand, roughly 40 kilometers west of Ha Tien, the nearest coastal town of mainland Vietnam. The island is part of the Phu Quoc District, which encompasses 21 other small islets, and belongs to the Kien Giang Province that sits in the Mekong Delta region of southern Vietnam.
Phu Quoc relies heavily on tourism. Many luxury resorts and hotels sit along the palm-lined beaches of the southwest coast. Infrastructure and development aside, the island is also highly recognized for its rich biodiversity. More than half of the island is part of Phu Quoc National Park, which sits in an established UNESCO Biosphere Reserve and features dense evergreen forests, hiking trails, and mountains. The northern and southern end of the island encompasses the Phu Quoc Marine Protected Area, rife with coral reefs, mangrove forests, and seagrass beds that attract rare and vulnerable aquatic species such as dugongs, leatherback sea turtles, and green sea turtles.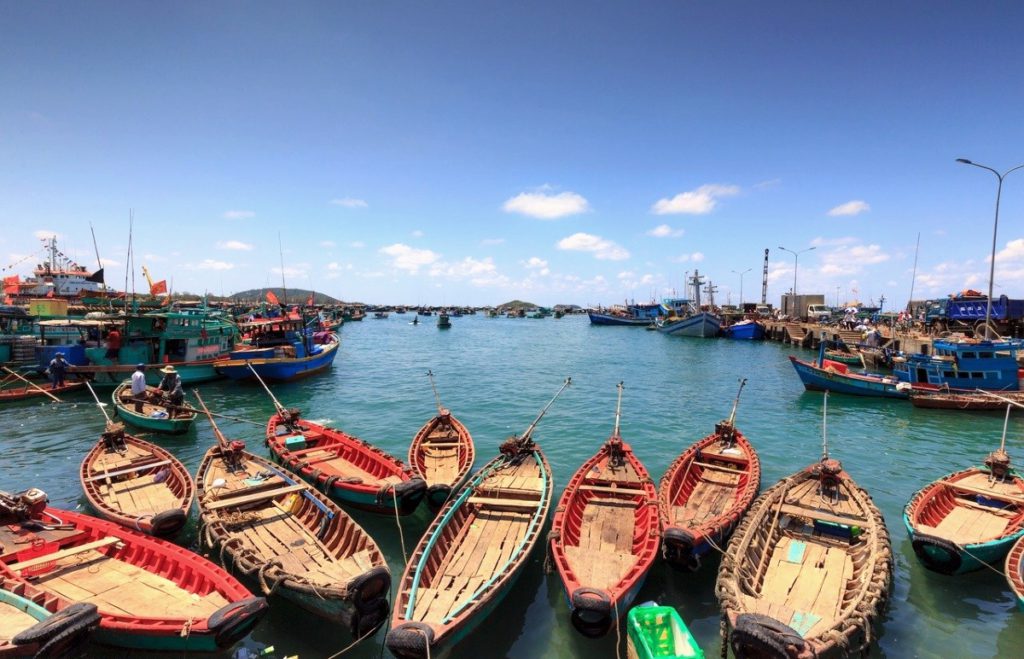 Phu Quoc is famous for producing two traditional culinary condiments: black pepper, which is cultivated everywhere on the island, and fish sauce, which has a reputation among the Vietnamese people as being the best fish sauce you can find in the country. Pearl farming is also common here.
Things to see and do in Phu Quoc: Your ultimate checklist
Beaches and islands
Soak up some sun at the famous Sao Beach
Widely regarded as one of the most beautiful beaches in Asia, Sao Beach is blessed with smooth, pearlescent sand and beloved for its soft ocean waves and Instagrammable seaside swings. The scenic seven-kilometer stretch features calm and clear waters perfect for water sports, a collection of restaurants with seafront views, and plenty of lounge chairs you can rent for a small fee of 80,000 VND. If you're keen to test the waters, be sure to get on a jet ski!
How to get to Sao Beach: The beach is located approximately 25 kilometers southeast of Phu Quoc's main town, Duong Dong. You can easily rent a motorcycle to ride to Sao Beach or hire a metered taxi to take you directly there.
Catch an impressive sunset at Cua Can Beach
If you're looking for something a little more relaxed, head northwest to find the casuarina tree-lined Cua Can Beach right by a fishing village. Somewhat elusive, the beach is actually an arcing sandbank that sits at the juncture where the placid Cua Can River empties into the open sea. The beach and its little settlement offer a more laid-back atmosphere. In contrast to the busy restaurants and luxury resorts of Sao Beach, you'll find small street food outlets and budget accommodation options here. Catch a blazing orange sunset from the beach at around 5:40 pm.
How to get to Cua Can Beach: The village of Cua Can is located approximately 15 kilometers from Duong Dong Town. You can follow signs to the popular Chez Carole Resort to find the beach.
Ride the longest oversea cable car in the world to Hon Thom Island
Sitting just south of Phu Quoc amidst the smattering of mountainous islands that make up the An Thoi archipelago is the beautiful Hom Thom Island, also known as Pineapple Island. At three kilometers in length, it is the largest island in the archipelago. Many fishermen and their families call Hon Thom home; around 4,000 people live here.
With its reputation as an eco-tourism destination, Hon Thom exudes a perfectly peaceful atmosphere that remains rustic and untouched by large-scale development. Explore the local markets, catch sight of the colorful fishing boats that dot the shore, or charter your own boat to go sightseeing around the island.
How to get to Hon Thom Island: A new cable car system, opened in 2018, connects Phu Quoc with Hon Thom, giving visitors a great reason to make day trips out to the smaller island. Fun fact: the Hon Thom Cable Car stretches a jaw-dropping 7899 meters, making it the longest oversea cable car in the world! You can also reach Hon Thom Island by catching a ferry from An Thoi port or by joining a tour.
Say hello to a parade of red starfish at Starfish Beach
Tucked away along the northeast coast of Phu Quoc, near the Lang Chai Rach Vem fishing village, you'll find an unassuming little stretch of sand that holds a big secret. Not called "Starfish Beach" for nothing, the warm shallows of the clean and tranquil shoreline is frequented by dozens of red starfish at any one time! If that's not photogenic enough for you, the nearby fishing village itself is made up of a charming assembly of overwater walkways, seafood restaurants, and wooden houses on stilts.
How to get to Starfish Beach: Starfish Beach is located at the northern end of Phu Quoc, making it a fairly off-the-beaten-track destination. It is accessible by motorcycle, car, and taxi. It can take at least an hour to reach Starfish Beach if you leave from Duong Dong Town.
Waterfalls, streams, and parks
Have a picnic along the scenic rocky banks of Da Ban Stream
You'll find that Phu Quoc has very little surface moisture compared to the areas along the waterlogged Mekong Delta. However, there are a few small springs that originate in the hills, one of them being Suoi Da Ban, also known as the Da Ban Stream or Da Ban Waterfall. The stream's waters originate from the Ham Ninh mountain range. It passes through a series of flat stone slabs that make for a convenient picnic area. The main draw here is the rickety wooden suspension bridge that sits atop the waterway, providing a scenic photo opportunity.
How to get to Suoi Da Ban: Suoi Da Ban is located about six kilometers northeast of Duong Dong Town. You will need to cross a dirt road as you approach the attraction's parking area. Be careful of potholes.
Trek through an eco park to find the Suoi Tranh Waterfall
Within the Suoi Tranh Eco Park, located just 15 minutes south of Duong Dong Town, you'll find Suoi Tranh Waterfall. It may not be the most dramatic nor largest of its kind, standing at just four meters, but the cascading spring certainly has charm. Surrounded by a peaceful forest, the trail leading to the waterfall is made up of smaller streams and falls filled with freshwater shrimp and small fish. Its accessibility makes it one of Phu Quoc's more popular sightseeing spots. Suoi Tranh Eco Park itself is rife with flora and fauna. You'll discover plenty of wild orchids, moss, lichen, and exotic mushrooms thriving here.
How to get to Suoi Tranh Waterfall: From Duong Dong Town, it's a quick 15-minute drive south to Suoi Tranh Eco Park. Look out for a large concrete gate that marks the entrance of the park. Admission costs VND 10,000. From the park's entrance, it takes around 20 minutes to reach Suoi Tranh Waterfall on foot.
Catch a glimpse of rare wildlife at Phu Quoc National Park
Phu Quoc National Park spans a massive 314.2 square kilometers, inclusive of sea and land areas. While most of the park is strictly protected by the local government, you can still visit the Khu Rung Nguyen Sinh Forest Reserve to access the park's dense forests. This section is perfect for camping, hiking, and observing wildlife. Look out for silver langurs, crab-eating macaques, small-clawed otters, and hornbills! Adventurers looking for a challenge can attempt the four-hour Mount Heaven hiking trail, which snakes through the evergreen forest and culminates in a climb up a 10-meter-tall bamboo ladder to reach the summit.
How to get to Phu Quoc National Park: The national park's Khu Rung Nguyen Sinh Forest Reserve can be accessed via Ganh Dau Village, located to the north of Phu Quoc. You will need a motorbike or mountain bike to tackle the bumpy dirt roads that lead into the park.
Urban attractions and temples
Interact with the local fishermen at Ham Ninh Fishing Village
The rich sea around Phu Quoc is one of the richest fishing grounds in all of Vietnam, hence the numerous fishing villages scattered along the coastal areas of the island. Ham Ninh is the most famous of these fishing villages, providing an ideal stopover for visitors looking to get a glimpse into the daily life of the local fishermen and to feast on freshly-caught seafood. Try some sea cucumber soup, boiled flower crab, and herring salad!
How to get to Ham Ninh Fishing Village: Drive 30 minutes northeast from Duong Dong Town.
See how fish sauce is made at a fermenting factory
Without a doubt, fish sauce is an essential ingredient in Vietnamese cuisine. Produced from high-quality anchovies caught in the rich waters of Phu Quoc's fishing grounds, the island's fish sauce has a reputation of being the best in Vietnam. Pay a visit to one of the fish sauce factories here to see how this complex, briny, and pungent sauce is fermented. We recommend taking a tour of Phung Hung Fish Sauce (Nuoc Mam Phung Hung) to see the factory's 100 large wooden vats, each capable of holding more than 14 tons of anchovies! A word of caution: if strong smells don't agree with you, be sure to bring a mask.
How to get to Phung Hung Fish Sauce: The factory of Phung Hung Fish Sauce is located just six kilometers inland from Sao Beach. Just head southwest along the main road.
Climb the religious site of Dinh Cau Rock
While exploring the beach at Duong Dong, travelers will inevitably come across the majestic outcrop of Dinh Cau Rock overlooking the ocean and boasting a spectacular view. Atop the rock, you will find the iconic Cau Temple, a famous religious site built in the 17th century. Local fishermen frequent the temple to pray to the God of the Sea for protection prior to heading out on their fishing journeys. Visitors can climb to the top of the rock for fantastic views of the coast and the dozens of fishing boats that dot the sea.
How to get to Dinh Cau Rock: The temple is conveniently located in Duong Dong Town, just by the fishing harbor.
Stop by the largest temple in Phu Quoc for incredible sea views
The peaceful Ho Quoc Pagoda is the largest temple on Phu Quoc and a definite must-see for any visitor to the island. Overlooking the ocean, this beautiful Zen Buddhist temple features tiled-roof pagodas, impressive statues, and a beautiful "dragon staircase" that you can climb to view incredible panoramic vistas of the sea.
How to get to Ho Quoc Pagoda: You will find this temple 10 kilometers north of Sao Beach, on a remote stretch of coastal road.
We hope our sightseeing guide of things to do in Phu Quoc has inspired you to experience the beautiful island first-hand!
---
About TourHero
TourHero is a social travel platform that enables you to travel with like-minded people and fall in love with the journey. We work closely with handpicked local operators to ensure every experience curated is unique and exclusive to your travel group. Come with us on epic adventures and create memories that last a lifetime!