From history and culture to food and coastal bliss, Portugal is a wonderland of fun and relaxation. Vineyards, pristine beaches, and iconic sites are just a few of the reasons people flock to this magnificent country, and these factors (plus so much more) make Portugal the perfect location for a destination wellness retreat.
The country's mild and sunny climate throughout most of the year provides a perfect setting for outdoor activities, such as hiking, yoga, and meditation. This weather, combined with the country's stunning natural scenery, including the Atlantic Ocean coastline and the lush green hills of the interior, creates a peaceful and serene environment conducive to relaxation and rejuvenation.
Portugal also offers a range of wellness experiences that cater to different needs, preferences, and budgets. From luxurious spa resorts to affordable eco-lodges and yoga retreats, visitors can choose from a variety of options to suit their individual needs and goals. Many wellness retreats in Portugal also incorporate healthy eating, with a focus on fresh, locally-sourced ingredients and Mediterranean-style cuisine, known for its health benefits.
In addition, Portugal is a safe and welcoming country with a rich cultural heritage and vibrant contemporary scene. Visitors can explore its historic cities, charming villages, and traditional markets, or engage in activities such as surfing, cycling, hiking, or horseback riding, to enrich their wellness experience.
Whether you're considering planning a destination retreat in Portugal or you've been waiting for an opportunity to arise, here is a comprehensive guide of locations, accommodations, and activities to help you get started and build the perfect itinerary for your community.
Best time to go to Portugal
The best time to travel to Portugal depends on your preferences and what you plan to do during your trip. Generally, the peak tourist season in Portugal runs from June through August, when temperatures are at their highest. This means beaches and tourist attractions can be crowded. However, this is also the best time to enjoy Portugal's lively festivals and events, such as the Feast of St. Anthony in Lisbon or the São João Festival in Porto.
If you prefer milder temperatures and fewer crowds, the shoulder seasons of April to May and September to October are ideal. During these months, the weather is pleasant, and you can still enjoy outdoor activities such as hiking and cycling without the intense heat of the summer months. This is also a good time to explore Portugal's cultural and historical sites, along with the country's vineyards, as there are fewer tourists and shorter queues.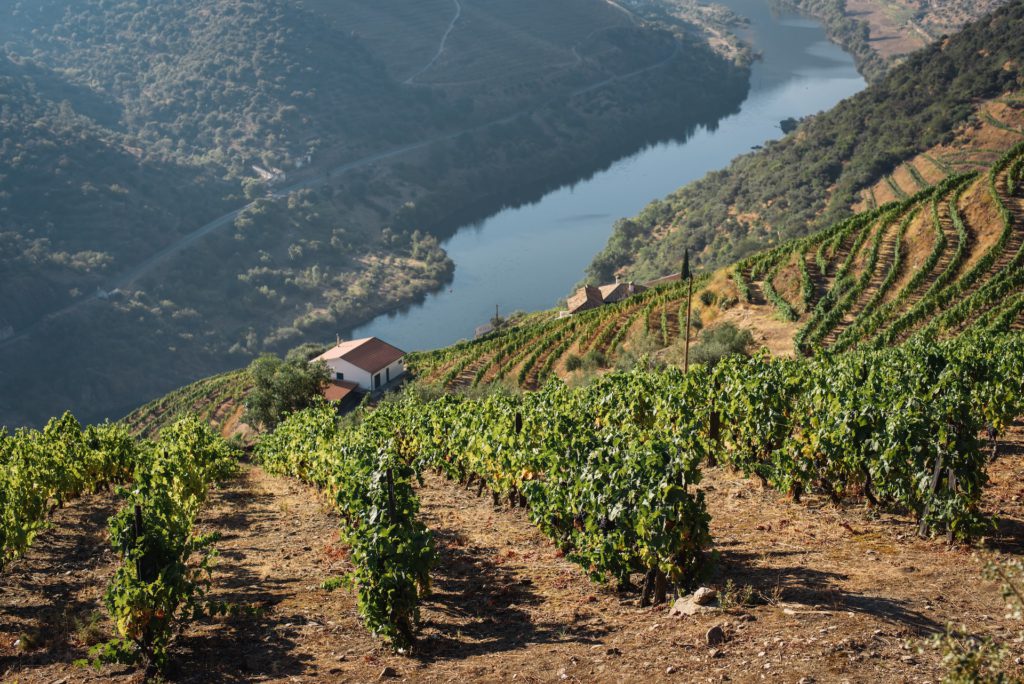 Ultimately, the best time to travel to Portugal depends on your preferences and what you plan to do during your trip. Whether you're looking for sun and sand or cultural experiences, Portugal has something to offer year-round.
Location, accommodations and amenities
When considering Portugal for a wellness retreat, you have a wealth of choices when it comes to location, amenities, and all the extras. Check out the options below to help you match the retreat vibe with the location's atmosphere, connecting to the local culture and environment whenever possible.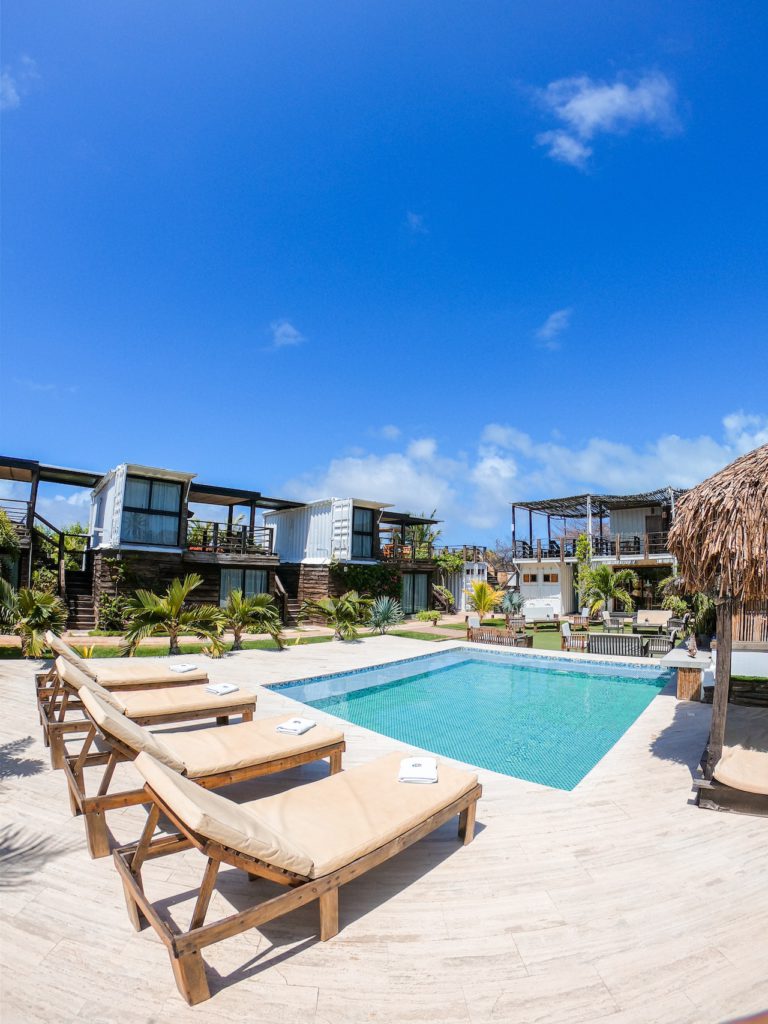 Throughout Portugal, you can choose from the following accommodation types:
Wellness retreat properties: geared specifically towards wellness and retreat groups with a focus on nature and healthy eating (caters to smaller groups)
High-end resorts: luxury rooms, indoor/outdoor spaces, and elevated amenities that can cater to wellness groups of all sizes
Boutique hotels and guest houses: intimate and posh; some can offer spaces and rates for wellness groups (caters to smaller groups)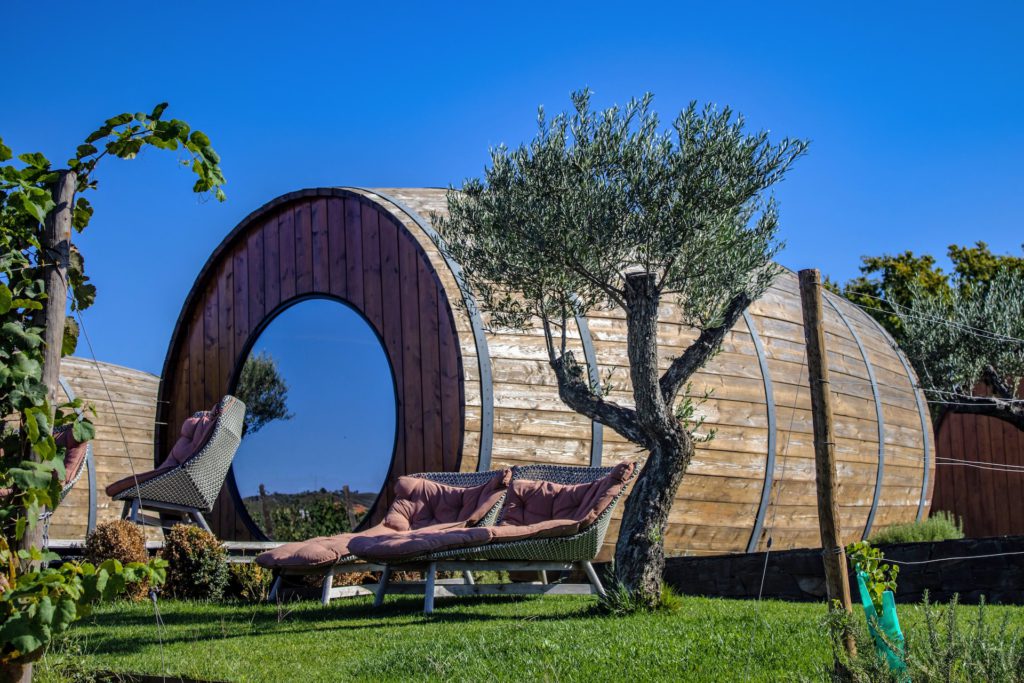 When it comes to food and amenities, you'll be spoiled for choice:
Food options: Most retreat centers feature an all-inclusive meal plan and offer organic/local fare/vegan/vegetarian/gluten-free spreads, and healthy additions such as smoothies and supplements. In the city and along the coastline, you may have to pay more for included meals, but the food choices remain the same stellar options.
Outdoor activities: Along with delicious food, most accommodations (especially along the coast and in the countryside) have easy access to outdoor fun. From hiking and river bathing to beachside activities and cycling, Portugal is the perfect place for those wanting to stay active and connect with the natural world.
Cultural connections: From the city to the country, you'll find an array of cultural activities to choose from, such as cooking classes and food tours, village/small town visits, castle and estate tours, and so much more.
While there are a wealth of possibilities when it comes to location choice, here are a few top options when creating wellness retreats in beautiful Portugal: the city, the country, and the coastline. These locations welcome groups large and small and offer an array of accommodations and activities to ensure you and your community have a stellar experience from beginning to end.
The city
There is no better place to be culturally connected than the bustling cities in Portugal.
Vibe: Urban expanses, food & nightlife, history & culture
Pricing: $$ – $$$
Portugal's cities are home to numerous landmarks, museums, and monuments that reflect its heritage. Lisbon, for example, is known for its stunning architecture, including the iconic Tower of Belém and the ornate São Jorge Castle. Renowned food, flavorful wines and lively nightlife options are just a few of the reasons to stay in the cities. You'll also find a wide range of shopping options, from traditional markets and boutiques to modern malls and designer stores. In addition, there are numerous entertainment options, including cinemas, theaters, and music venues. Visitors can immerse themselves in the local culture and enjoy a variety of activities during their stay.
Despite being urban centers, Portugal's cities are never far from nature. Many have parks and green spaces where visitors can relax and enjoy the outdoors, and there are plenty of opportunities for hiking, cycling, and other outdoor activities in the surrounding areas. Portugal's mild climate also makes it a great destination for year-round outdoor activities making the cities a viable option for yoga, fitness, and empowerment groups of all kinds.
Activities
The cities within Portugal have a lot to offer. From food to fun, you can do it all!
Cooking classes and food tours
Sightseeing (castles, palaces, nearby landmarks like Sintra)
Restaurant, bars, and nightlife
Shopping and market trips
Cycling tours and walking trips to parks/gardens
Day trips to local beaches
The countryside
Nature immersions, mountain views, and small-town charm bring many to the countryside of Portugal for total relaxation.
Vibe: Nature immersions, mountain magic, old-world towns
Pricing: $$ – $$$
Portugal's countryside is a hidden gem that offers many reasons to stay, especially when it comes to wellness retreats. One of the main attractions of the countryside is its stunning scenery, which ranges from rolling hills and lush valleys to rugged coastlines and pristine beaches. The countryside is also known for its peaceful and relaxing atmosphere, providing visitors with a break from the fast-paced city life and a chance to unwind and recharge.
Staying in areas such as Alentejo, Monchique, Odemira, São Teotónio, Pedrógão Pequeno, and Cabeceiras de Basto offer an opportunity to experience the authentic local culture and traditions of Portugal. Visitors can participate in traditional festivals, shop in the markets, tour the picturesque vineyards, and sample locally sourced cuisine, providing insight into the rural way of life in Portugal. The countryside also features a wealth of outdoor activities, such as hiking, cycling, horseback riding, birdwatching, and water sports, providing visitors with a chance to explore the natural beauty of the country. From ancient ruins to medieval castles and religious sites, there is a wealth of things to see while you embark on your health and wellness journey.
Activities
Portugal's countryside was made for rest, relaxation, and nature immersions of all kinds.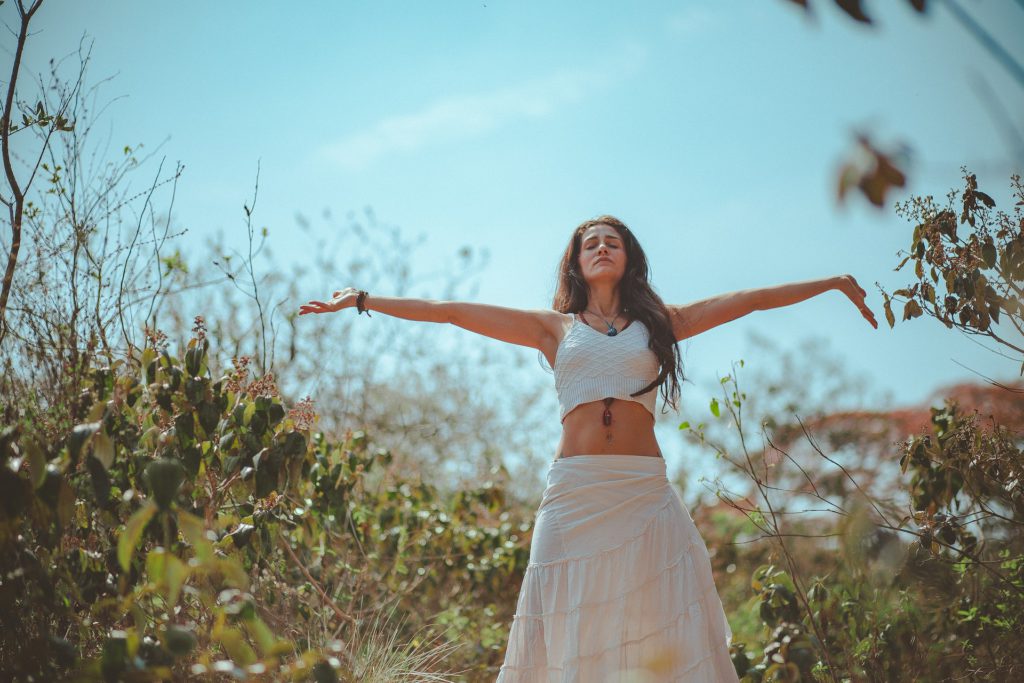 Nature hikes and forest bathing
Outdoor yoga, meditation, and fitness classes
Cooking classes and food tours
Vineyard trips and wine tasting
Small village visits for sightseeing, food, and shopping
Day trips to local beaches
The coast
From hidden coves to sprawling beaches, Portugal's coastline is a must-see.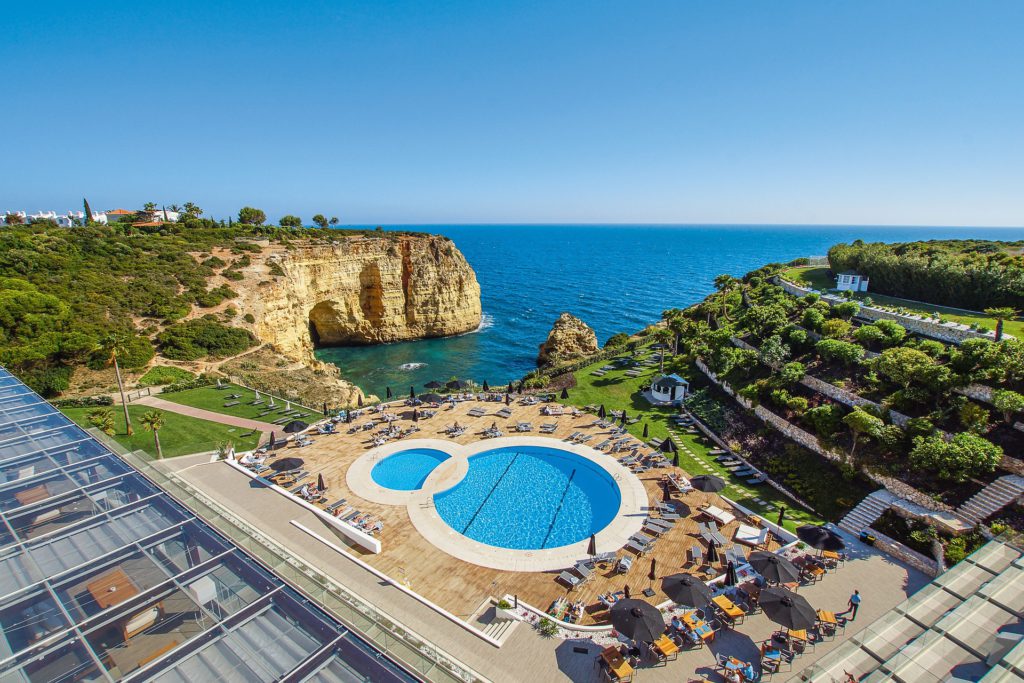 Vibe: High-end resorts, beachside fun, spa-heaven & hip nightlife
Pricing: $$ – $$$$
There are many reasons to stay on the coast of Portugal, as this area boasts some of the most beautiful beaches in Europe. Attracting millions of visitors each year, cities such as Algarve, Lagos, Óbidos, Comporta, and Portimão offer a range of activities, such as swimming, surfing, windsurfing, kiteboarding, sailing, and fishing, providing travelers with a chance to enjoy the ocean to its fullest.
The coastline is also home to charming fishing villages and towns, each with its unique character and traditions, offering a glimpse into the traditional way of life in Portugal. The coast is also famous for its seafood cuisine, with many local restaurants serving up delicious fresh seafood dishes. Dotted with historical landmarks and cultural attractions, such as ancient castles, forts, and churches, hosting a wellness retreat here offers the perfect balance of wellness activities, relaxation, and exploration adventures.
Activities
Known for beautiful beaches and old-world villages, Portugal's coastline features an array of activities, offering up everything from body movement to relaxation.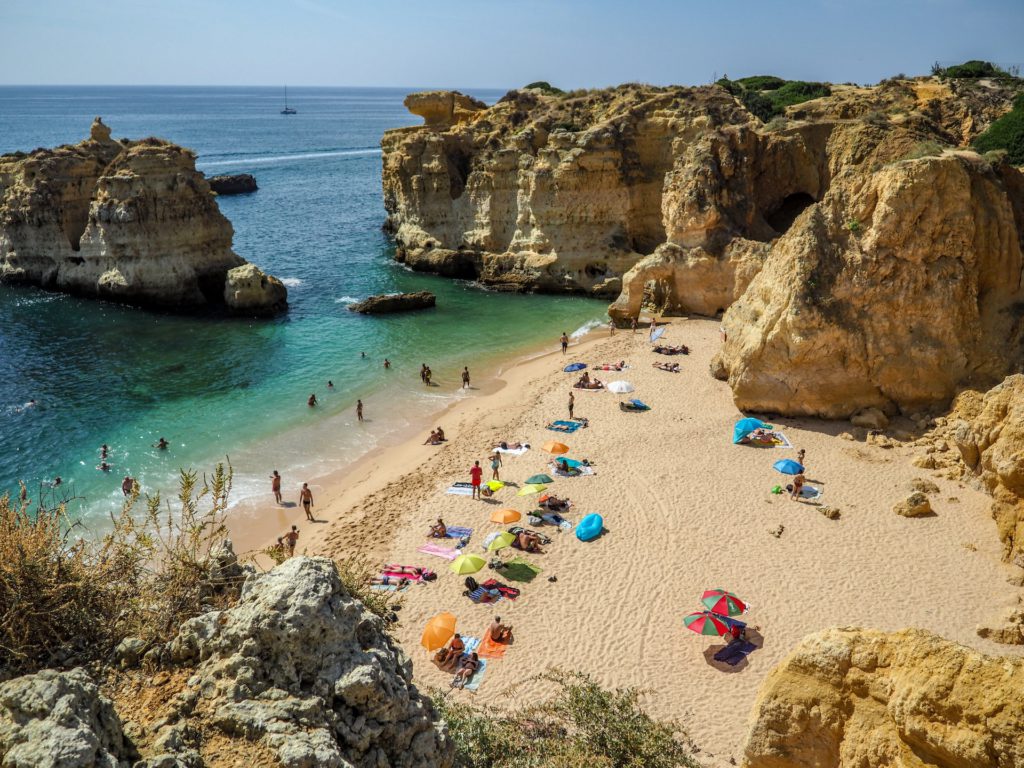 Beachside relaxation
Water sports
Hiking and cycling
Fresh local food scene
Village visits and sightseeing
Budget, pricing and markups
The first thing to consider when planning a destination wellness retreat is the price. Ask yourself these three questions to get started:
What can your community afford to pay?
What is your community willing to pay when it comes to a retreat?
What type of location, services, and amenities will they expect?
For retreats in Portugal, cost boils down to two points: accommodation choice and markup.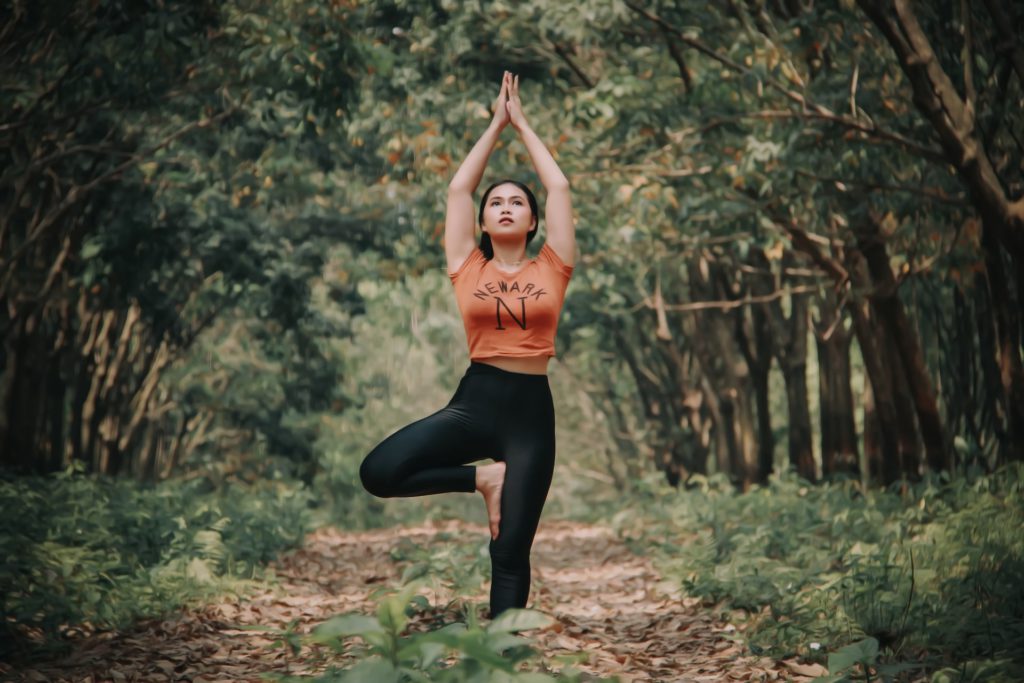 Accommodation choice: There are a lot of affordable retreat spaces and properties in Portugal, but location and inclusions will set the tone for the overall price. For most locations, you can spend anywhere between 700 USD and 1000 USD for five to six nights with meals. However, there are resorts that also offer packages with sightseeing activities, spa amenities, wellness classes, and more. This can cause the price to jump closer to 2000 USD per person.
Markup: Within your pricing, you also want to consider your markup. Are you planning to take a large portion for your time, or are you considering a smaller fee with the option of add-ons to make a cut? Consider all the angles after you've decided on your accommodation.
If Portugal seems like the right choice for you, let's get planning! Reach out to us with any questions, and we will help you create the perfect wellness itinerary in this cultural paradise.
---
About TourHero
TourHero is a social travel platform that enables you to travel with like-minded people and fall in love with the journey. We work closely with handpicked local operators to ensure every experience curated is unique and exclusive to your travel group. Come with us on epic adventures and create memories that last a lifetime!