Central Vietnam's iconic coastal city of Hoi An is a delight for the senses. Once a bustling, international trading port on Asia's Silk Road, it was later colonized by the French, painted yellow, and, in 1999, designated a UNESCO World Heritage Site. Built around a river and close to the sea, its streets cut through with boat-laden canals, the city is often regarded as Southeast Asia's Venice. Today, it retains its distinct melting-pot of history and culture, seen through its well-preserved architecture — a mix of wooden shophouses, charming temples, and colorful French colonial buildings.
Hoi An provides the perfect romantic setting to sit and watch the world go by, but if you have just 24 hours, don't stay idle! There are plenty of things to do in Hoi An for the intrepid traveler! Here is a one-day guide of things to see and do.
Essential things to see & do — route map
Coffee with a view
Time: 6 am
Location: Street coffee vendor, Bach Dang, 150 meters west of Central Market
If 6 am sounds a little early for you, trust us on this one! Peel yourself out of bed and find this unnamed gem on the riverfront, close to Central Market. There are several tables, all in the open air, and some amazing full-strength coffee on offer.
One sip of this delectable local elixir and you'll be wide awake and glad you made the effort. 6 am is a wonderfully-busy time in Hoi An. You'll see the nearby market in full swing, commuters heading to work, and a beautiful river scene coming alive in front of you.
Breakfast at Central Market food court
Time: 7 am
Location: 48 Bach Dang, Phuong Minh An
Take a short stroll east and prepare to fill your belly with breakfast, the Hoi An way. You'll find many street vendors mixed in amongst the market sellers. Or, for even more choice, go inside the food court and you'll find stalls and menus in English. Pretty much every Vietnamese specialty is on offer here. For breakfast, do as the locals do and seek out a banh mi, a steaming bowl of pho, or some delicious mi quang noodles. Not sure what's what? Check out our foodie guide, 10 Tasty Hoi An foods & where to find them, to learn about the best of Hoi An's food scene.
Wander the charming streets of Old Town
Time: 9 am
Location: Streets between Bach Dang and Phan Chu Trinh
By mid-morning, Hoi An's Old Town can be teeming with people. So, for a head start on the crowds, wander into the Old Town from 9 am. Many of the shops and eateries will be opening around this time. The best way to tackle the Old Town is simply to explore at random. Head down the little alleyways and you'll find hidden gems around every corner.
There are various ticket stalls around the Old Town. Generally, you can wander and shop for free, but if asked, just pay the 120,000 VND (approximately 5 USD) fee — the money goes towards the preservation efforts of this picturesque town. The fee is also essential if you want to visit any of the pagodas and museums within the Old Town itself. One ticket gives you entry into five different sites.
As time is of the essence here, make sure you visit the Japanese Bridge on Nguyen Thi Minh Khai. A major piece of history, the bridge was assembled in the 1700s when the town was a major trading port.
Visit a skilled tailor and get some clothes made
Time: 11 am
Location: A Dong Silk, 38 Le Loi, Phuong Minh An
If you only have one day, this may be stretching things slightly, but at quiet times, it's totally possible to seek out a tailor to get a delightful piece made in a few hours. Just make sure you ask about the duration before you start the process.
There are literally hundreds of tailors in Hoi An, and prices differ wildly. A shirt or blouse, for example, can cost between 10 and 30 USD. You're paying for craftsmanship, location (rents are high in the Old Town), and material. But the experience alone is worth it!
For a super-reliable service, check out A Dong Silk. They're at the higher end price-wise, but you'll get a garment that not only fits, but lasts.
Indulge in cau lao noodles for lunch
Time: 12 pm
Location: Thanh Cau Lao, 26 Thai Phien, Minh An
Don't visit Hoi An without trying its signature dish! Cau lao noodles can only be found here, and these super-chewy bites are mixed with pork, salad, and a spicy sauce. They're perfect to set you up for the afternoon. You can discover all you need to know about this Hoi An specialty by reading our foodie guide, of course!
Recharge at Reaching Out Teahouse
Time: 12.30 pm
Location: 131 Tran Phu, Cam Chau
Before diving into your afternoon, take a recharge at Reaching Out Teahouse. It's a beautifully laid out cafe with a selection of delicious teas and fresh juices, and the perfect place for a few moments of peace.
All the staff here are either speech or hearing impaired, so ordering from the menu is a simple matter of pointing to what you'd like. Many of the staff are also employed in making crafts and jewelry. A visit here is a wonderful way to give back something to a community of hardworking people for whom local work is often difficult to find.
Cycle through the rice fields
Time: 1 pm
Location: Old Town – rice fields – Tra Que Vegetable Village – An Bang Beach
Suitably full, it's time for a little exercise before an afternoon's relaxation. Bicycles are available for hire across Hoi An, but for convenience, ask your hotel or homestay. Nearly all accommodation in the city will offer reliable bicycles for free.
This route will introduce you to some of Hoi An's beautiful countryside, as well as take you through Tra Que Vegetable Village. This organic farm grows almost all the vegetables you'll find in restaurants and markets across Hoi An.
The journey takes you through some of Hoi An's rice fields, and although it isn't long, give yourself 90 minutes as navigation is all part of the fun. It's easy to get lost on the rice field tracks, although not seriously lost. So check the map and enjoy feeling out your own route, doubling back a few times, of course!
Head east on Bach Dang, take a left on Hoang Dieu, then turn right on Tran Hung Dao. The road becomes Cua Dai after a few hundred meters. Stay on Cua Dai until you reach Ba Le Market on Le Thanh Tong, and turn left. Head for the area marked An My on the map, then turn left in the direction of Tra Que. Finally, you'll reach the busy main road of Hai Ba Trung — head right for the beach.
Lounge at An Bang Beach
Time: 2.30 pm
Location: An Bang Beach, Lac Long Quan, Cam An
Your reward for all that exercise is Hoi An's most famous beach. There's ample parking for a small fee close to the coastline, and a huge choice of bars, cafes, and restaurants. Take a stroll along the beach in either direction until you find one that catches your eye. Buy a drink or snack and you'll be able to use their sun-loungers for free.
Go on a boat trip
Time: 5 pm
Location: Bach Dang, Phuong Minh An
Head back to Bach Dang and board one of the boats you saw that morning. For around 150,000 VND (approximately 6.50 USD) per trip, you can head out towards the sea for a 30-minute ride and light some floating candles for luck. It gets busy here in the evenings. Heading out as dusk sets in is a beautiful time to experience the water.
Eat white rose dumplings for dinner
Time: 6 pm
Location: White Rose Restaurant, 533D Hai Ba Trung, Phuong Cam Pho
Another Hoi An specialty, white rose dumplings are only made by one local family. You can find them at the family's restaurant, White Rose Restaurant. They also supply a handful of other eateries in Hoi An. These "open" dumplings are filled with shrimp, onions, beansprouts, and mushrooms, and offer the quintessential Hoi An dinner experience.
Watch Hoi An Memories Show
Time: 7.30 pm
Location: Con Hen Islet, found off 200 Nguyen Tri Phuong, Cam Nam Island
Hoi An Memories Show takes place at an open-air theater on a purpose-built islet off Cam Nam Island. The set is huge and features the Old Town in miniature. With a cast of hundreds, the show itself takes you through Hoi An's history as an international trading port, up until the present day. A theater-piece of incredible scope, it's a delightful way to end any day in Hoi An.
Visit An Hoi Islet for night market and drinks
Time: 9 pm
Place: Nguyen Phuc Chu, An Hoi Islet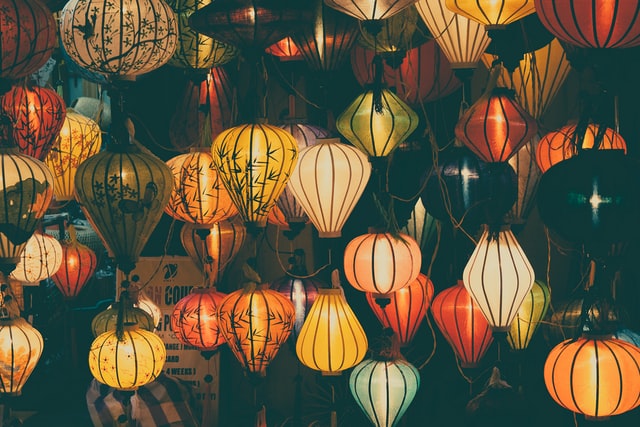 Phew! Night has long fallen but there's still time for some more fun! Get yourself to An Hoi Islet and experience the night market. You'll find souvenir stalls aplenty, alongside some fabulous street food, bars, and restaurants.
Whilst much of the Old Town closes relatively early (between 10 and 11 pm), An Hoi has a handful of party spots lining the river. Here, you can unwind with a cocktail or two and gaze across the water at Bach Dang street, where your day began.
Have a little more time to explore Hoi An? Then don't forget to try as many local foods as you can. And for something a little different, you can find another world just across the sea on Cham Island.
---
About TourHero
TourHero is a social travel platform that enables you to travel with like-minded people and fall in love with the journey. We work closely with handpicked local operators to ensure every experience curated is unique and exclusive to your travel group. Come with us on epic adventures and create memories that last a lifetime!