What if you could visit a lake formed over four million years ago? Enter Lake Biwa, Japan's largest freshwater lake estimated to be the 13th-oldest lake in the world. Located in the center of the Shiga Prefecture, Lake Biwa's 235-kilometer shoreline hosts a variety of cultural and historic sites, tranquil beaches, luxurious resorts, and is home to incredible biodiversity.
Lake Biwa gets its name from a traditional Japanese string instrument known as the biwa. Throughout history, Lake Biwa has influenced and appeared in Japanese literature and historical accounts of battles. Today, this ancient lake is a buzz of activity with locals and visitors alike looking for a relaxing and scenic getaway, just 10 minutes away from the city of Kyoto. We'll let you in on the best sightseeing spots, things to do, and food to eat. All you need is a weekend!
When to visit Lake Biwa
Lake Biwa boasts incredible natural sceneries in every season, from baby pink springtime cherry blossoms to stunning winter snowscapes of the frozen lake. Can't decide when to visit? Our weekend guide centers around activities that you can do all year round.
Spring: Springtime at Lake Biwa sees Japan's world-famous cherry blossoms in full bloom. Discover the beauty of these ethereal flowers as you cruise along Lake Biwa or take a boat ride through the charming town of Omihachiman.
Summer: Get ready for thrills and spills in the cool waters of Lake Biwa. Summertime, Lake Biwa's peak season, welcomes a variety of water sports on the lake, relaxation on the beach, and a colorful display of fireworks to celebrate the Japanese summers.
Autumn: For the best time to witness incredible vistas of orange and red, visit Lake Biwa during its autumnal months. Catch sight of historic shrines and castles framed against the backdrop of breathtaking fall sceneries of mountains and forests bathed in hues of spectacular fall colors.
Winter: Hit the snowy slopes and get ready for thrilling winter sports when you visit Lake Biwa during its winter months. The entire region becomes a winter wonderland with its snow-capped mountains in the distance, peaceful snow-covered shrines, and migratory waterbirds that come to the lake during winter.
Getting there and around
Getting there
By plane: The nearest airports to Otsu are Osaka's Itami Airport or Kansai International Airport. Once you've arrived, commute to the nearest city, Kyoto or Osaka, where Otsu will be accessible by train.
By train: The south of Lake Biwa is easily accessible from Kyoto Station to Otsu Station on the JR Tokaido Line. Continue to Hikone Station if you'd like to visit the east side of the lake.
By bus: Two night buses to Lake Biwa are available within the Kansai region. These include:
Keisei Buses (Kyoto Class): Departs from Chiba Central Station or Tokyo Disneyland
SeibuKankou Buses/Nishi Nihon JR Buses (Biwako Dream Class): Departs from Omiya Station or Ikebukuro Station
Getting around
Get around Otsu by train on the convenient Keihan Ishiyama Sakamoto Line that connects each end of the city.

To visit the other Lake Biwa regions, take the Ohmi Railway, which operates in eastern Shiga. This train takes you from Otsu to the town of Omihachiman and Hikone.
Map
Discover Lake Biwa's best sights
Day 1
Biwako Valley
Begin your weekend at Otsu, the capital city of the Shiga Prefecture. See the city and Lake Biwa from up above on the Biwako Valley ropeway, Japan's fastest cable car that takes you to an altitude of 1,100 meters in no time.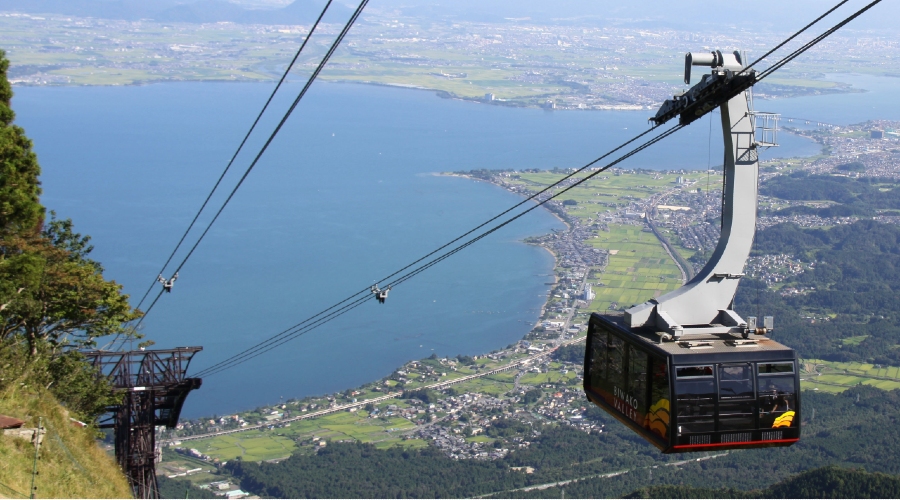 Biwako Valley also hosts an array of heart-pumping activities that you can enjoy depending on the season. During spring and summer, experience a rush of adrenaline on Biwako Valley's thrilling zipline adventure or hit the waters to try water sledding. In the winter, Biwako Valley transforms into a thrill-seekers' paradise as many come to hit the snowy slopes on skis or snowboard. Don't worry if it's your first time on the snow – the resort at Biwako Valley rents out winter sports equipment and has a wide selection of trails starting from beginner bunny slopes to adrenaline-racing expert levels.
Lake Biwa Cruise
Now that you've seen Lake Biwa from up above, experience the beauty of the lake on a cruise. All aboard the Michigan, Lake Biwa's most famous cruise boat. This paddle steamer disembarks from Otsu Port and takes you around the south of Lake Biwa to see the formidable Mount Hiei, Mount Hira, and incredible 360-degree panoramic views of the region. In addition to the cruise schedule, read up on the extensive health and safety measures the Michigan has implemented to keep its passengers safe.
Omihachiman
Finally, end your day at the small but charming town of Omihachiman. With a history dating back to the 16th century, Omihachiman features Edo-style houses and buildings that line the city's numerous waterways. The canals that snake through the city were historically used by Omi merchants to transport goods, Omihachiman playing an important role in the region's mercantile history.
Go on foot or take a peaceful canal boat cruise to discover the hidden gems of this historical old town. Don't let this quiet and seemingly sleepy town fool you. Omihachiman hosts the culturally revered yearly Omihachiman Sagicho Fire Festival, also known as one of Japan's most dangerous festivals. In mid-March, the festival features a fight for the finest sagicho float, an intricately crafted traditional float made from straw, bamboo, and paper. These gigantic floats are paraded all through the town. At the end of the day, the floats are burned to the ground, with locals and visitors dancing around the fire to end the ceremony.
Day 2
Miho Museum
Begin your day at the architecturally-stunning Miho Museum. Established in 1997, this museum is tucked away in the forested region of Shigaraki, southeast of Tokyo. Whether you're an art fiend or architecture lover, the stunning Miho Museum has it all. The museum's awe-inspiring architecture is both a highlight and an experience in and of itself. Begin at the futuristic tunnel that takes you into the museum. Along the way, be engulfed by the ever-changing natural scenery of the surrounding foliage. Finally, set foot in the main museum, a structural feat of glass and steel carved out of a rocky mountaintop.
The museum houses the private collection of Mihoko Koyama, which features Asian and Western antiquities. Highlights of the museum's collection have also been displayed all around the world, including in the Metropolitan Museum of Art. After exploring Miho Museum's permanent collection, discover the gallery's temporary special collections that exhibit in the museum from time to time.
Hikone Castle
In the afternoon, set your sights on one of the five castles designated as Japanese national treasures: Hikone Castle. This castle is considered one of the world's greatest castles, taking 20 years to complete in the Edo Period. More significantly, unlike many Japanese castles, the well-preserved Hikone Castle has barely changed from its original construction, having never suffered any damage from natural disasters or wars throughout the years.
Step back in time to discover the hidden archeological artifacts collected over the centuries at the Hikone Castle Museum. The museum offers a detailed history and reconstruction of the castle based on archeological excavations of the site.
Genkyuen Garden
After exploring Hikone Castle, continue your journey through history in the tranquil Genkyuen Gardens. In the past, the gardens were frequented by the feudal lord of Hikone, Li Naooki, and used to entertain the lord's guests and family. Today, these gardens are designated as a site of scenic national beauty.
Live like royals and take a stroll around the garden's circular path that surrounds Genkyuen's central pond with four small islands, all connected by bridges. Find your zen on one of the islands in Hoshodai, a tea house previously used by the castle inhabitants to entertain their guests. This historic tea house is accessible to the public and serves hot tea for ¥500. Finally, end your adventure with some shopping at the bustling Yume Kyobashi Castle Road, located just outside Hikone Castle's outer moat. Dine on delicious melt-in-your-mouth Omi beef, one of the must-have dishes to try when you visit Lake Biwa.
What to eat at Lake Biwa
Omi Beef
A visit to the Shiga Prefecture must be complete with Omi beef, a buttery and tender type of Japanese black beef. Though not as advertised and well known as its Wagyu or Kobe beef counterparts, Omi beef actually has the longest history in Japan of about 400 years, said to have been eaten by samurais. Best of all, Omi beef won't hurt your pockets as it is not as expensive as Kobe beef. We recommend trying Omi Beef at Restaurant Sen'naritei.
Looking for more types of Japanese beef to try? Embark on a culinary journey to Ishigaki Island with our guide to try the island's Ishigaki beef.
Funazushi
Funazushi will definitely pique your interest if you're an adventurous eater. Funazushi, one of the oldest forms of sushi, is made from Japanese carp native to Lake Biwa, known as nigorobuna. The fish goes through a fermentation process involving rice and salt for over one to three years, allowing its insides to become soft. You might want to consider this if funky foods are your thing. This traditional dish is known for its intense aroma and flavors, akin to the notorious blue cheese. We recommend trying funazushi at Sakamotoya, a restaurant located just a 12-minute walk from Otsu Station.
Ubagamochi
Find your Lake Biwa food adventure with ubagamochi. Ubagamochi is a local confection found in the Shiga Prefecture. Made with locally-grown Kuasatsu rice and wrapped in a sweet bean paste, these adorable treats are made with traditional methods, reflecting the region's history. Try it here!
---
About TourHero
TourHero is a social travel platform that enables you to travel with like-minded people and fall in love with the journey. We work closely with handpicked local operators to ensure every experience curated is unique and exclusive to your travel group. Come with us on epic adventures and create memories that last a lifetime!