Sri Lanka offers plenty to the avid traveler with its romantic landscapes, verdant mountains, golden beaches, remarkable national parks, and, of course, lush tea gardens and tea plantations. As of 2020, Sri Lanka remains the fourth largest tea producer in the world, producing just under 350,000 tons of tea. In fact, around 17 percent of the world's tea crop is grown on the island nation. With so many thriving tea plantations scattered across the country, it is little wonder that Sri Lanka is excellent for tea factory tours, tea plantation visits, and even tea estate vacations. If you're looking for an unforgettable stay up in the hills, look no further. We've curated a list of charming accommodation spots — from hotels to bungalows to eco-lodges — hidden amidst lush tea slopes. Read on to discover six of the best Sri Lanka tea plantation hotels that you can stay overnight at.
A brief history of tea production in Sri Lanka
In 1824, a tea plant from China was smuggled into Sri Lanka — or "Ceylon", as it was known — by the British and planted in the Royal Botanic Gardens for display. Over time, several more tea plants from other regions such as Calcutta and Assam in India were brought to the island. It was discovered that the humidity, rainfall, and cooling temperatures of the country's central highlands provided the perfect climate to yield quality tea crops. Thus began Ceylon's foray into tea production, which very quickly surpassed the country's coffee production. By the late 1880s, nearly all of Ceylon's coffee plantations and coffee stores had been converted to tea plantations and tea factories.
Today, Sri Lanka remains one of the biggest exporters of tea. Even more impressive is its reputation for producing the cleanest teas in the world due to stringent pesticide restrictions. While Sri Lanka grows various types of tea, it is most famous for its Ceylon tea, prized for having a distinct aroma and delicious full-bodied flavor. Ceylon black tea is often the tea base of choice in breakfast tea blends.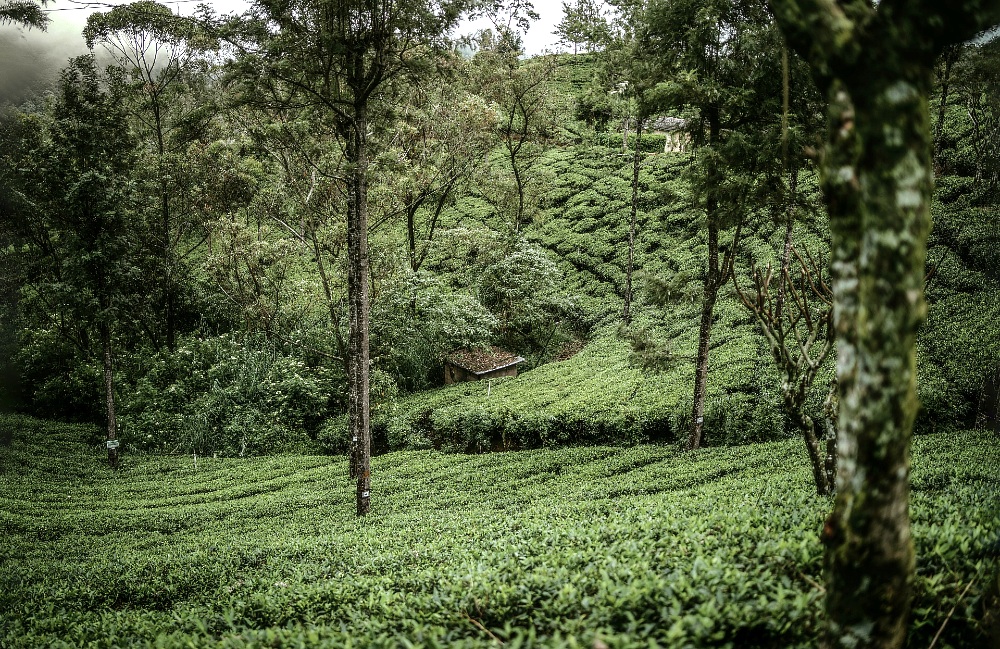 Why stay at a tea plantation?
Staying at a tea plantation offers a truly unique Sri Lankan experience. There is no better way to appreciate the country's most precious crop. Staying at a tea plantation also gives you the chance to step right back into the 18th century, allowing you to choose from charming tea bungalows, converted tea factories, and even beautiful colonial-style homes to spend the night.
Choosing your Sri Lanka tea plantation hotel
The biggest thing to look out for when choosing your tea plantation hotel is, of course, the inclusion of on-site visits to the tea plantation. A local tour of the tea plantation grants you a great opportunity to increase your understanding of Sri Lankan tea production — from the plantation process to the selection, picking, processing, and selling of the tea. If tea plantation visits are not stated in the hotel description, we suggest asking the accommodation for confirmation before booking. Many of the best Sri Lanka tea plantation hotels offer a selection of tea-related activities outside of plantation visits, such as tea tasting sessions, scenic high tea picnics, and even tea picking experiences.
To inspire you, here's our list of excellent tea plantation hotels in Sri Lanka, each nestled within a tea plantation estate or located extremely close to one. Pick your favorite!
Ceylon Tea Trails, Hatton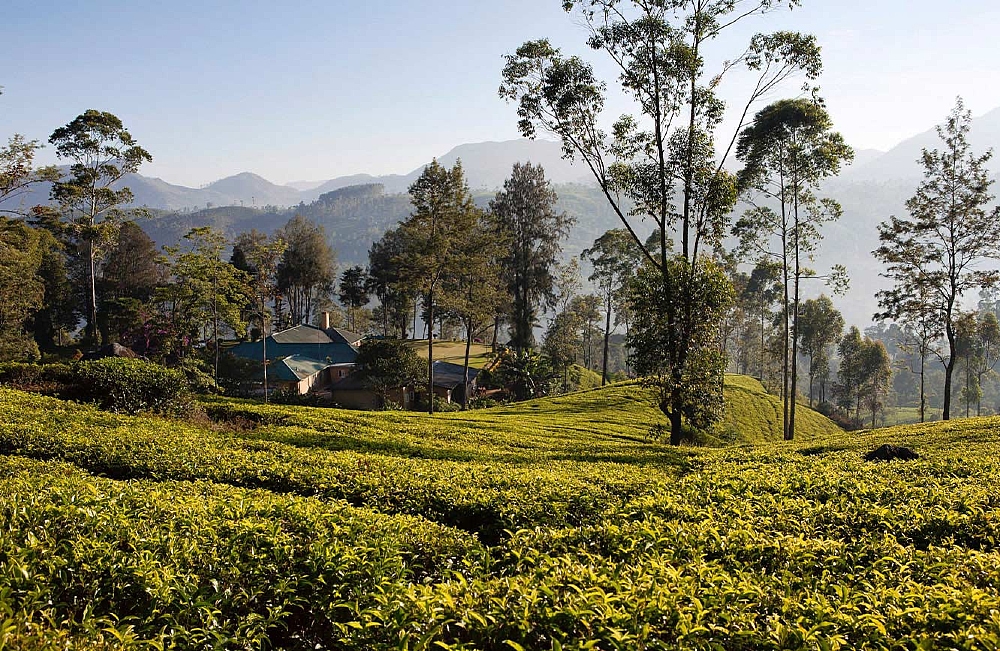 What we love about Ceylon Tea Trails: Luxurious and spacious tea planter bungalows perched at an altitude of 1,250 meters that provide the ultimate hill country escape. A trip to the nearby Dunkeld Tea Factory complements the stay perfectly!
Located on a sprawling tea estate in Hatton, surrounded by the most scenic of hill country panoramas, sit five distinctive and historic tea planter bungalows that complete the luxurious Ceylon Tea Trails. Each bungalow is fitted with five or six bedrooms and decorated in a charming, signature colonial style. Three of the bungalows are perched high enough to provide jaw-dropping views of the sparkling Castlereagh Lake. With incredible attention to guest comfort, each Ceylon Tea Trails bungalow comes with its own chef and butler, spacious gardens, and gorgeous scenery, delivering a truly private ambiance and experience.
Unique tea experiences: Ceylon Tea Trails is part of the "best of Sri Lanka" circuit, created by the Dilmah Tea Company, which features distinctly unique resorts across the country. Guests of the property are treated to a proper guided tour at the nearby Dilmah Tea Dunkeld Tea Factory, accompanied by one of the resident tea planters. Other tea experiences include tea tastings, tea-infused dinners, and excursions through the tea gardens.
Ashburnham Estate, Kandy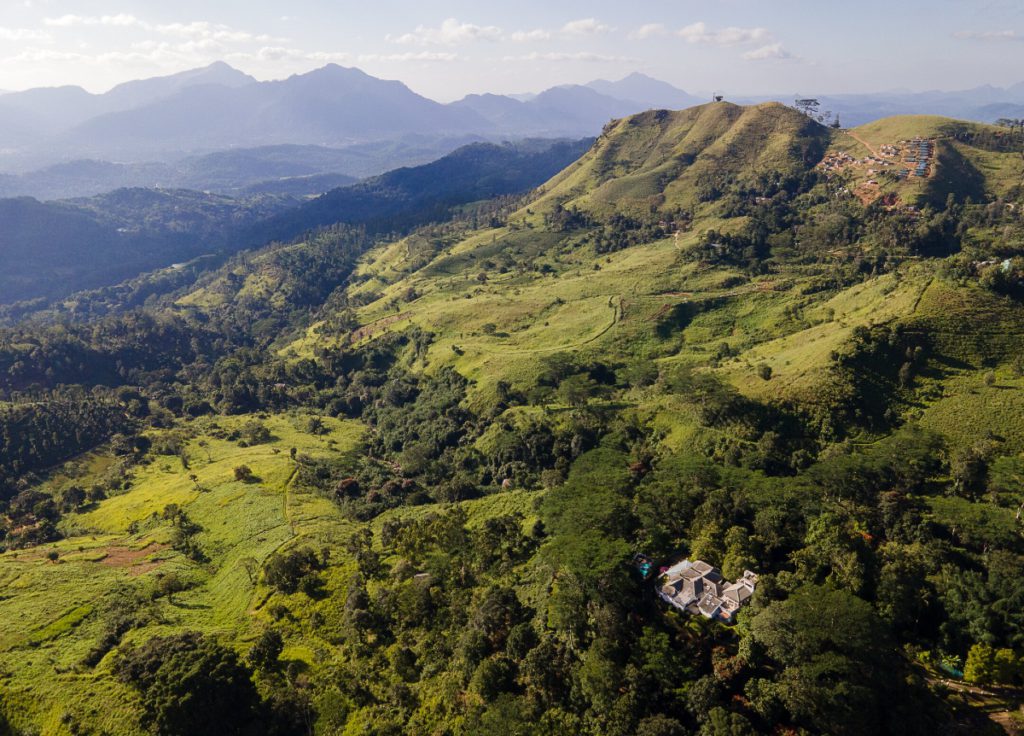 What we love about Ashburnham Estate: The beautifully-refurbished planter's bungalow from the 1930s, surrounded by 100 acres of a working tea estate that offer excellent views of the Knuckles Mountain Range and hides secret waterfalls and plunge pools.
The Ashburnham Estate guesthouse provides a perfect getaway up in the hills. Cozy in all the right ways, the estate features six well-appointed guest rooms, each one embellished with a distinct and unique style. A swimming pool, manicured gardens, and plenty of natural scenery make the property all the more charming. One of the hidden gems here is a river that runs through the land, its fast-flowing waters and steep drops creating some very impressive natural waterfalls and plunge pools that guests are free to visit.
Unique tea experiences: Tea experiences at the Ashburnham Estate include educational tea field tours with the estate manager, high tea and picnic moments at scenic hilltop locations, and guided walks and hikes that take you through the tea plantations and into the surrounding cloud forests.
Madulkelle Tea and Eco Lodge, Kandy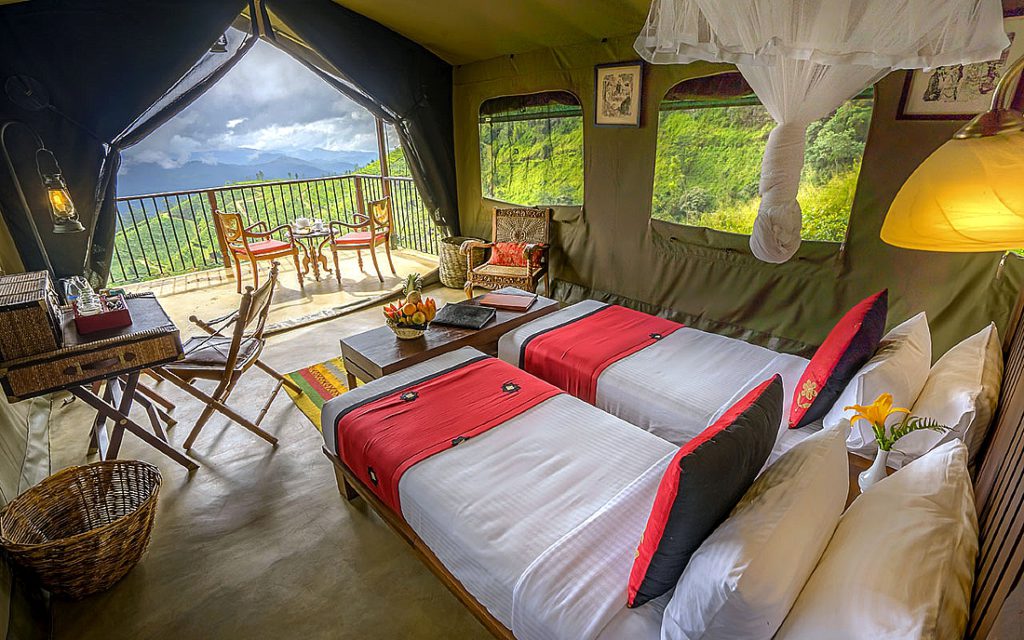 What we love about Madulkelle Tea and Eco Lodge: Unique to all the other properties on this list, Madulkelle Tea and Eco Lodge gives you the opportunity to bunk in one of their luxury tents right in the midst of the tea fields!
For any traveler looking for something different, Madulkelle Tea and Eco Lodge is the place to call home for a few days. A stay here will guarantee incredible views of the Knuckles Mountain Range from almost anywhere on the grounds, not to mention exclusive access to the estate's thriving tea fields. With its unique accommodation option of luxurious tents fitted with en suite bathrooms and private terraces overlooking the tea plantations, you'll find no better way to experience the rural highlands.
Unique tea experiences: The hotel offers various activity packages that you can book, from tea plantation trekking to tea factory visits. Outside of tea experiences, you can also sign up for a culinary tour with a resident chef to visit some of the organic vegetable gardens on the site.
Goatfell, Nuwara Eliya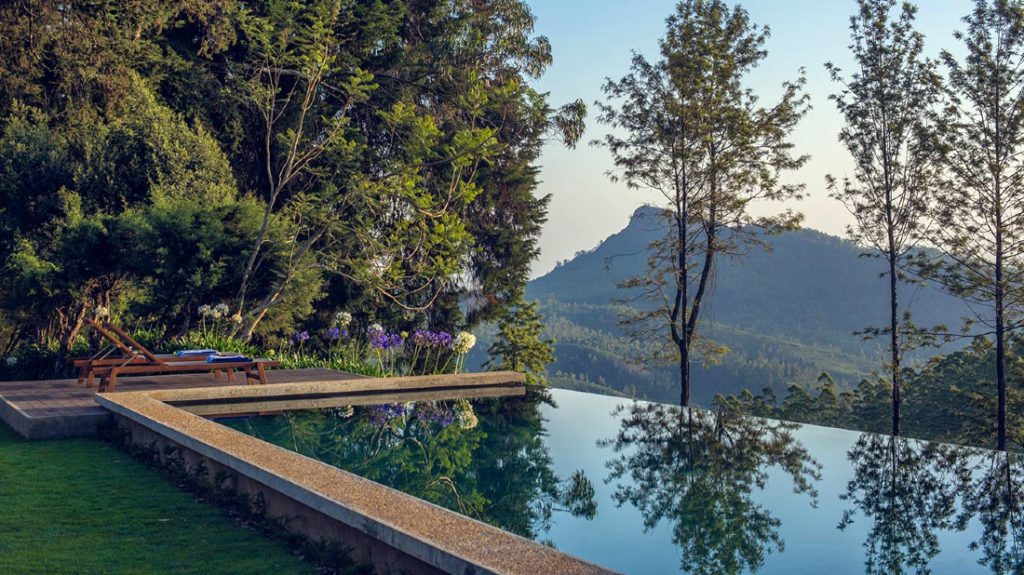 What we love about Goatfell: With just four bedrooms, a night at this impressive tea bungalow is an intimate affair. You can even book the entire place and take up all the rooms, perfect for large families and group stays.
Hidden away in the misty hill country of Kandapola, amidst the green tea bushes of the Concordia Estate, is Goatfell, a former estate manager's bungalow-turned-boutique hotel. Beyond its cozy sitting room, quaint gardens, and grand tea field views from the infinity pool, you'll uncover an explorer's dream, complete with the colonial-era architecture of Nuwara Eliya and dramatic views of Horton Plains National Park in the distance.
Unique tea experiences: After an afternoon of strolling through the estate's waist-high tea bush-lined roads with your very own private guide, you can enjoy freshly-brewed afternoon tea in the picturesque garden that overlooks the nearby plantations.
Heritance Tea Factory, Nuwara Eliya
What we love about Heritance Tea Factory: Once a working tea factory, the property has been transformed into a 50-room hotel that overlooks the still-growing tea plantations that surround it. Wake up to the sight of beautiful emerald-green tea fields right outside your window!
Heritance Tea Factory is located in Nuwara Eliya, a hill country region in the Central Province that is considered one of the most important locations for tea production in Sri Lanka. The hotel prides itself on providing a tranquil abode with all the necessary comforts, from spacious rooms to warm service. At its impressive elevation, the hotel's guest rooms offer superb sweeping views of the hill country in all its glory, from rolling tea fields to undulating tree-speckled mountains. Their most premium suite, the Flowerdew Suite, is acknowledged as the highest living space in all of Nuwara Eliya, providing impressive panoramic views of Ragala and the Randenigala reservoir.
Unique tea experiences: Heritance Tea Factory offers you the perfect opportunity to bring home the ultimate holiday souvenir: a packet of tea filled with leaves that you've handpicked by yourself! Indulge in an immersive tea plucking experience that will see you donning local tea-picking attire and a basket for collecting leaves. Accompanied by professional tea pluckers, you'll be taken to the organic tea fields and given a crash course on how to pick the best leaves. A trip to the Heritance Mini Tea Factory will follow, where you will learn about the tea production process. You can also book tea tasting sessions with a trained tea taster.
Kahanda Kanda, Galle
What we love about Kahanda Kanda: The hotel upholds a Responsible Tourism policy — hot water in each of the suites is heated using solar power, and recycling is also taken seriously on the property.
Kahanda Kanda is situated in the southwest region of Sri Lanka, set amidst a 10-acre working tea plantation surrounded by a palm-fringed jungle on a quiet Galle hillside. This hidden gem features 10 impressive suites tucked away in stand-alone villas, a 20-meter infinity pool, and views overlooking Koggala Lake. Its close proximity to treasures such as the UNESCO World Heritage Site of Galle Fort and the golden sands of Weligama Bay make it an ideal hideaway for easy day trips. Each of the villas in the Kahanda Kanda collection is uniquely designed with antiques and contemporary pieces sourced from all around the world.
Unique tea experiences: Pop into the nearby Handunugoda Tea Estate to uncover the secrets of their tea production. The tea factory produces a signature 'virgin white tea' using an incredible process where the tea is completely untouched by hand, following an ancient Chinese tea-making ritual.
We hope we have inspired you to consider staying at a Sri Lanka tea plantation hotel for your next getaway! Looking to discover more lush tea estates elsewhere? We recommend heading to incredible India next to visit more of the best tea plantations in the world.
---
About TourHero
TourHero is a social travel platform that enables you to travel with like-minded people and fall in love with the journey. We work closely with handpicked local operators to ensure every experience curated is unique and exclusive to your travel group. Come with us on epic adventures and create memories that last a lifetime!