On Vietnam's Cham Islands (known as Cu Lao Cham in Vietnamese), you can experience an ancient way of life, a stunning coral reef, and even — wait for it — a walk along the ocean floor! Plus, a night on the island offers a serenity that's hard to find anywhere else. Despite its modern-day vibe of a fishing and tourist destination, the Cham Islands are also a reminder of a kingdom that once ruled over part of Vietnam for centuries. Read on to find out more about these fascinating islands that provide a very different atmosphere from Vietnam's mainland.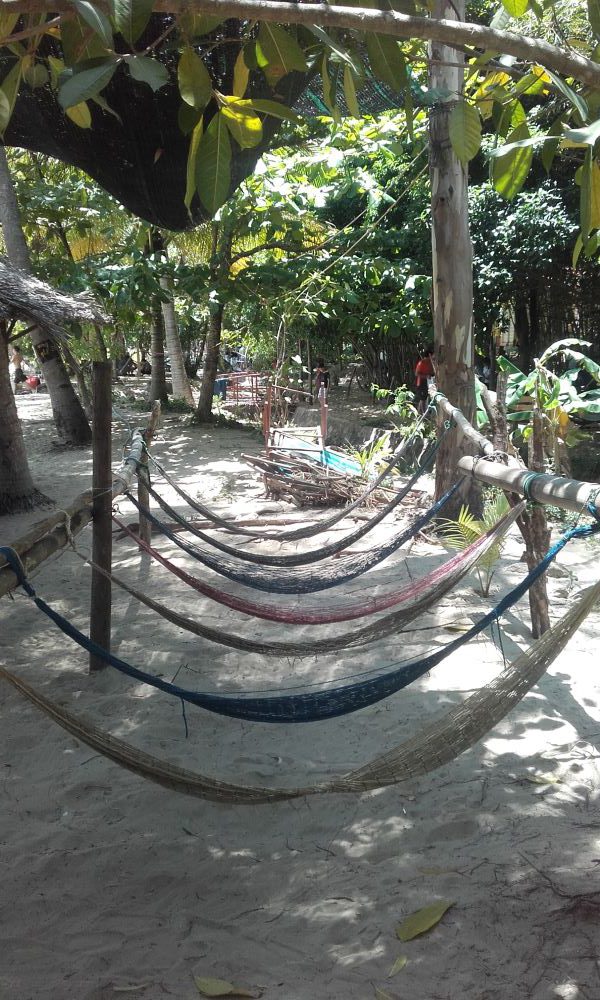 Where are the Cham Islands?
The Cham Islands lie just off the coast of Hoi An in Central Vietnam. They are made up of a cluster of eight islands in total and are often simply referred to as a singular "Cham Island". You will find them about 15 kilometers, or eight nautical miles, away from the coastline. The biggest island of the lot — Hon Lao — catches the eye from the mainland. Hon Lao is also the only island inhabited by humans, and as such, it is the only island you can properly visit.
The Cham people and their history
The islands are named after the Cham people, who first populated the region several thousand years ago. Today, they make up one of Vietnam's 54 ethnic minority groups, and still live on the island today. The Cham people are thought to have originated in Borneo, traveling to Vietnam over 2,000 years ago to trade goods.
The Cham people were amongst the first expert weavers, jewelers, and pottery makers. Many trade routes were established between Hoi An, Thailand, China, and Japan, and the skilled Cham people had a major part to play in the region becoming a renowned trading port. A Champa Kingdom was established in Vietnam in the 2nd century (101 – 200 AD), and it had a big influence over the central region until the 1600s.
Reminders of the Champa Kingdom are still everywhere in the region. My Son Temple, located on the mainland in Quảng Nam province and often referred to as the "Ang Kor Wat of Vietnam", is perhaps the best known, but there are relics and ruins aplenty, all reminders of an ancient world.
How do you get to Cham Island?
There are three options to get to Cham Island, all of which leave from Hoi An. A public ferry sails from Bach Dang Wharf and stops at Cua Dai Pier to pick up passengers. You can also board a speedboat from Cua Dai Beach, or take the leisurely option of a traditional Vietnamese sailing boat.
Vietnamese sailing boats can be seen off the coast of Hoi An almost every day of the year. They are still the first choice for many local fishermen. As a route to Cham Island, they offer the best cultural experience of all.
Tour or solo journey?
It's entirely possible to explore Cham Island by yourself, but this is one area where booking a tour has its advantages. We recommend that you see what's on offer on the island and plan your activities well in advance.
A tour here has the convenience of shipping you from one area of the island to the next, with minimum fuss and waiting time. Without ample planning and a good grasp of Vietnamese, the solo traveler to Cham Island may find themselves waiting a very long time for transport. The majority of boats will likely have been taken up by the tour companies in advance.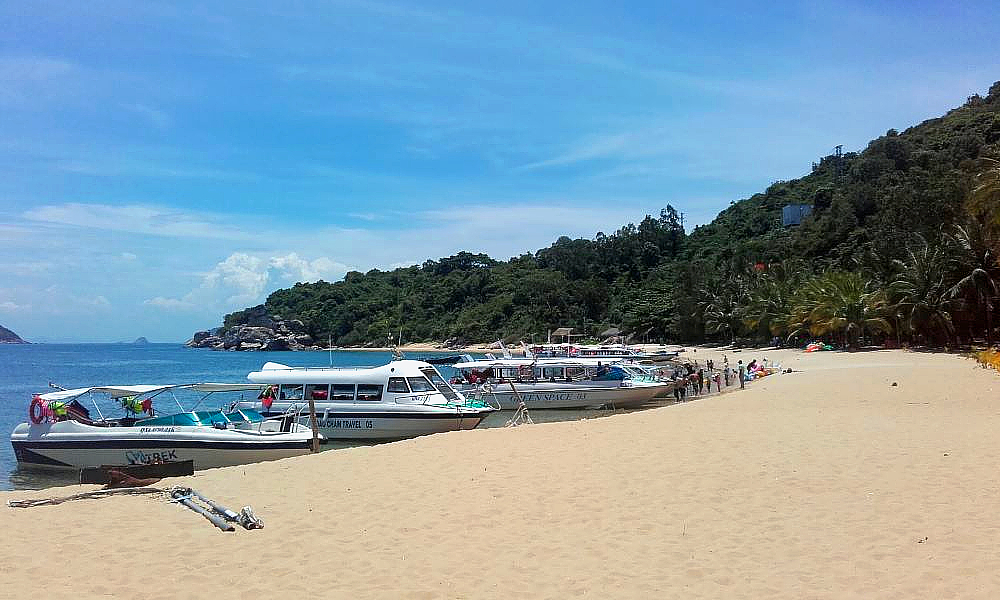 Bear in mind that it costs about 3 USD to set foot on Cham Island. This entrance fee should be included in any tour company's price. You'll likely only need to pay this cost separately if you decide to make your own way there. The cost is for one visit and remains the same however long you stay.
What is there to do on Cham Island?
The quietness of Cham Island is undoubtedly part of its appeal. Here you can experience a simple way of life that's gone virtually unchanged for centuries. In the daytime, it can get busy with tourists, and various tours will include some or all of the island's highlights.
Snorkeling and diving
It is easy to understand why the biggest of Cham Island's attractions is off the coastline. Here you can find the only coral reef in the immediate area, making it the region's premium snorkeling and diving attraction. Various tour companies offer trips here, for all diving abilities. Importantly, the area is home to the Cu Lao Cham Marine Park, recognized by UNESCO as a World Biosphere Reserve.
Walk on the ocean floor with Seatrek
Seatrek are just one of many companies to offer a snorkeling trip. However, they do something a little special, as well. They offer a truly unique experience by allowing you to walk along the ocean floor! With a helmet similar to a deep sea diver's gear and a path with a handrail fixed under the sea, you can venture down to feed the fish and be at one with ocean life.
You're accompanied by a professional, expert diver the whole journey. There's truly no other experience on earth quite like it.
Visit the local villages
There may not be a ton of things to do in Cham Island's villages, but that's part of the attraction. You can quickly get a taste of village life within an hour's trip, enjoy some freshly-caught seafood, and grab a souvenir or two. For a more special experience, an overnight stay brings the real rewards of a visit. Experiencing the sunset and dawn on Cham Island is worth the trip alone. Here, the bright lights of Hoi An across the water seem like a world away!
Most visits to Cham Island stop at the island's main port. From here, you'll need further transport to reach the island's attractions. Booking an advanced tour makes this easy, or you can travel by road or ferry with a little advanced planning.
Bai Huong and Bai Lang
Bai Huong and Bai Lang are the island's main villages. The former is the quieter of the two, and closest to Bai Chong Beach, where camping is available. You'll see fewer tourists here, so if you're looking to truly "get away from it all", Bai Huong is your best bet.
In contrast, Bai Lang is the largest village on Cham Island and houses the Hai Tang Pagoda and a small Cham museum. There are more restaurants here than at Bai Huong, and you will also find the island's biggest market here and the best beaches on the island, including the most famous in Bai Ong. However, as most tours come to this side of the island, you'll find the beachfront quite busy.
You can hire bicycles in both villages, although there is far more choice in Bai Lang. Motorcycle rental is hard to come by unless you are staying overnight. Your accommodation may be able to arrange this for you.
If traveling alone, you can pick up maps at Bai Long's reception office.
Precautions for visiting
Cham Island is a safe place to visit, but it's worth knowing that accommodation is relatively small when compared to Hoi An. There are no big hotels and rooms are few! If you miss the last boat, it's a long wait until morning, so be prepared and be sure to book a return journey.
The weather is also a consideration. Boats won't make the trip if the weather turns bad, so if storms are forecast, you can end up being stranded on the island until the sea settles again. Generally, no boats will make the trip during the rainy season from October to February. March to September is the best time to travel, with April to July offering the driest months.
It is possible to take your own motorbike on the ferry route to Cham Island, but the roads can be tricky to negotiate, even for experienced riders.
Make sure to plan a trip to Cham Island if you're passing through Central Vietnam! For another fabulous Vietnamese island experience, read our article on Best of Phu Quoc: The ultimate sightseeing guide to Vietnam's largest island.
---
About TourHero
TourHero is a social travel platform that enables you to travel with like-minded people and fall in love with the journey. We work closely with handpicked local operators to ensure every experience curated is unique and exclusive to your travel group. Come with us on epic adventures and create memories that last a lifetime!