Love having a warm cup of coffee with a book in hand at your favorite cafes? We have put together some of our favorite cafes in Paris that inspired the creations of some of the most legendary books and films.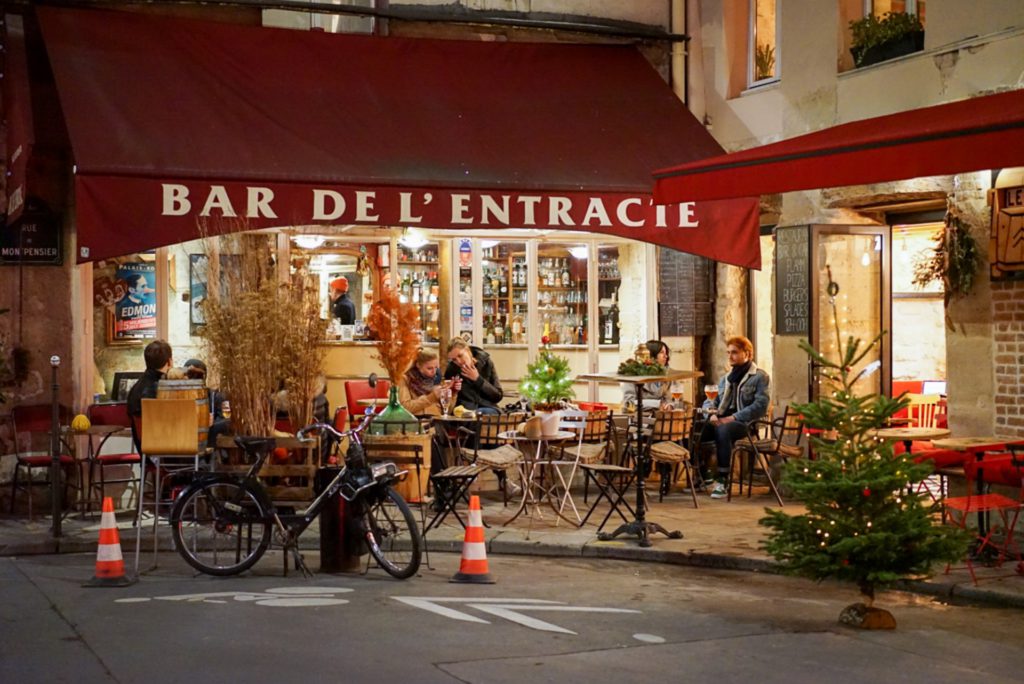 These cafes have seen the likes of literary giants, blockbuster movie stars, iconic fashion designers, and many more waltz through their doors. From Audrey Hepburn to Scarlett Johansson, discover where you can wine and dine like your favorite stars!
France is currently open to domestic and travel within the European Union. The cafes that we have listed all abide by social distancing rules and many have outdoor seating. Be sure to check local travel restrictions before you head out! Be safe and have fun.
Café de Flore
Address: 172 Boulevard Saint-Germain, 75006 Paris, France | Map
Dating back to 1887, Café de Flore has a history like no other. This prolific establishment has encapsulated the authentic Parisian way of life, its historic Gothic architecture becoming an icon of Parisian coffeehouses. Framed by floor-to-ceiling windows and kitsch Art Deco-style interiors that have remained unchanged, Café de Flore has seen the likes of many prolific writers, philosophers, artists, and fashion designers walk through its doors. The list includes Pablo Picasso, Albert Camus, Jean-Paul Satre, Simone de Beauvoir, and Karl Lagerfeld just to name a few!
The cafe has never stopped being a center of activity — writers would sit and write for hours on end, philosophers would come to exchange ideas, and fashion designers would draw inspiration from people-watching. Today, this iconic cafe has become one of the quintessential must-visit cafes in Paris if you want to walk a mile in the lives of these iconic individuals who, too, have sat in that exact spot with an espresso in hand.
Les Deux Magots
Address: 6 Place Saint-Germain des Prés, 75006 Paris, France | Map
Les Deux Magots is one of the most legendary cafes in Paris. Having attracted some of the most brilliant minds in arts, literature, politics, and fashion, Les Deux Magots has arguably been coined as the birthplace of Surrealism. The Surrealists were also said to have their very own club table facing the door of the cafe "from which vantage point a seated Surrealist could conveniently insult any newcomer with whom he happened to be feuding".
Named after a pair of Chinese philosopher statues in the interior, this iconic cafe has seen the likes of Hemingway, James Joyce, and more artists come through their doors for a flute of champagne. If you are looking for a classic French cafe experience, or if you want to be closer to some of your favorite authors, this is the place to be! Today, the cafe retains its place in Parisian cultural history with its untouched Art Deco-style interiors. Be sure to soak up this unforgettable atmosphere, whether you choose to sit inside the gorgeous establishment or people-watch outside.
La Closerie des Lilas
Address: 171 Boulevard du Montparnasse, 75006 Paris, France | Map
If you're looking to dine in the ambiance of old-world Paris by soft Parisian candlelight, La Closerie des Lilas fulfills that wish. La Closerie des Lilas has been the stomping ground for some of the most prolific writers such as Samuel Beckett, Oscar Wilde, Man Ray, and F. Scott Fitzgerald. Most notably, Ernest Hemingway has written about this iconic cafe in his memoir, A Moveable Feast. Fitzgerald also first gave his manuscript of the classic The Great Gatsby to his friend, Hemingway, to read along the bar here.
When in the neighborhood of Montparnasse, don't forget to make a trip up the tallest skyscraper in France – the Montparnasse Tower. The panoramic observation deck allows you to soak in the most stunning and unblocked view of the Eiffel Tower. We suggest visiting the Tower at dusk for amazing views of the sunset and to see the Eiffel Tower come to life. Upon nightfall, catch the Eiffel Tower light up its 6,000 lamps for five minutes every hour on the hour up till 1 am (GMT+2).
It's your turn to settle into a chair on the enclosed terrace and delight in La Closerie des Lilas' fresh oysters and beef tartare. Visit this brasserie and get transported back to the Parisian past with its preserved decor, ambiance, and live music. When you visit this Parisian cafe, take a seat at Hemingway's table. His name, and many others, can be found labeled.
Le Sélect
Address: 99 Boulevard du Montparnasse, 75006 Paris, France | Map
Fall in love with a croissant and cafe au lait when you visit Le Sélect. This gorgeous cafe has preserved its Parisian lore since 1925, the iconic neon sign out the front having served as a symbol of Parisian cultural history for many decades. Many famous writers and even present-day actors, such as Scarlet Johansson, have visited this establishment.
Today, Le Sélect is best known for its affordable lunch menu featuring french onion soup and duck confit. This is the perfect place for people-watching in the midst of 1930s jazz music. Remember to make reservations early to avoid disappointment!
Shakespeare and Company and Bob's Bake Shop
Address: 37 Rue de la Bûcherie, 75005 Paris, France | Map
Shakespeare and Company is one of the world's most famous independent bookstores. Opened over a hundred years ago, this charming bookstore has been home to literary classics, avant-garde magazines, and poetry, attracting book lovers from all over the world. Shakespeare and Company also houses rare and hard-to-find books, so be sure to keep your eyes peeled for these gems. With a wide collection of English titles, it would be a shame to miss exploring Shakespeare and Company when visiting the city of Paris.
Looking for a cozy spot to settle down to read after browsing the endless shelves at Shakespeare and Company? Tucked beside the quaint bookstore is Bob's Bake Shop. This little lunch spot is a great set-up to buy a book, grab a delightful cup of coffee, and sit and read. This cafe also includes vegetarian, vegan, and gluten-free options, so there's something for everyone.
Café des Deux Moulins
Address: 15 Rue Lepic, 75018 Paris, France | Map
If you love the movie Amélie, Café des Deux Moulins is where you should be! In the film, the main character, Amélie, worked in the cafe as her day job. Today, the cafe even has a salad named after the character, and the interior is decorated with film posters and memorabilia. Some of the staff who work here even adopt the quirky personalities of characters from the film, so be prepared for a truly immersive Amélie experience!
Apart from the film, Café des Deux Moulins is one of the top photo spots in the charming neighborhood of Montmartre. Its eye-catching red exterior makes it an Instagram-worthy spot when walking along the Montmartre streets. The interior of Café des Deux Moulins is the only diner-style restaurant in Montmartre decked out in red seats and fluorescent-lit counters. Be sure to put this down on your itinerary of cafes in Paris not to be missed!
Le Café de la Paix
Address: 5 Place de l'Opéra, 75009 Paris, France | Map
Ever seen Disney's animated musical adventure The Aristocats? Walt Disney decided to pay tribute to Le Café de la Paix in the animated film by featuring it in several scenes, highlighting the cafe's symbolism of mundane life back then. Today, Le Café de la Paix is a bustling cafe housed in the Intercontinental Paris Le Grand Hotel. Visiting the indulgent Le Café de la Paix is like taking a trip back in time. The gilded columns and richly painted ceilings add to the delightful ambiance of the space. Make a reservation here and be treated to classic French cuisine and an impeccable view of the French Opéra.
The prices here are a little steeper compared to the rest of the cafes on this list but trust us when we say this is well worth every penny!
Angelina
Address: 226 Rue de Rivoli, 75001 Paris, France | Map
This historical tea room must not be missed! Walking distance from the Lourve, Angelina serves mouth-watering desserts and a signature hot chocolate. Speaking of, Audrey Hepburn was often found in Angelina sipping on hot chocolate during her Paris visits! Get a taste of Parisian high life by indulging in some affordable pastries and desserts in this opulent tea house.
Since 1903, Angelina has maintained its style. The interior is known for its elegance with marble-top tables, French-style chairs, and soft lighting. Apart from Hepburn, Coco Chanel was also known for being a daily customer at Angelina, often spotted sipping hot chocolate at Table 10. If you've got a sweet tooth and want a taste of classic Parisian charm, Angelina is the place to visit!
Know of other hidden cafes in Paris that should be on this list? Share them with us! We hope that you've enjoyed exploring the charming Parisian streets with us.
---
About TourHero
TourHero is a social travel platform that enables you to travel with like-minded people and fall in love with the journey. We work closely with handpicked local operators to ensure every experience curated is unique and exclusive to your travel group. Come with us on epic adventures and create memories that last a lifetime!