Hue's former glory as an Imperial City has added some real diversity to its cuisine. Once home to merchants and traders from around the world, international cuisine has had a big influence, and the former kings' need for ever-tastier dishes saw the invention of a host of new recipes.
Nowadays, Hue City is mostly a peaceful place, beautifully situated on a river. But its food is amongst the most vibrant in the whole of Vietnam. Dishes once created for royalty are now commonly found on Hue's street food scene. With such delights on offer, it's impossible to leave the city without a full belly and a satisfied smile! Read on for an introduction to nine must-try Hue foods.
Bun bo Hue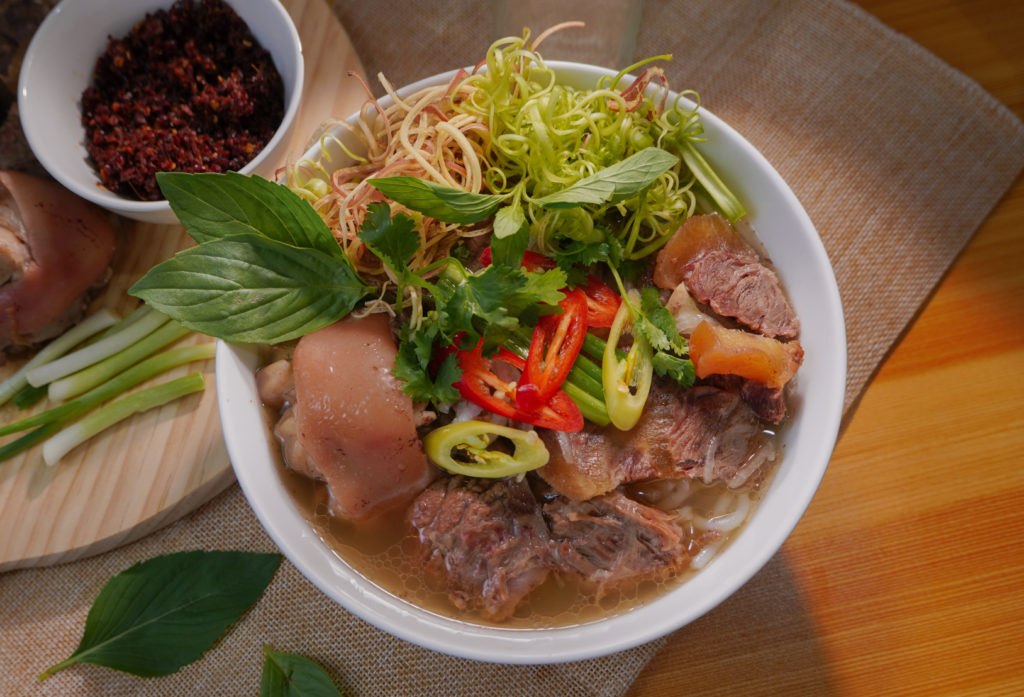 Bun bo Hue-style is popular across Vietnam and usually eaten by the locals for breakfast. For best results, of course, head to the source! Many different areas of Vietnam have used the basic ingredients of Hue noodle soup and added their own twist. But in Hue, you'll find it made according to tradition. Beef, pork, greens, and pig's blood all combine for a bowl of hearty goodness. Try this early in the morning and you'll be ready for anything!
Where to find bun bo Hue in Hue: Dong Ba Market, 2 Tran Hung Dau, Phu Hoa
Com hen
There's more to clam rice than its name suggests, although clams form the centerpiece of this local specialty. Add crispy fried pork strips, beansprouts, nuts, and onions in a warming soup and you have a great Hue breakfast for those who fancy a change from bun. In some establishments, you'll be given a bowl of basic clam soup and be able to pick additional ingredients yourself.
Where to find com hen in Hue: Com Hen 17, Kiet 17, Han Mac Tu, Vy Da
Banh beo
Banh beo are a Vietnamese staple-food found across the country, but they actually come from Hue, where they are still cherished by local people and visitors alike. A throwback to the city's imperial days, legend has it that banh beo were invented by a former Nguyen emperor's personal chef.
The ruling family got bored of eating the same old favorites day-in and day-out, and so set their cook a challenge to create something unique. Bear this in mind when you bite down on one of these scrummy rice cakes — you're actually eating food that's fit for a king! Try this for breakfast or lunch.
Where to find banh beo in Hue: Banh Beo Ba Cu, 107 Nguyen Hue, Phu Nhuan
Banh khoai
Vietnamese pancakes are a real highlight of the country's fabulous cuisine, and finger food at its finest. Seek out the Hue variation, filled with fatty pork, beansprouts, egg, and shrimp. Wrap it in a sheet of rice paper and dip it in soya sauce for the full experience. If you're new to Vietnamese pancakes, it's worth watching a local roll one before you dive in yourself. There's a certain knack to keeping all the ingredients together, and it's all part of the fun! Excellent for lunch or dinner.
Where to find banh khoai in Hue: Lac Thien, 6 Dinh Tien Hoang, Phu Hoa
Nem lui
Trek around a night market in Vietnam and you'll likely see some street vendors selling pork skewers. But Hue's nem lui kebabs are a cut above the rest. The meat is seasoned with lemongrass and chilli, and comes with a side order of grilled vegetables. Sometimes the whole meal will be served in folded rice paper. Try these for lunch or dinner.
Where to find nem lui in Hue: Nem Lui Restaurant, 200 Tran Hung Dao, Phu Hoa
Banh nam
If you think you've had your fill of rice cakes during your trip to Vietnam, think again. Banh nam are made flat, with the pastry only just coating a mixture of seafood and pork. This results in a much lighter rice cake than most and a delightful snack to fill a hunger-hole on any afternoon.
Where to find banh nam in Hue: Hanh Restaurant, 11 Pho Duc Chinh, Thang Tam
Banh loc goi
Most 'pastry' in Vietnam uses rice flour as its base, but banh loc goi has tapioca. This gives it a consistency a little closer to fresh Italian pasta. You'll find these filled with shredded pork or seafood and steamed in a banana leaf, which later helps you keep your fingers clean when eating! The locals eat these dipped in fish sauce, often with a beer or two. Save them for a pre-dinner snack.
Where to find banh loc goi in Hue: Hang Me, 14 Vo Thi Sau, Phu Hoi
Che hat sen
Che is a famous dessert found across Central Vietnam. It's usually a mix of beans or corn with nuts, coconut milk, and ice. Hue's fabulous take on this yummy foodstuff uses lotus seeds as its central component. Although favored as a dessert, it's a delicious refresher at any time and a great sweet-but-healthy treat.
Where to find che hat sen in Hue: Ben Ngu Market, Phan Boi Chau, Phuoc Vinh
Hue chao
This fermented tofu is just a condiment, and found all over Vietnam. You'll see it on restaurant and café tables alongside the salt, pepper, and chilli sauce. But Hue has its own extra-special version. And it's not to be taken lightly.
Most chao is 'wet' prepared with salt water, rice wine, and sometimes pineapple. But Hue chao is fermented without the water. This results in a much stronger flavor, akin to the smelliest, most potent cheese you can imagine. Only for the brave, but eaten at any time of day.
Where to find Hue chao in Hue: Almost any local café or restaurant!
Visiting Hue as part of a wider trip around Vietnam? Don't forget to check out our ultimate guide to Vietnamese food to settle your cravings.
---
About TourHero
TourHero is a social travel platform that enables you to travel with like-minded people and fall in love with the journey. We work closely with handpicked local operators to ensure every experience curated is unique and exclusive to your travel group. Come with us on epic adventures and create memories that last a lifetime!