Food in Vietnam is a reflection of the country's rich history, culture, and tradition. From the rich and mouthwatering beef pho to the explosively flavorsome banh mi, Vietnamese food has steadily gained popularity over the years and for a good reason. The cuisine features an incredible blend of five fundamental tastes: spicy, sour, bitter, salty, and sweet. Coupled with its French and Chinese influences, Vietnam's food will take you on a gastronomic journey that will leave you returning for more. In addition, the principle of yin and yang is applied when making Vietnamese food. This balance combines ingredients that are beneficial for the body, making Vietnamese cuisine some of the world's healthiest.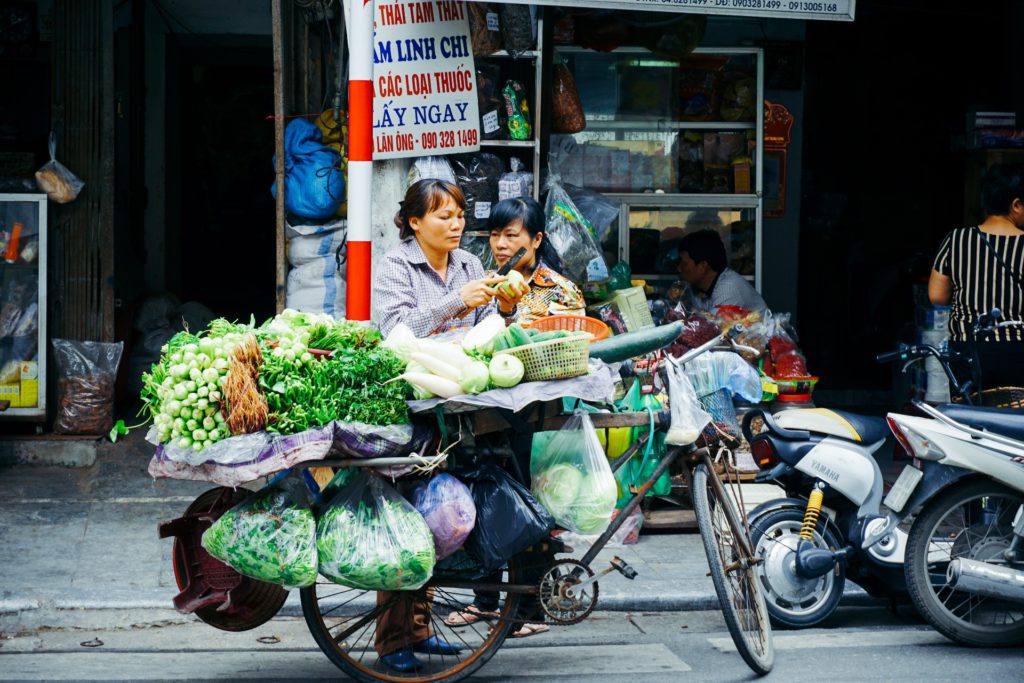 The Vietnamese culinary experience differs by region. In northern Vietnam, the colder climate features light and well-balanced flavors, often the birthplace of many signature Vietnamese dishes that would later carry over to central and southern Vietnam. These include signature dishes like banh cuon and bun cha. Mountainous central Vietnam is notable for its spicy food and complex dishes, reminiscent of ancient Vietnamese cuisine. Some signature dishes born from Hue, the capital of the last dynasty of Vietnam, include the fiery bun bo hue and banh khoai. Finally, southern Vietnam sees vibrant seafood dishes and the use of a wide variety of fruit, vegetables, and livestock. Perfect for a sweet tooth, southern Vietnam's food is usually sweeter than the rest of Vietnam.
We hope you are hungry! Come with us on a vibrant culinary adventure of Vietnam's food in the cities of Hanoi, Hue, Hoi An, Nha Trang, and Ho Chi Minh City.
Hanoi
Hanoi, the capital city of Vietnam, is a treasure trove of street food stalls and a food lover's paradise. Due to its location in northern Vietnam, Hanoi is heavily influenced by Chinese cuisine, giving rise to a multitude of delicious Vietnamese food. Apart from its wide variety of food, Hanoi not far away from some of our favorite mountainscapes and highlands that you must visit. Sink your teeth into the city's vibrant food culture; from the quintessential Vietnamese beef pho to bun cha endorsed by Anthony Bourdain, this city has everything to offer.
Ca phe trung
A morning staple, Vietnamese egg coffee (ca phe trung) is a sweet and creamy delight loved by many. You might be confused; egg and coffee? It's tastier than you think! This delicious beverage is made by beating an egg into sweetened condensed milk and served over hot espresso or ice coffee. The egg makes the coffee airy and decadent with a touch of sweetness from the condensed milk. Supposedly the first place to create Vietnam's signature egg coffee, Cafe Giang is a cozy quick-service cafe known for this creamy delight. Absolutely delicious!
Bun cha
Bun cha, the popular Vietnamese dish of grilled pork meatballs and rice vermicelli, is not only well-loved by locals. In 2016, famous food critic Anthony Bourdain and then-president Barack Obama also dug into a bowl of bun cha at Bun Cha Huong Lien for an episode of Bourdain's CNN show Parts Unknown. This dish pairs lightly charred pork meatballs with soft rice vermicelli, topped with a hearty helping of fresh herbs. Pair this dish with a light and zesty dipping sauce of green papaya, red chillis, fish sauce, and lime juice.
Banh cuon
This elegant and intricately-prepared Vietnamese dish is to die for! Vietnamese steamed rice rolls, banh cuon, are thin, rolled rice sheets filled with seasoned ground pork, wood ear mushrooms, and minced shallots. Dip these delicate rice rolls in a dipping sauce called nuoc cham, a concoction of Vietnamese fish sauce, lime juice, garlic, sugar, and chili. Banh cuon is a popular breakfast street food among locals and can be found in different variants all over Vietnam.
Beef pho
A visit to Vietnam is not without a hearty bowl of piping hot pho. Hanoi-style beef pho is the more popular style of pho known around the world. You might know it for its thinly sliced beef, rice noodles, and delightful beef broth, all topped off with cilantro, herbs, lime juice, and beansprouts. This bowl of goodness differs slightly over different regions of Vietnam. Many pho enthusiasts often debate on whether the north or the south serves the best pho. With the slight differences in the use of ingredients, textures, and sauces between the regions, you have to try them all when visiting Vietnam.
Cha ca
Cha ca, Hanoi's most famous dish, has an entire street dedicated to it. Cha Ca La Vong is one of Hanoi's oldest eateries that serves cha ca, a fried Vietnamese fish infused with turmeric and dill. As you enter the restaurant, simply place your order and await the sizzling hot pan to arrive. The marinated fish is hot, greasy, and aromatic, paired alongside a basket of herbs, vermicelli, and fermented shrimp paste. Take a bite out of bite-sized slices of fish and experience the harmony of salty, sweet, and tangy flavors.
Hue
Hue is a charming town located in central Vietnam. Situated on the banks of the Perfume River, Hue used to be one of Vietnam's main royal capitals. Today, its grand historical monuments of museums and temples have earned it a place in UNESCO's World Heritage Sites. With its rich history, the city claims many distinctive Vietnamese dishes of explosive flavors and unique tastes.
Bun bo hue
Can you take the heat? Bun bo hue is a fiery bowl of spicy beef noodle soup paired with rice noodles and thinly-sliced beef and pork pieces. Invented in the historic city of Hue, this dish has found widespread popularity throughout Vietnam. If you find yourself in a restaurant or street-side store in Hue, enjoy a satisfying bowl of bun bo hue in its traditional style using beef shank and gelatinous pig blood in the soup served alongside a heaping plate of fresh herbs. Anthony Bourdain, famous chef and food critic, has also hailed Dong Ba market's bun bo hue as the world's best soup.
Banh khoai
Another Vietnamese dish with origins in the ancient city of Hue is banh khoai. Translated as "happy pancake," banh khoai is a crispy pancake stuffed with fresh shrimp, quail egg, bean sprouts, and pork belly. The best way to eat banh khoai is with a thin piece of rice paper with your favorite greens, starfruit, and young banana. Roll it all up and dip it in the fermented soybean dipping sauce. This gastronomic experience is not without sitting or squatting on a small plastic stool around a low table as a ban khoai hawker whips up the dish in front of you. Variations of this savory crepe dish can be found throughout Vietnam. Its close relatives include banh khot and banh xeo, some of our recommendations here in our ultimate Vietnam food guide.
Banh beo
Made with a few simple ingredients, banh beo is a savory street food loved by many. Banh beo are steamed savory rice cakes topped with mung bean paste, fried pork fat, dried shrimp, and scallion oil. The best banh beo can be found at street food stalls that solely serve this dish. Take a seat at their stall and enjoy banh beo made by skillful street food vendors such as Banh Loc Mu Cai, that have mastered the art of making this labor-intensive dish over many years.
Nem lui
At first glance, nem lui may seem like any other grilled skewered pork dish, but a taste of this Hue specialty will change your mind. Nem lui is made with seasoned ground pork and a variety of spices placed on a lemongrass stalk and grilled over a charcoal fire. Eat this mouthwatering smokey meat with rice paper or dip it in special Hue fermented soybean sauce. Like most Vietnamese dishes, nem lui also comes with a side of fresh vegetables and Vietnamese herbs for the perfect pairing. Nem lui is commonly sold in the late afternoon until evening and can be eaten as a main course or a snack in the afternoon.
Hoi An
Step into Hoi An, a well-preserved Southeast Asian trading port dating back to the 15th century. Hoi An is some of Vietnam's most beautiful cities; this UNESCO World Heritage Site features a unique blend of grand architecture of local and foreign influences. Apart from seeing this incredible city, Hoi An is a must-visit for food lovers. Find mouthwatering Vietnamese dishes reminiscent of the city's historical past or take a bite out of foods that can only be found here in Hoi An.
Banh mi
Like pho, banh mi is another iconic staple of Vietnamese cuisine. If you are unfamiliar with banh mi, this quintessential Vietnam food dish features a crusty French baguette sandwiched with various ingredients. Typically, banh mi is made with various Vietnamese cold cuts like sliced pork, pork belly, or pork sausage, head cheese, and liver pate, complemented with fresh vegetables. Whether you are enjoying this at a hip Instagram-worthy cafe or at a street food cart like Banh Mi Phuong, the beauty of the banh mi is the creativity in the use of ingredients. Make it spicy with some jalapeno peppers or opt for a vegetarian sandwich by taking out the meats; the options are endless! Eat your way through Vietnam to find your perfect banh mi combination.
Banh bao banh vac
Served only in Hoi An, banh bao banh vac are rice paper dumplings shaped like white roses (the origin of its name: "white rose dumpling"). This gorgeous and intricately handcrafted dumpling is prepared with a filling of shrimp, mushrooms, beansprouts, and spring onion. This unique and fragrant Vietnamese dish is served with a sauce made of shrimp broth, chili, lemon, and sugar. This dish's history dates back to one family in Hoi An, who first began creating these beautiful dumplings. Ban bao banh vac first started as a commonplace dumpling for family dinners at Tran Tuan Ngai's family. The dumplings were so famous that more and more neighbors came by to enjoy this delight, and Ngai eventually converted part of his house into the aptly named, White Rose Restaurant.
Banh xeo
Similar to banh khoai, banh xeo is a popular street snack found across the country. This crepe dish is named after the loud sizzling sound it makes when rice batter hits a hot skillet. Hear it for yourself as you tuck into this shrimp or pork belly studded rice flour pancake. And of course, pair banh xeo with nuoc cham, the Vietnamese dipping sauce used with so many Vietnam foods.
Cao lau
Ask anyone in Hoi An and they'll say that the city's most famous noodle dish is cao lau. Cao lau consists of pork and vegetables served over a bed of fresh vegetables. According to local legend, the noodle's textures and color come from soaking the noodles in water mixed with the ash of the Melaleuca tree that only grows on the nearby Cham Islands. Seasoned with five spices, the fatty pork is melt-in-your-mouth goodness that you must try!
Nha Trang
Located in the Khanh Hoa province on the south-central coast of Vietnam is the coastal city of Nha Trang. Nha Trang is well known for its golden beaches and underwater dive sites. If you love seafood, Nha Trang offers some of the freshest and most unique Vietnamese seafood delicacies. Local fishing villages supply this coastal town with freshly-caught prawns, squid, jellyfish, crab, urchins, and shellfish. If you are a seafood lover, Nha Trang is the place to be!
Bun ca sua
A trip to Nha Trang is not complete without trying this Nha Trang specialty. Bun ca sua is a noodle dish of rice vermicelli with grilled fish and jellyfish. You read that right. Nha Trang is home to two kinds of edible jellyfish believed to relieve health ailments such as cough and lung inflammation. The jellyfish in bun ca sua elevates the otherwise typical fish noodle soup dish with its crunch texture and delicate taste. Try it for yourself!
Banh can
A local specialty in Nha Trang, banh can is a simple rice cake dish prepared with a special ingredient: pancake mix. Rice is ground into a powdery liquid and mixed with pancake mix and rice flour for a bouncy cake base. Egg, squid, or shrimp is usually added to this cake base and grilled on a terracotta cake mold. Originating in central Vietnam, banh can share some similarities with its southern sibling, banh khot.
Nem nuong
Nem noung is the ideal combination of sweet and savory. This barbecue pork dish is a popular street food across Vietnam. Usually served as skewers or as meatballs, this meat dish's charred, smokey flavor leaves you coming back for more. What makes nem nuong special in the city of Nha Trang is the use of gooseberry leaves, leaving the pork with a distinct sour taste. Nem nuong in Nha Trang is served alongside crispy rice paper in addition to the array of vegetables, including banana flowers, lettuce, cucumber, basil, chives, and more, depending on the season. Wrap the meats in crispy rice paper and dip your nem nuong into the dipping sauce for a kick of spice.
Bo ne
Bo ne is your answer to steak and eggs for breakfast. A popular breakfast favorite of locals, this sizzling pan of steak, eggs, and pate is bound to start your day right. Take a bite of slices of beef sauteed with rich buttered onions and sop up the remains with a French baguette commonly served with your bo ne. The "ne" in the name of the dish translates roughly to "stand back", a playful nod to the sizzling cast iron plate this dish is served in where it's so hot and crackling that you have no choice to stand back. Check out the Time House Bistro, a modern breakfast spot located along the beach that serves some of the best bo ne.
Ho Chi Minh City
Commonly known by its previous name, Saigon, Ho Chi Minh City is the largest and most popular city in Vietnam. As Vietnam's financial and economic hub, many international visitors pass through Ho Chi Minh City each year. The vibrant destination is never short of local and international food options. Vietnamese food from almost all regions can be found here in this southern city, including banh mi, pho, and bun bo hue. We have picked some of our favorite Vietnamese dishes that you must taste before leaving Ho Chi Minh City.
Ca phe sua da
This cuppa is the perfect pick-me-up! Duck into any cafe in Ho Chi Minh City, and you will most likely be able to find a cup of iced Vietnamese coffee (ca phe sua da). Ca phe sua da is made with finely ground Vietnamese dark roast coffee brewed over a cup in a French drip filter. This drip brewing process takes about five minutes and the coffee usually drips into a cup containing sweetened condensed milk. Finally, complete your drink by pouring the coffee over ice and savor the intensely rich and aromatic flavors. Coffee was first introduced to Vietnam by a French Catholic priest in the 1850s. Presently, Vietnam is the world's second-largest producer of coffee and the largest producer of the Robusta variety. We love coffee hunting on the streets of Saigon, our favorite cafe being 1987's House.
Goi cuon
Sink your teeth into this healthy Saigon appetizer! Goi cuon, otherwise known as summer rolls, are fresh spring rolls served with prawns, chopped meat, wood ear mushrooms, rice vermicelli, and herbs. You can find variations of goi cuon all over Vietnam, served at both restaurants and street food stalls. This dish even made it to number 30 on CNN's list of the World's 50 Most Delicious Foods!
Ba la lot
Ba la lot is our favorite Vietnamese snack! Best paired with an ice-cold beer, these fragrant beef rolls wrapped in betel leaves are aromatic, savory, and flavorful. Ba la lot rolls are grilled over hot charcoal and served accompanied by rice paper, vermicelli rice noodles, and, as usual, vegetables and herbs on the side. We love ba la lot because of the mixture of texture and flavors. The grilled beef's sweetness and the hint of herby aroma from the betel leaves give each roll a unique earthy taste. Apart from street food stalls and roadside restaurants, this absolutely delicious snack can also be found at Vietnam's most trendy bars and parties.
---
We hope you've enjoyed our Vietnam food guide!
---
About TourHero
TourHero is a social travel platform that enables you to travel with like-minded people and fall in love with the journey. We work closely with handpicked local operators to ensure every experience curated is unique and exclusive to your travel group. Come with us on epic adventures and create memories that last a lifetime!