Dreaming of roaming endless plains and spotting wild elephants, bears, and leopards? How about exploring protected beaches and sandbanks to see rare marine life and water birds? South Asia hides a beautiful destination that offers plenty of opportunities for remarkable wildlife encounters. We're talking about the Pearl of the Indian Ocean: Sri Lanka. The island nation is filled to the brim with parks and reserves. A safari adventure through these untouched lands is a must for wildlife enthusiasts, so we've curated a list of the five best national parks in Sri Lanka guaranteed to deliver unforgettable wildlife encounters. Find out which park is best for spotting all five globally-endangered sea turtles, and which is best for getting up-close and personal with friendly sambar deer!
Safety while traveling
Remember to check the status of Sri Lanka's travel restrictions during this time. Certain areas and attractions may be affected by the current pandemic.
About Sri Lanka's national parks
You wouldn't expect it, but Sri Lanka has a grand total of 26 national parks. Together, they cover an area of 5,734 square kilometers. The largest and oldest of Sri Lanka's national parks is Wilpattu National Park, famous for its population of leopards and sightings of sloth bears.
The island nation is home to an impressive number of endemic species; 16 percent of its fauna and 23 percent of its flowering plants are native to the country. It is important to note that many of these species are threatened or endangered. This includes the country's symbolic and cultural icon, the Sri Lankan elephant, which has seen a 50 percent population decline over the last 60 to 75 years. A visit to any of the national parks in Sri Lanka should be made with care and regard for the vulnerable wildlife that live there. Learn about these animals, observe them in their natural habitat, and leave nothing but footprints.
Yala National Park
At a glance
Land area: 978.8 km²
Drive time from Colombo: Six hours
Best for spotting: Sri Lankan leopards. The park boasts one of the highest leopard densities in the world — about 30 individual big cats have been spotted roaming the lands.
Wildlife at Yala National Park
Yala National Park is the second-largest national park in Sri Lanka. Situated southeast of the country, bordered by the Indian Ocean, it is ranked as one of the most popular safari parks in the country owing to its high biodiversity and accessibility. Including its active population of Sri Lankan leopards, Yala National Park has seen upwards of 44 different mammal species, including the endangered Sri Lankan elephant and rare Sri Lankan sloth bear. The park's coastline is also visited by all five globally-endangered sea turtles: the leatherback turtle, loggerhead sea turtle, hawksbill turtle, olive ridley sea turtle, and green turtle.
If you're an avid birdwatcher, you're in luck. Yala National Park is listed as one of the 70 Important Bird Areas (IBAs) in Sri Lanka. Over 200 bird species have been spotted here, six of which are endemic to the country. They are the Sri Lanka junglefowl, Sri Lanka wood pigeon, Sri Lanka grey hornbill, black-capped bulbul, brown-capped babbler, and crimson-fronted barbet. Yala's many lagoons also attract plenty of waterbirds, from the rare black-necked stork to the migratory great white pelican.
Speaking of lagoons, you will also find plenty of saltwater crocodiles lazing about.
Accommodation: Cinnamon Wild Yala
Cinnamon Wild Yala is located a five-minute drive from Yala National Park, making it a convenient place to lay your head for the night before embarking on your safari. The property offers luxurious and comfortable chalets with private balconies that overlook spectacular beach and jungle views. For even more convenience, you can book all your Yala National Park safari expeditions directly through the hotel.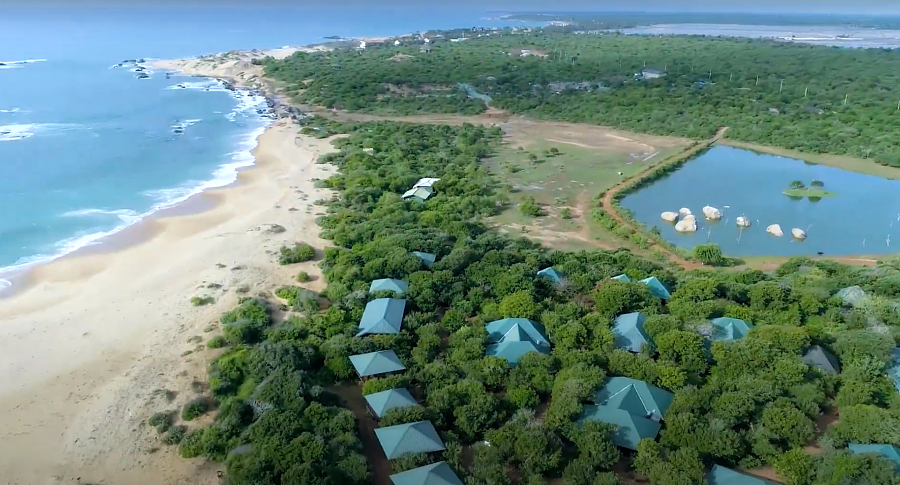 Udawalawe National Park
At a glance
Land area: 308.2 km²
Drive time from Colombo: Four hours
Best for spotting: Sri Lankan elephants
Wildlife at Udawalawe National Park
Udawalawe National Park is situated on the boundary of Sabaragamuwa Province and Uva Province. It is one of the best Sri Lanka national parks to spot wild Sri Lankan elephants. It is estimated that only 7,500 of these elephants are left in the wild. The flat, open grasslands here provide an important habitat for these gentle giants and over 200 of them roam free here. Fun fact: The Sri Lankan elephant is the only elephant species in the world that cleans its food. Upon tearing a portion of grass from the ground, they usually hit it against their legs or on the ground to remove any soil attached!
Other mammals you will find here include spotted deer, water buffalo, Sri Lankan sambar deer, wild boar, and three different species of mongoose. Felines that have been spotted in the vicinity include fishing cats, Sri Lankan leopards, and rusty-spotted cats.
While Udawalawe's light vegetation and flat plains make it easy to spot and observe wildlife, the forests hide many tree-dwelling creatures, including the toque macaque and elusive golden palm civet, both endemic to Sri Lanka.
A large reservoir lies at the heart of the park, attracting a number of waterbird species including cormorants, painted storks, Eurasian spoonbills, and spot-billed pelicans. Birds of prey such as the crested serpent eagle and changeable hawk-eagle are known to frequent the land for easy pickings.
Accommodation: Big Game Camp
Set amidst a flat and spacious bush forest right next to Udawalawe National Park, Big Game Camp is the perfect option for an affordable tented safari experience. It is the sole accommodation provider on the eastern border of the park, making for an intimate and exclusive camping experience. As a bonus, elephants are known to roam close to the campsite.
Big Game Camp also offers unique Udawalawe National Park safari excursions into Udawalawe National Park with experienced drivers and naturalists.
Horton Plains National Park
At a glance
Land area: 31.6 km²
Drive time from Colombo: Five hours
Best for spotting: Really adorable Sri Lankan sambar deer! They are the most common mammal you will see at the park, with a population exceeding 1,500.
Wildlife at Horton Plains National Park
Horton Plains National Park is located in the central highlands of Sri Lanka, situated at an elevation of about 2,100 meters. Boasting a unique terrain that encompasses high-altitude grasslands, cloud forests, waterfalls, and ancient rock formations, the land is rich in biodiversity and home to large herds of free-roaming Sri Lankan sambar deer. The deer are known to be friendly and docile, allowing tourists to walk right up to them to say hello. The best way to explore the plains is on foot, and many visitors do the main nine-kilometer trek that can be enjoyed in about three or four hours.
One of the best things to see at Horton Plains National Park is the famous 880-meter drop-off of World's End. The sheer precipice provides a magnificent panoramic view of the boundary between the Central and Sabaragamuwa Provinces.
Horton Plains National Park is also designated an Important Bird Area and some species of birds, such as the Sri Lanka blue magpie, dull-blue flycatcher, and Sri Lanka white-eye, can only be found on the plains and nowhere else.
Other rare animals to spot are the Horton Plains slender loris, one of the world's most endangered primates, as well as the adorable stripe-necked mongoose and grizzled giant squirrel.
Accommodation: The Glenrock
The Glenrock is a lovely boutique nature resort located on the outskirts of Horton Plains National Park. It is hidden on the banks of a scenic rocky river, surrounded by scenic forested mountains that provide incredible hiking opportunities. The resort offers guided tours and transport to many locations in the vicinity, including excursions to Horton Plains and World's End.
Wasgamuwa National Park
At a glance
Land area: 393.2 km²
Drive time from Colombo: Five hours
Best for spotting: Sri Lankan elephants
Wildlife at Wasgamuwa National Park
While less visited compared to Udawalawe National Park, Wasgamuwa National Park is also one of the best Sri Lanka national parks to observe elephants in action. The park is located in the Matale and Polonnaruwa Districts, in the dry lowlands of the North Central Province. Its land was declared a safe haven for the wild animals displaced during the 1984 Mahaweli Development Project that saw large-scale infrastructure projects accelerated in Sri Lanka. The Sri Lankan elephants that roam Wasgamuwa National Park can easily be seen in large herds. 150 of them have been recorded in the area.
You will also be able to find marsh elephants in the park, roaming the Mahaweli River area. They are a sub-species of the Sri Lankan elephant that have adapted to the marshy environment of the drainage basin. More commonly spotted are the water buffalo and Sri Lankan axis deer, while the Sri Lanka leopard and sloth bear are much rarer visitors.
In the trees, you might be able to catch sight of purple-faced langurs, a threatened species of monkey most often found in small and widely-scattered groups. Unfortunately, deforestation has largely affected their natural habitat in recent years. Other rare species found in forested areas of the park include the Sri Lanka frogmouth, a nocturnal forest bird with an oddly wide mouth, and the chestnut-winged cuckoo with its signature glossy black tail.
Accommodation: Mahoora Tented Safari Camps
Mahoora Tented Safari Camps provide special "explorer" tents for a comfortable stay at some of Sri Lanka's less-frequented locations, including Wasgamuwa National Park. Each tent is equipped with a bedroom, en-suite bathroom, and private veranda. Better yet, Mahoora prides itself on being the world's first carbon neutral safari camp. The camp also has a food and beverage service, so you don't have to worry about all your meals. Immersive jeep safari experiences can also be organized with the camp.
Wilpattu National Park
At a glance
Land area: 1,317 km²
Drive time from Colombo: Four hours
Best for spotting: The shaggy, elusive Sri Lankan sloth bear!
Wildlife at Wilpattu National Park
Wilpattu National Park is located on the northwest coast of Sri Lanka, extending inland to the ancient capital city of Anuradhapura. Unique to the park's dry lowlands are natural sand-rimmed rainwater lakes locally known as "willu". Over a hundred of these willu are found scattered throughout the park.
Sri Lankan sloth bears have been spotted in Wilpattu National Park, enjoying the spoils of the lowland dry forests that they prefer. With a population of less than 1,000, these sloth bears are a highly threatened species. If you're lucky, you'll be able to see these black, shaggy-furred mammals ambling to one of the lakes to drink.
Wilpattu National Park generally receives much fewer visitors than the other parks, despite it being Sri Lanka's largest and oldest national park. However, Wilpattu is beautifully preserved and is notably greener than even Yala National Park. Its many water basins attract a wide range of mammals, reptiles, amphibians, and aquatic birds. Sometimes, Sri Lankan leopards and Sri Lankan elephants may pop by, while black-headed ibises, purple herons, and even broad-snouted mugger crocodiles frequent the watering holes.
Accommodation: Backwaters Lodge
Backwaters Lodge is set in Wilpattu, just minutes from the gates of Wilpattu National Park. The lodge is built into a forest teeming with wildlife. Close by, you will find a river with plenty of rest areas, decks, and hammocks set up for your lounging pleasure. Perfect for birdwatchers and those who would love to hop on a boat tour, and a great base for excursions into Wilpattu National Park.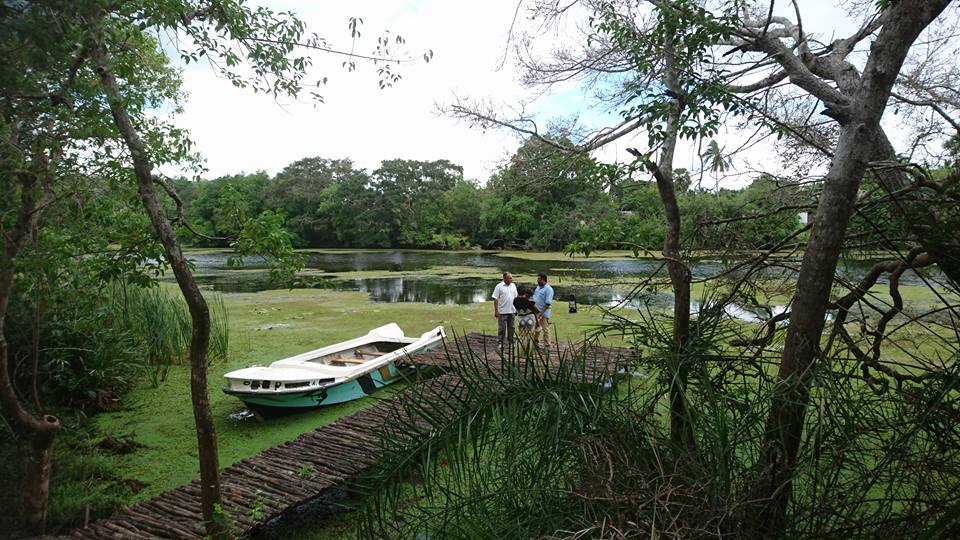 We hope we have inspired you to take a journey across the impressive wilderness of Sri Lanka to explore the best Sri Lanka national parks out there!
---
About TourHero
TourHero is a social travel platform that enables you to travel with like-minded people and fall in love with the journey. We work closely with handpicked local operators to ensure every experience curated is unique and exclusive to your travel group. Come with us on epic adventures and create memories that last a lifetime!