As one of Malaysia's most iconic beach vacation destinations, Langkawi is certainly no stranger to the avid traveler. Of course, if you think Langkawi is only good for its beautiful beaches and fancy beach resorts, this jam-packed activity guide will prove you wrong. From gushing waterfalls to floating fish farms, bat caves to untouched mangrove forests, Langkawi hides more secrets than you can imagine. Scroll down to discover all the best things you can do in Langkawi in three days. And, oh yes, Langkawi even has its own black sand beach. Don't believe us? Read on!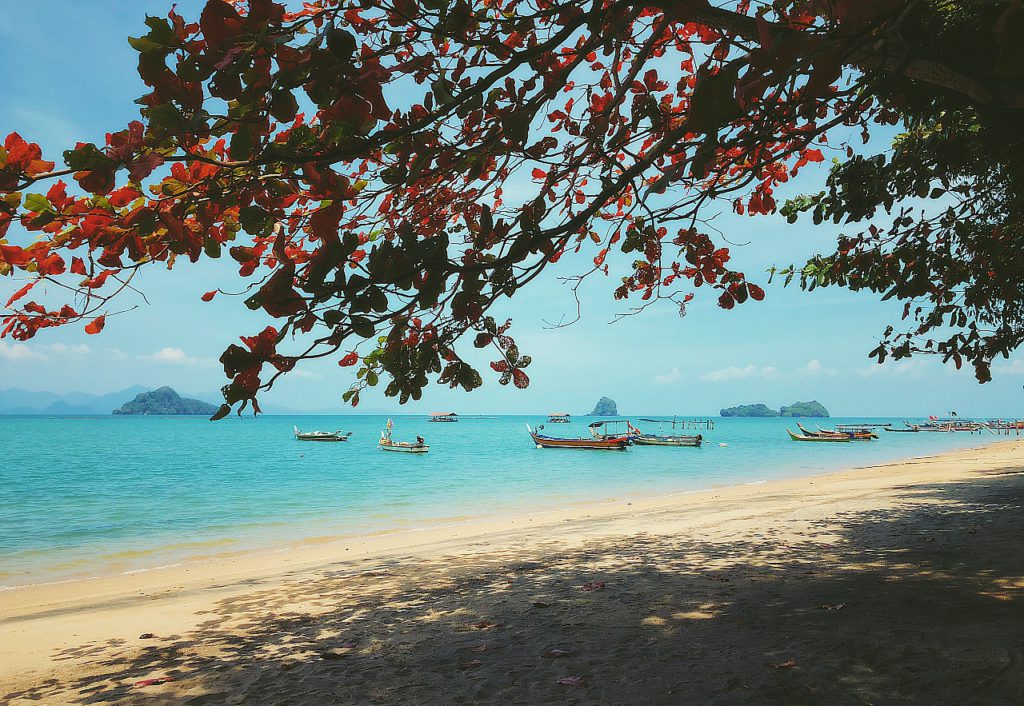 Safety while traveling
Remember to check the status of Malaysia's travel restrictions during this time. Certain areas and attractions may be affected by the current pandemic.
About Langkawi
Langkawi is also known as The Jewel of Kedah, a fitting name officially given in 2008 by Kedah's Sultan Abdul Halim as part of his golden jubilee. It may come as a surprise to some that Langkawi is not a single island, but rather an archipelago made out of 99 islands sitting in the Andaman Sea. The largest island of the group is named after the archipelago, leading to this confusion, and the term "Langkawi" has become synonymous with both the island destination and archipelago. The archipelago is situated on Malaysia's west coast, adjacent to the Thai border.
The largest town and district capital of Langkawi is Kuah, which also acts as the gateway to Langkawi for visitors that arrive by ferry from Penang and the mainland. The main island spans approximately 25 kilometers from north to south and is home to a population of over 85,000 people.
How to get to Langkawi
By air: The fastest way to get to Langkawi is by plane. Many domestic airlines fly directly into Langkawi International Airport from cities including Kuala Lumpur, Penang, and Johor Bahru. You can also catch direct flights from Singapore. Langkawi's airport is located on the west coast of the island, close to many resorts and attractions.
By sea: You can easily catch a ferry from Penang to reach Langkawi's Kuah Jetty. The journey will take you about three hours. Ferries also depart from Kuala Perlis and Kuala Kedah. Check the Langkawi Ferry Services schedule for more information.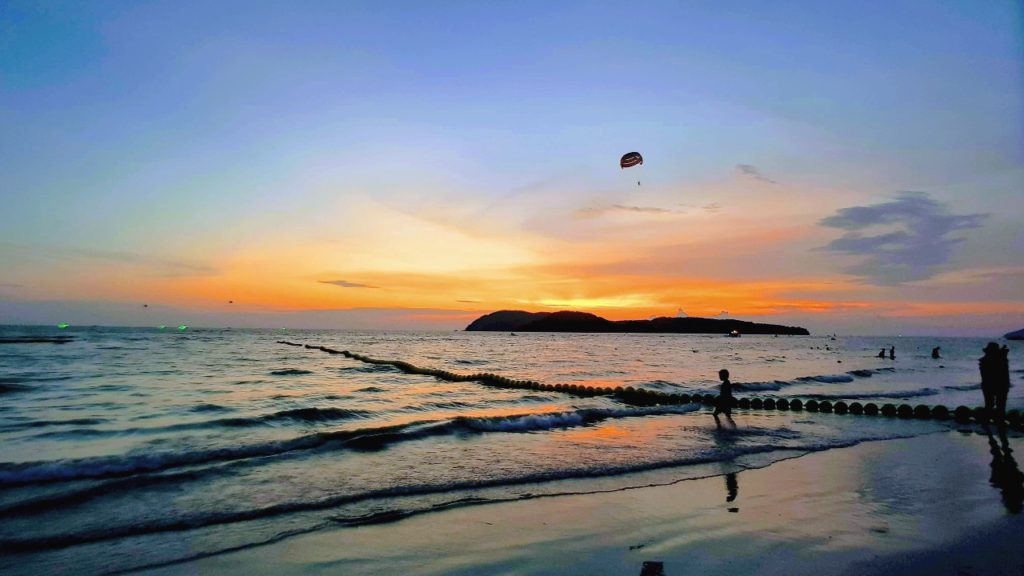 Day 1: Mount Machinchang — Pantai Cenang
Take a cable car up a 550-million-year old mountain
Your very first stop is the foothills of Mount Machinchang, located in the west of Langkawi. Here you will hop on the Langkawi SkyCab cable car, which will take you 708 meters above sea level to the summit of Southeast Asia's oldest rock formation. Marvel at the incredible ancient rainforest that blankets the towering cliffsides of the mountain. The cable car stops at multiple stations that offer you different views of Langkawi, the last of which allows you to access the iconic Langkawi SkyBridge.
Cross the Langkawi SkyBridge for vast panoramic views
The Langkawi SkyBridge is the island's most popular attraction for a reason. Spanning 125 meters long and suspended 660 meters above sea level, the bridge grants its visitors the perfect chance to enjoy unobstructed views of the archipelago and even southern Thailand in the distance. Not for the faint of heart, the bridge also has a glass bottom section to remind you of just how high you stand.
See the seven-level Telaga Tujuh Waterfall
In close proximity to the Langkawi SkyCab's base station, you will find the Telaga Tujuh Waterfall. This natural attraction is also known as the Seven Wells Waterfall, named for its seven natural pools that have formed at different levels. The total height of the waterfall is a stunning 91 meters. Reaching the top of this hidden wonder takes a 638-step climb, but the natural slides and cooling water of the falls that greet you at the end of the climb are more than worth it.
Discover Langkawi from a bird's-eye view
Views from the SkyBridge not enough for you? Take it to the next level and go on a joyride high above Langkawi in your very own helicopter. See the likes of Datai Bay, South Langkawi, the coastal area of Cenang, and beyond. HeliOutpost Malaysia even offers a spectacular 99-island private tour to see the archipelago in its entirety from above.
Want to combine a bird's-eye view experience with a high-adrenaline activity? Go tandem skydiving with Skydive Langkawi. They'll take you high up in the sky and treat you to a superb coastal scenic flight before you free-fall out of the aircraft, attached to an experienced skydiving instructor of course!
Watch the sunset at Cenang Beach
To wrap up your first day, view a magnificent sunset at Pantai Cenang, Langkawi's liveliest beach. As the sun goes down, the many shops, restaurants, and bars lining the coast come to life. If you're looking for a good dinner, you'll find every kind of restaurant here to fit your budget, from high-end resort dining to local night market fare.
Day 2: Pulau Dayang Bunting — Temurun Waterfall — Black Sand Beach
Visit Langkawi's second-largest uninhabited island
Wake up early and set off on an excursion to Pulau Dayang Bunting, the region's second-largest uninhabited island situated just a 20-minute boat ride from mainland Langkawi. If you set off from Cenang Beach, be sure to stop by the crescent-shaped island of Pulau Tepor for some scenic views. Fun fact: Pulau Dayang Bunting literally translates to "Isle of the Pregnant Maiden" as it resembles the silhouette of a reclining pregnant lady from a distance. The island is famous for its massive freshwater lake surrounded by amazing limestone hills, mangrove trees, and dense forest. Locals believe that swimming in the Dayang Bunting Lake will help increase fertility.
It's easy to spend several hours of your morning discovering this rich island. Water sports enthusiasts can rent life jackets, paddleboats, and kayaks to explore the gleaming lake. The lake has an average depth of 10 meters, so we highly recommend wearing a life jacket before you take a dip! Nature enthusiasts can hike through the jungle to explore secret limestone caves and spot an abundance of native flora and fauna, including hornbills, kingfishers, monitor lizards, and fearless macaques. Those up for a challenge can trek to the impressive Gua Langsir (Cave of the Banshee), the home of thousands of bats!
Visit an open-air rice museum
After your adventure at Pulau Dayang Bunting, head back to mainland Langkawi to visit a unique museum located a few minutes from the shores of Cenang Beach. Laman Padi is an open-air museum with informative displays on the process of traditional rice planting. The grounds comprise of real padi fields in various stages of growth. One of the main drawcards here is the on-site restaurant, which sits on the grounds overlooking the green padi fields and serves deliciously authentic Malay food. Enjoy a hearty lunch and spend a few moments here soaking up the outdoor ambiance.
Hop in a car or on a motorcycle to get to your next destination. Up north in the Datai Bay region, you'll find the hidden Temurun Waterfall, located far from the populated parts of the island. Nestled in a gorgeous forested park, the three-tired waterfall has a total drop of about 200 meters, upstaging the Seven Wells Waterfall and claiming its place as the tallest waterfall in Langkawi. It's best to visit during the wet season when the falls are most abundant with water. However, during the dry season, you can still take a dip in the cooling pools and enjoy the views of the natural rainforest. Beware of cheeky monkeys, who will not hesitate to paw at your belongings!
Check out the Black Sand Beach
While Langkawi might be famous for its beautiful stretches of white sandy beaches, the unique Pantai Pasir Hitam, or Black Sand Beach, is a quirky find worth checking out. Despite its name, this beach is actually a mix of white and black sand, which locals believe is caused by a centuries-old curse left by a vexed mermaid whose ring was stolen by a fisherman. In contrast to the bustling Cenang Beach, Black Sand Beach provides a more secluded alternative.
Day 3: Gunung Raya — Kilim Geoforest Park — Tanjung Rhu Beach
Ride a scooter up the tallest peak in Langkawi
For impossibly stunning views of Langkawi in the morning, ride to the top of Gunung Raya, the tallest mountain on the island. Standing at 881 meters, Gunung Raya is taller than Mount Machinchang in the west. Many travelers enjoy the easy scooter ride up this mountain, but you can also hike the grueling 4,287 steps to the top if you're feeling adventurous — a convenient staircase built into the mountainside brings you directly up to the observation platform. Whichever way you choose to ascend Gunung Raya, you'll be treated to some absolutely stunning rainforest scenery on the way up. Try to get to the top by 7 am to enjoy a spectacular sunrise view.
Kayak through a tranquil mangrove forest
From Gunung Raya, journey onward to the northeastern tip of Langkawi to find peaceful rivers and tributaries full of mangrove forests. Sign up for a mangrove kayaking tour through the Kilim Geoforest Park, one of the most breathtaking and untouched natural places in Langkawi. As you paddle your way through gently-flowing waters, be on the lookout for mudskippers along the brackish water coastline and herons pecking at the shallow waters for little crustaceans and fish.
Cruise the Kilim River and spy incredible wildlife
Kilim Geoforest Park provides an endless paradise for explorers. The park spans almost 100 square kilometers and encompasses mangrove ecosystems, natural beaches, and beautiful karstic hills. You can rent a private boat and cruise the Kilim River to observe wildlife in their natural habitat, including soaring sea eagles, colorful kingfishers, scuttling tree crabs, and giant monitor lizards. You might even spot a family of otters playing in the waters.
Explore an ancient bat cave
Home to ancient geological marvels over 500 million years old, it isn't surprising that the Kilim Geoforest Park has its own collection of natural caves, the most-visited one being the Gua Kelawar, or Bat Cave. While easily accessible on the Kilim River, you will need to take a boat to reach this cave. From the riverbank, a wooden footbridge cuts through the mangrove swamp and takes you right into the Bat Cave. You'll find a large population of Malaysian fruit bats here, taking up residence on the high ceilings of the cavern.
Visit a floating fish farm
While you're traversing the Kilim Geoforest Park, why not visit a floating fish farm while you're at it? Kick back and relax while you have a fresh seafood meal at the farm's rustic restaurant, the gentle lapping of river water against the wooden pontoon filling the air as you tuck in.
Want to tick off all these Kilim Geoforest Park activities in one go? The official park managers of Kilim Geoforest Park provide great tour packages starting at RM 350 that combine the activities mentioned above: a river cruise, mangrove tour, Bat Cave exploration, and floating fish farm visit.
Relax at Tanjung Rhu Beach
After a full day of exploring Kilim Geoforest Park, it's time to unwind and treat yourself to some relaxing moments at the picture-perfect Tanjung Rhu Beach. Located on the northern tip of Langkawi, Tanjung Rhu Beach is one of the most beautiful beaches you'll find on the island. Its secluded setting means that its sands remain clean and uncrowded. Part of the beach may be reserved for guests of the high-end resorts situated on one end, but the rest of the beach is freely open to the public to enjoy. Jagged limestone islets lying offshore provide a superb backdrop, perfect for your last few #islandlife selfie snapshots before you wrap up your jam-packed Langkawi trip!
---
About TourHero
TourHero is a social travel platform that enables you to travel with like-minded people and fall in love with the journey. We work closely with handpicked local operators to ensure every experience curated is unique and exclusive to your travel group. Come with us on epic adventures and create memories that last a lifetime!