The likes of Ha Long Bay and resort-laden Nha Trang tend to be overcrowded and overly familiar to travelers. Why not consider the emerald sanctuaries hidden in and around the cooling highlands of the multi-faceted countryside? Snake your way through the vivid patchwork of jade and emerald paddy fields in Mai Chau, invite yourself into the caverns of Phong Nha's largest caves, and wake up to gibbons singing their early morning song at Cat Tien. From north to south, there is much to offer to the ardent explorer. These are the seven stunning mountain towns in Vietnam that we've handpicked.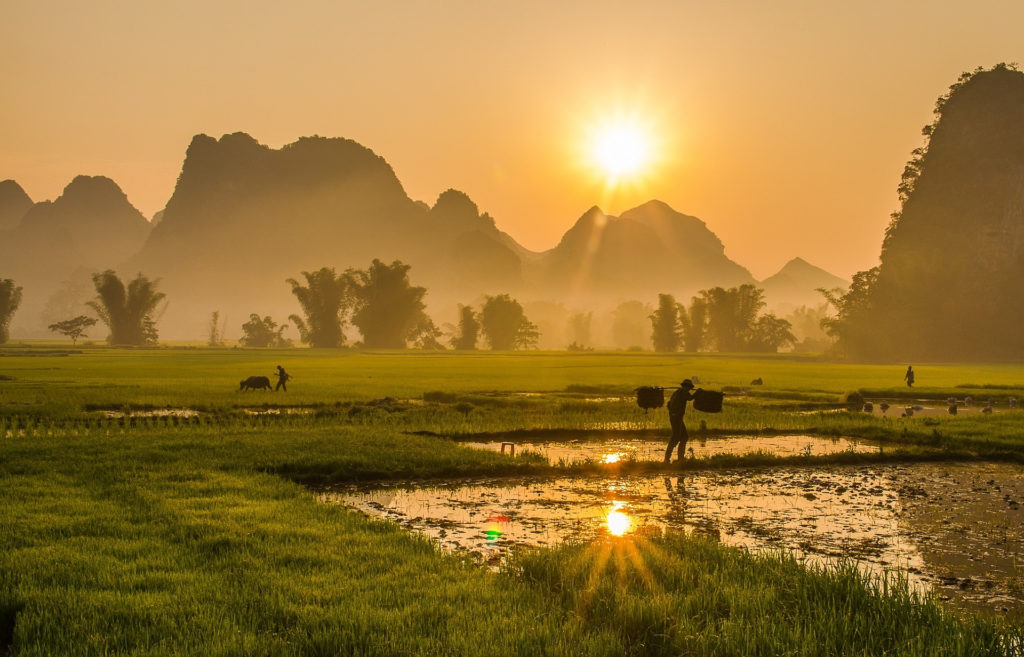 While traveling, remember to be safe. Always check with local authorities for any travel restrictions or conditions that might affect your route.
Mai Chau
A mere four hours from Hanoi lies the idyllic Mai Chau, the polar opposite of the frenzied and chaotic capital. Here, rolling rice paddies and forest-clad mountains as far as the eye can see serve as the backdrop for quintessential village scenes. Friendly farmers tend to their crops, hard at work, yet always happy to take a break for a quick chat with anyone passing by. Young children carelessly chase clucking chickens around traditional stilt houses, while their mothers prepare hearty meals with ingredients plucked from the ground that morning. Expert hands operate looms like a musical instrument, producing rich and intricate brocades of hand-reeled dyed silk to sell at the local markets.
There is no better way to appreciate the tranquility of Mai Chau than a bike ride through the valley. Explore the winding paths amongst gardens and houses, and the wide open rice paddies between villages. Be sure to stop at a number of small drink stalls run by smiling locals for a quenching cà phê đá (Vietnamese iced coffee).
The rich culture of Mai Chau's White Thai people runs deep throughout the rural district, and is best experienced by catching a Tai Kao dance performed by a local dance troupe, followed by a dinner of farm-to-table delicacies such as cơm lam (bamboo-tube grilled rice) and thịt lợn xiên nướng (pork skewers). For the daring, stuffed and fried cicadas are also enjoyed by the locals — just ask for a taste of ve sầu chiên.
How to get to Mai Chau
By motorcycle/car: Mai Chau is approximately 150 kilometers from Hanoi and will take you around 4 hours to get there. Most of the roads you encounter are smooth and suitable for motorbike riding.
Tip: Chance upon the Thung Khe mountain pass on your journey into Mai Chau and reward yourself with a sprawling bird's eye view of the valley.
Where to stay
Booking a night at one of the humble homestays should be on your checklist when it comes to experiencing Mai Chau. Options like Little Mai Chau Homestay and Homestay Trường Huy meld nature with simple comforts, ensuring a restful night's sleep after a long journey.
When to visit
Visit Mau Chau from September to May to see the rice fields while they are still lush. Harvesting takes place in June.
Pu Luong
Like Mai Chau, Pu Luong Nature Reserve offers that magical glimpse into the sprawling greens of rice fields, village landscapes, and an unparalleled opportunity of unhurried outdoor exploration. Weave your way through the ethnic Thai villages and encounter a network of bamboo water wheels sitting on a shallow sparkling river, its hypnotic symphony of movement and water filling the clean country air. Nearby, you might spot a gentle water buffalo grazing amidst the rich green. Just a short hike away from the laid-back Hieu village, find yourself in the midst of the dreamy Thac Hieu Waterfall, its inviting sun-dappled pools the perfect remedy for sun-scorched skin after a long trek around the reserve.
This rustic, unspoiled region located on the cusp of Thanh Hoa and Hoa Binh sees few foreign visitors, although its growing collection of homestay lodges have seen an uptick in local tourism. Discover this untouched corner of Vietnam while it still retains its domestic charm.
How to get to Pu Luong Nature Reserve
By motorcycle/car: Follow the directions to Mai Chau from Hanoi. Pu Luong is another 2 hours south of Mai Chau — around 70 kilometers of travel.
Where to stay
The best way to experience Pu Luong overnight is a homestay in one of the traditional stilt houses. If you want to stay close to the Thac Hieu Waterfall, we recommend Ban Hieu Garden Lodge and Duy Phuong Homestay.
When to visit
To catch the beginning of green season, visit Pu Luong in March. This will also guarantee cool nights, plenty of sunshine, and vibrant rice paddy fields.
Phong Nha
Phong Nha National Park is blessed, even by Vietnam's high standards, with some of the most varied geology and biodiversity the country has to offer. Virgin forests carpet the lush valley, while striking mountains make their presence known for miles. Chartered boats meander lazily down the tranquil Son River, its waters feeding the rice fields that stretch across the terrain in organized abundance. Walk or cycle through the rural township of Son Trach as you listen to the call of cicadas cutting through the humid air.
For all its oasis-like beauty, it is what's hidden behind the dense forestry and rugged cliffs that draws adventure-seekers to this protected UNESCO World Heritage Site. Deep limestone caves housing vast ecosystems and internal rivers run through the mountains here, none more legendary than Hang Son Doong, formed some two to five million years ago. Big enough to house skyscrapers, Hang Son Doong grants visitors an amazing glimpse into a world unseen by most. The price tag on the multi-day expedition through its depths is as steep as its stalagmites are tall — an eye-watering USD 3000. Not to worry, other caves are more accessible and manageable. The well-lit Paradise Cave boasts superb reflecting pools and incredible rock formations, while the Dark Cave challenges visitors to swim, kayak, and zip-line their way through the tour.
Of note, many of these mountain caves were used by the Vietnamese during the Vietnam War (or "American War", to the locals) as makeshift hospitals to shelter the wounded and as safe-houses for munitions storage. Indeed, Phong Nha's extensive parklands and its surroundings were once sites of heavy conflict. A conversation with your guide may result in stories of the Ho Chi Minh Trail that can be found fragmented around the parklands, and they may be quick to point out the occasional bomb crater amidst the rice fields.
How to get to Phong Nha
By plane: Regular domestic flights from either Ho Chi Minh City or Hanoi fly into Dong Hoi Airport. From there, you will need to travel an additional 50 kilometers to Phong Nha-Ke Bang National Park Headquarters.
By bus: Overnight sleeper buses are available. The journey from Hanoi will take about 9 hours.
Where to stay
Phong Nha Farmstay is a unique collection of colonial-style buildings with unblocked views of the endless green fields that characterize Phong Nha. If convenience and comfort are key, you'll appreciate the terraced restaurant and bar, swimming pool, and complimentary breakfast.
When to visit
Caves in Phong Nha are not accessible during the rainy season from August to January. Always check with official tour operators about the conditions of the caves and book your expeditions in advance.
Kon Tum
Often overlooked in favor of neighboring Pleiku, Kon Tum is well-deserving of a place in your list of mountain towns in Vietnam. History buffs may be interested in the region's wartime past. Bloody battles waged during the Vietnam-American war once carved scars into the land, but things have changed. While the site of the Đắk Tô Airstrip still remains, the local farmers now use this barren belt of asphalt to lay out and dry cassava.
But Kon Tum is more than just the sum of its modern history. Dig deep into the time-honored culture of the area and you will find a melting pot of diverse ethnic minority communities. The Bahnar, Sedang, Gieh Trieng, and Rongao people make up the 700 small villages dotting the surrounding hills. Marvel at the architecturally distinct rong in the Bahnar villages of Kon Kotu, its impossibly tall thatch roof held up by bamboo walls, and join the locals in festivals and village meetings. At the Rongao village of Plei Thonghia, watch as children splash and play in the Dakbla River, while farmers in ox-pulled carts transport their harvests. In Ya Chim, just southwest of Kon Tum, villagers tend to elaborate graves in Jarai cemeteries, where daily offerings sit alongside personal possessions of the deceased, ranging from simple jewelry and trinkets to bicycles and actual TVs! Some of these self-contained villages require you to travel with a legitimate guide, so book visits in advance to avoid disappointment.
While serving as the perfect base for exploring the nearby villages, Kon Tum itself also has a few intriguing sights worth a visit. The Immaculate Conception Cathedral, aptly called the "old wooden church" by locals, beautifully blends into the town, with its imposing dark wood and gold colonial facade opening up into a light and airy altar room, adorned with traditional woven fabrics.
How to get to Kon Tum
Kon Tum is an easy 30-minute drive from Pleiku Airport.
Where to stay
A number of the surrounding villages offer overnight stays in the homes of locals, giving travelers the unique chance to experience true rural village life. Should you prefer something a little more modern, Nang House 82 offers stylish accommodation closer to town.
When to visit
It is best to visit Kon Tum in the drier months, in December and between February and early March.
Pleiku
Pleiku, in itself a city with its fair share of urban comforts, asserts itself as a gateway for travelers looking to enter the enchanting wilderness of Vietnam's Central Highlands from the south. A vast 250-hectare crater lake — Bien Ho — sits six kilometers north of the city center, its volcanic origins gifting the natural landscape with an abundance of nutrient-rich water and soil. The locale is fringed with photogenic pine trees and tea plantations, and sitting on the lake itself is a scenic jetty with a lovely gazebo.
The Gia Lai province has long bewildered visitors with one particular exotic condiment: ant salt. Made from a specific yellow jungle ant found in the region, the unsuspecting critters are harvested, fried, and ground into an acidic pulp with a pungent mix of spicy chili, herbs, and salt. The condiment packs a powerful punch to barbecued meats, beef jerky, and fruit. For something a little more palatable to the average gastronomer, slurp up a bowl of fresh vermicelli noodles covered in a very special crab sauce, the product of boiling and fermenting freshwater crabs found scuttling in wet paddy fields.
Off the beaten track, Phu Cuong Waterfall is a lesser-known gem, some 50 kilometers south of the city. Gushing waters thunder down a dizzying 38 meters of reddish rock cliffs, spraying the surrounding greenery with fine mist. Not quite on the tourist radar yet, make the most of this hidden stopover and keep the secret to yourself.
How to get to Pleiku
By plane: Pleiku Airport is just six kilometers north of the city. Catch domestic flights from Ho Chi Minh City or Da Lat.
By motorcycle/car: If driving from Da Lat, you will need to travel approximately 385 kilometers north to get to Pleiku. This can take 7 to 8 hours. Sleeper buses also operate between the two cities.
Where to stay
XOM Organic Farm Stay is modern and tastefully decorated. As its name might suggest, there is also an organic farm on the premises. We highly recommend getting to know the owners and sampling some of their farm-to-table cooking.
When to visit
The Gia Lai province is best experienced in the drier months, in December and between February and early March.
Da Lat
Blessed by eternal spring, succulent strawberries, fields of flowers, and mist-shrouded mountains, Da Lat entices its visitors with its uniquely temperate climate and romantic atmosphere. Located in the southern reaches of Vietnam's Central Highlands and often touted as the Paris of Vietnam, this mountain town has more of a modern touristic influence than the other places on this list. Don't let this dissuade you, for Da Lat offers its own brand of charm.
Sip on a comforting glass of cà phê sữa nóng (hot milk coffee) on a hillside terrace that overlooks the distant mountains. There are plenty of delightful cafes here that will satisfy your cravings for a good view and a delicious cuppa. Speaking of delightful things, any traveler to Da Lat worth their salt must visit the beautiful Linh Phuoc Pagoda to marvel at its intricate mosaic-style facade. To get there, make your way to the lovely buttercup-yellow Da Lat Railway Station and catch one of the vintage trains in all its old-world glory — complete with charming wood furnishings and Art Deco lamps — to the nearby village of Trai Mat. From there, it's an easy 5-minute walk from the station to the pagoda.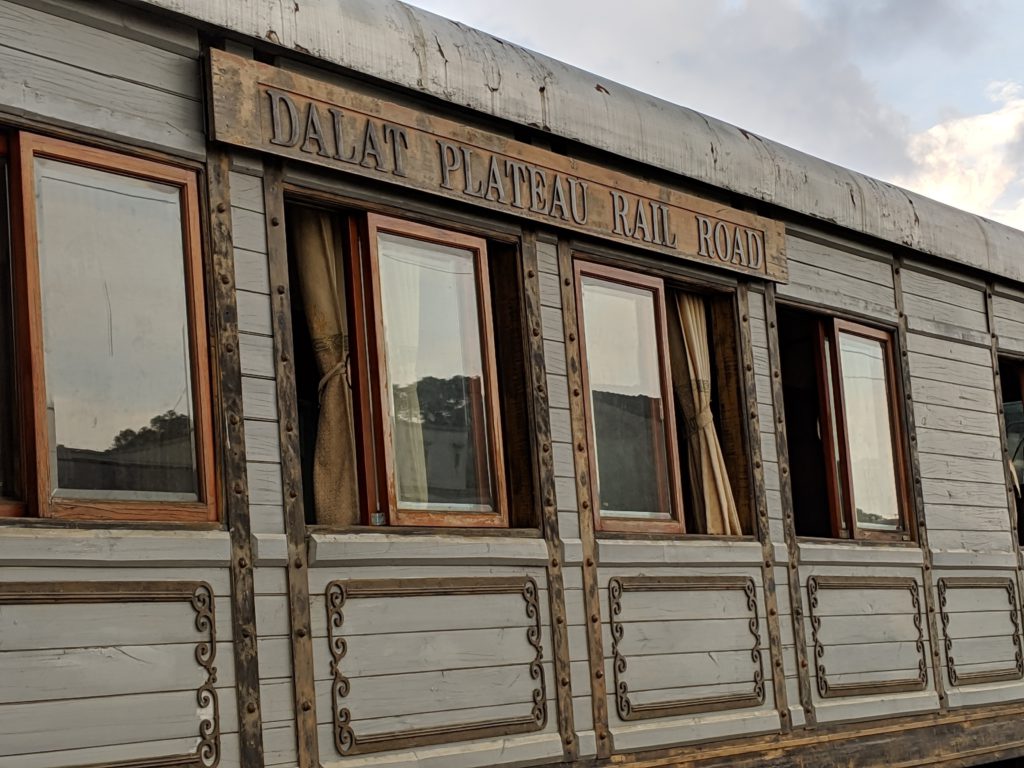 For something quirky, lose yourself in the labyrinthine wonderland of the avant-garde Crazy House that combines architectural madness with fairy-tale whimsy. For the adventurous, head out to see the cascading Datanla Waterfall, just five kilometers south of the city center — an exhilarating roller coaster ride takes you on a winding journey through the alpine forests before stopping at the falls. And, of course, Da Lat is famous for its strawberry farms, so try your hand at picking the best sun-ripened fruit at the Vườn Dâu Tuấn garden.
How to get to Da Lat
By plane: Da Lat's city center is 30 minutes from Da Lat Airport, which is serviced by frequent domestic flights from Ho Chi Minh City.
By bus: A sleeper bus from Ho Chi Minh City to Da Lat will take about 7 hours.
Where to stay
Although there are plenty of places to stay in Da Lat, the Dahlia Dalat is worth the travel time from the city center. Situated in a natural pine forest, it offers picturesque panoramic views of Tuyen Lam Lake.
When to visit
The best time to enjoy Da Lat is between December and March, when its famous flower gardens are in full bloom.
Cat Tien
Not so much a mountain town as it is a protected reserve, Cat Tien National Park will grant adventure-seekers the opportunity to roam the centuries-old jungles of the south and glimpse some of the rarest species of Vietnam's wildlife. Sweeping in its size, encapsulating over 700 square kilometers and stretching across three provinces, Cat Tien is a treasure trove for nature lovers. At dawn, witness yellow-cheeked gibbons swing from branch to branch overhead, their chorus of ethereal howls reverberating through the trees. Venture deeper into the jungle and cross paths with towering ancient Tung trees, their buttress roots making a canyon of the forest floor. Finally, discover the hidden Bau Sau ("Crocodile Lake"), where lurking Siamese crocodiles shimmy their way through the still waters looking for prey.
For the best chance of seeing the gibbons in their natural environment, we recommend the official Wild Gibbon Trek. All proceeds go back into Cat Tien National Park's conservation work. These guided tours are limited to four people per day and require advanced booking.
How to get to Cat Tien National Park
By motorcycle/car: Cat Tien National Park is approximately 150 kilometers northeast of Ho Chi Minh City, about 4 hours away.
By bus: Take a direct bus from Bến xe Miền Đông bus station in Ho Chi Minh City to Cat Tien National Park. This will take around 5 hours.
Entering the park: You will need to cross the river to access the national park. Ferries operate from 7 am to 7 pm. Return tickets cost 60,000 VND per person.
Where to stay
Nature lovers can stay at the Forest Floor Lodge, conveniently nestled amongst the trees in the national park, while those looking for a touch of civilization can stay in town at the family-owned Nhà Nghỉ Thủy Tiên ECO-LODGE.
When to visit
The best time to visit Cat Tien National Park is between December and May, when there is less rain.
---
We hope we've piqued your curiosity and inspired you to discover these beautiful mountain towns in Vietnam!
---
About TourHero
TourHero is a social travel platform that enables you to travel with like-minded people and fall in love with the journey. We work closely with handpicked local operators to ensure every experience curated is unique and exclusive to your travel group. Come with us on epic adventures and create memories that last a lifetime!