As the crisp autumn breeze starts to rustle through the trees and the faint scent of pumpkin spice wafts through the air, it can only mean one thing: Halloween season is upon us. In this delightful guide, we invite you to join us on a virtual journey through the top 8 Halloween towns in the United States to visit this October.
From historic landmarks to haunted locations and charming villages draped in cobwebs, we'll uncover the destinations that truly embrace the spirit of Samhain, better known as All Hallows' Eve. So grab your favorite sweater and a steaming cup of cider – it's time to explore the enchanting and sometimes spine-chilling towns that make October in the US a bewitching experience like no other.
Salem, Massachusetts
Nestled in the heart of Massachusetts, Salem is the quintessential Halloween town that beckons visitors with its historical charm and mystical allure. Known for its pivotal role in the infamous witch trials of the late 1600s, Salem wears its history like a well-worn cloak, inviting both intrigue and contemplation. Situated on the picturesque coast of the North Shore, this captivating town has evolved from its somber past into a vibrant hub for Halloween enthusiasts from around the world.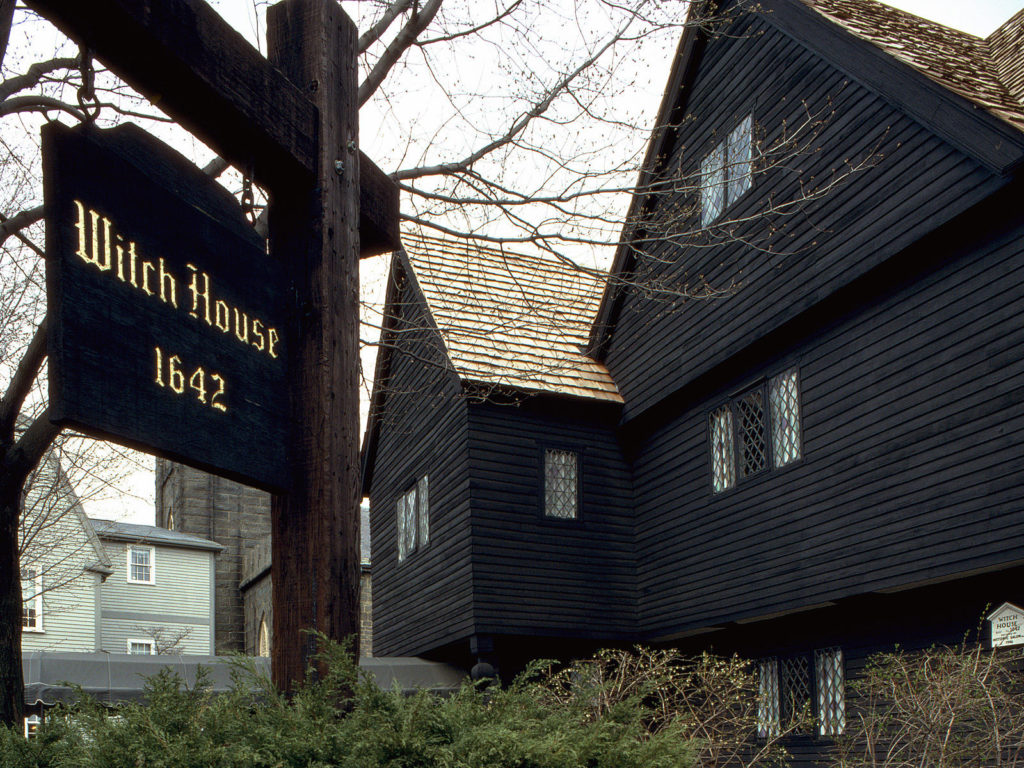 Salem's rich history dates back to the early colonial period, when its maritime prominence flourished. However, it's the harrowing events of the witch trials that have etched their mark into the town's narrative. Today, Salem embraces its darker past as a means of educating and entertaining visitors. The bewitching season casts its spell over the town as October approaches, with cobblestone streets lined with historic homes and storefronts adorned with whimsical decorations that capture the essence of the season.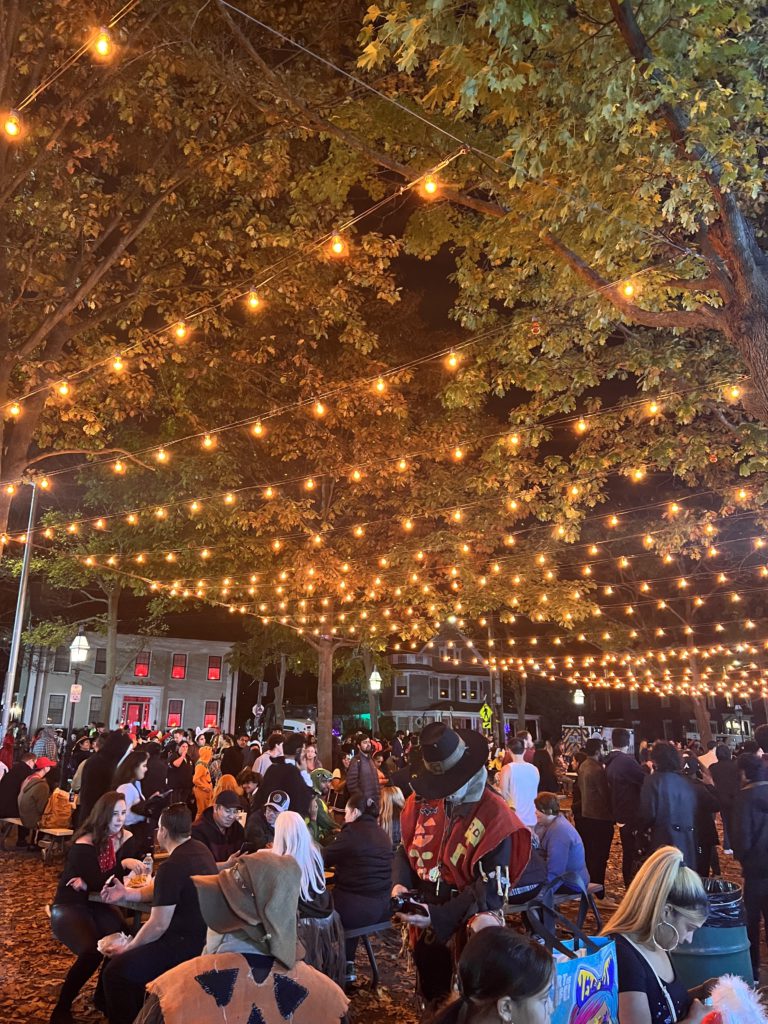 For Halloween aficionados, Salem is an unequivocal pilgrimage site. The town's commitment to commemorating its history and embracing the spooky season is palpable, making it a must-visit destination. The month-long Haunted Happenings festival transforms the town into a bustling cauldron of events, including eerie ghost tours, witchcraft workshops, and elaborate costume parades that bring out the creative spirit in everyone. As you stroll along Essex Street or visit the Salem Witch Museum, you'll find a harmonious blend of historical reflection and contemporary celebration that truly makes Salem an unrivaled Halloween experience.
So, whether you're a history buff, a lover of all things eerie, or simply seeking a taste of the extraordinary, Salem, Massachusetts, stands as an iconic Halloween town that promises to enchant and captivate all who dare to step into its magical embrace.
Things to do
Visit the many Hocus Pocus filming locations: Rope's Mansion, Pioneer Village, Salem Common, and more
Embark on a haunted tour or brave one of the many haunted houses
Take a trolly ride to all the top sites in downtown Salem
Attend one of the costume balls at the Hawthorne Hotel
Shop at the witchy stores and take home some magical souvenirs
Get a tarot or psychic reading
Enjoy the delicious local restaurants and cafes
Visit historic landmarks: The Witch House, The Witch Dungeon, The Witch Museum, The House of the Seven Gables, etc.
Sleepy Hollow aka Tarrytown, New York
Nestled along the scenic banks of the Hudson River, Tarrytown, New York, casts an enchanting spell on visitors every October. Renowned for its association with Washington Irving's legendary tale "The Legend of Sleepy Hollow," this picturesque village becomes a captivating Halloween destination that seamlessly marries history and the macabre. Just a stone's throw away from the bustling streets of New York City, Tarrytown transports travelers into a world of autumnal allure and ghostly whispers.
Tarrytown's historical significance is deeply intertwined with Irving's timeless tale. The village's charm and serene beauty provided the inspiration for the fictional setting of Sleepy Hollow. Winding roads, quaint cottages, and the looming Old Dutch Church are just a few of the real-life elements that brought Irving's haunting narrative to life. As the legend of the Headless Horseman gallops through the streets, Tarrytown itself becomes an embodiment of the eerie and mysterious.
With its deep-rooted ties to the supernatural, Tarrytown emerges as a Halloween haven that draws visitors from far and wide. The annual Sleepy Hollow Halloween festivities pay homage to Irving's legacy in grand fashion. From moonlit cemetery tours to haunted hayrides that evoke the tale's spine-tingling atmosphere, Tarrytown beckons thrill-seekers and history buffs alike to experience the legend firsthand. The Great Jack O'Lantern Blaze, a mesmerizing display of thousands of intricately carved pumpkins, illuminates the night and adds a touch of magic to the Halloween season.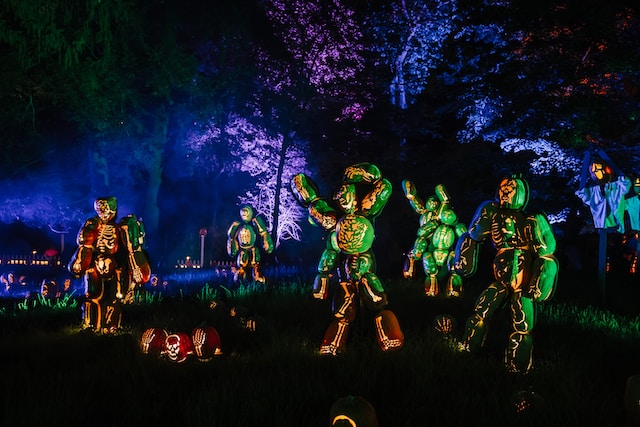 For those who seek an immersive experience in a town where history and Halloween merge seamlessly, Tarrytown stands as an absolute must-visit. Its idyllic location, storied past, and dedication to preserving the legacy of the Headless Horseman make it a captivating destination that embodies the spirit of Halloween in its most enchanting form. As October unfolds, Tarrytown's streets come alive with the echoes of centuries-old tales, ensuring that every traveler who sets foot in this village will leave with their own haunting memories to cherish.
Things to do
Visit the Sleepy Hollow Cemetery that was featured in the movie and is home to a wealth of famous graves, including Irving's
Check out the Dutch Reform Church featured in the movie
Tour the Philipsburg Manor, Washington Irving's Sunnyside Estate, Lyndhurst Mansion, and Kykuit
Eat at one of the many delicious restaurants and cafes
Snap a selfie at the Headless Horseman Bridge, Headless Horseman Sculpture, and the Armour Stiner Octagon house
Stroll through Rockefeller Park Preserve
Experience The Great Jack O'Lantern Blaze at the Van Cortland Manor
Explore the Scenic Hudson Riverwalk and lighthouse
Anoka, Minnesota
Nestled along the banks of the Rum River, Anoka, Minnesota, shines as a true Halloween aficionado's haven. Holding the distinction of being the United States' self-proclaimed "Halloween Capital of the World," this charming town embraces the spooky season with unparalleled enthusiasm. Anoka's vibrant history, combined with its unwavering dedication to Halloween celebrations, makes it a captivating destination that draws in visitors from across the country.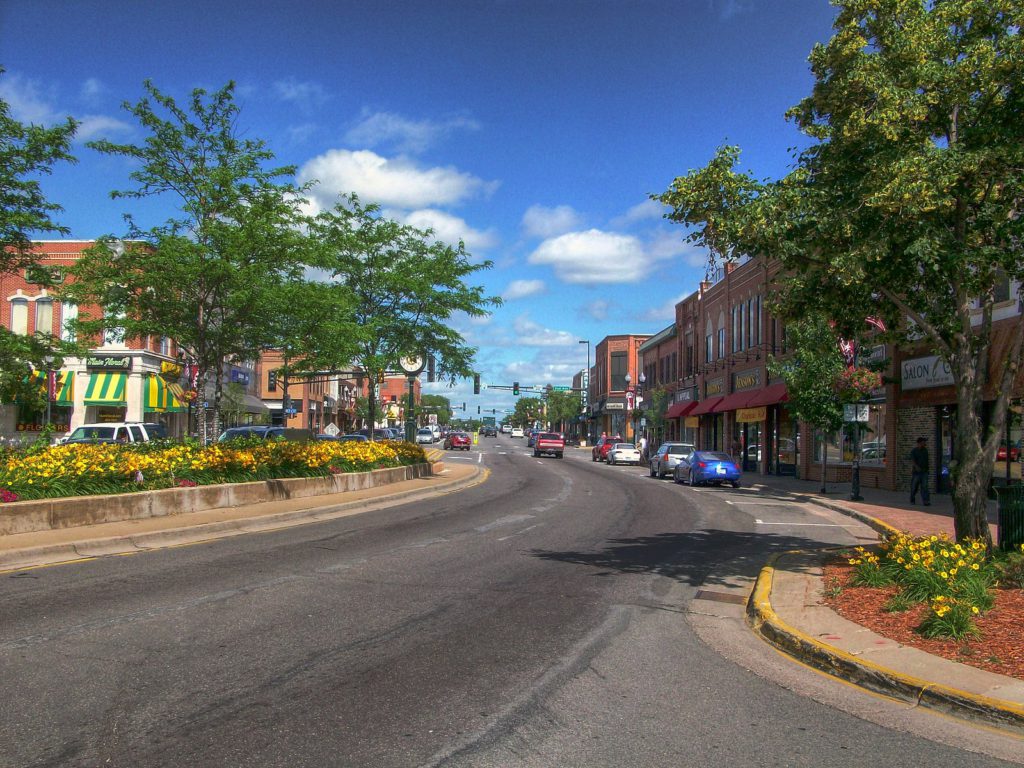 Anoka's Halloween roots trace back to 1920, when it hosted one of the earliest Halloween parades in the nation, aiming to divert young people from pranks that had become a Halloween tradition. This initiative marked the beginning of an enduring legacy that has transformed Anoka into a place where Halloween is more than just a holiday – it's a way of life. With its small-town charm and welcoming community, Anoka creates an atmosphere that feels like stepping into a classic Halloween movie.
Every October, Anoka springs to life with an array of spirited events and festivities. The annual Anoka Halloween celebration encompasses parades, costume contests, pumpkin-carving contests, and haunted house tours, making it a destination where Halloween enthusiasts can truly immerse themselves in the season. Anoka's historical district and tree-lined streets provide an idyllic setting for the revelry, evoking a sense of nostalgia that resonates with both young and old visitors and locals alike.
For those who seek a Halloween experience that is both heartwarming and spine-tingling, Anoka beckons as an essential pilgrimage. Its rich history, vibrant community, and unwavering dedication to Halloween festivities have cemented its status as a must-visit Halloween town. As you stroll through the charming streets and partake in the spirited events, you'll find yourself swept away by the infectious Halloween spirit that courses through the very heart of the city.
Things to do
Enjoy an outdoor scary movie night at George Green Park
Attend the Pumpkin Bowl
Visit the city's Haunted House that's been an annual staple for over 30 years
Watch one of the many parades during the month of October
Discover the magic of a bonfire night
Participate in a costume contest and explore the decorations around town
St. Augustine, Florida
Nestled on the sun-kissed shores of Florida's northeastern coast, St. Augustine emerges as a surprising gem among Halloween destinations. Beyond its reputation as the nation's oldest city, this historic enclave offers a captivating blend of history, hauntings, and holiday revelry. With its roots tracing back to the 16th century, St. Augustine's cobblestone streets and colonial architecture provide an intriguing backdrop for a Halloween experience like no other.
St. Augustine's history stretches back to 1565 when Spanish explorers established the settlement, leaving behind a rich tapestry of centuries-old tales and legends. The echoes of conquistadors, pirates, and settlers still resonate through its historic district, providing an ideal setting for the eerie season. As the air grows cooler and the moon casts an ethereal glow, St. Augustine transforms into a Halloween haven that seamlessly intertwines its storied past with the mysteries of the supernatural.
In recent years, St. Augustine has embraced its spectral side, earning a reputation as a top-tier Halloween destination. The town's Ghost Tours of St. Augustine offer an enthralling journey into its haunted history, with lantern-lit walks leading visitors through dimly lit alleyways and historic buildings, all while expert guides recount chilling tales of restless spirits and unexplained occurrences. Additionally, the Old Jail and the St. Augustine Lighthouse have earned their own reputations as paranormal hotspots, drawing in both curious adventurers and seasoned ghost hunters.
St. Augustine's unique blend of history, coastal charm, and supernatural intrigue cements its status as a must-visit Halloween town. With its haunted tours, spirited events, and a pervasive air of mystery, this Florida gem offers a Halloween experience that beautifully weaves together the past and the present. For those seeking a destination that transports them through time and tantalizes their senses with the allure of the unknown, St. Augustine beckons as a bewitching escape that promises both history and hauntings in equal measure.
Things to do
Take a haunted ghost tour (there are an array of choices year-round)
Walk through the Sykes Family Farm crop maze
Trick or treat at the zoo
Drink your way through town on an Oktoberfest beer tour
Experience a paranormal investigation at The Old Jail
Eat at Scarlett O' Hara's and the other awesome restaurants in the area
Shop until you drop at an array of boutique stores and art galleries
New Orleans, Louisiana

Nestled in the heart of the Deep South, New Orleans, Louisiana, emerges as a Halloween town unlike any other. Known for its vibrant culture, historical significance, and legendary celebrations, the city takes its Halloween festivities to another level, making it a must-visit destination for those seeking an enchanting blend of history, mysticism, and revelry.
New Orleans' history is as diverse as its residents, with French, Spanish, and African influences shaping its identity over the centuries. This rich cultural tapestry is woven into the very fabric of the city, from its ornate architecture to its lively music scene. But beyond its vibrant reputation, New Orleans has long been associated with the supernatural, with tales of voodoo, haunted mansions, and mystical legends adding an air of mystery to its ambiance.
During Halloween, New Orleans unleashes its spirited side. The city's celebrated voodoo heritage finds expression through haunted tours that lead visitors through the French Quarter's dimly lit alleys and courtyards. From eerie tales of vengeful ghosts to voodoo priestesses who once roamed the streets, the city's haunted history comes to life in a way that's both chilling and captivating.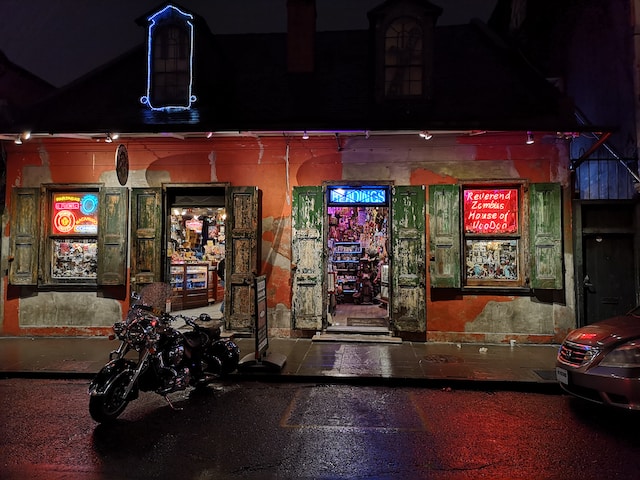 What truly sets New Orleans apart is its world-renowned Halloween celebration: the annual Voodoo Music + Arts Experience. This multi-day music festival showcases a diverse lineup of artists and performers against the backdrop of the city's mystical atmosphere. As the music pulses through the streets and the scent of Cajun cuisine fills the air, New Orleans transforms into a bewitching playground for revelers of all ages.
With its unique blend of history, culture, and supernatural allure, New Orleans stands as a must-visit Halloween town. Whether you're exploring its storied cemeteries, joining a ghost tour, or dancing the night away at Voodoo Fest, the city promises an immersive Halloween experience that will leave you spellbound and yearning to return year after year.
Things to do
Embark on one of the many eclectic ghost and history tours
Hear some jazz at a local club
Peruse the curiosities at the many voodoo shops
Dance the night away at the Conjure Ball
Attend a balcony party and watch the madness on Bourbon Street from up above
Participate in (or watch) the taco competition
Immerse yourself in the Krewe of Boo parade
Check out one of the many museums, like The Museum of Death or The Pharmacy Museum
Eat or drink at a haunted restaurant
Party at the Voodoo Music + Arts Experience
Savannah, Georgia
Nestled gracefully along the moss-draped avenues of coastal Georgia, Savannah emerges as a Halloween destination that perfectly marries its Southern charm with an eerie allure. With its cobblestone streets, historic mansions, and storied past dating back to 1733, Savannah offers an enchanting setting for those seeking a Halloween experience steeped in history and mystique.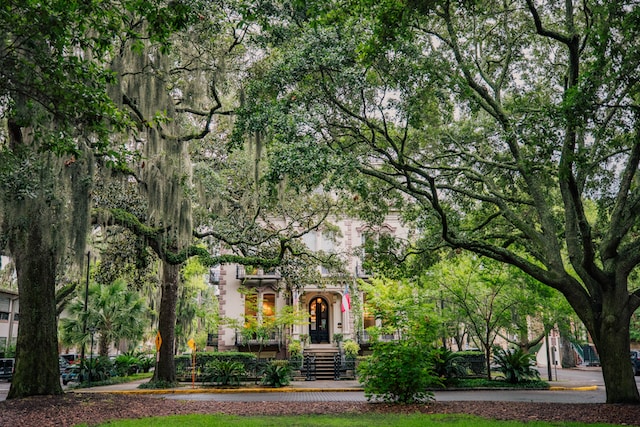 Savannah's history is rich and diverse, with tales of the Revolutionary War, Civil War, and colonial era leaving their marks on the city's landscape. Its picturesque squares, draped in Spanish moss and surrounded by stately homes, create an ambiance that seems to beckon from another time. This very atmosphere lends itself beautifully to the supernatural, as Savannah is often touted as one of the most haunted cities in the United States.
During the Halloween season, Savannah's historic charm takes on a more bewitching aspect. The city's many historic buildings and squares become the backdrop for ghost tours that weave through narrow alleyways and dimly lit streets. Visitors are regaled with chilling stories of restless spirits, tragic love affairs, and unexplained phenomena that have left their imprints on the city's architecture and lore.
Savannah's irresistible combination of history, beauty, and spookiness makes it a must-visit Halloween town. Whether you're wandering through the Bonaventure Cemetery, known for its Gothic beauty and haunted legends, or exploring the historic district where tales of pirates and phantom footsteps abound, Savannah captures the essence of Halloween in a unique and unforgettable way. For those who are drawn to the mysteries of the past and the allure of the unknown, Savannah, Georgia, promises a Halloween experience that will leave you both captivated and haunted in the best possible sense.
Things to do
Go on a haunted pub crawl
Experience one of the many haunted tours which feature hearse rides, cemeteries, folklore, and more!
Brave the creatures that lurk in the area's haunted houses
Take a historic city tour
See a movie at the SCAD Savannah Film Festival
Participate in a ghost hunt with a paranormal team
Enjoy food and drinks at the many breweries, cafes, and restaurants downtown
Check out all the art the many galleries
Independence, Kansas
Nestled in the heart of the Midwest, Independence, Kansas, emerges as an unexpected Halloween gem that embraces the spirit of the season in a charming and captivating way. While not as widely known as some of its larger counterparts, this quaint town holds its own as a must-visit Halloween destination with its unique history and festive celebrations.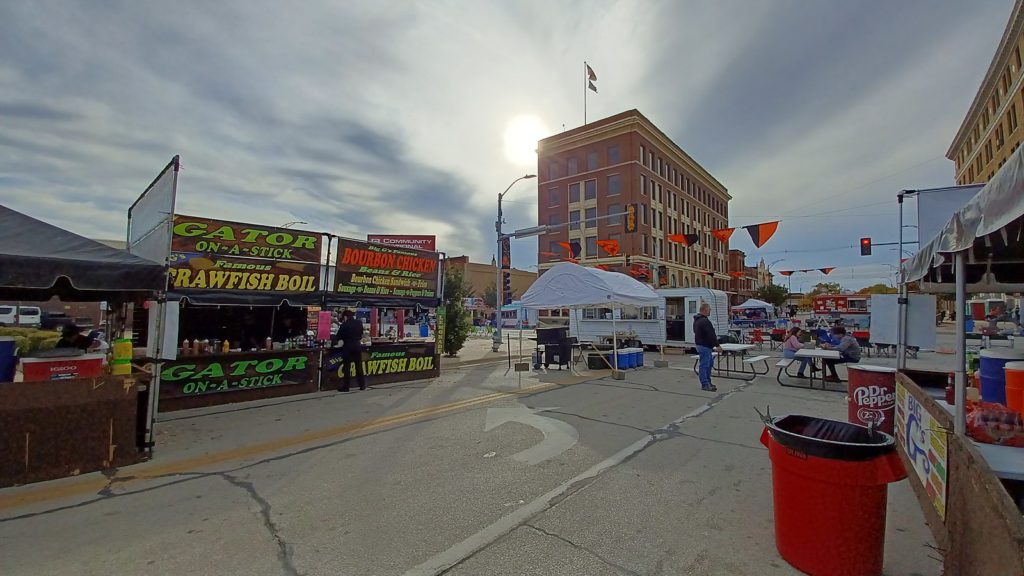 Independence, Kansas, is steeped in the history of early American pioneers and the westward expansion. Its historic downtown area boasts well-preserved buildings that transport visitors back to a bygone era, while also providing a fitting backdrop for the spookiness of Halloween. The town's rich history becomes a canvas for seasonal celebrations that embody the essence of a classic Halloween experience.
Every year, Independence hosts the Neewollah Festival (Halloween spelled backward), which has become a beloved tradition. This week-long celebration features a grand parade, theatrical performances, carnival rides, and numerous family-friendly activities. The Neewollah Festival's centerpiece is its elaborate stage production, attracting audiences from far and wide to witness captivating performances of beloved musicals and plays.
Independence's Neewollah Festival has transformed the town into a must-visit Halloween destination for families, enthusiasts, and anyone seeking a wholesome yet spirited celebration. The festival's blend of history, tradition, and community spirit capture the true essence of Halloween in a way that feels nostalgic and heartwarming. For those who appreciate the charm of a close-knit community coming together to embrace the Halloween season, Independence, Kansas, stands as a delightful and unforgettable destination that proves that even smaller towns can offer an enchanting Halloween experience.
Things to do
Attend the Neewollah Festival (last week of October)
Experience a spooky group photoshoot
Walk through the Labyrinth of Terror in Winfield
See if you find child handprints on your car after a trip to the Lorenz Schlichter Memorial Cemetery
Enjoy a bowl (or two) of chili at the chili cook off
Watch the Queen Neelah Pageant
Attend the The Doo Dah Parade (or one of the many others that fall in October)
Buy some local goods at the Arts & Crafts Show
Ride the rides at the local carnival
Eat all the delicious festival foods
St. Helens, Oregon
Nestled in the lush landscapes of the Pacific Northwest, St. Helens, Oregon, emerges as a Halloween town that boasts a bewitching blend of charm, nostalgia, and cinematic magic. Known for its pivotal role in the filming of the iconic Disney movie "Halloweentown," this picturesque town has embraced its place in pop culture, creating a must-visit destination that captures the spirit of the season in a uniquely enchanting way.
St. Helens' quaint streets and historic architecture provide the perfect backdrop for a Halloween experience that transports visitors into the heart of a charming small town. Situated near the Columbia River and surrounded by natural beauty, St. Helens exudes a sense of tranquility and community, making it an ideal setting for a celebration that harkens back to the magic of childhood.
The town's connection to the beloved film "Halloweentown" has turned St. Helens into a pilgrimage site for fans and enthusiasts alike. Each October, St. Helens undergoes a whimsical transformation, as the Spirit of Halloweentown festival takes over, featuring activities like pumpkin carving contests, haunted tours, and the iconic lighting of the Great Pumpkin in the town square. Visitors can explore the various filming locations from the movie, creating a sense of walking through the scenes themselves.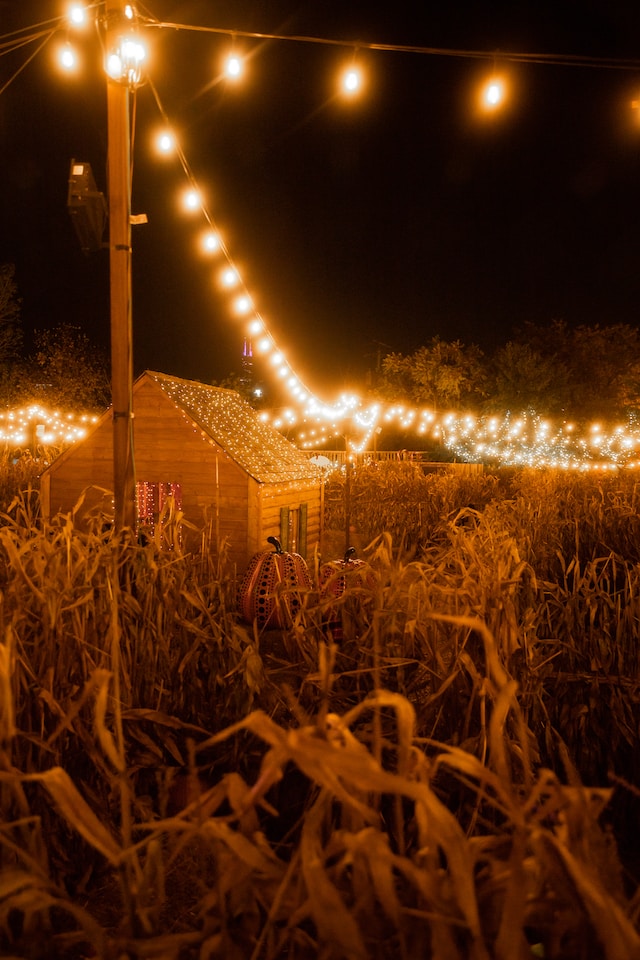 St. Helens, Oregon, stands as a must-visit Halloween town that seamlessly blends nostalgia with contemporary celebrations. Its connection to "Halloweentown," combined with its idyllic Pacific Northwest setting, offers a unique experience that appeals to both fans of the film and those seeking a charming Halloween escape. As you wander through the streets adorned with cobwebs and whimsical decorations, you'll find yourself immersed in a magical atmosphere that ignites the childlike wonder of the season.
Things to do
Get dressed up and see FOOLISH MORTALS: A Haunted Mansion Burlesque Cabaret
Walk through the The Corn Maize at the Pumpkin Patch
Spend the night with the Addams Family at Sinister Songs and Terrifying Tales
Get weird at the Portland Oddities and Curiosities Expo
Party at the Portland Erotic Ball
Shop, eat and create at The Vendors Village
Participate in theme weekends, such as Hocus Pocus, Twilight, and more!
Watch The Big Halloween Parade
Enjoy live performances and music downtown
---
About TourHero
TourHero is a social travel platform that enables you to travel with like-minded people and fall in love with the journey. We work closely with handpicked local operators to ensure every experience curated is unique and exclusive to your travel group. Come with us on epic adventures and create memories that last a lifetime!