Hot springs, or onsens as they are traditionally called, are found throughout Japan. Natural, mineral-rich thermal water rises from beneath the surface due to Japan's special geographic location, supplying water to over 2,000 onsens in Japan. In Hyogo Prefecture, you'll find one of the oldest onsen towns in the country: Kinosaki Onsen Town. Dating back to the 8th century, Kinosaki Onsen Town consists of seven unique onsen bathhouses all located within walking distance of each other. Discover this hidden gem as we let you in on the history and must-see spots of this charming onsen town.
About Kinosaki Onsen Town
Historical records on Kinosaki Onsen Town date back to 720 A.D. Legend has it that a Buddhist priest, Saint Douchi, prayed for 1,000 days to heal the people of illnesses and suffering. On the final day, the hot spring waters came forth at the site of the Mandara-Yu — Mandara referring to "an enlightened mind".
Other mythical legends foretell the fable of a white stork soaking its injured leg in a pool of water. The hot spring waters healed the stork's legs, and the hot spring became known as the Kouno-Yu Onsen, which translates to "Oriental White Stork Hot Spring Bath." The waters of Kinosaki Onsen Town are abundant in sodium, calcium, and chloride, which heals the body of fatigue, digestive problems, nerve and muscular pain, and bruising.
Today, Kinosaki Onsen Town is frequented by locals all year round. Hailed as Lonely Planet's "Best Onsen Town", many visit the town to be immersed in its rich history and tradition. This charming town is mostly walkable, with its seven different onsen bathhouses all located within close range of each other. As evening approaches, it is common to see visitors dressed in their yukatas emerging from bathhouses to visit other local establishments, including vintage pachinko arcades and restaurants. Visit the official Kinosaki website for more information.
Travel back in time and go hot spring hopping at these seven bathhouses. They include Kouno-Yu, Mandara-Yu, Goshono-Yu, Ichino-Yu, Yanagi-Yu, Jizou-Yu, and Satono-Yu.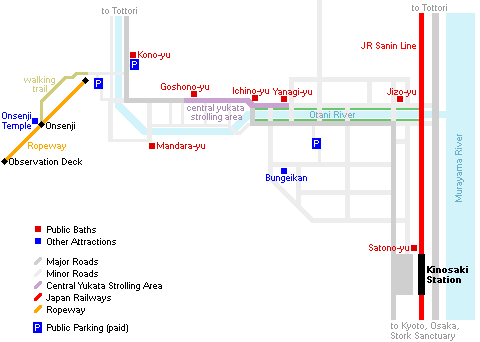 Image via Japan Guide
Kouno-Yu
Opening hours: 7:00 am to 11:00 pm, closed on Tuesdays
Admission fee: Adult – 700¥, Child – 350¥
Kouno-Yu is the oldest onsen in Kinosaki Onsen Town. This bathhouse promises you a quiet and peaceful oasis as it is located slightly outside the center of town. Soak your stresses away as you lounge in the outdoor bath surrounded by natural surroundings and crisp fresh air. This onsen is said to bring longevity and happiness to your marriage.
Mandara-Yu
Forget your worldly stresses as you lounge in Mandara-Yu's famous ceramic baths. Enjoy the fresh air as you look out at sprawling mountain views.
Opening hours: 3:00 pm to 11:00 pm, closed on Wednesdays
Admission fee: Adult – 700¥, Child – 350¥
Goshono-Yu
Built to resemble the Kyoto Imperial Palace, the majestic Goshono-Yu is adorned with beautifully-painted screens and high ceilings of painted Japanese flowers. Bathe in the stunning outdoor bath, surrounded by lush greenery and waterfalls. Experience the unique outdoor steam sauna here with healing onsen water sprayed into the air as a fine mist.
Opening hours: 7:00 am to 11:00 pm, closed on Thursdays
Admission fee: Adult – 700¥, Child – 350¥
Ichino-Yu
Cheekily dubbed as the "number one bath", a play on its name, this incredible bathhouse must not be missed. With architecture resembling a traditional kabuki theatre, this bathhouse features a hot spring bath in a cave made of natural boulders. Private baths are available here.
Opening hours: 7:00 am to 11:00 pm, closed on Wednesdays
Admission fee: Adult – 700¥, Child – 350¥
Yanagi-Yu
As you enter Yanagi-Yu, catch a glimpse of the weeping willows that line the street. The bathhouse was named after these willows. With an interior that incorporates a modern twist to the modern Japanese style, Yanagi-Yu is perfect for a cozy and rustic experience. Though the smallest of the seven, Yanagi-Yu is said to hold a vital significance in ensuring safe childbirth and fertility.
Opening hours: 3:00 pm to 11:00 pm, closed on Thursdays
Admission fee: Adult – 700¥, Child – 350¥
Jizou-Yu
If you are looking for a retro-style bathhouse to lounge in, Jizou-Yu is for you. A Japanese lantern inspires the bathhouse's unique design with its hexagonal windows shaped like volcanic rock formations of the Genbudo Cave. This fun and funky bathhouse is popular with families who often come in the evening for their daily baths. Private family baths are available here.
Opening hours: 7:00 am to 11:00 pm, closed on Fridays
Admission fee: Adult – 700¥, Child – 350¥
Satono-Yu
Located right next to Kinosaki station, Satono-Yu offers an eclectic mix of traditional and modern onsen pools including an aromatic herb sauna and an ice pool. Head to the outdoor bath on the observation deck for a panoramic view of the sweeping mountains in the distance.
Opening hours: 1:00 pm to 9:00 pm, closed on Mondays
Admission fee: Adult – 800¥, Child (under 12) – 400¥
Are tattoos allowed at Kinosaki Onsen Town?
Got tattoos? Fear not! Kinosaki Onsen Town is a unique exception in Japan. This tattoo-friendly onsen town allows patrons with tattoos, big or small, to frequent all seven bathhouses. However, some accommodations or ryokans have different rules regarding their own in-house onsens, so check before frequenting their onsens.
How to get there
By train
Take the JR Tokaido Shinkansen from Tokyo to Kyoto and transfer to a JR limited express train to Kinosaki Onsen Station.
By air
Konotori Tajima Airport is the closest airport to Kinosaki Onsen Town (45 minutes by bus). Flights to Konotori Tajima Airport only operate from Osaka's Itami Airport with two flights per day by JAL.
Alternatively, if you are arriving from Tokyo (Handa Airport), the closest airport is Tottori Airport. Kinosaki Onsen Town can be reached in about two hours by rental car from Tottori Airport.
Visit the official Kinosaki website for more information about getting to the town.
What to see
Apart from the seven bathhouses, there are other unique things to see around Kinosaki Onsen Town. Uncover the ancient origins of Kinosaki at the Onsenji Temple or visit the home of the endangered oriental stork at Konotori No Sato Park. Immerse yourself in the scenic landscapes of the surrounding mountains as you journey up the Kinosaki Ropeway, and be astounded by the otherworldly basalt formations at Genbudo Cave Park.
Onsenji Temple
Onsenji Temple was built in 738 A.D., dedicated to the Buddhist priest Saint Douchi, who prayed for 1,000 days to bring healing spring water to Kinosaki Onsen Town. In the past, patrons to bathhouses needed to pay a visit to the temple before bathing in the town. Though this is no longer required, many who visit Kinosaki pay a visit to this tranquil shrine. The Kinosaki Art Museum is also located near the temple's main hall. This small and interesting art museum contains historical artifacts and treasures from the temple.
Once every 33 years, Onsenji Temple's main treasure, an eleven-headed and two-meter-tall Kannon Buddha, is put on full display for three years. A glimpse of this impressive figure can also be seen every year on April 23 to 24 during the Onsen display. The Buddha is currently on display from April 23, 2018, to April 24, 2021.
Getting there: Onsenji temple gate is located at the western end of Kinosaki Onsen Town, near the Kuono-Yu bathhouse. The temple is about a 20-minute walk from Kinosaki Station.
Kinosaki Ropeway
Next to the Onsenji Temple gate is Kinosaki Ropeway. Hop on the Kinosaki Ropeway to the top of Mt. Dashi for a panoramic view of the Maruyama River and the Sea of Japan. Try your hand at kawarake nage, clay disc throwing, while on the summit. Legend has it that your wishes will come true if you hit the target.
Getting there: Kinosaki Ropeway's lower station is located at the western end of Kinosaki Onsen Town, near the Kuono-Yu bathhouse. The temple is about a 20-minute walk from Kinosaki Station.
Genbudo Cave Park
Genbudo Cave Park is a breathtaking natural monument designated in 1931. The cave park, otherwise known as the Black Tortoise Cave, consists of five caves formed over 1.6 million years ago. The distinctive columnar basalt joints make the caves a sight to behold, creating an out-of-this-world honeycomb pattern. These caves are part of the San'in Kaigan UNESCO Global Geopark, a must-visit if you love nature and geology.
Located at the entrance of the cave is the new newly-renovated Genbudo Museum. Explore the museum to learn about the traditional 2,000-year-old art of weaving and even come face-to-face with a t-rex fossil. The museum also houses a restaurant and a souvenir shop for all your shopping needs.
Getting there: Go by car, taxi, or rental bicycle from Kinosaki Onsen Station. You can also take a bus from JR Kinosaki Station and alight at "Genbudo Koen-mae" bus stop.
Konotori No Sato Park
The Konotori No Sato Park was built as a sanctuary to reintroduce storks to Japan. The last oriental stork (konotori) died near Kinosaki in 1971; the population wiped out due to modern farming practices that killed its food supply. Thankfully, in May 2007, a wild stork chick, with parents raised in the park, hatched in nature.
The park serves as both a museum and a breeding habitat for these endangered storks. Visitors can learn about the park's conservation and breeding program for these elegant birds and observe these birds in their natural habitat.
Getting there: Take a 10 minute train ride from Kinosaki Onsen Station to Toyooka Station. There is about one bus every 90 minutes from Toyooka Station to the park (15 minutes, 250 yen one way). A taxi ride takes about 10 minutes and costs around 1,500 to 2,000 yen.
What to eat
Kinosaki Onsen Town is also home to gastronomic delights. Its location in the northern region of Hyogo Prefecture situates the town between two amazing sources of food: the Sea of Japan and the city of Kobe, known for its world-renowned high-quality wagyu beef. The local specialties of Kinosaki are not to be missed after a dip in the healing waters of this ancient town.
Onsen eggs
A common sight in onsen towns, onsen eggs (onsen tamago) are chicken eggs that have been slow-cooked in a hot spring. At Kinosaki Onsen Town, find your onsen eggs at a small store called Chaya at the foot of Kinosaki Ropeway. Savor the creamy egg white texture coupled with a firm yolk, topped off with a dash of soy sauce or salt. No trip to Kinosaki is complete without trying at least one onsen egg!
Matsuba crab
Harvested from the Sea of Japan, Matsuba crabs are male snow crabs known for having a tender and fluffy texture. This succulent delicacy is a popular local specialty of Kinosaki Onsen Town. Taste the sweet crab meat prepared in various styles of cooking: sashimi, boiled, grilled, and hotpot. For all seafood-lovers, Matsuba crab season spans yearly from November to March.
Tajima Beef
Tajima beef is bred in the northern Hyogo prefecture. The meat is characterized by its white marbling, which gives rise to a melt-in-your-mouth texture. This mouthwatering meat is a must-try at Kinosaki Onsen Town. Try thinly-cut slices of the Tajima beef in a hearty soup of sukiyaki or shabu-shabu. Looking for the perfect steak? Get a taste of Tajima beef's thick loin cuts or take a bite out of crispy golden beef cutlets.
Yura Yura Yuagari Pudding
To complete your meal, indulge in a dessert unique to Kinosaki Onsen Town. Yura Yura Yuagari Pudding is a creamy dessert made from the eggs that have been slow boiled in the onsen's waters. This delectable dessert features hints of rich caramel and the lightness of fresh cream, reminiscent of a creme brulee. Find this dessert at Maruyama Karyou, a small shop framed by willow trees that overlook the river.
---
About TourHero
TourHero is a social travel platform that enables you to travel with like-minded people and fall in love with the journey. We work closely with handpicked local operators to ensure every experience curated is unique and exclusive to your travel group. Come with us on epic adventures and create memories that last a lifetime!