To some, the thought of traveling alone can feel scary or impossible, especially for many females. It can seem overwhelming to think about being alone in another country where you're unsure of the customs, traditions, language, and daily routines. But solo travel for women should be a thing of empowerment, one that helps create equity and expands the view of women as independent, equal, and most importantly, safe.
When it comes to solo travel for women, Morocco is a great choice. Check out our guide for traveling to Morocco and start planning your epic getaway today.
Cities and attractions
There are many cities to consider when planning a trip to Morocco. Here are the top places and attractions to add to your list that will excite the senses, capture your heart, and feed the soul (and stomach).
Marrakesh
For most travelers, Marrakesh is the gateway to all things Morocco, providing a solid base for exploring the souks, the desert, and the coast. Here, you'll find some of the most beautiful riads, vibrant markets, and historic sites in all of Morocco. From souvenirs to stellar photo ops, Marrakesh has it all.
Must-see sites
Djemaa el-Fna market and Jamaa el Fnaa square
Jardin Majorelle-Yves Saint Laurent Mansion and Botanical Gardens
Sunrise hot air balloon ride over the desert
Merzouga Desert overnight Berber camping experience
Ben Youssef Madrassa
Bahia Palace
Day trip to Aït Benhaddou
Casablanca
Casablanca is the coastal cosmopolitan hub of Morocco with a blending of Moroccan and European architecture. It's well-known for the gorgeous Hassan II Mosque that sits on the water, and of course, the famous Rick's Cafe that was created after the release of the 1942 film Casablanca. Here, you can stay in a lavish beach hotel, enjoy the nightlife in the Corniche neighborhood, and eat at an array of high-end to casual fare restaurants.
Must-see sites
Hassan II Mosque
Rick's Cafe
Casablanca's medina
Cathedral du Sacre Coeur
Central Market & Souq Haboos
Day trip to Azemmour
Day trip to El Jadida fortress
Agadir
Agadir is another coastal city where many flock to its beaches and resort life. From golf courses and crescent beaches with cafes to historic landmarks, this city truly has it all. What's wild to think about is that Agadir was almost leveled during an earthquake in 1960, but the perseverance of the people ensured the history and culture of the area were preserved upon its reconstruction. Hike to the Agadir Oufella ruins, take a boat trip along the coast, reconnect with nature at Souss-Massa National Park, or enjoy a spiritual spa day at a traditional hammam.
Must-see sites
Spend a day on the beach
Agadir Oufella ruins
Souss-Massa National Park
Souk shopping
Hammam spa day
Explore the kasbah and city center
Day trip to Paradise Valley
Day trip to Taroudant
Take a surf lesson in Taghazout
Essaouira
Located on the coastline, Essaouira is a port city and beach town known for surfing, kitesurfing, and windsurfing. This city is described as having a "boho" feel, fostering chill vibes and tranquil spots for dinner, sightseeing, and shopping. There is no end to the incredible market stalls, art galleries, and boutiques in this coastal heaven, making this a great respite on your journey through Morocco.
Must-see sites
Spend a day at the beach
Try any kind of surfing
Souk shopping
Buy some art
Tour the city walls
Ride a camel on the beach
Eat all the food and enjoy live music
Tangier
Tangier is a port city on the Strait of Gibraltar, a gateway between Africa and Europe since Phoenician times that's reflected in the city's art, food, and history. This area of Morocco brought a host of writers, poets, and artists of all kinds in the 50s, and the eccentric activities continued to bring many from the West who reflected the same wild and crazy lifestyle. Today, many flock to see the medina, the cafes, and the historic landmarks, some still seeking that artistic inspiration that many so desperately sought out once before. Like most Moroccan towns, you'll find a wealth of shopping and market options, along with beaches for relaxation and stellar gastronomy, blending the African and European flavors of the gateway that is Tangier.
Must-see sites
Herculean caves
Explore the medina and kasbah
Chill on the beach
Eat your way through ville nouvelle (new city)
Cap Spartel
Day trip to Asilah
Discover Spain's imprint in Melilla
Chefchaouen
Everyone knows Chefchaouen without knowing Chefchaouen. This is the blue city that sends folks home with those gorgeous pictures featuring blue buildings, stairs, and walkways. Located in the Rif Mountains of Northwest Morocco, this old city, painted in all shades of blue, is truly a remarkable site. Whether you plan a day trip here or stay a few nights, you won't be disappointed.
Must-see sites
Photoshoot in the medina
Shop until you drop in the souks
Akchour Waterfalls
Spanish Mosque for history and views
Hike in the Rif Mountains
Rooftop dining
Fes
Fes, also known as Fez, is a piece of history frozen in time, with its Fes el Bali walled medina, medieval architecture, bustling souks, and old-world charm. Between the detailed carvings, the historical landmarks, and the ancient traditions throughout, this city is a must-see on any trip to Morocco. A UNESCO World Heritage Site, Fes offers a wealth of history and culture at every turn. From buildings to food to friendly faces, Fes has a lot to offer all travelers and is like no other place in the country.
Must-see sites
Fes el Bali (oldest standing medina in the world)
Fes tanneries
Medersa Bou Inania
Medersa el-Attarine
Borj Nord and the Merenid Tombs
Bou Jeloud Gardens
Where to stay
Like any country, you have a variety of options when it comes to lodging in Morocco. We suggest the following three options when it comes to solo travel for women.
Riads
A riad is a traditional courtyard that sits in the middle of a house or palace. They often feature beautiful pools and stunning mosaic tiles, along with authentic Moroccan decor. If you're coming to Morocco, we suggest staying in a riad at least once to get the full experience of the culture and history.
Riads typically feature the same accommodations as hotels, offering single, double, and triple rooms, with en suite baths and modern amenities. You can book directly with a riad or through budget travel sites. Most riads serve breakfast and have a restaurant or chef on-site. Some even have roof decks and spas for a luxe treat!
Hostels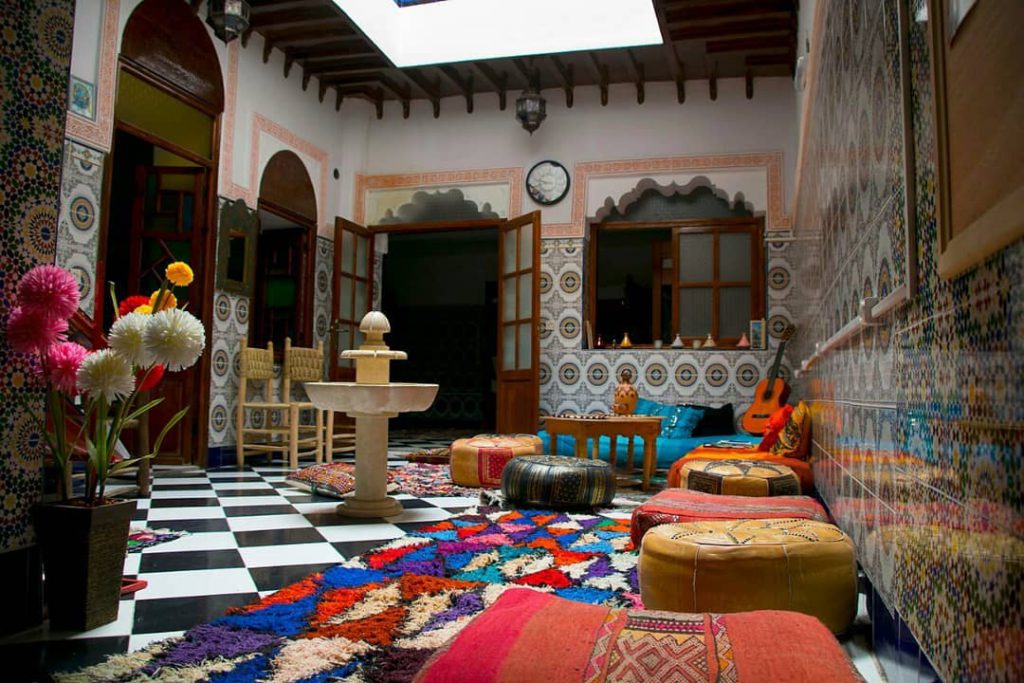 Hostels are a top choice for solo travel, especially solo travel for women for a variety of reasons. In the hostel environment, you can stay in your own room but still socialize with other like-minded travelers, or you can stay in the dorms and truly mingle with the crowd. Most hostels also feature female-only dorms for more comfort and privacy, and offer free tours and outings to help you see the sites and make new friends.
Hotels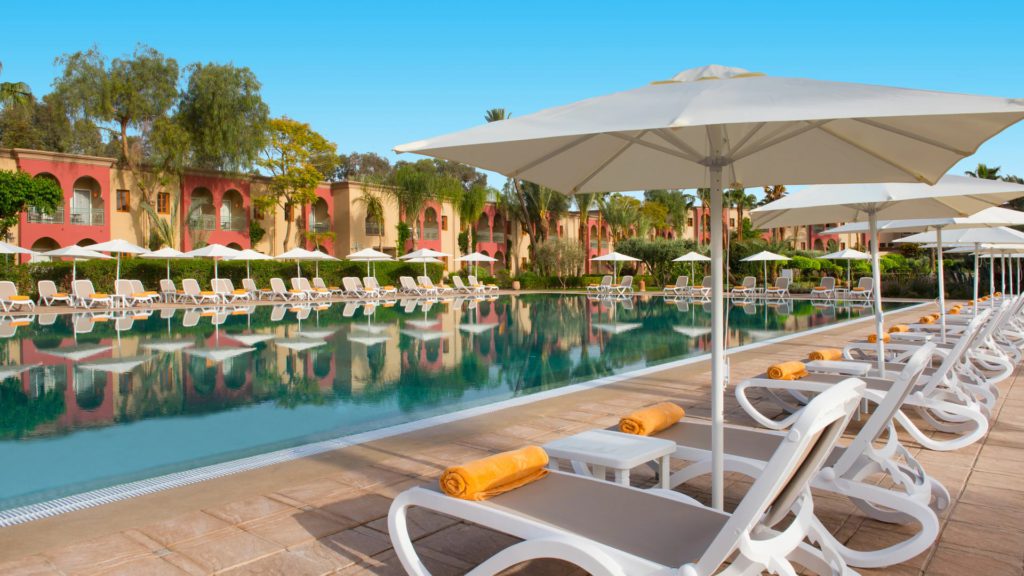 Hotels are an easy choice when it comes to travel. While they can be pricer than hostels and some riads, they're a consistent comfort, featuring modern amenities, privacy, and safety. When looking for a hotel for solo travel for women, stay in the brand names or larger properties closer to the downtown areas or along the coast in the hotel zones. Many areas of Morocco also have beautiful resorts that feature stellar food and tropical pools. If you're down for spending the money, treat yourself to a luxe getaway!
When to travel
Morocco has a varied geography, which means the climate is dependent upon your location. Overall, there is never a bad time to travel to this incredible country, but the spring and fall seasons tend to bring the most travelers with the weather offering warm days and cool nights. The summer months from June through August bring high temperatures, especially in the Sahara. However, summer in the cities, such as Marrakech and Fes, offer warm temps that are great for relaxing at your riad's pool or surfing along the coastline in Essaouira and Agadir.
If you're looking to beat the heat, head into the cities during the winter months from November through February. This time of year typically brings cooler, chilly weather with rain, but the markets and shops will always be bustling, as warmer temps remain throughout the day in the northern part of the country. This is a great time for sightseeing without the heat where you can enjoy some shopping and major landmarks without a crowd of tourists.
What to wear
Morocco is a Muslim-majority country, and while that doesn't mean you have to adhere to a strict dress code, it's best practice to dress respectfully within the country you're traveling to. You'll find most women in Morocco are dressed quite modestly, typically wearing a hijab or headscarf. While you do not have to wear the same clothing options (female tourists do not need to cover their heads), it's important to ensure you're dressed appropriately and comfortably, especially in the warmer months.
A good rule of thumb is to cover your shoulders, chest, and knees, ensuring tops are long enough to cover the midriff and backside. In more populated areas like the bigger cities, you'll see far more tourists dressed in European fashion, but be aware that tank tops and short shorts can bring unwanted attention.
To stay cool in the summer months, here are a few items that will keep you covered — literally:
Maxi dresses and skirts made of cotton or light materials
Light, long-sleeve cover-ups/cardigans
Linen/loose pants
Capris
Tunics with leggings
Swimsuit (if you're staying at a riad or resort that has a pool)
Scarf (especially if you're traveling into the desert)
Light jacket or thin sweatshirt for cooler nights
It's always important to check the weather before you travel, ensuring you pack the right items to keep you cool or warm. Whether you're planning a solo travel for women adventure or looking to spend some time in Morocco with friends, this best-practice list will keep you feeling and looking good throughout your trip.
What to do
There is so much to see and do throughout the entire country of Morocco, and you don't have to go it alone! There are various day tours that can take you through the markets, out to eat, to ancient sites, and much more.
You can also leave the cities for a night or two and experience overnight stays like a luxe glamping excursion in the Merzouga Dessert within the Sahara. You can shop, you can see ancient kasbahs and Roman ruins, and you can spend the day on the shoreline, all with the help of a local guide. If you're traveling alone and looking for some fun, book a tour and meet new friends along the way!
Friendly reminders
Overall, Morocco is a very safe country, especially when it comes to solo travel for women. But like any safe country, there are always a few things to watch out for when it comes to traveling.
Pickpockets: Like most tourist areas, larger cities can result in pickpockets. A good rule of thumb is to carry a shoulder strap bag that goes over the head and zips completely, making it difficult for someone to grab and run. Backpacks are also a great idea, but be sure to lock the zippers, as some folks can get very creative when it comes to pickpocketing unsuspecting travelers.
Phone theft: Another thing to watch out for is phone theft. In some areas, people have been known to drive by on motorbikes and grab phones right out of people's hands. It doesn't happen often, but it's always important to be aware of your surroundings.
Nighttime adventures: Walking around alone at night isn't necessarily unsafe, but it's always a good idea to stay in populated, well-lit areas
Souk hassling: When it comes to shopping in the souks and markets, people will hassle you to buy their products. Just remember: you are not beholden to anyone or anything. If you do wish to haggle, be firm about your price and simply walk away if you feel uncomfortable.
Looking to book a trip to Morocco? Whether it's with a group tour or solo female adventure, reach out to us at TourHero and let us help you plan the Moroccan trip of your dreams.