The COVID-19 pandemic has changed travel forever. Many countries have closed their international borders to tourists and many countries have strict restrictions in place. Countries have been put on lockdown and rules such as the mandatory wearing of masks are in place. However, travel is slowly beginning to regain traction, and countries have begun to reopen their borders. Portugal has since opened its borders to selected travelers for tourism. We ask the hard question — "Is it safe to travel Portugal?" so you can make the right choices and feel comfortable on your trip.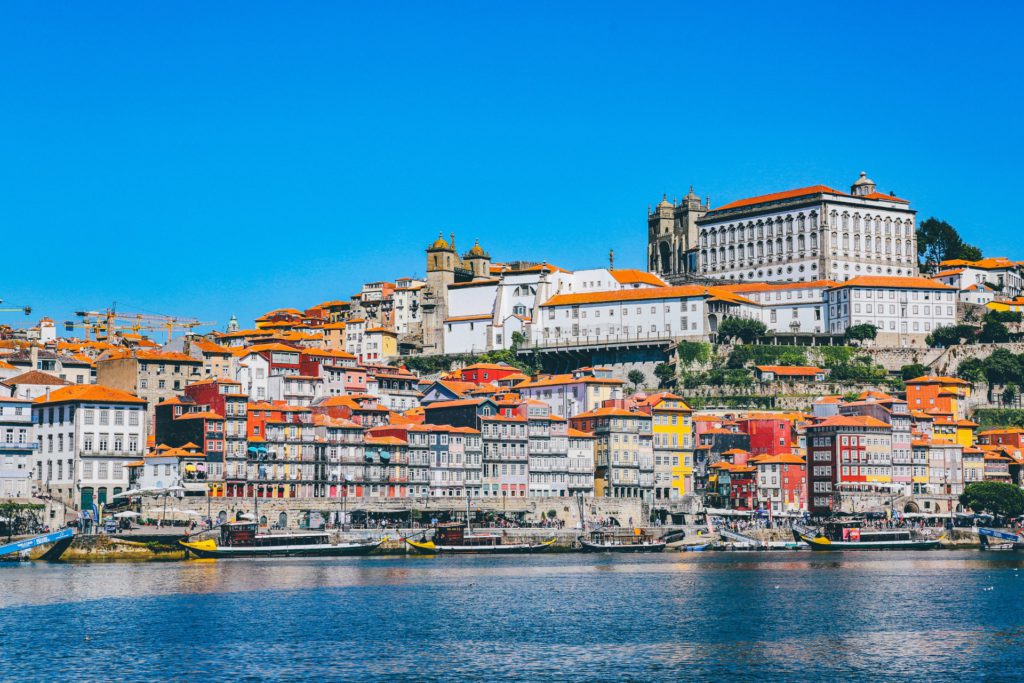 From historic landmarks to sunny beaches, Portugal is the place to be if you are looking to enjoy sights, sounds, and delicious cuisine. Popular destinations in Portugal include Lisbon, Porto, the Portuguese Riviera, and its many islands.
⚠️ Update: November 10, 2020

Take note that a state of emergency is in place in 121 municipalities until November 23, 2020. These regions include all municipalities in Felgueiras, Lousada, and Paços de Ferreira, and the metropolitan areas of Lisbon and Porto. The curfew will run between 11 pm and 5 am (GMT) and during curfew hours, movement is restricted. All shops are required to close by 10 pm.

While domestic and partial international flights are currently operational and general travel is allowed outside of curfew hours, we strongly recommend that you check with regional authorities for up-to-date travel advice before embarking on your journey.
Portugal is open to tourism from European Union member states and Schengen countries with strict cleanliness and safety restrictions. Portugal is also the first country in Europe to be awarded the "Safe Travels" badge that recognizes their commitment to safety for all travelers. Read more about the WTTC and the new Safe Travels protocols here.
Turismo de Portugal, Portugal's tourism authority, has also created a "Clean & Safe" stamp. Turismo de Portugal ensures that tourism enterprises, tourist entertainment companies, travel agencies, and tour operators are compliant with cleaning and hygiene requirements. This avoids all risk of COVID-19 contagion, making Portugal a safe and fun tourist destination for all.
We will be exploring what to do before visiting Portugal, measures taken at tourist attractions, and travel to Lisbon.
Here are some steps that you would need to take before embarking on a trip to Portugal.
Applying for the Portugal Health Passport
Turismo de Portugal encourages all travelers to apply for the Portugal Health Passport upon their arrival to Portugal. The Portugal Health Passport provides a holistic package of English-speaking healthcare services for tourists. These include the availability of health screenings including the COVID-19 test and high-quality urgent medical care at selected hospitals.
Purchasing travel insurance
Turismo de Portugal also encourages its travelers to purchase travel insurance before traveling to Portugal. This includes Protection Insurance for COVID-19 which includes coverage for the Madeira Archipelago, the Azores Archipelago, and Mainland Portugal.
Looking out for the "Clean & Safe" stamp
Travelers are encouraged to look out for the "Clean & Safe" stamp while planning their itinerary to tourist attractions. Companies and activities covered under the stamp include tourist accommodations, leisure activity providers, travel agencies, restaurants, casinos, and many more.
Here are some restrictions to take note of:
Accommodation
All accommodations that have received the "Clean & Safe" stamp of approval have followed stringent requirements such as training for employees, internal protocols for sanitation and cleaning, and assurance that the establishment carries enough sanitation equipment. Refer to the full list here.
Transport
Face masks must be worn when on board public transportation. Capacity is limited to two-thirds of the full capacity. In taxis and TVDEs, the front seat can only be occupied by the driver and similarly, capacity is limited to two-thirds of the vehicle's full capacity.
Food and drink establishments
Social distancing must be observed — there should be a 1.5-meter distance between tables. Face masks are mandatory when walking around the restaurants. Takeaway options and home deliveries are still available. However, cafes and pastries shops must close at 8 pm (GMT+1) in the Lisbon area and at 1 am (GMT+1) in the rest of the country. All restaurants must close by 1 am (GMT+1).
Museums, cultural spaces, and leisure spaces
These attractions have reopened with specific social distancing measures. Please check with individual establishments before visiting. The wearing of face masks is mandatory.
Downloading the "Info Praia" Mobile Application
Planning to go to the beach? Download the "Info Praia" mobile application (available for iOS and Android) to choose the best beach based on the level of occupancy. The level of occupancy is indicated by these signs:
Green: Low occupancy
Yellow: High occupancy
Red: Full occupancy

The Portuguese Atlantic coast is home to a wide variety of mesmerizing beaches, making Portugal the perfect beach destination to lounge around in the sun. 360 beaches in Portugal have been awarded the European Blue Flag and 208 of them are acknowledged as accessible beaches for those with reduced mobility.
Turismo de Portugal has also imposed several measures to ensure the safety of all beach goers.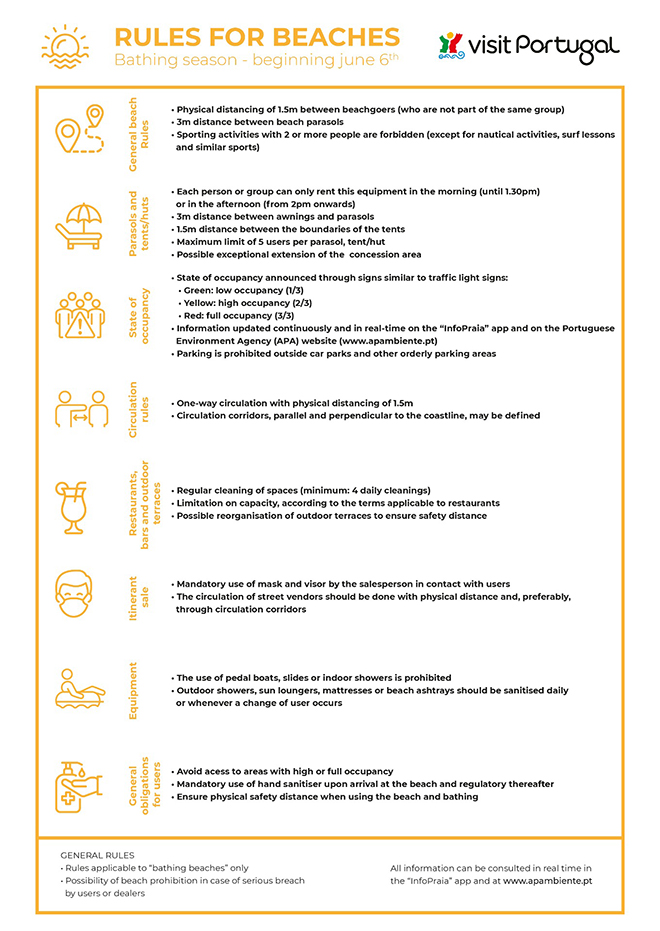 Specific regions
Lisbon
The Lisbon Metropolitan Area is currently under a state of contingency with stricter measures imposed. Refer here and keep up-to-date with the relevant news sources for any changes. This means that most commercial spaces, excluding restaurants, must shut by 8 pm (GMT+1). There is also a 10-person limit for gatherings, in contrast to the 20-person limit across the rest of the country.
Madeira archipelago
Travelers flying to the Madeira archipelago have to present a negative COVID-19 test result issued within 72 hours before embarkation. They also have the option to take the test upon arrival.
Azores archipelago
Travelers flying to the Azores archipelago must submit proof of testing COVID-19 up to 72 hours prior to the flight's departure. They will be allowed entry if the test comes back negative. Travelers also have the option to perform the test on arrival and stay in prophylactic isolation until the result is obtained. If the isolation exceeds seven days, the passenger must contact the health services of the county on the sixth day so that a second test can be taken.
Know of more protocols that answer the question is it safe to travel to Portugal? Share them with us. Remember to bookmark our handy resource, The Ultimate Guide to COVID-19 Travel Restrictions, to remain up-to-date with regulations across the globe!