The COVID-19 pandemic has significantly changed travel around the world. Many countries have imposed strict lockdowns and restrictions on their international borders to prevent tourists from entering their country.
All hope is not lost! Recently, many countries have slowly reopened their borders to welcome travelers. With tourism finally seeing some light again, we have been keeping track of ever-changing travel restrictions to make sure you stay updated.
It is also crucial to take note of the social distancing and hygiene standards that each country has imposed to ensure that all travelers are kept safe and happy. With the volatility of travel restrictions, we advise that you check reputable sources before traveling.
We have put together a list of five cities in the European Union that are currently open to selected travelers. They include:
Mykonos, Greece
Mykonos is the famous Greek island known for its bustling beaches and vibrant nightlife. Nicknamed "The Island of the Winds," travel to Mykonos promises an exciting mix of scenic natural sights, delicious authentic Greek cuisine, and unexpected adventure.
Greece has reopened its borders to selected tourists from around the world. All travelers must undergo a mandatory COVID-19 test upon arrival and will be subject to quarantine. Be sure to follow social distancing and hygiene guidelines when you are exploring the island.
The island boasts 25 beaches, to fit everyone's needs. If you like parties, hit the shores of Paraga and Psarou, famous for its beach clubs and parties. Traveling with family? Pack a picnic to Elia, Mykonos' longest strip of white sand, or adventure out to Platys Gialos and Kalafatis for exciting water sports. Beaches are a great place for safe social distancing. Beach bars and clubs have imposed strict measures to ensure the safety of all beachgoers.
After a day basking in the sun, venture into Mykonos town, a tiny and picturesque maze that you cannot miss. Filled with colorful doorways, blue and white shopfronts, and adorable boutique stores, the town of Mykonos is a great spot to discover a taste of authentic Greek life. The town's labyrinth-like design was used to confuse pirates in the past. Today, turn each corner of these beautiful streets to unearth some of Mykonos' colorful secrets.
Love Greek cuisine? Read about our foodie's guide to the must-eat Greek food for when you visit.
Valletta, Malta
Valletta is the tiny but mighty capital city of Malta, which has the title of one of the most concentrated historic areas in the world. The best way to explore Valletta is on foot, with every turn of the corner unveiling a new historical building. Be mesmerized by ancient statues, fountains, stunning Baroque architecture, and much more as you navigate this World Heritage City.
Malta is currently open to tourists from selected countries, including those from the EU.
Apart from the ancient streets of Valletta, your Maltese journey is not complete without exploring the Upper Barrakka Gardens that promises an incredible view over the Grand Harbour. Be sure to catch the gun salute from the Saluting Battery from down at the harbor at noon. After that, head to the Lower Barrakka Gardens to stroll the scenic, well-maintained grounds. The history of these gardens dates back to the 1800s. Enjoy a quiet respite from the bustling city here.
Valletta is also known for being one of the filming locations for the popular television series, Game of Thrones. Located on the east side of the Grand Harbour, Fort Ricasoli is best known as the Gate of the Gods to King's Landing. If you're a fan of the show, find out how you can make Game of Thrones come to life here.
Paphos, Cyprus
Paphos is the ideal destination for those who love archaeology, history, and culture. Located on the southwest coast of Cyprus, Paphos is home to gorgeous Mediterranean beaches and a variety of UNESCO heritage sites. International flights and tourism to Cyprus have resumed.
History buffs must check out Kato Paphos Archaeological Park. This park is important to ancient Greek and Roman history, its monuments dating back to the Middle Ages. This extensive site features intricate mosaics, antiquities, and stunning archaeological exhibits.
Located in this sprawling complex is the Tombs of the Kings, a set of underground tombs carved out of solid rock dating back to the Hellenistic and Roman periods. Instead of kings, these tombs were built for high-ranking officials. Due to their sheer size and grandiosity, these tombs are aptly named because they are fit for a king!
After exploring the fascinating past, relax by Coral Bay, a popular tourist beach resort that features soft white sand and scenic limestone headlands. Kick back with a refreshing drink in hand at one of the many beach cafes and taverns dotted along the bay. Or maybe try your hand at water sports such as windsurfing or jet skiing in the calm emerald waters of the bay.
Budapest, Hungary
Budapest is the sprawling capital city of Hungary. Dubbed as one of the most photogenic cities in Europe, this magnificent city houses a wide variety of 19th-century architectural wonders with the Danube River running right through the city center. Hungary is currently open to travelers from within the EU and selected countries outside the EU.
The Danube River is Europe's second-longest river that traverses through Central and Eastern Europe. It flows through 10 countries, starting from Germany to Ukraine before draining into the Black Sea. Its drainage basin further extends into nine more countries.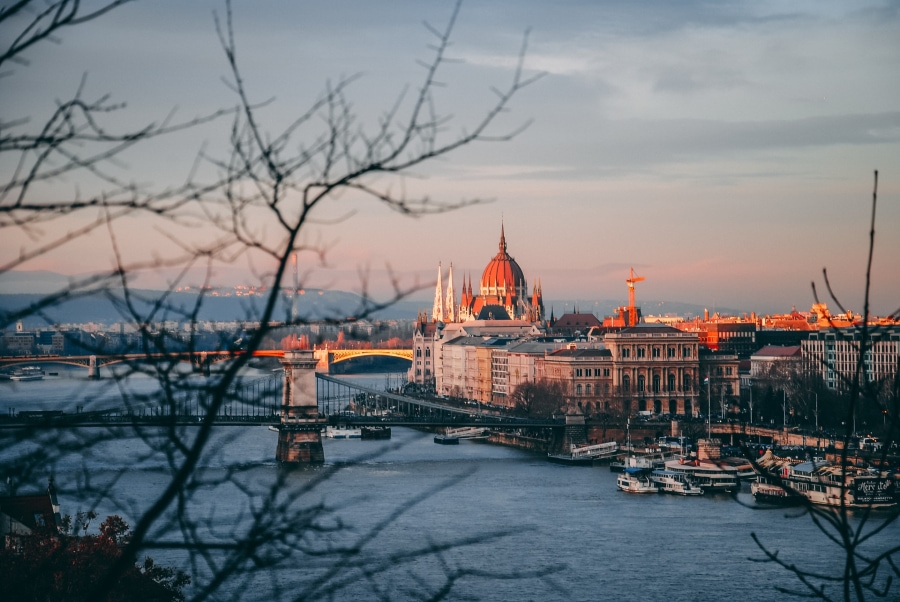 Take in all of Budapest's riverside landmarks in all its glory with both sides of the river flanked by incredible sights that must not be missed. These sights include the Fisherman's Bastions and the Buda Castle. The best time of day to take a cruise on the river is during sunset. Expect the warm glow of the Hungarian sun as you soak in the beauty of Budapest. Keep your eyes peeled for the structural marvel that is the Széchenyi Chain Bridge that spans the river between Buda and Pest!
If you are looking for a uniquely local experience, visit the Gellert Thermal Baths. Made up of numerous different pools with varying medicinal properties, these baths have been around since 1918, making them one of Europe's most popular and famous thermal baths. Relax in the Art Nouveau architecture and treat yourself with a day of pure serenity and indulgence. While the baths are currently closed due to the pandemic, they are now taking reservations for future visits!
Sao Miguel Island, Portugal
The Azores is an archipelago consisting of nine islands in the north Atlantic ocean. These islands are the perfect destination for a socially distant island getaway. With a plethora of outdoor activities like hiking, diving, whale watching, and horseback riding, there is something for everyone on these tranquil islands. These islands are also a great way to travel safely, away from crowds.
The Sao Miguel island is the largest island in the Azores. This is the perfect island to begin your journey to explore the Azores. Sao Miguel features sprawling forest-covered volcano peaks, emerald lakes, and jaw-dropping calderas.
One of the island's major attractions is the Caldeira das Sete Cidades. This ginormous caldera features twin lakes, their emerald green and blue pools intertwining to produce this fairytale-like effect. According to legend, the lakes were formed by the tears of a shepherd and a princess who shared a forbidden love. The entire trek around the caldera spans about 12 kilometers, with several routes of varying difficulties leading down to the water's edge. Don't forget your camera while exploring this picture-perfect landscape!
For a once-in-a-lifetime experience, visit the Caldeira Velha Hot Springs. These hot springs are a part of a larger environmental reserve aimed at protecting and promoting the natural heritage in the surrounding area. Take a dip in these natural thermal hot springs which cascade down to fill a pool. Don't be turned off by its brown color — the waters are brown due to the high volume of iron present. Be sure to pack your swimsuit to experience this stunning natural landscape!
---
About TourHero
TourHero is a social travel platform that enables you to travel with like-minded people and fall in love with the journey. We work closely with handpicked local operators to ensure every experience curated is unique and exclusive to your travel group. Come with us on epic adventures and create memories that last a lifetime!