Blessed by crystal blue waters, white sandy beaches, and exotic sea life, the 115-island archipelago of Seychelles is a utopia of incredible scenery and alluring luxury resorts that guarantee unforgettable vacation moments. If you're looking for a tranquil island getaway to wait out the current pandemic, you're in luck. It is now possible for passengers from 28 permitted countries to fly straight into Seychelles for a proper dose of sea and sunshine. These countries include Austria, Malaysia, Canada, Mauritius, China, Monaco, Cyprus, New Zealand, Denmark, Norway, Estonia, Portugal, Finland, Slovakia, Germany, Slovenia, Hungary, South Korea, Iceland, Sri Lanka, Ireland, Switzerland, Italy, Thailand, Latvia, Tunisia, Lithuania, and the United Arab Emirates.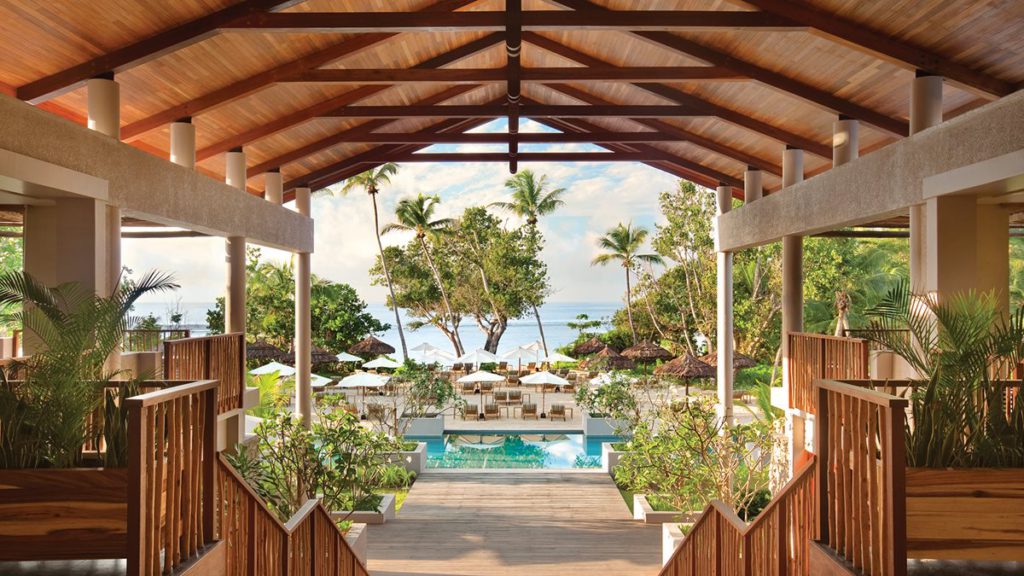 On the list and ready to start planning for your tranquil tropical vacation right away? We've carefully curated a collection of 6 luxury Seychelles resorts you can start booking right now so you can seclude yourself in style. All of these impressive resorts are approved by the local Public Health Authority and are featured on the list of Certified Accommodation Tourism Establishments.
Advisory before you travel to Seychelles
You will need to submit a negative COVID-19 PCR certificate along with your flight and accommodation details prior to your departure. Note that the list of permitted countries may change frequently — check for updates prior to booking your trip. Find out more about what you need to prepare yourself for your trip to Seychelles by viewing the Seychelles Visitor Travel Advisory published by the Ministry of Tourism.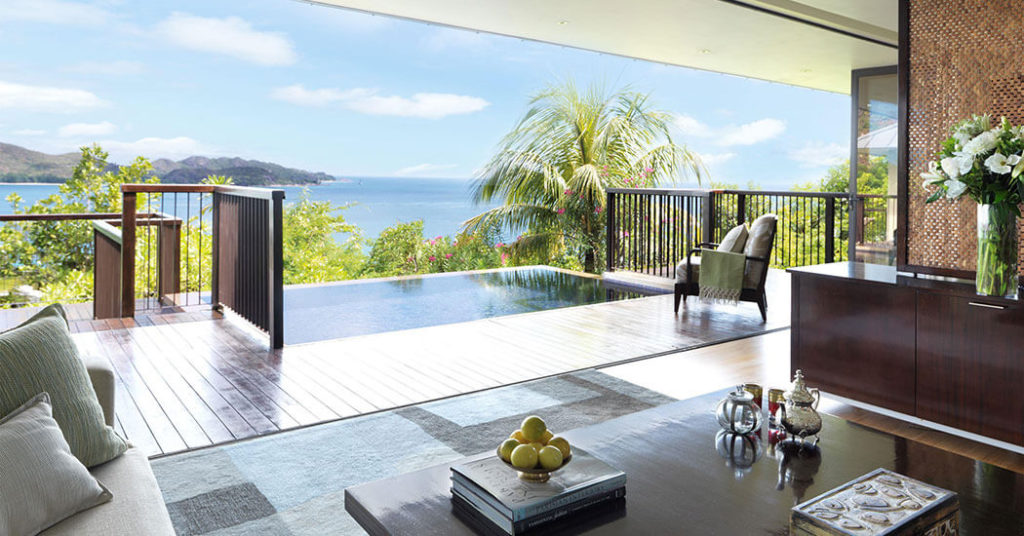 What we love about the resort: Sublime signature spa treatments at the Raffles Spa, to be relished in one of 12 private pavilions with stunning views of the sea.
Nestled on the north-eastern tip of Praslin Island, overlooking the white powdered sands of Anse Takamaka and the glittering waters of the Indian Ocean, sit 86 spacious villas that make up the spectacular Raffles Seychelles. Each villa is appointed with its own plunge pool, outdoor pavilion, and terrace complete with sunbeds and dramatic views to guarantee a luxurious holiday experience. Need some further pampering? Treat yourself to the Raffles Signature Massage at the verdant Raffles Spa, featuring a special blend of Thai, Balinese, and Eastern treatment techniques.
Safety at Raffles Seychelles: Raffles Seychelles is part of the Accor Group. Find out what the company is doing to safeguard hotel guests by visiting the Accor COVID-19 travel information page. Their protocols include:

– Social distancing in all common areas
– Contactless payment, check-in, and check-out whenever possible
– Sanitizer supplied in public areas — front desk, restaurants, elevators
– Reinforced cleaning and frequent disinfection of high-touch areas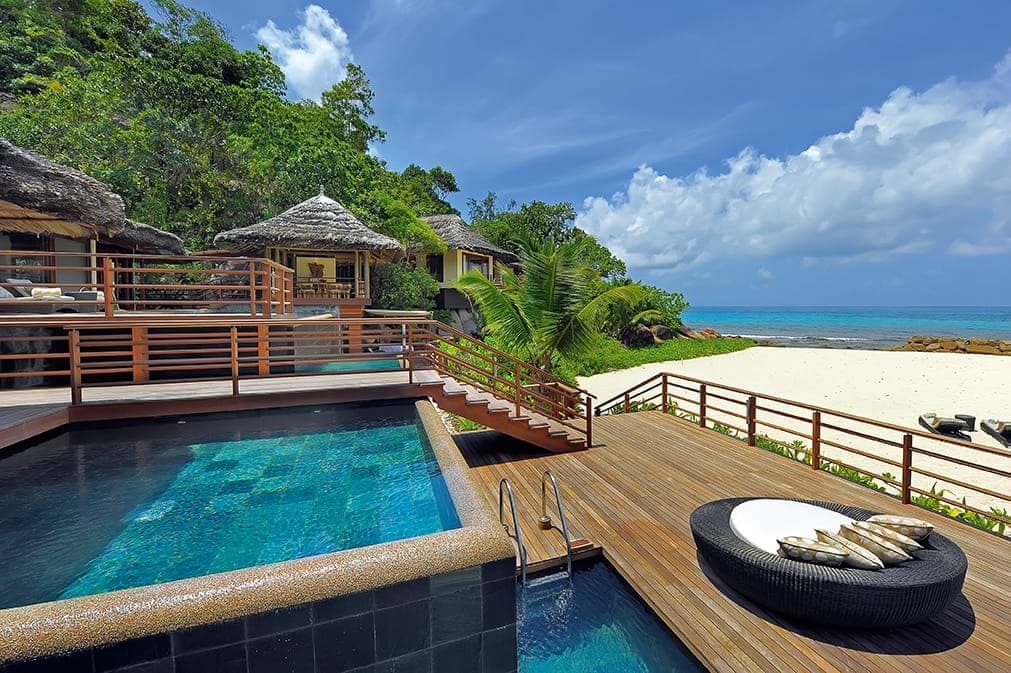 What we love about the resort: Here, you will find the only 18-hole golf course in all of Seychelles!
Fully renovated and reopened in 2016, Constance Lemuria redefines luxury with its vibrant nature-inspired architectural designs. Using wood, stone, and organic elements to bring warmth to the resort and emphasize a true holiday-in-the-topics atmosphere, this is the Seychelles sanctuary you've been dreaming of. Golf enthusiasts will appreciate the 18-hole championship golf course on the premises, while exclusive spa packages at the Constance Spa will add extra blissful moments to your stay. As for the suites and villas, all of them are perfect sanctuaries located close to the beachfront.
Safety at Constance Lemuria Resort: Constance Hotels & Resorts has reinforced sanitary measures and implemented safety protocols across its accommodation collection. Find out what the group is doing by visiting the Constance Stay Safe page. Their protocols include:

– Contactless check-in made available
– Providing automated sanitization stations
– Disinfection of high-touch objects and areas — room keys, guest luggage, vehicles
– Complimentary sanitizers, gloves, and face masks made available
What we love about the resort: It is situated on a lush private island that also doubles as a haven for wildlife. Here, restoration and conservation efforts are taken seriously.
Offering the ultimate private island escape, Fregate Island Private is a luxury eco-friendly development that places conservation above all, rightfully touting itself as a "mini Galapagos" in Seychelles. Surrounded by clear sapphire waters and boasting lush indigenous forests, the island is a haven for rare and exotic wildlife. Owing to impressive conservation efforts, over 3,000 charming giant Aldabra tortoises now roam the island freely, meaning you'll definitely catch a glimpse of these ancient creatures during your stay. Endangered hawksbill turtles and green turtles nest frequently on the beaches, and over 100 species of birds can be spotted in the trees and skies. Fly in on private helicopter charters from Mahe Island and check straight into your private pool villa, which comes with your own dedicated private butler to help you make all your arrangements, from safari activities with the island's ecology team to lunch on the beach.
Safety at Constance Fregate Island Private: One of the first luxury resorts to reopen in Seychelles, Fregate Island Private has taken advantage of its vastly secluded nature to ensure a safe experience for guests. Personally enquire about reservations and current safety protocols by contacting the team directly. Their protocols include:

– Sanitizing dispensers made available to guests and staff
– Increased cleaning schedule of all areas and common-contact surfaces
– Personal protective equipment worn by all guest-facing staff members
– Six feet distance ensured between tables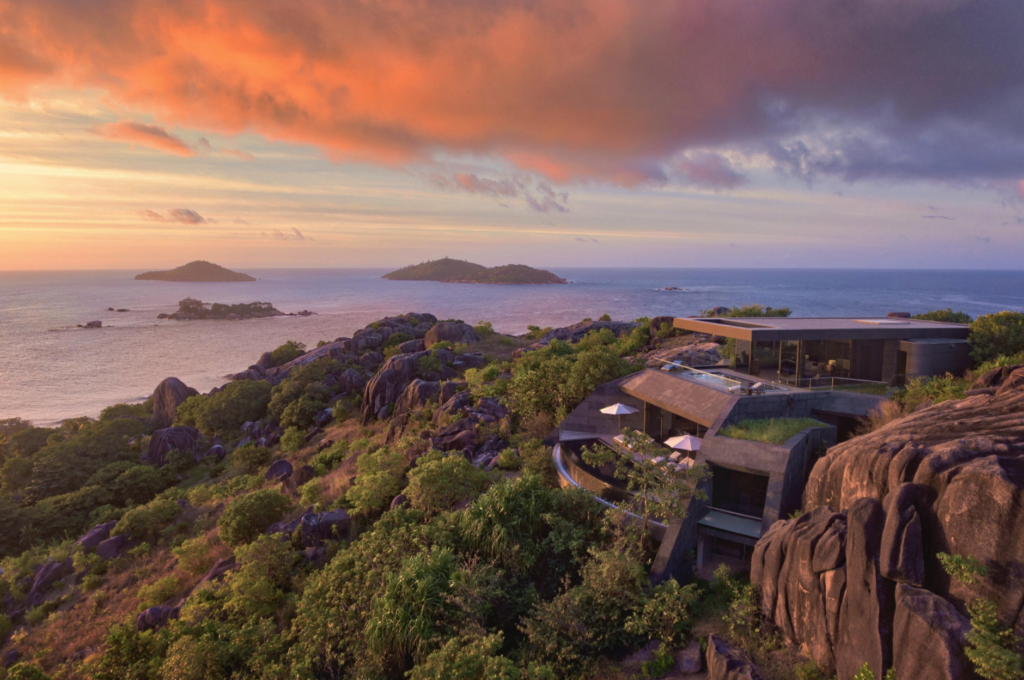 What we love about the resort: Mind-blowing views of the gleaming ocean and bold geological rock formations come together to create an incredibly photogenic setting.
Yet another contender for private island luxury in Seychelles, Six Senses Zil Pasyon is the sole resort on the island of Felicite, offering a true self-contained hidden gem. Listen to the gentle sounds of the ocean waves as you relax by the central swimming pool, or soak up the sun at one of the resort's three beautiful beaches. Be seduced by enchantingly breathtaking sea views, impressive rock formations, and delightful pool villas that ooze comfort and understated elegance. Need a bigger space? Book one of the resort's sleek and spacious three (or four) bedroom residences for the whole family to unwind.
Safety at Six Senses Zil Pasyon: The Six Senses Group has enhanced cleanliness standards across its resorts. Find out what additional steps are being implemented by visiting the Six Senses COVID-19 measures page. Their protocols include:

– Increased sanitization of high-touch surfaces and high-traffic areas
– Improved protocols on handling guest items and laundry
– Sanitizing stations placed strategically throughout the premises
– Reduced contact at check-in; cashless payment made available where possible
What we love about the resort: Each of the 30 luxurious private pool villas is fitted with a sleek infinity pool and indulgent outdoor bath.
If you're looking to hide from the world, look no further. Nestled between greenery and a unique granite landscape on the southwest coast of Mahe, the chic Anantara Maia Seychelles resort provides the best of barefoot luxury with quintessential features like infinity pools, secluded villas, acres of prime forest gardens, and front-row ocean views. Asian architectural influences allow the resort to blend seamlessly with its tropical surroundings, and the prestigious collection of elegantly-furnished private villas will guarantee a perfect all-inclusive romantic getaway.
The newly-rebranded hotel is welcoming guests very soon in September — you can already set your sights on your villa of choice and start booking now!
Safety at Anantara Maia Seychelles: The Anantara Luxury Hotel Group is committed to ensuring the safety and wellbeing of all its guests. Find out about their 'Stay with Peace of Mind' initiative to learn more about the measures they are taking during this time. Their protocols include:

– Digital check-in, temperature checks, and contactless greetings upon arrival
– Sufficient distance between tables, and a la carte-only dining at restaurants
– Enchanced cleaning schedules and sanitization of high-touch areas
– All guest rooms fitted with a hygiene kit with masks and hand sanitizers
What we love about the resort: Diving enthusiasts will no doubt appreciate the diving center conveniently located just by the beach in front of the resort!
Proving itself a praise-worthy resort that ticks all the boxes that matter, Kempinski Seychelles Resort Baie Lazare offers plenty of activities for guests. From world-class diving opportunities (the resort's diving partner, Dive Resort Seychelles, operates a diving center from the beach just next to the hotel) to hilltop yoga. Located in the exclusive southern end of Mahe, just 30 minutes from Seychelles International Airport, you don't need to be anywhere else but in one of the property's well-appointed suites.
Safety at Kempinski Seychelles Resort Baie Lazare: Kempinski hotels are now providing a signature White Glove Service to ensure guests feel comfortable and safe. Their protocols include:

– Staff members wearing white gloves when welcoming guests and performing duties
– Masks provided in all rooms and suites, and worn by all staff
– Enhanced cleaning and disinfection procedures of guest rooms, lifts, and public areas
– Ensuring all guests and employees meet social distancing requirements
---
About TourHero
TourHero is a social travel platform that enables you to travel with like-minded people and fall in love with the journey. We work closely with handpicked local operators to ensure every experience curated is unique and exclusive to your travel group. Come with us on epic adventures and create memories that last a lifetime!