Lush jungles, vibrant villages, and stunning beaches make up the island of Bali. The most popular location in the Indonesian archipelago, this spiritual respite brings travelers of all kinds looking to relax in the sand, surf the azure waves, hike the greenery, and dig deeper into the island's wealth of culture. It's no wonder Bali has been a top wellness retreat destination for decades.
Whether you're considering planning a destination retreat in Bali or you've been waiting for an opportunity to arise, here is a comprehensive guide of locations, accommodations, and activities to help you get started.
Retreat basics
When it comes to planning a wellness retreat, there are a few things you need to know before you can get started:
What kind of retreat do you want to host? (Yoga, fitness, empowerment, art, etc.)
What will you need during your retreat? (Yoga shala, fitness equipment, a kitchen for cooking, conference space, etc.)
What's the budget, and are you adding a personal commission?
Will you stay in one place, or do you want to create a journey with two or more locations?
What activities do you want to include? (Daily wellness classes/workshops, village visits, adventure activities, spiritual experiences, etc.)
To learn the ins and outs of planning a destination wellness retreat, check out our article to help you from start to finish. If you're still questioning the location or are thinking about Bali as your top choice, read on for a deep dive into the top wellness locations around the country to ensure you select the perfect location and resort for your next retreat.
Location
Now that you know exactly which type of wellness retreat you want to host, picking the location is easy. Be sure to match the retreat vibe with the location's atmosphere, connecting to the local culture and environment whenever possible.
Regarding environment and vibe, Bali has a few main themes:
Beachside paradise

High-end resorts
Boutique hotels & retreat centers
Hip hostels & surf schools

Jungle immersions

Luxury villas
Spa & holistic resorts
Eco-chic retreats
While there is a wealth of possibilities when it comes to location choice, here are a few top options when creating wellness retreats in beautiful Bali. These options welcome wellness groups and offer an array of accommodations and activities to ensure you have a stellar experience from beginning to end.
Ubud
When it comes to spiritual retreats, yoga workshops, and wellness, look no further than the majestic town of Ubud.
Vibe: Spiritual site, cultural connections, jungle joy
Pricing: $$ – $$$$
Ubud is the heart and soul of Bali, with its emerald rice terraces, ancient temples, sacred holy springs, and lush jungle backdrop. It's also a popular location for art, vegan/vegetarian food options, and every holistic spa service you can imagine.
Many come here each year to host retreats because the local resorts and communities offer an array of packages and activities to fit every retreat type, as many of these properties were created with health and wellness in mind. You can hike a volcano at sunrise, relax in the hot springs, connect with the locals during various hands-on workshops, and experience sacred ceremonies at the temples and historical landmarks.
Accommodations
No matter where you stay in Ubud, you'll find a blend of luxury and tradition embedded within the decor, the food, and the landscape. Here are a few top resorts that cater to health, wellness, and group retreats for all budgets.
Activities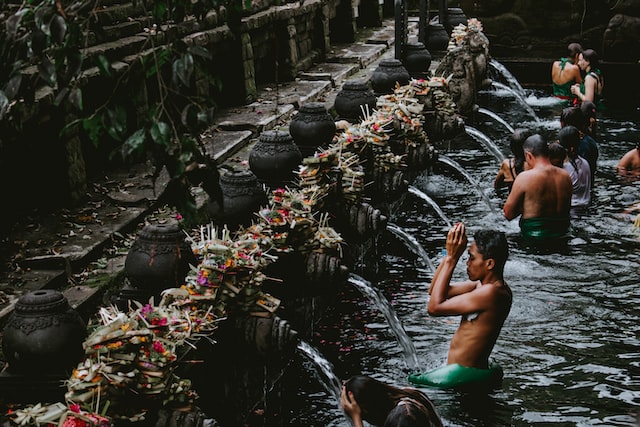 Because Bali is a small island, you can see most of it from any location. Ubud is a great choice because it's situated in the center of the island. Here are a few of the top activities people choose to explore during their time in Ubud that can make a great addition to any wellness itinerary.
Holy water temple purification ceremony
Yoga and meditation sessions
Temple tours and historical sites
Village visits (meetings with priests, families, communal meals, cooperatives, etc.)
Coffee and food tours
Volcano hikes and hot springs
Cooking lessons and craft workshops
Vegetarian and vegan cafes
Art galleries and studios
Spa services (massage, Reiki, Ayurvedic treatments, etc.)
Canggu
For chill vibes and slow-paced energy, Canggu is your best bet.
Vibe: Beachside fun, hippie vibes & surf shops, chill & laid back
Pricing: $ – $$$
Canggu is a chill coastal haven, known for its hostels, vibrant nightlife, and surfers of all ability levels. This area brings a younger crowd (body and mind) and those who are looking for the simple pleasures Bali has to offer with beachside bars, boutique shops, and killer waves.
With the many surf schools along the coastline, Canggu also welcomes fitness buffs and yogis who want to enjoy a delightful Balinese vacation while remaining centered and focused on healthy food and body movement. You don't have to go far for food, fun, and spiritual alignment when you stay in Canggu.
Accommodations
While Canggu offers cheaper lodging options such as guest houses and hostels, it's also home to a variety of elegant and luxe spaces for retreats. These accommodations are far more intimate than the larger resorts and provide a communal feel for workshops and meals. Here are a few options that show a range of amenities in the area.
Activities
The beach and the sun are the driving factors for activities in Canggu. Here are a few things to add to your retreat schedule to make it the best it can be!
Beachside fun
Surfing
Water sports
Fitness and adventure activities
Restaurants and bars
Nightlife
Day trips to beaches, temples, and nature sites
Seminyak
If high-end luxury and coastal bliss are calling your name, look no further than Seminyak.
Vibe: High-end resorts, beachside fun, spa-heaven & hip nightlife
Pricing: $$$ – $$$$
Seminyak is a high-end haven of posh resorts, elevated shopping options, and luxe spas. By day, you'll find chic beach clubs and sunbathing. By night, the area hosts an array of sleek bars and clubs, along with a large assortment of delicious gastronomy for all types of travelers.
While you may spend more money to stay in this part of Bali, you get what you pay for, which translates to stunning views of the coastline, elevated pampering, and star-studded accommodations. You can still travel to all the temples, nature sites, and spiritual experiences, but you'll rest your head in an opulent paradise. However, this area is highly sought-after, which means peace and quiet may not always be an option depending on where you choose to stay.
Accommodations
Elevated pampering is the name of the game in Seminyak. Here are some of the top resorts and retreat centers in the area that will leave you feeling rested and relaxed.
Activities
Beachside fun and beach clubs
Water sports and body movement
Restaurants and bars
Nightlife
Elevated spa services (massages, facials, mani/pedis, etc.)
Jimbaran
The quiet respite you never knew you needed.
Vibe: Beachside vibes, small village feel, gastronomy galore
Pricing: $ – $$$
A small fishing village, Jimbaran is an often overlooked part of Bali. Known for its beachfront seafood stalls, you'll be spoiled for choice when it comes to delicious fare. This quiet area is the perfect place for a retreat, as you won't find large crowds and bustling resorts. You'll be immersed with the locals in a way you just can't find in the rest of the major beach towns.
That doesn't mean you'll be left to your own devices, as this area of Bali offers a more intimate connection with the local culture and nature. From surfing and shopping to immersive experiences, Jimbaran can offer most retreat types a luxury space to relax, learn, and grow.
Accommodations
Many use Jimbaran as a night out on their itineraries to ensure they try the best seafood on the island, but this area has more than meets the eye. Stunning sunsets and great food will keep you coming back to one or all of these stellar lodging choices.
Activities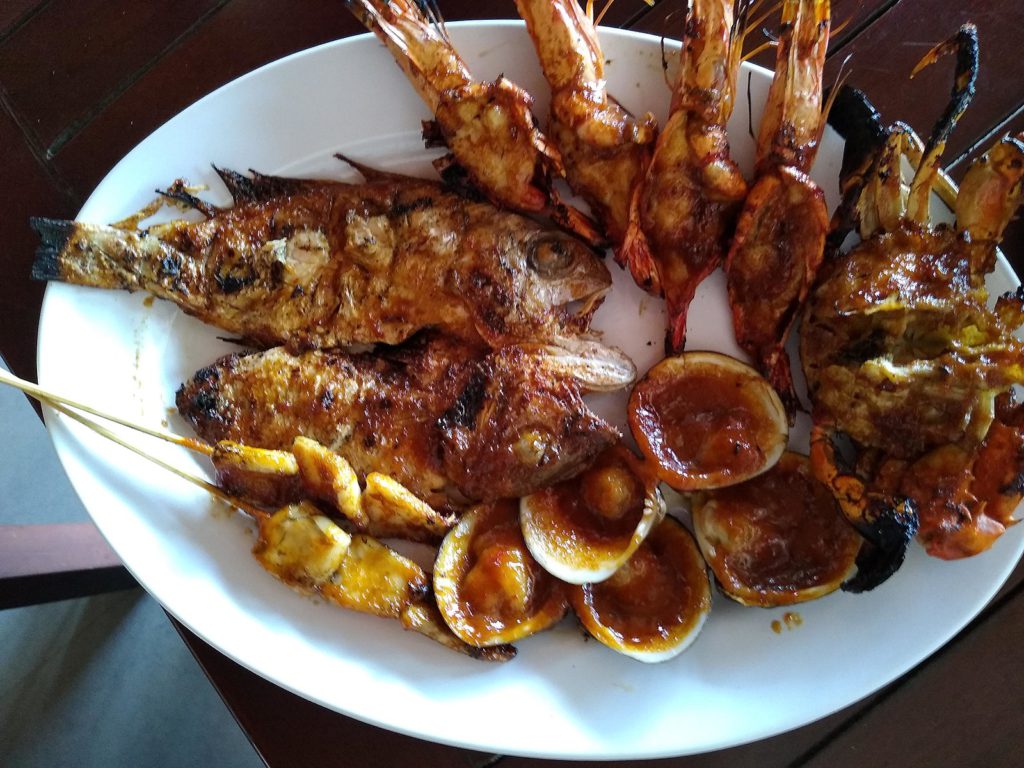 You may be away from the bustling resorts and downtowns, but that doesn't mean you're on your own for fun. Here are a few of the top activities most choose when they stay in this part of the island.
Beachside fun
Surfing and water sports
BBQ seafood stalls
Cultural tours
Spa services (massages, facials, mani/pedis, etc.)
Day trips to beaches, temples and nature sites
Flights, visas, and vaccinations
(Please note: Entry, visa, and vaccination requirements can change at any time. Please be sure to do your own research when planning a retreat and booking a trip.)
Flights and transfers
There are a few ways to get to Bali, but your route depends on where you live. From the states, you can fly west and go through Japan, China, or Thailand. You can also fly through Europe or the Middle East and make a stopover to add another location to your travel bucket list. For those taking on a long-haul flight, making a stopover is a nice break from 20+ hours on a plane.
When you get to the island, you will have to travel at least 30 minutes to get to any of the mentioned destinations. However, most resorts provide some type of car service to ensure your transition to the island is hassle-free. Booking a shuttle in advance is highly recommended.
Entry requirements and visas
For most travelers, especially those traveling from the US, you won't have to do much preparation before entering the country. You will need to complete the PeduliLindungi application, which is a digital COVID-19 tracing form, but this is subject to change. Always check out the embassy's website before leaving your country of origin.
Upon arrival, you'll show your passport, which needs to be valid for a minimum of six months and have at least two empty pages. You may also need to show a return ticket or flight to another country. Most guests will also have to pay for their tourism visa, which costs IDR 500,000 (roughly USD 32). This visit will grant you a max of 30 days on the island.
Vaccinations
(This section is a guideline for travel based on information from the CDC and WHO. Consult with your doctor before traveling to any foreign country and decide what medical advice is right for you.)
As of late, travelers do not have to show a negative PCR test to enter the country, but they do need to show proof of full vaccination that has been completed at least 14 days before travel. Full vaccination for Bali is two doses of the COVID-19 vaccine.
All travelers may be subject to a health screening upon arrival. If symptoms are present, they may be subject to a PCR test and quarantined. However, if travelers are fully vaccinated, they do not have to quarantine per current restrictions.
Regarding other illnesses, it's always a good idea to make sure you are up to date on your routine vaccinations (the vaccines you receive or begin in childhood). For most travelers, you won't need any other vaccinations, but typhoid and tetanus shots are recommended before travel.
Depending on which part of the island you are traveling to and for how long, you may need to receive a Japanese encephalitis vaccine or malaria medication, but these are for folks staying in rural areas for longer periods of time. It's best to see a doctor at a travel clinic to ensure you have all the information and medication you need.
---
About TourHero
TourHero is a social travel platform that enables you to travel with like-minded people and fall in love with the journey. We work closely with handpicked local operators to ensure every experience curated is unique and exclusive to your travel group. Come with us on epic adventures and create memories that last a lifetime!