Movies enrich our lives. They are an escape into a fictional world that provokes the senses and plants seeds of inspiration. That's why oftentimes movies are a catalyst for travel, as those fictional landscapes are filmed in real places scattered around the world.
If you're looking to find a new travel location or need inspiration for your next getaway, this list of trip movies can help you decide where your heart wants to venture next. Enjoy!
Eat, Pray, Love (2010)
Eat, Pray, Love is a well-known movie based on a book with the same title. It's also a true story. The narrative follows Liz Gilbert, the author and main character, who travels to Italy, India, and Indonesia in search of herself after a messy divorce. The audience relives her travels, following Liz to these majestic countries, where she eats the best food, finds her spiritual path, and most importantly, rekindles the love she feels for herself and for life.
The movie takes film-goers to a wealth of great travel sites including Rome and Naples in Italy, Delhi and Pataudi in India, and Ubud and Padang-Padang Beach in Bali, Indonesia. Each landscape captures the soul in a new way, from the high-energy cities to lush jungles and beaches. Whether you're considering a quick trip to Italy or a multi-country journey, this movie was made to inspire, making it one of the top trip movies of all time.
A Good Year (2006)
A Good Year is your typical rom-com loosely based on a book with the same title. In the movie, failed financialist Max Skinner inherits his uncle's beautiful vineyard in Provence, France. This nostalgic property from his childhood rekindles his love for the area until a mystery woman arrives claiming to be the rightful heir. Struggling with ownership, wine issues, and a new woman in his life, Max must find a way to reconcile it all.
While the story is engaging, humorous, and heart-warming, what sets this movie apart is the gorgeous backdrop of Provence, specifically in the region of the Luberon. Filled with hilltop villages, fruit orchards, historic homes, and lavender fields, this idyllic location would make anyone want to pack their suitcase and head to France.
The Lord of the Rings trilogy (2001–2003)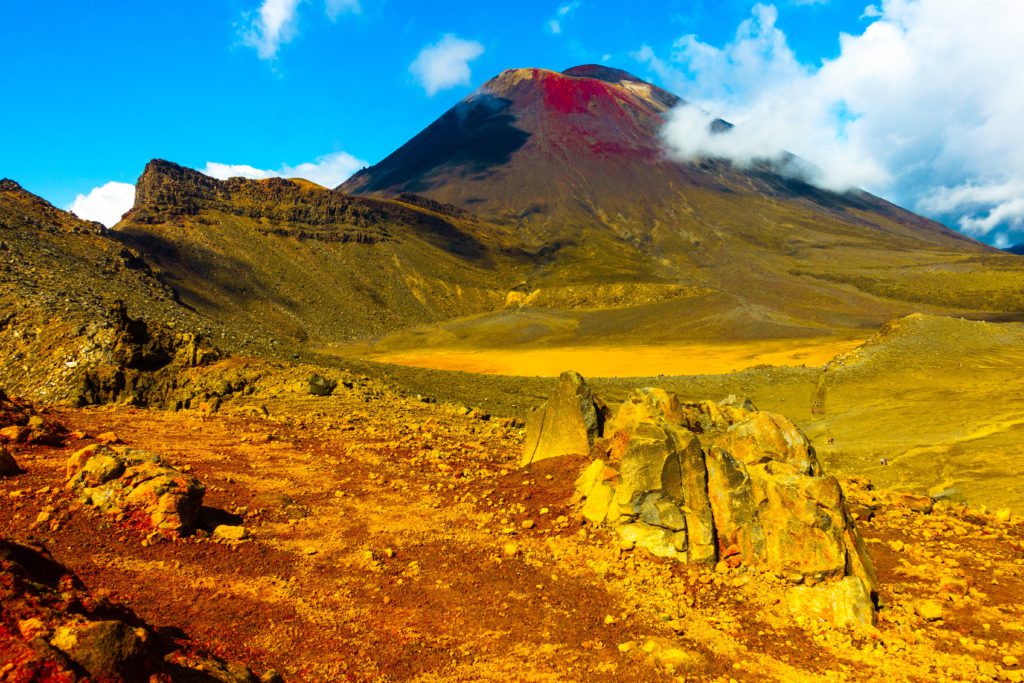 Most people are familiar with the iconic fantasy book series-turned-film empire of The Lord of the Rings. Shot entirely in New Zealand, the backdrop of this magical world will capture your attention, even if elves and wizards aren't really your thing. From "Mount Doom" (Mount Ngauruhoe in Tongariro National Park) to the "Chetwood Forest" near Takaka Hill, there are an array of locations to see.
The series follows the mission of destroying the One Ring that has the ability to rule over all other powers and carries the characters far and wide to ensure the ring doesn't fall into the wrong hands. What's interesting about this franchise is that many flock to New Zealand each year to walk the same trails, hoping to catch a glimpse of at least a few of the 100+ filming locations. Due to its following, the studio has since made the iconic Hobbiton set a permanent attraction. It's no wonder why this is one of the top trip movies!
Tracks (2013)
Another stellar book, another stellar movie that makes us want to travel. Tracks follows the real story of Robyn Davidson, an Australian woman who embarks on a nine-month journey through the desert with her faithful dog and four camels. I may or may not love this movie because of Adam Driver who plays Rick Smolan, a National Geographic photographer who documents her adventure. However, the backdrop definitely steals the show in this film. Let's talk location.
The entire film was shot in Southern Australia and in the Northern Territory. The viewer becomes immersed in gorgeous desert landscapes, wide-open blue skies, and various aspects of the area's wildlife. This movie begs adventure-seekers to book that flight and embark on that solo odyssey they've been dreaming of. So, what are you waiting for? If you need some inspiration, and maybe a little courage, Tracks is a must-see on the list of trip movies.
The Beach (2000)
The Beach is one of the ultimate trip movies, as it provides its viewers the opportunity to remotely travel to the beauty of Thailand's Phi Phi Le Islands. The narrative follows Richard, a young American who embarks on a quest to find a hidden island that is said to have the most beautiful beaches. However, the journey quickly becomes one of struggle and trouble.
While most critics disliked the film, the main film setting in Maya Bay is unparalleled, with lush tropical palms, floating pinnacles, and sugar-white beaches lapped by crystal-clear waters. You'll also find scenes shot in Bangkok, Khao Yai National Park, and Phuket — a well-known backpacker's paradise. This movie has sent thousands to Thailand, seeking out the beauty of the beaches and the energy of the city. Will you be next?
The Secret Life of Walter Mitty (2013)
The Secret Life of Walter Mitty follows — you guessed it — Walter Mitty, a photo developer for Life magazine who escapes the monotony of his existence by day-dreaming himself all over the world. What's a dream to him becomes a reality for the audience, as we are taken to places such as Iceland, the Himalayas in Afghanistan, and Greenland to name a few.
While there is far more to this story as Walter struggles to keep his job due to a misplaced photo negative, the movie combines his daydreaming with travel, and creates one of the ultimate trip movies that takes him around the world. We're thankful he brings us with him and inspires us to book that flight!
Midnight in Paris (2011)
Midnight in Paris follows the journey of Gil Pender, a Hollywood screenwriter looking to publish his first novel. While vacationing in Paris, Gil's late-night walks lead him to the 1920s (literally) where famed authors and poets bring him on various journeys around town. These iconic artists give him, and the viewer, a magical fairytale adventure in an iconic city.
While the movie takes place almost entirely in Paris, the opening scene takes place in Giverny in Monet's Garden, a lush and tranquil space that would make anyone want to jump on a plane. In the city, we're taken to various notable locations, such as the Eiffel Tower, Hotel Le Bristol, Versailles, Musée Rodin, Le Meurice, and Saint-Etienne du Mont to name a few, but with each street they walk and pass, more of this eclectic city is revealed. Paris is filled with history, art, and great food, which helps this film top the list of trip movies, for sure.
In Bruges (2008)
While a movie about a failed hitman may not seem like one of the top trip movies, this particular film takes place in beautiful Bruges, Belgium. Bruges is a medieval city that hosts a wealth of history and features canals, cobblestone streets, and ancient buildings. A trip to Bruges is a trip back in time.
The main character, Ray, played by Colin Farrell, despises the city, and lets the audience know it, but the backdrop becomes a peaceful respite for the viewer as Ray awaits his fate. For travelers, this city looks like something out of a fairy tale, frozen in time for all to enjoy. From historic tours to food and art, Bruges is a hidden sanctuary that is waiting to offer you a magical European getaway.
Pride and Prejudice (2005)
Over the years, there have been many versions of the novel Pride and Prejudice that have been transformed into the visual arts, but one of the most beautiful attempts is Wright's take in 2005. Featuring Keira Knightly as Elizabeth, we follow Austen's eclectic characters around the gorgeous landscapes of England's countryside, as Mr. Darcy insults and adores the headstrong lady of his future dreams.
This slow-burn romance takes the viewers to gorgeous properties, such as the Burghley House in Stamford, Lincolnshire and Basildon Park in Berkshire, along with stunning natural backdrops at the Temple of Apollo in the gardens at Stourhead and Stanage Edge in Derbyshire. While the novel's enrapturing tale captures the hearts of hopeless romantics, the imagery captured on film invites the eyes to contemplate a trip to one or all of these stunning locations in England. (My mom and I are taking a self-created P&P trip in May of 2023!)
From high-energy martial arts choreography to a romantic love story, Crouching Tiger, Hidden Dragon has it all. While the audience follows a quest for a stolen sword, they are also taken to various locations in China, featuring lush landscapes and ancient culture.
This book-turned-film was shot solely in China, with scenes in Beijing, Anhui, Hebei, Jiangsu, and Xinjiang. Much of the filming also took place in Hengdiang, a mountainous area in the province of Zhejiang where Hengdian World Studios was created and thrives today. (If you're a Curse of the Golden Flower fan, you know this studio well!) This Hollywood-esque property is bustling with eight sets tourists can visit, along with hotels, bars, and much more. A trip to this movie set is a full experience, and it's calling your name!
Lost in Translation (2003)
Set in Tokyo, Japan, Lost in Translation follows the chance meeting of a celebrity with dwindling status and a newlywed on a work trip with her husband. Played by Bill Murray and Scarlett Johansson, this unlikely pairing reveals emotional intimacy in a city they don't call home.
The majority of the movie was shot within two vibrant districts of Tokyo — Shinjuku and Shibuya. Both feature bright lights, bustling streets, and various forms of entertainment. The two have their chance meeting at the Park Hyatt Hotel at the New York Grill, a real hotel and bar you can visit. You'll also find some scenes shot in Kyoto where Johansson's character spends the day sightseeing. Whether you're a foodie, love big city vibes, or enjoy a bustling location, Tokyo has it all, reflecting the reason this film made the top trip movies list.
Into the Wild (2007)
Into the Wild is the ultimate rebellion movie where a rich and successful college graduate chooses to give up everything he owns, including his future, to embark on a journey into the Alaskan wilderness. However, nature's lessons are beyond what main character, Christopher McCandless, bargained for, leaving him fighting for his life in a small area near Denali National Park in Magic Bus 142.
While the story is absolutely heartbreaking, the landscape in which it's filmed captures the innocent wonder of the audience, showcasing the beauty of Alaska and nature in general. The film documents McCandless' journey through Lake Mead in Arizona, the Pacific Crest Trail in California, Beard's Hollow on the Washington/Oregon border, and Salvation Mountain in Colorado to name a few. For the real adventurers, a recreation of this odyssey is a definite option for those looking to explore the vast unknown, making this a clear candidate for top trip movies. And if trekking isn't for you, you can also visit the replica Magic Bus in Healy for a great photo op.
---
Whether you're pondering a trip to all your favorite movie locations or are simply inspired by a specific city, TourHero can help you create the ideal trip with tours, free time, and excursions for your own movie moment. Reach out today and start planning your Hollywood-based getaway!
---
About TourHero
TourHero is a social travel platform that enables you to travel with like-minded people and fall in love with the journey. We work closely with handpicked local operators to ensure every experience curated is unique and exclusive to your travel group. Come with us on epic adventures and create memories that last a lifetime!