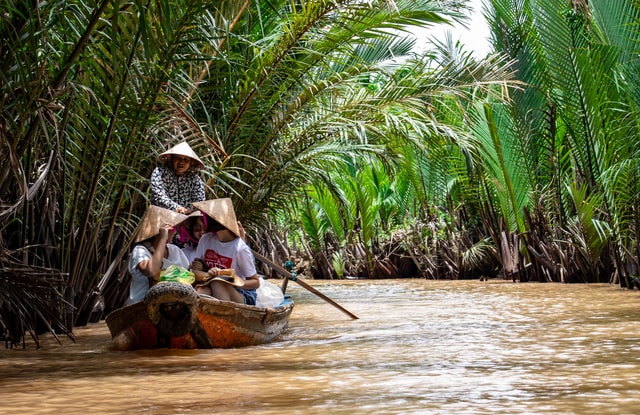 A collection of waterways, rice fields, and fruit groves, the Mekong Delta is the southern heartbeat of Vietnam, home to over 20 million people. The Mekong River itself stretches all the way from Tibet, traversing through several countries including Laos, Thailand, and Cambodia, before ending in Vietnam. There is no doubt that life revolves around the Mekong — people live on the river, eat from the river, and many use it as a major highway. It is also a wildlife paradise and a melting pot of cultures that include Vietnamese, Khmer, and ethnic minorities.
Many tours are available in the Mekong Delta region, often starting in Saigon. These can last anywhere from one to five days and often include the most famous scenes that the region offers. Many of these are not to be missed, but there are also lesser-known highlights that fall further afield and need a little more time to reach. Here, we bring you our top 10 must-see places in the Mekong Delta, from well-trodden paths to hidden charms. Read on to find out more!
Cai Rang Floating Market
One of the region's most-visited places, no tour to the Mekong Delta should miss out on the colorful, bustling Cai Rang Floating Market. Just five kilometers outside Can Tho City, Cai Rang is a market on the river. All the goods are found on boats. Some are stationary, whereas others move around to sell their wares and produce. Many of the boats also double-up as the owners' homes.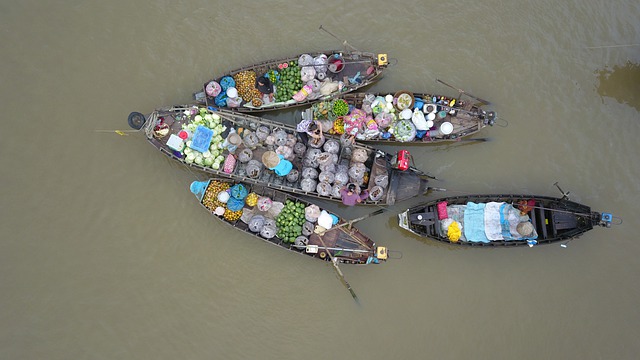 Not sure how to go about purchasing some goods? It can seem quite confusing and hectic at first, but there is a simple logic to it all. Look out for the bamboo poles attached to each boat. At the end of each pole, you will find a type of vegetable, fruit, or other product. This is what the boat sells and specializes in!
For the consummate Cai Rang experience, it's best to arrive at the market early. The locals begin their shopping from 5 am, and it's in the first couple of hours that you'll find the greatest atmosphere. There's nothing quite like a bustling market on the river!
Vinh Trang Temple
Vietnam is a country teeming with temples and pagodas, but if you only see one, make it the impressive Vinh Trang Temple situated in the city of My Tho. It truly is enormous, consisting of five separate buildings in sprawling gardens that stretch over two hectares. Three huge Buddha statues dominate the skyline, representing the past, present, and future.
Vinh Trang Temple is located on a busy main road in Vietnam's Mekong Delta region, but once you get inside the gates, you will quickly forget about all that traffic. With a tranquil atmosphere, Vinh Trang Temple is a beautiful pagoda on a great scale and a very important refuge for local people.
Tra Su Forest
Once a mixture of natural rivers and man-made canals, Tra Su has been reclaimed by nature and is now a wildlife haven that comprises of a delicate mangrove ecosystem. A truly magical sanctuary hidden from the traveled regions along the delta, the area itself can only be reached by boat. Once you find yourself within the forest, you'll experience a sense of serenity rarely found elsewhere.
The forest is a paradise, with flora and fauna of different shades melting into a peaceful collage. On a rowing boat trip through the trees, all you can hear is the sound of chirping birds, bats, and the calming slosh of the water. There are no distractions, nothing here of the modern world and all its trappings. The Tra Su Forest is a genuinely meditative experience.
Being around 20 kilometers from Chau Doc, Tra Su may be slightly further afield than many of the Mekong's more-frequented highlights, but any distance traveled is more than worth it.
Can Tho City
Can Tho is the largest city in the Mekong Delta and the fifth largest city in Vietnam. For those who have experienced the likes of Hanoi or Saigon, it's interesting to see a bustling place without the levels of traffic or tourists that one finds in the country's major hubs.
Can Tho holds around one million local Vietnamese, and being on the river gives the city its own unique vibe and cultural delights not encountered elsewhere. Floating markets crowd its shoreline, a wonderful open-air night market offers food to the hungry crowd alongside clothing, gifts, and souvenirs, and a delightful variety of restaurants can be found on the riverfront. Here, you can kick back, watch the boats come in as the sun goes down, and experience city life with a much mellower ambiance.
My Tho
For many traveling from Saigon, My Tho is usually the first stop on a Mekong Delta tour. And rightly so! It is the perfect introduction to the Mekong way of life. Here, you can take a boat trip through coconut forests, visit some riverfront restaurants or a local market, and see the vast array of fruit that grows within the region.
If you've never experienced the Mekong Delta before, it's a world away from the big city, and more like crossing a border into another country than moving from one region to another. Plenty of small-group boat tours are led down the narrow tributaries here on hand-rowed sampans — don't miss out on an excursion to see rural life unfold on the waterway!
Co Tu Ha
When traveling along the Mekong Delta, you'll soon discover that the region grows some amazing coconuts, and the local people have found a myriad of uses for them! The Ben Tre area is particularly famous for its coconuts and grows more of this fruit than any other part of Vietnam. Here, you can seek out Co Tu Ha, a local lady and genuine coconut expert!
Ha features on many tours, but pretty much everyone in the Ben Tre area knows her! Ask around and the local people will be only too happy to give you directions. Ha makes a variety of products from coconuts, including oil, wine, and candy. She'll also take you through the process, and will even let willing volunteers try their hand at making these coconut products by themselves!
Xeo Quyt Forest
The 52-hectare Xeo Quyt Forest is an off-the-beaten-track destination that is rarely visited by those touring the Mekong Delta. You'll find it 30 kilometers south of Cao Lanh. It is also one of the most beautiful and fascinating places you'll find across the whole region. Under the cover of trees, this swamp was once a secret Viet Cong base during the American war, less than two kilometers from a US military base.
A boat trip will take you through the magnificent forest, where you'll have the chance to get out and explore the secret Viet Cong bunkers for yourself. Being mostly underground, the area was unharmed by forest bombings and continued as a Viet Cong stronghold until the end of the war.
Nam Du Island
Nam Du is the jewel that sits to the west of Vietnam's Mekong Delta region, consisting of 21 separate islets. Given its distance from Saigon, it is a place to visit as a separate excursion rather than as part of a tour. Here, you'll find a beach destination resembling a stunning paradise, untouched by major hotel chains, tower blocks, or the pollution sometimes found in major tourist areas.
For a chilled-out taste of the Mekong Delta that is different from much of the other regions in Vietnam, a couple of days on Nam Du Island is a must. You can reach Nam Du via a bus from Saigon to Rach Gia, a bustling port city on the mainland in Vietnam's western Mekong Delta region, then hop on a speedboat to cover the rest of the distance. Be sure to book in advance to guarantee your transport.
Nga Bay Floating Market
Also known as Phung Hiep, Nga Bay was once Vietnam's busiest floating market. A move downstream in the year 2000 saw a shift in its popularity. A return to its former site in 2006 has helped its recovery.
What really makes Nga Bay stand out from the number of floating markets on offer is its location. Situated at a busy intersection of an impressive seven separate canals, it's a wonderful place to witness the hustle and bustle of life on the water. The market is situated a good drive away from Can Tho City, but well worth getting there early in the morning to see the market in full swing. Vendors here sell a wide variety of goods, in particular fruits, fresh agricultural produce, handicrafts, and household appliances.
Sam Mountain
Sam Mountain stands out amongst rice fields as the Mekong region's highest point. From here, the views of the region are glorious, and the trek to the top is dotted with temples, pagodas, and shrines.
Found en route to Chau Doc and the Cambodian border, the mountain is still used as a military post. Formerly a site to keep watch over Khmer forces crossing into Vietnam, the atmosphere is calm now, and the few soldiers around are well-used to being visited by tourists.
We wish you a fabulous journey when traversing the Mekong Delta! If you're an outdoor lover, you can also find our guide to Vietnam's top five hikes here, guaranteed to keep you exploring!
---
About TourHero
TourHero is a social travel platform that enables you to travel with like-minded people and fall in love with the journey. We work closely with handpicked local operators to ensure every experience curated is unique and exclusive to your travel group. Come with us on epic adventures and create memories that last a lifetime!