Maybe you've already decided on your Moroccan travel route. A tour through the mighty Atlas Mountains perhaps? A camel ride through the Sahara, the world's largest desert? Whatever your plans, don't forget to pay some attention to where you lay your head! Our list of the best places to stay in Morocco focuses on its unique accommodation — riads. Choosing a night or two in one of our top ten riads in Morocco is sure to make your vacation an unforgettable one.
Why travel to Morocco?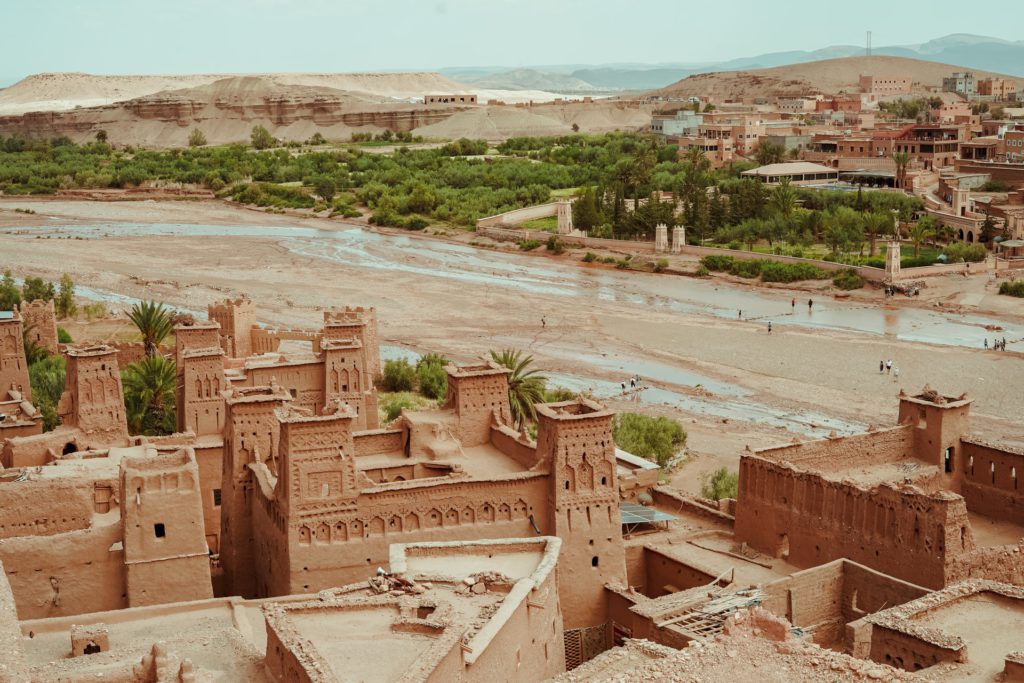 There are plenty of reasons to travel to beautiful Morocco. First of all, the food here is incredible. There are many similarities between Moroccan cuisine and Mediterranean cuisine. You'll find the likes of olives, couscous, pickles, bread, meat and seafood everywhere you go, with spice mixes used that are reminiscent of mixes found in Spain, Greece and even France.
Inland, you'll discover two of the great mountain ranges — the Rif and Atlas Mountains — alongside some beautiful traditional architecture with ceramics featured everywhere. Morocco's markets (or 'souks') are some of the most exciting for travelers, with unique handicrafts and handwoven items displayed in abundance.
Head to the coast and you've got the gorgeous beaches of Essaouira and Agadir to discover, amongst many others. Last but not least, Morocco has various desert regions to explore, including the Sahara Desert! Need we say more?
What is a riad in Morocco?
A riad is a traditional Moroccan home centered around an open courtyard. They were once the preserve of Morocco's richest people, and offer an insight into the country's history. Many riads have been converted into accommodation, so modern travelers can experience how the 'other half' once lived!
Riads in Fez
Choose Fez for its amazing medina (old town). It's now a UNESCO World Heritage Site, and Africa's oldest city. Given the size and popularity of Fez as a tourist destination, many of the best places to stay in Morocco can be found here.
Riad Le Calife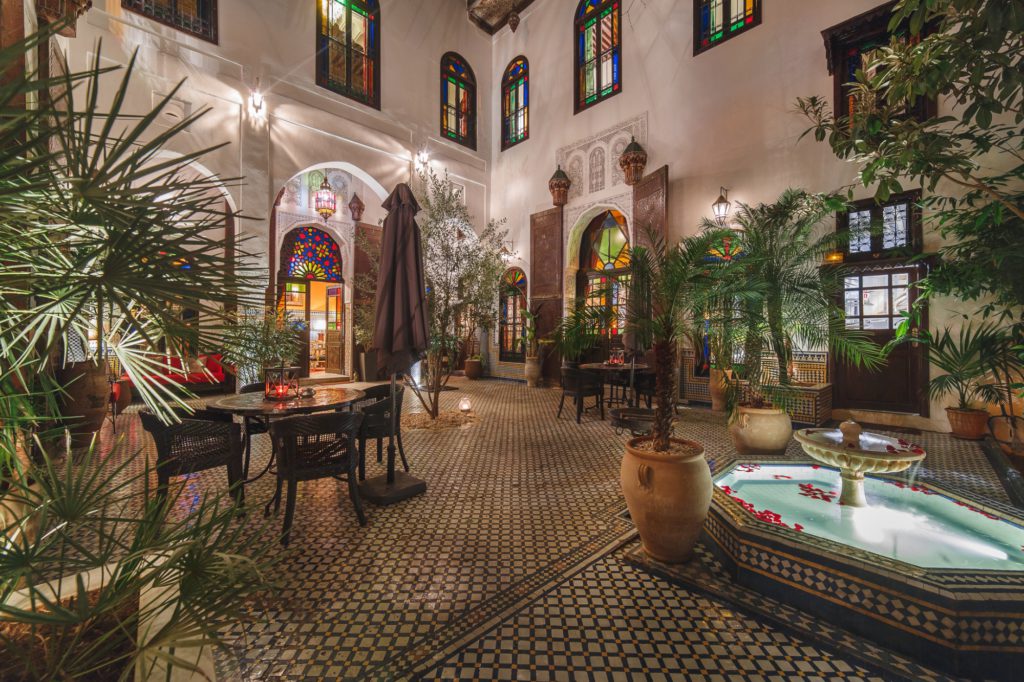 Riad Le Calife is perfectly positioned to enjoy views of the medina — it's situated right in the heart of it! All three luxury suites and four rooms overlook the patio, and terraces allow for a great vista of the old town at all times of the day. Rooms are wonderfully decorated and furnished thoughtfully with charming touches and handcrafted ornaments. You'll find plenty of hidden treasures tucked throughout this magical space.
Address:
19 Bis Derb El Ouarbiya, Fes El Bali, 35000 Fès, Morocco
Riad Laaroussa
Riad Laaroussa makes up part of an elegant 17th-century palace, and the area is a throwback to Morocco's imperial history. On-site you can enjoy the hammam — a place you can have a traditional Moroccan steam bath and spa treatment. Find Riad Laaroussa within the famous Fez medina.
Address:
3 Derb Bechara, Fes El Bali, 30000 Fès, Morocco
Riad Mayfez Suites & Spa
Riad Mayfez was built in the 19th century, close to the picturesque Boujloud Square. All rooms have a private balcony, offering lovely views of the property's large garden space. The Mayfez has an on-site spa and swimming pool, and each bedroom has been decorated to a unique theme.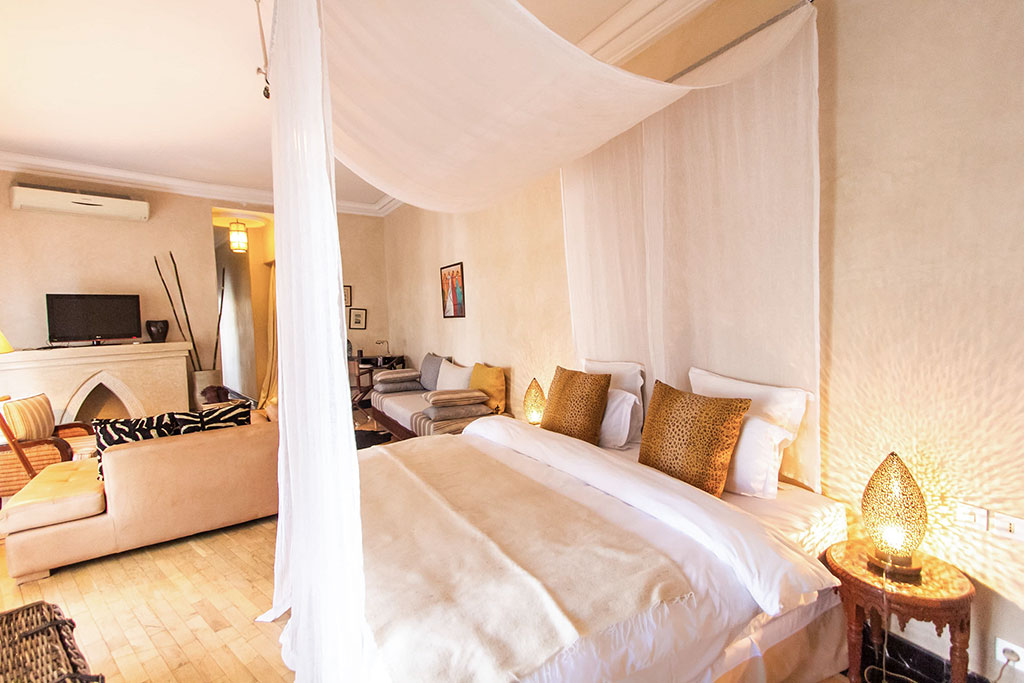 Address:
36 Rue Oued Souafine, Douh 30000 Fès, Morocco
Riads in Marrakech
Marrakech is rightly-popular for being the gateway to the Sahara Desert. It's also worth visiting as a destination in itself, being one of Morocco's liveliest cities. Marrakech has some of the country's best and most well-preserved architecture, not to mention some of the best riads in Morocco!
Riad El Mezouar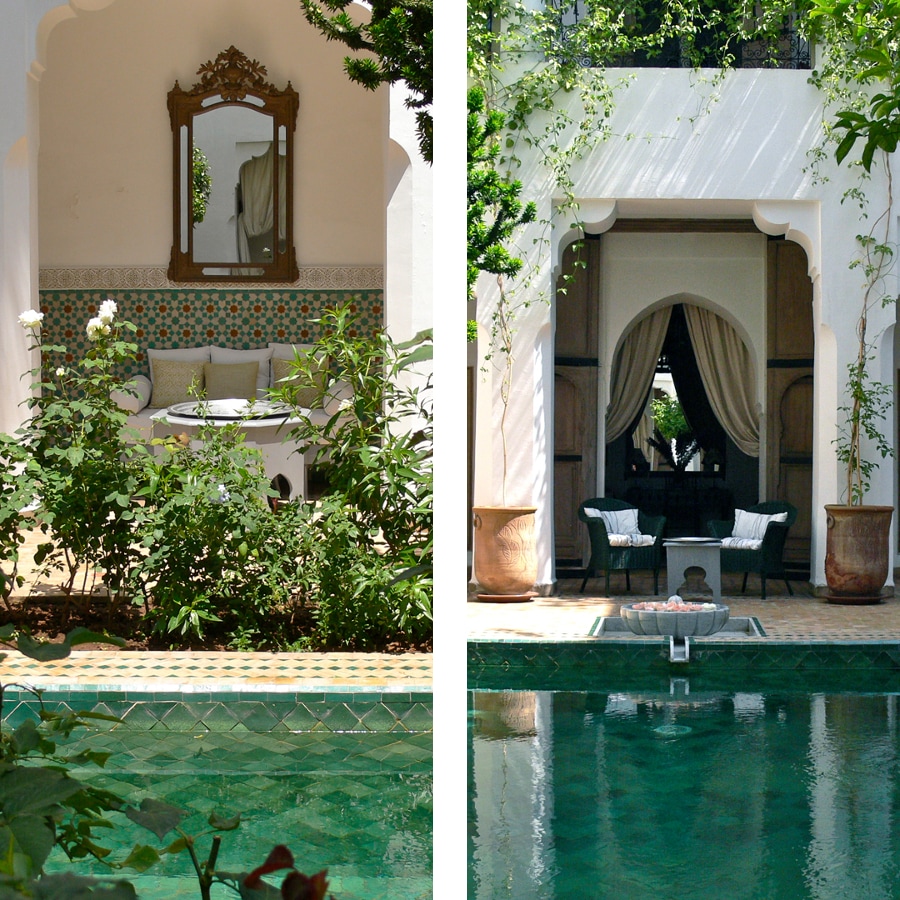 Found in the heart of Marrakech, Riad El Mezouar has a swimming pool in its outdoor courtyard and boasts a fabulous rooftop terrace, offering views of the Atlas Mountains. Within a 2-kilometer hike, you'll also find the famous Jemaâ El Fna Square and Koutoubia Mosque.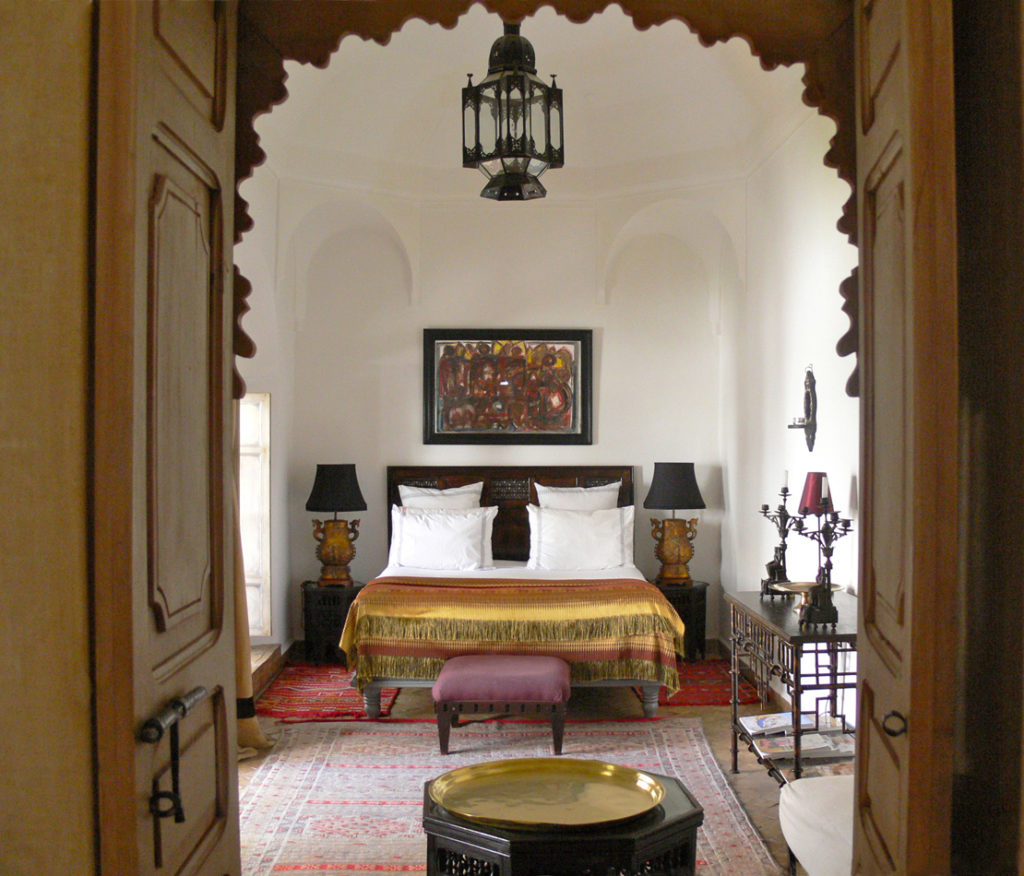 Address:
28 Derb El Hammam, Issebtinne 40000, Morocco
Riad le Clos des Arts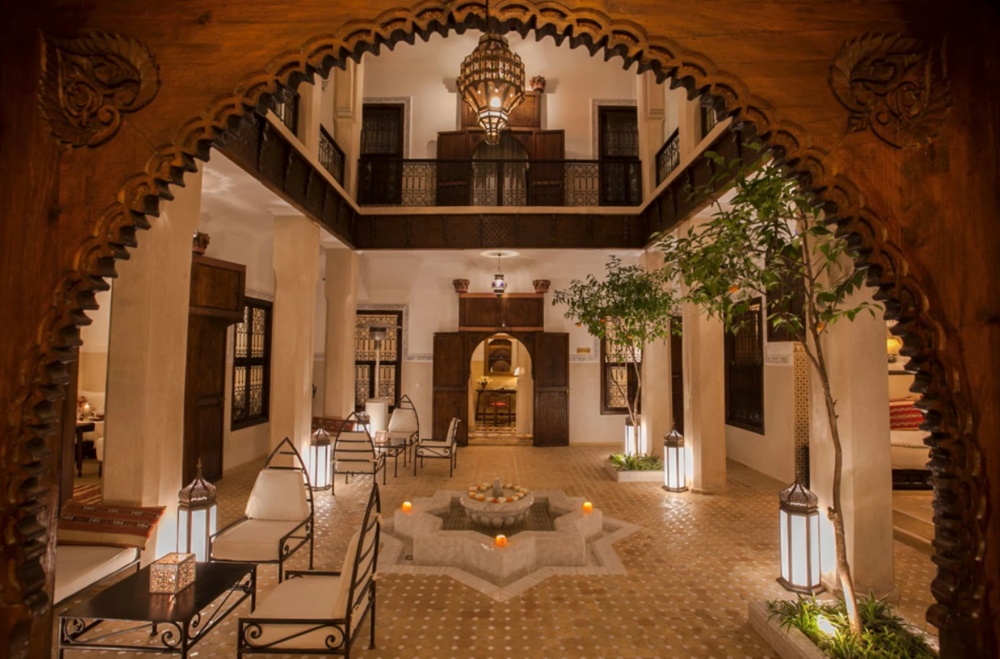 Riad le Clos des Arts boasts an open terrace with unrivaled views over the old town. You'll find a plunge pool and ample room for morning yoga classes! All nine rooms offer unique décor, reflective of the hotel's history as a place to host the buying-and-selling of artworks.
Address:
Riad Zitoune Jdid, Derb Tbib 50, Marrakesh 40000, Morocco
Riad UP
Housing just five bedrooms, Riad UP is a real taste of what living in a riad would've been like all those centuries ago. You'll find this delightful dwelling in the heart of the medina, in close proximity to all the major highlights and the airport.
Address:
Derb Boutouil N°41 Kennaria Marrakech Médina
Riads in Taroudant
Taroudant is often neglected in favour of its more famous neighbors. Some of the best places to stay in Morocco are to be found here, and it's a little quieter than the likes of Marrakech. Taroudant is surrounded by ancient city walls and steeped in Berber heritage.
Riad Jnane Ines
Riad Jnane Ines is surrounded by a large garden and the scent of lemons from all the fruit growing nearby! You'll find a wonderful wellness center at this Moroccan riad, with hammams available, alongside a pool and Jacuzzi. The largest suite at the premises has a wonderful view over the city.
Address:
Douar Ain Lamdiour, 83000 Taroudant, Morocco
Riads in Essaouira
The fishing port of Essaouira is a seafood-lover's delight, with fresh bounty served everywhere. The harbor itself is a delightful place to explore and people-watch. A little off-the-beaten-track, Essaouira truly delivers an authentic taste of the country. It's without doubt one of the best places to stay in Morocco.
Riad Perle D'Eau
The Riad Perle D'Eau offers the best of two worlds: life in the medina and the beach right on your doorstep! The hotel offers a hammam with a hot tub for relaxation, and traditional Moroccan decor can be found throughout. All rooms have either an ocean view or one of the marvelous medina.
Address:
64 Rue Koweit, Essaouira 44000, Morocco
Riads in Agadir
One of Morocco's most famous coastal destinations, Agadir has long been a popular holiday destination. Miles of white sand and clear waters offer a taste of paradise, mountains are on your doorstep, and you'll still find plenty of Berber culture and history around.
Riad des Golfs
This Moroccan riad gets its name from its location, being situated between a pair of local golf courses. An oasis of calm with a spacious outdoor pool, you'll also be just five kilometers from the beach, and is nestled within the Eucalyptus Forest. This is a great trekking area, and even better on the back of a camel!
Address:
Chemin des Français Aghrod Ben Sergao, 80100 Agadir, Morocco
Riads in Rabat
Steeped in history, you'll find Mohammed V's mausoleum in Rabat, alongside the Royal Palace, Bou Regreg River and Oudaias Kasbah. One of the best places to stay in Moroccco, Rabat is a little quieter than many of the country's tourist hotspots, making it much easier to get around and experience everything the city has to offer.
Riad Meftaha
Riad Meftaha is close to the medina and the coast, offering grand surrounds for a stay in the city. Small but perfectly formed, the décor is completed in a traditional style. Breakfast can be taken within the courtyard itself, accompanied by a gentle breeze coming in from the ocean.
Address:
15 Rue Iran, Rabat 10000, Morocco
---
We hope you've enjoyed our tour of the best places to stay in Morocco! Now all you've got to do is finalize your agenda, download a travel app or two and pack your bags! We wish you all the best on your travels and hope you enjoy every moment spent in this wonderful destination.
---
About TourHero
TourHero is a social travel platform that enables you to travel with like-minded people and fall in love with the journey. We work closely with handpicked local operators to ensure every experience curated is unique and exclusive to your travel group. Come with us on epic adventures and create memories that last a lifetime!