Embark on epic adventures in Morocco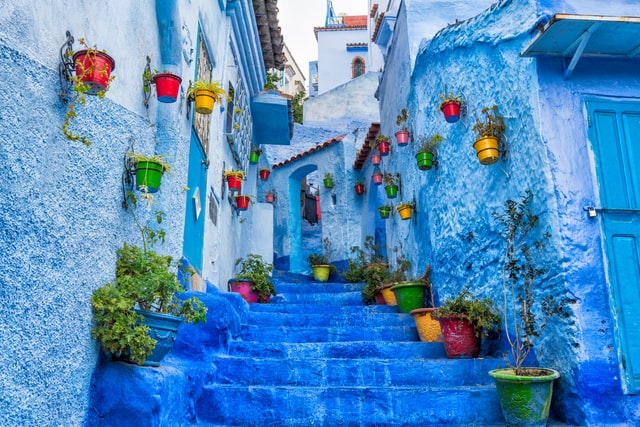 When to visit Morocco
Morocco has a varied geography, which means the climate is dependent upon your destination. Generally, there is never a bad time to travel to this incredible country, although the spring and fall tend to bring the most travelers with temperatures averaging anywhere from 18 to 23°C. The summer months from June through August face high temperatures reaching up to 45°C in the Sahara. However, cities such as Marrakech and Fez average about 32°C, which is great for spending time at your riad's pool. November through February are the winter months and typically bring cooler, chilly weather with rain, but the cities will always be bustling, as warmer temps remain throughout the day in the northern part of the country.
Peak seasons are in the spring from March through May and in the fall from September through October. These months bring consistent warm, dry weather and many European travelers who are looking to take their annual vacation. The bigger cities and more popular beaches will be busy during these times, but there is always a less-traveled option and a small beach town to explore.
While Morocco has four seasons, the days are generally warm and allow for exploring the cities and the coastline throughout the year. If you're looking to explore the cities and avoid the crowds, waiting until the winter months will get you the best deals and fewer tourists.
The low season between June and August brings hot and humid weather to the cities, but the prices drop significantly when it comes to hotels and flights. If you don't mind the heat, you can find some stellar travel deals.
If you're coming to Morocco to trek in the gorge or explore the mountains, the winter months bring significant rainfall that can make roads and mountain trails impassible. Focus on the shoulder season months of February and November to avoid the crowds and temperamental weather.
For Sahara trips, it's best to avoid the summer months, as temperatures can become stifling. The shoulder seasons offer the best times to enjoy the desert experience without discomfort.
---
Estimated flight prices from popular cities
About TourHero
TourHero is a social travel platform that enables you to travel with like-minded people and fall in love with the journey. We work closely with handpicked local operators to ensure every experience curated is unique and exclusive to your travel group. Join an epic adventure with like-minded travelers to create memories that last a lifetime.