There is no better way to see Iceland than by driving the famous Ring Road. Also known simply as Route 1, the Ring Road circles nearly the entire country (sorry, Westfjords) and serves as an important link between Iceland's major towns. More interesting for intrepid Icelandic adventurers, the Ring Road is a classic pilgrimage that allows sightseers to sample the beauty that can be found in this dreamlike place.
The sheer variety that can be experienced while driving the Ring Road is mind-boggling, and it's one of the main reasons why a visit to Iceland is so worthwhile. Misty coastal towns with sparkling cultures, lonely mountains that slowly rise out of glowing valleys, towering waterfalls returning melted glacial water to the ocean — across the Ring Road's 821 miles, you can discover new treasures at every turn. While much of the joy of exploring this route lies in the surprises that await you, it's key to have a few landmarks on your list before you set off. Here are 11 of the must-see sights either directly on or a short detour off of Iceland's Ring Road.
Fagradalsfjall
Thanks to the eruptions in 2021 and 2022, Fagradalsfjall became one of the most famous volcanoes in the world. While red-hot lava might not be pouring out of it by the time you read this, Fagradalsfjall is still an incredibly worthy visit on your tour of the Ring Road. If you happen to stop by when there's not an eruption going on, you'll still get to hike along impressive solidified lava fields — black igneous rock frozen in time, a signifier of Iceland's elemental power.
Fagradalsfjall isn't directly on the Ring Road, but it's a short detour. It's less than an hour outside of the city of Reykjavík, and access is made simple thanks to large parking lots and a few hiking trails to pick from. Trekking just a few miles will reward you with incredible views, making this an easy choice if you're just beginning your Ring Road journey or returning to the Reykjavík area after traveling across the country.
Kirkjufell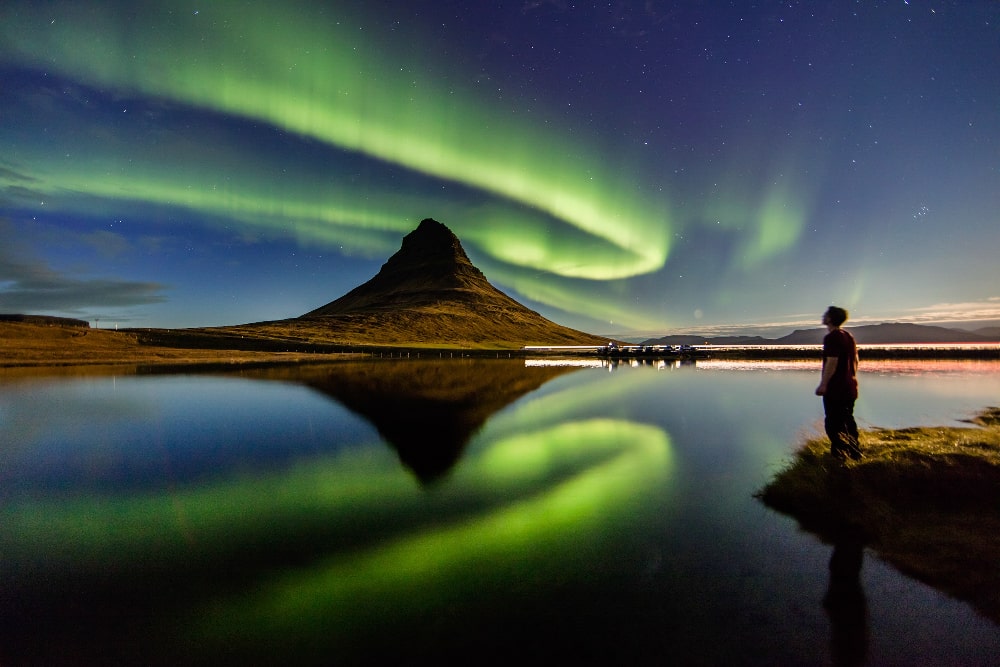 The Snæfellsnes peninsula in western Iceland is an underrated part of the country that can be easily visited while traveling along the Ring Road. Natural wonders like the Snæfellsjökull volcano and the Ytri Tunga beach are found here, but the real draw is Kirkjufell. This incredible mountain is one of the most iconic and beautiful in all of Iceland. Its proximity to the road (no hiking required!) and ridiculously photogenic nature make it a no-brainer. Oh, and let's not forget that Kirkjufell was a filming location for Game of Thrones!
Of course, no stop at Kirkjufell would be complete without also viewing the stunning Kirkjufellsfoss waterfall. Once you're through snapping some pictures of both, spend some time hanging out in the traditional town of Grundarfjörður before continuing on your journey.
Hvitserkur
The northern coast of Iceland is home to a moody monolith that just needs to be seen to be believed. The Hvitserkur sea stack rises from the ocean in a manner that is both powerful and delicate, with a shape that resembles a dragon or some other mythical creature arching down into the water for a drink. In fact, legend has it that Hvitserkur is actually a belligerent troll that was turned into stone by the sunlight. We'll leave it up to you to decide whether that's true or not, but a definite air of ancient mystery surrounds this geological oddity.
When visiting Hvitserkur, you can opt to view it from above or to walk down a hill to the beach for a closer look. If you do head down to the water, just be mindful of both the tide and the birds, the latter of which are known to be cantankerous. Although this is a relatively popular attraction, you can still often find a moment of solitude by the ocean thanks to the fact that it's slightly off the beaten path.
Reykjafoss
If there's one thing you should know about Iceland, it's that it is absolutely filled with waterfalls. Seriously — some estimates say that there could be as many as 10,000 waterfalls on this humble island. Reykjafoss is one of the many hidden gems on this long list. That means it's the ideal spot to ditch the crowds while still reveling in the sheer beauty of Iceland's water cycle.
Reykjafoss, contrary to the name, isn't near Reykjavík. It's actually in northern Iceland near the tiny village of Varmahlíð. It's a quick stop as you drive towards the city of Akureyri, though you might go right past it if you didn't know it was there, as it's comfortably tucked away in verdant farmland. The waterfall checks in at around 20 meters high and cascades down in a series of detailed rivulets that are absolutely hypnotizing. It's not Iceland's largest or most popular waterfall, but it's certainly one of the most underrated.
Tjörnes
The area that surrounds the Tjörnes peninsula in northern Iceland has many claims to fame: sea views that stretch towards infinity, opportunities for whale watching, and rocky cliffs that rise lightly from the beaches below. For our money, though, the most exciting part about Tjörnes is the opportunity to see puffins. During the summer, countless puffins flock to this area of Iceland, creating a cloud of black and white over the ocean.
There are multiple lookouts where you'll have the chance to see puffins here. Asking around in the nearby town of Húsavík is a great way to find the most active spots, but a visit to the beautiful Tjörnes Lighthouse is a solid choice no matter what. If you're lucky, you'll be able to watch massive groups of these rare avians wave their wings above the waves. Don't forget your camera!
Ásbyrgi
Yet another reason to spend some time exploring the northern reaches of Iceland, Ásbyrgi is a canyon that offers a look into Iceland's geological and cultural history. Formed by glacial movement thousands of years ago, folklore has flourished here for generations. It's impossible not to feel the imprint of the past while exploring Ásbyrgi.
Aside from this, though, there are plenty of reasons to head to Ásbyrgi on your Icelandic odyssey. It's a rare oasis of trees in a notoriously barren country. There are also plenty of hiking paths throughout the area, some of which trace along the canyon floor and others that climb to the top and offer a bird's-eye view. Finally, Ásbyrgi is just an ancient Icelandic stone's throw away from Dettifoss, one of the finest waterfalls in Iceland.
Hljóðaklettar (Echo Rocks)
Hljóðaklettar. Say that 10 times fast. Or you can just say Echo Rocks, if that's easier. No matter what you call this spot, any visit here is bound to leave you with your mind bent like so much putty. This is thanks to the massive basalt towers that seem to completely defy logic. The stone forms with mathematical precision, creating intricate patterns of interlocking geometric columns that rise towards the sky. It's confoundingly beautiful.
One of the main highlights of Hljóðaklettar is undoubtedly Kirkjan, a basalt cave that you can walk right into and explore. It's named after its resemblance to a church, and it's easy to feel a spiritual connection to this uncanny and totally unique formation. Various hiking trails allow you to navigate between columns, caves, and hills, all while next to a roaring river. In other words: Icelandic bliss.
Seyðisfjörður
As you roll into the east side of Iceland, you'll drive directly through a town called Egilsstaðir. Just a short (and very scenic) trip from here is Seyðisfjörður, a tiny community that sits on the edge of a gorgeous, glassy fjord. Life here is quiet, and you won't find the kinds of attractions crowded by large groups of tourists like you might in a place like Reykjavík. That's kinda the point of visiting Seyðisfjörður, though: it's the perfect place to experience the authentic day-to-day life of Iceland.
That's not to say that there's nothing to do in Seyðisfjörður, though. The town is renowned for its strong art scene, so definitely make sure to visit the Skaftfell Center for Visual Art and check in on the happenings at the local LungA School. The beautiful church in town is also worth a stop, with a multi-colored road leading to it that makes for a perfect photo-op. If you're looking for a taste of true Icelandic culture, a day spent exploring the charms of Seyðisfjörður won't disappoint you. Don't forget to sample some local food while here!
Jökulsárlón and Diamond Beach
The twin attractions of Jökulsárlón and Diamond Beach are definite must-sees as you drive along the rolling hills of southern Iceland. With views of Vatnajökull in the distance, both areas offer the chance to watch icebergs float through the water and out into the ocean.
Jökulsárlón, which translates to glacial river lagoon, is a lake absolutely filled with huge icebergs that glitter in the sunlight. They can be observed for free from the shore, or you can opt for a tour aboard an amphibious vehicle that drives directly into the water. Diamond Beach, which is found just on the other side of the road from Jökulsárlón, is the section of the coast where the ice from the lake can be seen drifting out to sea. Large chunks of glacial ice will often wash up on the beach here, giving you a chance to get up close and personal with the area's frigid beauty.
Fjaðrárgljúfur
Fjaðrárgljúfur may not be the easiest word to pronounce, but it is certainly one of the most striking locations in all of Iceland. A deep canyon carved by a flowing river over the course of thousands of years, Fjaðrárgljúfur twists and dives through the landscape with dizzying curvature. Rocky cliffs and gentle waterfalls can be found throughout the canyon, and the moss that coats the entire area seems to glow with some kind of primordial energy. It's breathtaking.
Visitors can explore Fjaðrárgljúfur's beauty via a hiking trail that walks along the top of the canyon. The 2-kilometer trek is quick and easy, but you'll want to take your time. Trust us when we say that you'll want tons of photos to remember this incredible location. Just make sure to stay on the trail and not follow in Justin Bieber's footsteps by trampling on sensitive vegetation. Yeah, that actually happened.
Seljavallalaug
Deep in the mountains of southern Iceland is Seljavallalaug, a swimming pool with utterly unbelievable views. Calm, grassy hills rise above the pool while a river rushes down below. It's a spot that offers true tranquility… depending on when you go. It's definitely popular with tourists, but if you time your visit correctly (like in the early morning, for instance), you can dodge the crowds and appreciate this spot on your own.
Beyond the scenery, Seljavallalaug earns a spot on this list thanks to the fact that it's one of the few swimming pools in Iceland that exists without any infrastructure. While this means you will be using it at your own risk, it gives the pool a unique feeling of being part of the landscape. That also means it's totally free to visit it and go for a swim. Free stuff is always good.
---
About TourHero
TourHero is a social travel platform that enables you to travel with like-minded people and fall in love with the journey. We work closely with handpicked local operators to ensure every experience curated is unique and exclusive to your travel group. Come with us on epic adventures and create memories that last a lifetime!