Malaysia is a diverse country located in Southeast Asia known for its melting pot of races and cultures. Apart from its lush rainforests, pristine beaches, and cosmopolitan cities, Malaysia is famous for its delicious cuisine. From KL to Penang, Malaysian cuisine is influenced by a mix of Malay, Chinese, Indian and European influences, lending to a wide variety of tantalizing delights found across the country.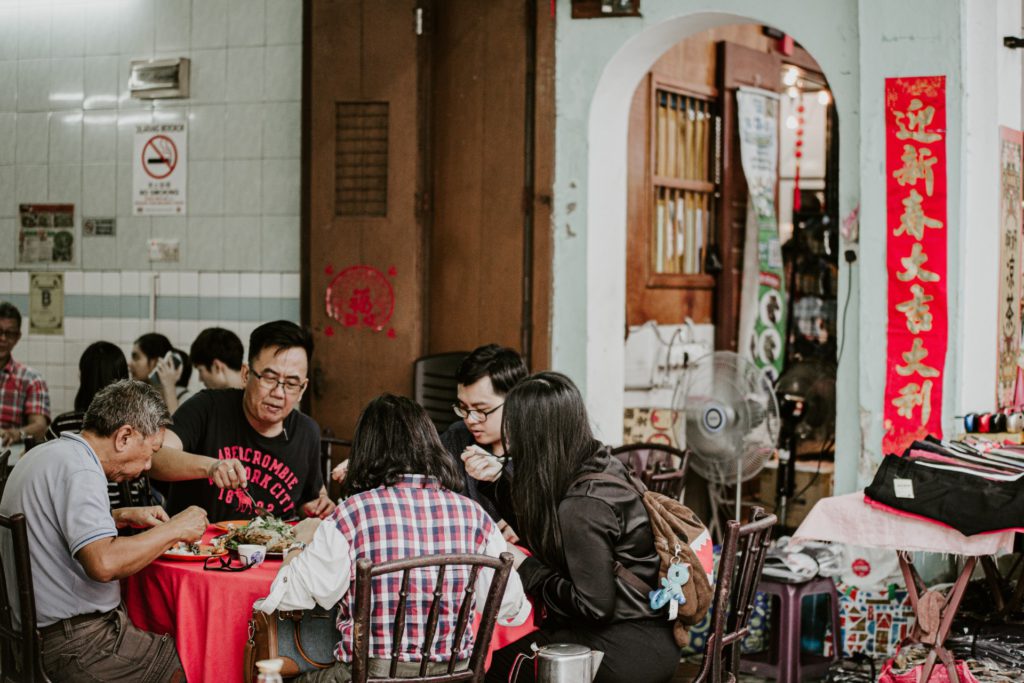 This road trip begins at the capital city of Kuala Lumpur, followed by a visit to Ipoh, and finally, ending the trip at the gastronomical heaven of George Town, Penang. All the way from KL to Penang, we have carefully curated a selection of mouth-watering food recommendations unique to each destination. We hope you're hungry because it's time to feast!
Kuala Lumpur
KL to Penang | 4 hours 5 minutes | 362 kilometers
We begin at the ultimate food road trip in the bustling and vibrant capital city of Malaysia, Kuala Lumpur. Find the perfect mix of the modern and traditional right here – from the world's tallest twin skyscrapers, the Petronas Twin Towers to the historical Masjid Jamek Mosque, Kuala Lumpur presents the best of both worlds.
No trip to Kuala Lumpur is without a taste of authentic Malaysian cuisine. With an array of street hawker stalls, indie cafes, and Michelin-starred restaurants atop skyscrapers, Kuala Lumpur has something for everyone in this food lover's paradise. Here are some of our top picks for the best places to have your fill, yum!
Bak Kut Teh
Location: Minji Bak Kut Teh 铭记肉骨茶 (formerly known as Bing Kee Bak Kut Teh)
7-6, Jalan Sungai Besi, Pudu, 57100 Kuala Lumpur, Wilayah Persekutuan Kuala Lumpur, Malaysia
Reserved parking for customers
Indulge in fall-off-the-bone pork ribs soaked in a rich broth of pure goodness. Minji Bak Kut Teh proudly serves its customers some of the best Bak Kut Teh in Kuala Lumpur, its recipe perfected and passed down by generations. Other than its highly popular Bak Kut Teh, Minji Bak Kut Teh also offers a variety of other dishes such as braised pork knuckle, claypot pork belly, herbal soups, and many more. Here's an insider's tip: free soup refills are available here so don't be afraid to ask!
Banana Leaf Briyani
Location: Sri Nirwana Maju Restaurant @ Bangsar
43, Jalan Telawi 3, Bangsar, 59100 Kuala Lumpur, Wilayah Persekutuan Kuala Lumpur, Malaysia
Expect to have difficulty parking due to low availability of parking lots

Go bananas over banana leaf briyani! This highly popular lunch spot sees queues right around midday so be sure to get there early or be prepared to wait. Start off with basmati rice doused with a flavorful curry and a side of meat, choose between lamb, beef, chicken, seafood, and even a vegetarian option – all this served over banana leaves. We recommend ordering the fried tenggiri (Spanish mackerel) and bitter gourd to top off your meal. Finally, end this scrumptious meal with a cold, tall glass of mango lassi.
Nasi Lemak
Location: Nasi Lemak Angah
Pasar Batu 2 1/2 Ipoh, Jalan Sultan Azlan Shah, Sentul, 51200 Kuala Lumpur, Federal Territory of Kuala Lumpur, Malaysia
No information on parking
The nasi lemak here is truly sedap! This quaint and cozy place has been touted to serve some of the most authentic nasi lemak you can find in Kuala Lumpur. Nasi Lemak Angah is run by Angah and his wife. The duo has been selling their nasi lemak since 2009, making them one of the go-to places to get your fix of this classic Malaysian dish.
The true star of the Nasi Lemak at Nasi Lemak Angah is the hot and spicy sambal. From the sambal sotong (squid) to the sambal paru (lung), each sambal paste is meticulously customized for the protein that it is paired with. End your meal with a frothy cup of teh tarik!
Hokkien Mee
Location: Kedai Kopi dan Makanan Ming Hoe Hokkien Mee 民和茶餐室
Jalan Suppiah Pillay, 3rd Mile Jalan Ipoh, 51200 Kuala Lumpur, Wilayah Persekutuan Kuala Lumpur, Malaysia
Expect to have difficulty parking due to low availability of parking lots
This unassuming restaurant is often packed with hungry customers right up until closing time. The star of the show is the Hokkien mee here – silky thick noodles drenched in a sweet soya sauce, served with a generous portion of fried pork lard and most importantly, full of wok hei. Hokkien mee is a unique Malaysian dish that differs across regions, read on to find out about our other Hokkien mee recommendation that is completely different than this one found here in Kuala Lumpur.
We recommend that you also order their variety of side dishes here – fried fish cakes, steamed lala, fried fish, stir fried vegetables and many more.
Goreng Pisang
Location: Brickfield's Pisang Goreng
Opposite YMCA, in front of One Sentral Restaurant. 95, Jalan Padang Belia, 55100 Brickfields, Kuala Lumpur
No information on parking
Eat your way through Kuala Lumpur! Finish off your day at Brickfield's Pisang Goreng. This roadside store serves up some of the most fragrant and golden banana fritters. These fritters are freshly fried on the spot, leaving you with a piping hot and melt-in-your-mouth experience that makes you crave for more. Expect a queue!
Mr Chiam has helmed this stall for more than 10 years, skillfully serving his loyal customers who keep coming back. Other than the signature banana fritters, the fried nian gao, bola bijan, and curry puff which are also equally as mouth-watering.
Ipoh, Perak
KL to Ipoh | 2 hours 20 minutes | 205 kilometers
Right along your journey from Kuala Lumpur to Penang is Ipoh, the capital city of Perak. Originally a village, the city of Ipoh has rapidly expanded to become the unique and lively city it is today.
Present-day Ipoh is well-loved and well visited by many tourists and locals. From its original British colonial-era architecture to some of the largest limestone caves in Malaysia, a trip to Ipoh promises adventure and excitement. Ipoh even has some of the most luxurious nature resorts in Malaysia, perfect for a weekend getaway.
Like the city's diverse landmarks and attractions, Ipoh is also known for its significant food culture featuring Malay, Chinese, and Indian cuisine. Get a taste of multicultural Malaysia right here in Ipoh!
Ipoh White Coffee
Location: Kedai Kopi Sin Yoon Loong
15A, Jalan Bandar Timah, 30000 Ipoh, Negeri Perak, Malaysia
Expect to have difficulty parking due to low availability of parking lots
No visit to Ipoh is complete without Ipoh's signature white coffee. This coffeeshop retains its unique old school charm and draws throngs of crowds for breakfast. Start your morning with your caffeine fix of their Ipoh white coffee which strikes the perfect balance of sweetness and bitterness. This breakfast spot also serves up an authentic Malaysia breakfast of poached eggs and toast. If you like your eggs runny, try the roti goyang for breakfast (poached eggs on top of toast).
Chicken Hor Fun (Kai See Hor Fun)
Location: Restoran Ipoh Kong Heng
75, Jalan Bandar Timah, 30000 Ipoh, Negeri Perak, Malaysia
Expect to have difficulty parking due to low availability of parking lots
An old school coffee shop, Restoran Ipoh Kong Heng has provided locals and tourists alike with authentic and delicious Ipoh cuisine. Its signature shredded chicken hor fun has a light and hearty broth that is topped off with sweet chicken meat. In addition, this coffee shop also features other must-try Ipoh dishes such as polo buns, popiah and of course, the quintessential Ipoh white coffee.
Chicken Rice and Beansprouts (Tau Geh)
Location: Ipoh Restoran Tauge Ayam Lou Wong
49, Jalan Yau Tet Shin, Taman Jubilee, 30000 Ipoh, Negeri Perak, Malaysia
No information on parking
With many proclaiming this to be some of the best chicken rice in town, Restoran Tauge Ayam Lou Wong definitely does not disappoint. Located in the heart of Ipoh Old Town, this restaurant has perfected the art of preparing its soft and succulent steamed chicken. Its all star dish is the chicken rice. Don't let its seemingly bland appearance fool you, the chicken rice is chockfull of flavors, lovingly prepared by a recipe that has been passed down for generations.
Another star dish that has been on the menu since its opening in 1957 is the stir-fried beansprouts. These beansprouts are crunchy, fragrant, and juicy, a matchmade in heaven when enjoyed with the chicken rice. Be sure to pay this local establishment a visit when you stop over in Ipoh!
Egg Custard
Location: Restoran Thean Chun (天津饮冰室)
73, Jalan Bandar Timah, 31650 Ipoh, Negeri Perak, Malaysia
Expect to have difficulty parking due to low availability of parking lots
You can find some of Ipoh's best caramel egg custard here in Restoran Thean Chun. The egg custard served here is not too sweet, smooth, and a perfect pairing with Ipoh white coffee. Similar to flan or purin in other regions of the world, this wobbly egg custard is a reflection of Malaysia's rich history.
Other than its signature egg custard, Restoran Thean Chun is also popular for its chicken hor fun, chee cheong fun, and wuyi egg tea. This unique and local coffeeshop has also retained its historic traditional kopitiam style interior, great for Instagram!
Heong Peah
Location: 362 Heong Peah 炭烧香饼
362 Jalan Gunung Rapat, Ipoh 31350 Malaysia
Available parking nearby
This unexpected village house may seem unassuming on the outside but it is in fact an incredible traditional bakery. Step in to discover the owner's meticulously patting and rolling dough in preparation for the next batch of Heong Peah. Heong Peah is a crispy and flaky Malaysian pastry, often filled with layers of caramel that oozes out with every bite. Best served hot, tasting a fresh-out-of-the-oven Heong Peah here is to die for.
362 Hong Peah retains its authenticity by baking their pastries in a traditional hot kiln. The elderly couple that runs this bakery is spectacular to look at when they dive into the kiln to place the row hong peah on the blazing hot walls of the kiln fired by charcoal and coconut shells.
Nasi Kandar
Location: Restoran Nasi Vanggey
2 Jalan Yang Kalsom Greentown Business Centre, Ipoh 30300 Malaysia
Expect to have difficulty parking due to low availability of parking lots
You've probably noticed the sheer diversity of Malaysian food. From Chinese chicken rice to the European influenced egg custard, Malaysian cuisine has it all. This simply Malay dish packs a punch in flavor. A simple nasi kandar is usually served with crispy oily chicken and a mix of curry and sauce doused over the rice. If you are a fan of spicy food, nasi kandar is assured to hit the spot!
George Town, Penang
Ipoh to George Town | 1 hours 52 minutes | 157 kilometers
The colorful city of George Town, Penang, may be the last stop of the ultimate KL to Penang food road trip but it is home to some of the best cuisine and sights you can find in Malaysia. Since 2008, the historical center of George Town has been inscribed as a UNESCO World Heritage Site. George Town contains one of the largest collections of pre-war buildings in Southeast Asia with historical places of worship such as St. George's Church and the Kapitan Keling Mosque and historic landmarks like Fort Cornwallis and City Hall.
George Town has also been dubbed as the gastronomical capital of Malaysia. Penang is known for its ubiquitous street food culture that features an assortment of cuisines hailing from a multitude of different cultures and traditions, such as the Peranakans. We hope you are hungry for this crazy culinary adventure!
Laksa
Location: Penang Road Famous Laksa
5, Lebuh Keng Kwee, George Town, 10100 George Town, Pulau Pinang, Malaysia
No information on parking available
This classic Penang dish is a must try when you visit George Town. Also known assam laksa, the key element to this dish is the spicy seafood broth that is prepared daily hours before the street stall opens. The tongue tingling spices are cleverly contrasted with cooling cucumber, onions and pineapples served over springy boiled rice noodles. Penang Road Famous Laksa serves the perfect trio of flavors of spiciness, fishiness and freshness.
If you've tried the Singapore-style laksa, be sure to give this version a try!
Chendul
Location: Penang Road Famous Teochew Chendul
42, Lebuh Keng Kwee, George Town, 10100 George Town, Pulau Pinang, Malaysia+60 4-262 6002
No information on parking available
Cool off with an ice-cold bowl of chendul. Located right around Penang Road Famous Laksa, this no-fuss dessert is skillfully made with lightning speed by the stall's elderly owner so don't let the long queues deter you. This iced sweet dessert contains droplets of freshly-made green rice flour jelly, coconut milk, and palm sugar syrup. Penang Road Famous Teochew Chendul has been so popular that it has expanded into a franchise across Malaysia and Singapore. Make sure to give this original street food stall a try!
Char Kway Teow
Location: Tiger Char Koay Teow
179, Lebuh Carnarvon, George Town, 10450 George Town, Pulau Pinang, Malaysia
No information on parking available
Full of wok hei, Tiger Char Kway Teow has the perfect umami flavors that combine big juicy prawns, lup cheong, and flat rice noodles. What makes Tiger Char Kway Teow unique is that it is one of the few stalls that provide a duck egg alternative which is touted to be more flavorful in taste. Tiger Char Kway Teow also offers a premium option with scallops and abaolne, fit for the fancy!
Nonya Cuisine
Location: Bibik's Kitchen Nyonya Cuisine
73, Jalan Sri Bahari, George Town, 10050 George Town, Pulau Pinang, Malaysia
No information on parking available
Nestled in the heart of the George Town UNESCO World Heritage Site, Bibik's Kitchen has become a household name for serving authentic nonya cuisine, a true reflection of Penang's unique cultural influences. Perfect for sharing, some of their must-try dishes include ayam rendang, sambal prawn, cincalok pork and buah keluak. If you are a fan of coconut and palm sugar, try the bubur cha cha and the sago gula melaka. This absolute gem is bound to put a smile on your face!
Hokkien Mee
Location: 888 Hokkien Mee
67-A, Lebuh Presgrave, 10300 George Town, Pulau Pinang, Malaysia
No information on parking available
888 Hokkien Mee is guaranteed to live up to its hype with a steamy bowl of decadent prawn broth topped with a generous serving of pork belly and fried shallots. We recommend asking for a side of crispy pork belly to complete your dish! In addition to Hokkien mee, this coffeeshop also serves osyter omelette that is also a classic Pengang dish.
As seen above, the Hokkien mee here is vastly different from that of Ming Hoe Hokkien Mee in Kuala Lumpur, highlighting the diverse races and ethnicities that make up Malaysia. Eat your way through Malaysia to truly experience this melting pot of cultures!
---
About TourHero
TourHero is a social travel platform that enables you to travel with like-minded people and fall in love with the journey. We work closely with handpicked local operators to ensure every experience curated is unique and exclusive to your travel group. Come with us on epic adventures and create memories that last a lifetime!