Iceland is home to some of the world's most active volcanos, majestic valleys, and breathtaking fjords. Located on the Mid–Atlantic Ridge, the boundary of the North American and Eurasian tectonic plates, Iceland has become an increasingly popular tourist destination over the years. In fact, almost two million tourists visited Iceland in 2019! With its stunning landscapes, it's easy to see why so many people make annual travel plans to this incredible country.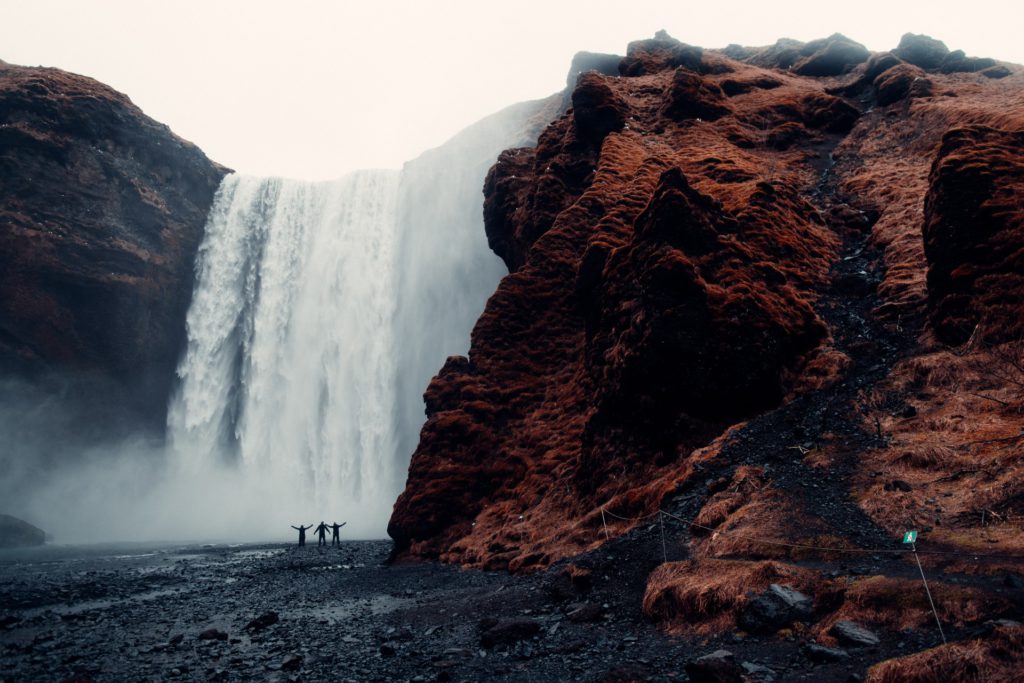 On June 15, Iceland will open its borders to all travelers. From this date, passengers can opt for a COVID-19 test upon arrival, as an alternative to quarantine. Apart from maintaining social distancing measures, travelers are also encouraged to download and use the COVID-19 app Rakning C-19. The app contains important information on COVID-19 and how to contact the health care service. Today, thousands of tourists have already made bookings to Iceland.
With the easing travel restrictions, we cannot wait to pack our bags to jet set to Iceland! We've uncovered some of the best things to do around five hidden towns in Iceland to help you maintain social distance when planning your Iceland travel itinerary. Explore the towns of Vík í mýrdal, Akureyri, Húsavík, Siglufjörð and Ísafjörður. Steer clear from the crowds in Reykjavík and keep these wondrous locations to yourself.
Vík í Mýrdal, or Vik, is the southernmost village on mainland Iceland. Vik is the only town around for over 50 kilometers in each direction and has become an important local retail and service center for tourists on the road. Many tourists make Vik and essential visit on their Iceland travel plans to rest after a long day of being on the road.
The vicinity of Vik is home to spectacular sights of gorgeous black sand beaches and incredible rock formations so be sure to keep your eyes peeled as you make Vik one of your road trip stopovers.
Vík í mýrdal Church: Located on the top of a hill overlooking the village of Vik is Vík í mýrdal Church. This church is a great vantage point for an incredible sunrise during the day and a great spot for viewing the northern lights at night. This simple but mighty church is thought to be the only building in the village that would survive a flash flood of melted ice caused by a volcanic eruption. Therefore, during emergency drills, the people of Vik are taught to scale the hill at the first sign of a volcanic eruption.
Reynisfjara: Ever seen a photograph of a black sand beach that spans endlessly? Well, wait no further! Reynisfjara is one of the world's most photographed black sand beaches. Expect shiny black pebbles and stones instead of fine white sand normally seen on tropical beaches. These little pebbles are formed by lava flowing cooling immediately as it flows into the ocean, giving the beach its deep black basalt color.
Be warned! The waves at the beach can be extremely powerful and dangerous. Be sure to keep clear of the coastline when the currents are strong.
Reynisdrangar: Black sand is not the only thing that you will be able to spot at the beach. Emerging from the depths of the sea are these basalt cliffs that rise up to 66 meters high.
Legend has it the Reynisdrangar formations were two trolls that turned into stone. There are many renditions of this legend. Some say that the trolls were frozen in the sunlight as they were pulling out a capsized ship from the sea. Others say that a free–spirited wife found a home amongst the trolls as her husband could not provide for her.
Akureyri
Akureyri is Iceland's second–largest town located in northern Iceland. With some calling Akureyri the "Capital of the North", it is a charming place to explore. Home to some of the best sights and things to do all year round, you'll want to take a day or two when stopping over at this town. You won't be disappointed!
Akureyri Church: The Akureyri Church, located in the heart of the city, is the symbol of Akureyri. The church was designed by the famous architect Gudjon Samuelsson. This Icelandic architect designed many iconic buildings across Iceland including the Hallgrim's Church located in Reykjavík.
Enter the church to catch a glimpse of a 3200–pipe organ that takes center stage of the interior of the church. Don't forget to look at the details! Lovely tile work and gorgeous stained glass windows that once formed a part of a set originating from England now sit in this church!
Akureyri Botanical Garden: The Akureyri Botanical Garden is the world's northernmost botanical garden, sitting just 50 kilometers shy of the Arctic Circle. The garden features over 7,000 species of plants, 400 of them native Icelandic species.
Open between the months of June and September, visit the Akureyri Botanical Garden to catch a beautiful display of colors that showcase arctic and alpine gardens rarely found elsewhere. If you are looking for a quiet oasis after a long drive, this is a great place to be! Entrance and parking are free.
Mývatn Nature Baths: Duck away from the touristy crowds at the Blue Lagoon and visit the Mývatn Nature Baths instead! Geothermal hot springs are a common sight across Iceland and many locals and tourists like to rest their tired legs after hiking in these magical pools of hot spring baths.
Natural geothermal water is sourced from the surroundings and is used to fill the Mývatn Nature Baths. This natural water comprises of minerals and algae that turn blue when light hits the water, giving the baths its alluring hue. The minerals and algae in the water are thought to have healing properties that help skin problems.
Húsavík
Make an hour's trip from Akureyri and transport yourself to the whale watching capital of Iceland. Húsavík is located in the north, nestled on the edge of Skjálfandi Bay. This coastal town is known for its perfect conditions to catch the gentle giants of the sea.
Apart from incredible whale watching experiences, Húsavík is also an important location in Icelandic history. It is the oldest settlement in Iceland, with the Húsavík church being the first place in the country to be settled in 870 AD.
Whale watching: Many come to Húsavík to catch sight of incredible whales that live in the surrounding waters. The bay area surrounding Húsavík is a thriving ecosystem of marine life, making Húsavík the best place to add to your Iceland travel plans if you want to have some of the best whale watching adventures in Iceland.
Commonly found in the Icelandic waters are humpback whales, minke, white–beaked dolphins, and the harbor porpoise. Altogether, there have been over 20 different whale species spotted in the bay area. Another frequent visitor in these Icelandic waters is the blue whale, the largest known animal to have existed on Earth. Be sure to keep your eyes peeled to catch a glimpse of these breathtaking beauties!
Húsavík Whale Museum: The Húsavík Whale Museum is one of the only museums dedicated to whales in the world. This museum first started out as a small exhibition in a hotel in 1997. Today, it houses over 10 different whale skeletons including a massive 25–meter long skeleton of a blue whale. The museum is great for kids and adults alike, making a visit an excellent activity after a wonderful day of whale watching at the bay!
Puffin Island: Off the coast of Húsavík is a small island called Lundey, fondly known as Puffin Island. More than 60% of the world's Atlantic puffin population find a home on Iceland, with over eight million of them inhabiting the country every summer. Fancy bird watching? Read our article on New Zealand's unique birds here.
Set sail to Puffin Island to catch many of them deep diving and swimming in the Icelandic waters for fish. Whale watching companies departing from Húsavík offer combined puffin tours so be sure to enquire when you make your Iceland travel plans!
Siglufjörð
Travelers who make a stop at Siglufjörð will not be disappointed. Siglufjörð is a small fishing town located in northern Iceland. Previously benefitting from the boom of the herring industry in Iceland, the town still remains dependent on fishing industries, Siglufjörð having one of Iceland's best harbors.
This hidden town is a must–visit when making your Iceland travel plans as it is located in an area of natural beauty. Coupled with the town's flourishing cultural life such as the annual Folk Music Festival, there is always something to see and do when you visit Siglufjörð!
Héðinsfjarðarvatn Lake: Héðinsfjörður is nearly 6 kilometers long. It is the northernmost fjord on the Tröllaskagi area. Many hiking trails of varying difficulties lead to the picturesque Héðinsfjarðarvatn Lake. You will find plenty of wildlife here, making this a great spot for trying your hand at fishing. Catch everything from cod to haddock to saithe, and even halibut! If you prefer bird watching, the surrounding area is home to some 2,000 birds, featuring 16 to 18 different species usually found in the summer.
Herring Era Museum: The Herring Era Museum is Iceland's largest maritime museum. Specializing in the history of herring fisheries in Iceland, this award–winning museum takes its guests on a journey throughout the history of Iceland's important fishing heritage. The museum features interactive exhibitions for families and is definitely worth a visit if you are in Siglufjörð.
Ísafjörður
Ísafjörður is a town in the northwest of Iceland. Like the town of Héðinsfjörður, fishing has been the main industry in Ísafjörður with the town boasting one of the largest fisheries in Iceland. Due to the decline in the fish population, Ísafjörður has slowly transformed into a hub for tourists that enjoy the surrounding uninhabited wilderness. You will be able to find a hospital, a library, a university center, and the only gymnasium located in Westfjords.
Naustahvilft – The Troll's Seat: Known as "the troll's seat", this scenic landscape features flat–topped mountains that surround the fjord. Legend has it that a troll had been hurrying home to avoid the sun turning her into stone. When she arrived home, she rested her feet in the fjord. The town of Ísafjörður was nestled between her feet, thus transforming the area into a troll's seat!
Getting to Naustahvilft is a short hike from the town of Ísafjörður. Don't forget to sign at the registry when you hike to the top and, of course, admire the magnificent view of Ísafjörður from above.
Rauðasandur: Rauðasandur is a breathtaking sand beach located in the Westfjords. This beach is famous for having golden sand instead of the usual black sand found at most beaches in Iceland. This is also a popular location for bird watching. Rauðasandur beach is located next to Látrabjarg, Europe's highest bird watching cliffs.
Dynjandi: The Dynjandi waterfall is the biggest waterfall in the Westfjords and is rightfully known as the jewel of the Westfjords. It takes a 15–minute hike up to the falls. On the way up, be sure to keep your eyes peeled for smaller waterfalls along the trail. Be rewarded with the boisterous rush of this grand force of nature as you feast your eyes on this frenzied 100–meter cascade of water.
---
About TourHero
TourHero is a social travel platform that enables you to travel with like-minded people and fall in love with the journey. We work closely with handpicked local operators to ensure every experience curated is unique and exclusive to your travel group. Come with us on epic adventures and create memories that last a lifetime!