Looking to climb some of the most stunning mountains in Southeast Asia? There's no place like Indonesia to get your fix. With volcanic landscapes and forested hills aplenty, the country and its many islands provide the ultimate destination to fulfill your hiking desires. Fit enough for a challenging nighttime climb? The journey to see the hypnotic blue flames covering Mount Ijen could be what you're looking for. In Yogyakarta and looking for an easy way to get your fill of misty hills, rolling clouds, and a spectacular sunrise view? Mount Ireng offers hardly a challenge and is perfect for beginners looking to supply their Instagram with snapshots of the famous hut at the summit! Keep reading — we've selected 7 different mountain hikes in Indonesia of varying difficulties that you can choose from!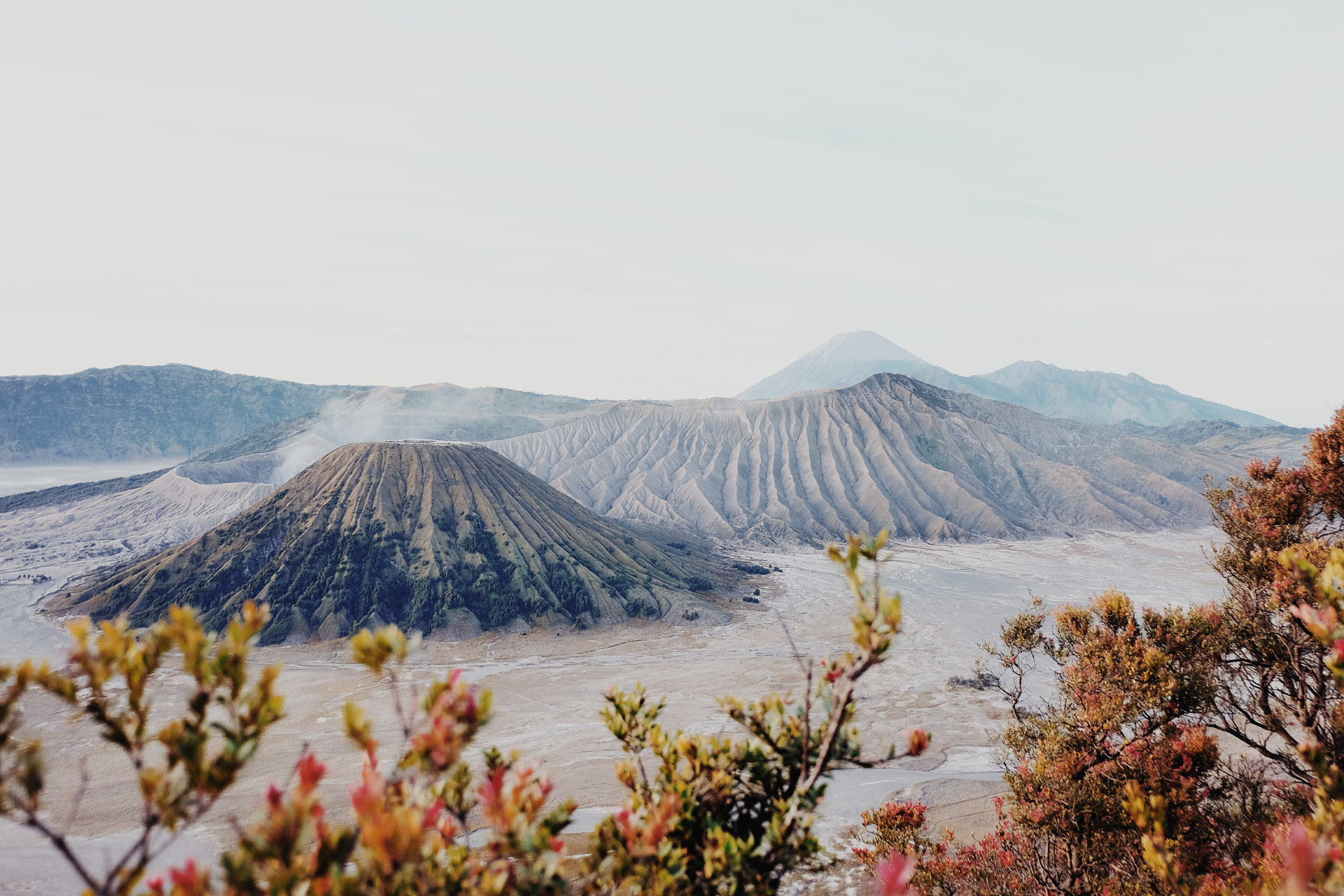 While many parks in Indonesia are open and the hikes listed here are popular with tourists, it is also important to note that many mountains across the country are active volcanoes. Always monitor volcanic activity in the area via notices published by local volcano observatories and the Volcano Observatory Notice for Aviation (VONA) before you embark on your journey.
Ijen Crater, East Java
The Ijen Crater is famous for its mesmerizing blue flame phenomenon, turquoise-hued volcanic lake, and breathtaking sunrise views. The hike is demanding for anyone looking to witness the unique blue flames that lick across the mountain's sulphuric surface. Why? Two reasons. First, you need to do this hike at night by torchlight, which makes the rocky trail a little harder to navigate. Second, you'll need to rent or bring your own protective gas mask as the terrain you tackle spews forth unpredictable plumes of sulfur smoke. Of course, believe us when we say the geothermal inferno of electric-blue flames makes for a very surreal and eye-popping reward, worth the effort if you're a thrill-seeker! And, as a bonus, the view of the lake at the summit of your climb is also an otherworldly experience to enjoy.
For a more straightforward excursion that doesn't involve navigating the volcano's trail in the middle of the night, you can skip the flames and arrive at base camp bright and early at 7 am, set off on a more leisurely hike to the crater rim, and catch the gorgeous view of the impressive blue-green lake of Ijen Crater.
How to get to Ijen Crater:
From Bali: Travel to the ferry terminal at Gilimanuk. From there, catch the 90-minute ferry ride across to East Java. From Ketapang ferry port, it is a two-hour drive to the base camp.
From Java: The closest airport is Surabaya Juanda International Airport, from which you can catch a bus to Bondowoso — crossing 180 kilometers — before chartering a four-wheel-drive vehicle up the steep road to Paltuding base camp.
Hike distance: About 7 kilometers
Hike duration: 3–4 hours
Total elevation gain: About 630 meters
Tip: The blue flames are bigger and more prominent during the dry season, so it is best to do this hike between July and September.
Mount Bromo, East Java
One of Java's most iconic peaks, Mount Bromo offers sweeping views of the surrounding Tengger massif, which encompass a complex series of active volcanoes that stretch across the terrain. Mount Bromo's status as one of Indonesia's more active volcanoes doesn't deter visitors from making a visit — it remains one of the country's most frequently-hiked mountains due to how easy it is to get to the top. In fact, reaching Bromo's summit can be almost effortless if you choose to rent a jeep to arrive at the dusty valley floor, then make the 30-minute trek to the smoking crater. You can shorten the hike further by arranging a horseback ride across the sandy slope towards the crater. For this reason, Mount Bromo makes for a great beginner-level adventure with very little energy involved. Just remember this is a popular hiking area, so avoid peak season and go when the crowds are thinner!
How to get to Mount Bromo:
The closest airport is Surabaya Juanda International Airport. It is a 90-minute drive south from Surabaya to Mount Bromo
Hike distance: 1.5 kilometers from the jeep drop-off
Hike duration: 20–30 minutes
Total elevation gain: About 490 meters
Mount Batur, Bali
Looking for the best sunrise views in Bali? Mount Batur, located north of the island, is your ultimate destination. If you're up for the two-hour dawn hike, this is an incredibly picturesque spot to watch the sun wash the lush Bali landscape in a beautiful golden glow. From up here, you'll also be rewarded with panoramic views of verdant forest-covered hills stretching out in front of you, shrouded in a glorious layer of mist if you're lucky! Make your trek early to account for the two-hour climb, so you can reach the top before the sunrise to catch the perfect moment the sun peeks over the horizon. It gets incredibly crowded during peak season, so we recommend signing up for an overnight camping tour to beat the rush and be first in line to the summit!
Do note that Bali has a heavy monsoon season, which may make dampen your hike — it's best to attempt this hike between April and October during the dry season.
How to get to Mount Batur:
Mount Batur is a two-hour drive from Kuta under light traffic conditions. The quickest way to reach Mount Batur is by catching a bus from Ubud to Kintamani, a village close to the edge of the caldera wall of Mount Batur.
Hike distance: Approximately 7 kilometers
Hike duration: 2–3 hours
Total elevation gain: 700 meters
Mount Rinjani, Lombok
The island of Lombok is home to the second-tallest volcano in Indonesia: Mount Rinjani. At an exhilarating 3,726 meters tall, this grand mountain boasts a caldera 50 square kilometers wide with a scenic crescent-shaped Segara Anak lake sitting pretty inside the crater. Considered one of the greatest mountain hikes in Indonesia, it boasts incredible views and a long climb that is equal parts challenging and beautiful. There are multiple trails that take you to the crater rim — opting for a multi-day hike will offer the best experience that includes village visits and cooling waterfalls along the way. Not up for several days of exploration? A more direct route will get you to the crater rim after about six to seven hours of hiking. Be prepared for sandy terrain, which may make the steep incline difficult.
How to get to Mount Rinjani:
The nearest airport is Lombok International Airport. From there, it is a three-hour drive north to the base of Mount Rinjani via Mataram.
Hike distance: 20-kilometer return hike to crater rim and back
Hike duration: 6–7 hours
Total elevation gain: About 2,000 meters from Senaru to the crater rim
Mount Kelimutu, Flores
The island of Flores is where you will find Kelimutu National Park. Many travel to this park to see the famous tri-colored volcanic lakes, the waters of which change color depending on the season and the time of day. The hike up to the viewpoint to catch the magnificent view of the trio of lakes and its palette of green, blue, and red isn't a tough one, with its variety of easy and intermediate hiking trails making it highly accessible. Hiking enthusiasts can start their journey from the village of Moni (the nearest of homestays and lodges are about 6 kilometers from the Kelimutu viewpoint), starting in the early hours of the morning and culminating in the sunrise view at the mountain. Be aware that a large population of monkeys live on Kelimutu, so hang onto your bags and keep those snacks out of view!
How to get to Mount Kelimutu:
Kelimutu National Park is located in the eastern part of Flores. Fly into Ende, the closest city. From Ende, it is a two-hour drive to get to Moni. You can either do the hike from Moni, or drive a little further (around 20 minutes) to the park entrance.
Hike distance: ~6 kilometers from Moni
Hike duration: About 3 hours
Total elevation gain: About 600 meters
Mount Prau has become an incredibly popular hiking destination for tourists in recent years, attributed to its easy hiking trails and rewarding views. In fact, it is one of Central Java's most iconic attractions due to its geological and historical sites. Here, you'll find colorful lakes, bubbling craters, and some of the oldest Hindu temples in the region. The mountain stands proudly at 2,565 meters, and its highest peak is the Dieng Plateau. There are three main base camps at Dieng village, which we recommend for ascent due to its easy proximity to homestays and hotels. The easiest hike that most visitors attempt is to the top of Gunung Sikunir, an easy trek that takes only 30 minutes. But for an even more magnificent view, head up to Mount Prau's Dieng Plateau at dawn to witness a glorious sunrise.
How to get to Mount Prau:
There are frequent buses that depart from Yogyakarta in the south that arrive in Wonosobo via Magelang. From Wonosobo, another bus will be able to take you straight to Dieng village. The entire trip will take you around 5 hours.
Hike distance: 7–8 kilometers
Hike duration: Approximately 2.5 hours
Total elevation gain: About 670 meters
Mount Ireng, Yogyakarta
The cloudscapes and rolling fog in the early mornings up on Mount Ireng are nothing short of breathtaking, but there's an even bigger draw to this picturesque Yogyakarta marvel. It's the rustic wooden hut perched on the edge of a cliff, overlooking miles of scenic forested hills and a scattering of local farms and villages. Shutterbugs and Instagrammers make the hike to this cute, photogenic little hut to await sunrise in an attempt to capture the golden hues alongside the silhouette of the charming structure. As a bonus, it isn't a long or difficult trek to get to the viewpoint!
How to get to Gunung Ireng:
From Yogyakarta, drive east. Gunung Ireng is approximately 50 minutes from the city center — about 25 kilometers away.
Hike distance: Negligible from the Gunung Ireng car park to the viewpoint
Hike duration: 5 minutes from the car park to the viewpoint; less than an hour if exploring the surrounding areas
Total elevation gain: Mostly flat
---
We hope our list of scenic mountain hikes in Indonesia will inspire you to put some of them on your bucket list!
---
About TourHero
TourHero is a social travel platform that enables you to travel with like-minded people and fall in love with the journey. We work closely with handpicked local operators to ensure every experience curated is unique and exclusive to your travel group. Come with us on epic adventures and create memories that last a lifetime!