Wondering what to do in Da Nang? Perhaps the coastal city has remained off your radar thus far. We're here to change that. Despite being Vietnam's third-largest city behind Saigon and Hanoi, the region is often only visited by travelers on a whistle-stop tour. A shame, because in truth, Da Nang offers some of the most varied experiences you can find in the country. Unlike Saigon and Hanoi, Da Nang is on the coast, and it boasts some of Vietnam's most beautiful beaches and waterfront scenes. The region is also steeped in history, being the site where American troops first landed prior to the Vietnam-US conflict.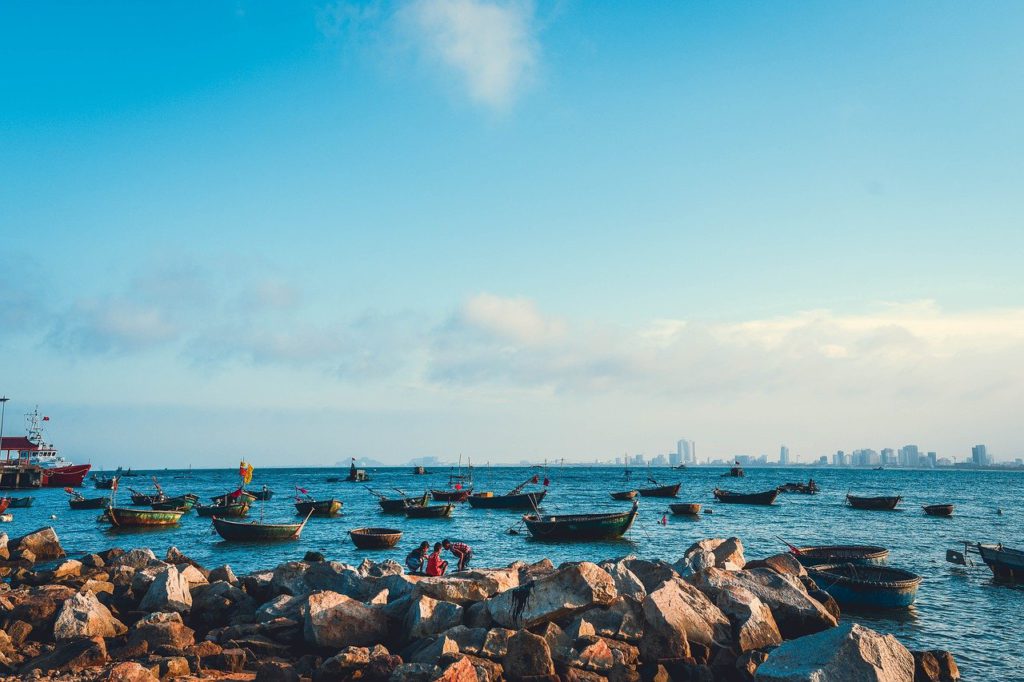 On top of offering a great shopping experience, there are beautiful mountains, a lovely countryside, and ancient culture at the city's doorstep. We'd recommend spending a good few days in Da Nang to really enjoy what's on offer. Make sure you include the following activities in your to-see-and-do list when you pay a visit!
Climb Son Tra (Monkey Mountain) for amazing views
Overlooking Da Nang's beautiful coastline is Son Tra Mountain. The 693-meter peak dominates the peninsula it stands on, and a steep road winds its way to the top. From here, the views of the city and sea are truly fabulous. Hire a motorbike and make the trip yourself, or book a jeep tour and enjoy the view all the way up!
Son Tra was named "Monkey Mountain" by American forces who set up a base on the summit during the conflict. And yes, the mountain is teeming with monkeys and you'll likely see a few on your way to the top! Best climbed early in the day before the sun is at its hottest.
Opening hours: 24 hours
Address: Thọ Quang, Sơn Trà
Find some peace with Lady Buddha
You can see the majestic Lady Buddha from as far south as Hoi An. The tallest Buddhist statue in the whole of Vietnam, she lives in Linh Ung Bai Pagoda and watches over the sea, keeping fishermen safe. You can climb the steps inside Lady Buddha, or just enjoy the large, landscaped gardens below. Even at peak tourist hours, there's plenty of room for some peace and reflection. Lady Buddha can easily be visited with a slight diversion from the road to Son Tra Mountain.
Opening hours: 6 am – 9 pm
Address: Hoang Sa, Tho Quang, Son Tra Peninsula
Dive into Han Market to grab a bargain
You'll find plenty of things to do in Da Nang's Han Market. With two floors packed to the brim with shops of all kinds, you can buy groceries, clothes, souvenirs, electrical appliances, and meters of cloth if you're looking to get a shirt or dress made.
But the real joy to be found at Han Market is in the atmosphere. Visit as early as you can, buy some coffee and breakfast from one of the vendors and simply take in the view. You'll see Vietnamese locals from all walks of life congregating here to buy, sell, or simply socialize before the working day begins.
Opening hours: 6 am – 7 pm
Address: 119 Tran Phu, Hai Chau
Go to the beach – and surf!
Da Nang City is made up of two halves, separated by the Han River. There's the "city" side, where you'll find the most upmarket shops, and the "beach" side. Here, you'll find miles of coastline, stretching from the Son Tra Peninsula to Hoi An, further south.
My Khe Beach is the most famous, and it's also Vietnam's best beach for surfing. You can hire surfboards close by, and there's a great line of cafes and restaurants to indulge your belly too. If you're planning to visit the Marble Mountains (see below), you'll find the quieter Non Nuoc Beach a short walk away. And travelers to Son Tra Mountain or Lady Buddha will see that much of the peninsula boasts gorgeous white sand around its base. There are a handful of quiet beaches here if you're looking for tranquility.
Explore the Marble Mountains
A must-see for all travelers to Da Nang, the Marble Mountains are not high but have hidden delights around every corner. 156 stone steps lead to the top — there's also an elevator for easy accessibility — and several pagodas can be found in and around the various caves dotting the mountain.
Inside these caves, you'll find shrines and statues dedicated to Buddha and other prominent historical figures. The largest pagoda is named Linh Ung (different to that found on Son Tra Peninsula), and it's still very much in use. You'll find monks living here, eating together and chanting quietly.
The Marble Mountains were also an important strategic base during the American War. Initially used by the South Vietnamese forces, they were later captured by the Vietcong. Located south of the city, you can make a quick stopover at Marble Mountains for a flash tour of these intriguing limestone and marble hills, or give yourself a few hours and really go exploring.
Opening hours: 7 am – 5.30 pm
Address: 81 Huyen Tran Cong Chua, Hoa Hai, Ngu Hanh Son
See Da Nang's pink cathedral
Da Nang's cathedral will turn 100 years old in 2023. Built during the French colonial period, the eye-catching edifice remains one of the most unique catholic churches in Vietnam. At the back is a beautiful statue of Mary, Mother of Jesus. As well as its Gothic architecture, built in the French-style, the building is colored pink. It is thought to have been chosen to make the building stand out amongst the others surrounding it.
Opening hours: 6 am to 4.30 pm
Address: 156 Tran Phu, Hai Chau
Visit the Museum of Cham Sculpture
The Da Nang Museum of Cham Sculpture is a monument to the Cham people, who established an empire in Central Vietnam between the 2nd and 15th century. It provides a fascinating introduction to one of the country's 54 ethnic minority groups. Originally from Borneo, most Cham people follow Hinduism and their influence can still be seen today across much of the country.
Further south, just off the coast of Hoi An, you can visit a populated island that still bears their name. In the museum, you'll find evidence of their great legacy with an exhibition of artifacts dating back to the 7th century, showcasing the Cham people's skills at ceramics, pottery, and weaving.
Opening hours: 7 am – 5 pm
Address: 02/2 Thang 9, Binh Hien, Hai Chau
Find Art in Paradise
Those with children — or a strong sense of fun! — should definitely pay a visit to the Art in Paradise Museum. It's a 3D museum of some scope, bearing amazing artworks from famous movies and scenes from around the world. Don't forget your camera! Visitors can enter a scene and melt into it, making for some amazing souvenir pictures to take back home. Great for a quick stop to entertain the entire family.
Opening hours: 9 am – 8 pm
Address: 133 Tran Nhan Tong, Son Tra
Watch a fire-breathing dragon
Da Nang's beautiful Dragon Bridge links the two sides of the city and can be seen from miles around. Get close by at the weekends though, and you'll see it breathe fire! It's an impressive scene once the light has faded, and best enjoyed while lounging outside one of the many street cafes you'll find along the waterfront. Grab a beer and some nuts and enjoy the view!
When to see: Saturdays and Sundays at 9 pm
Address: An Hai, Hai Chau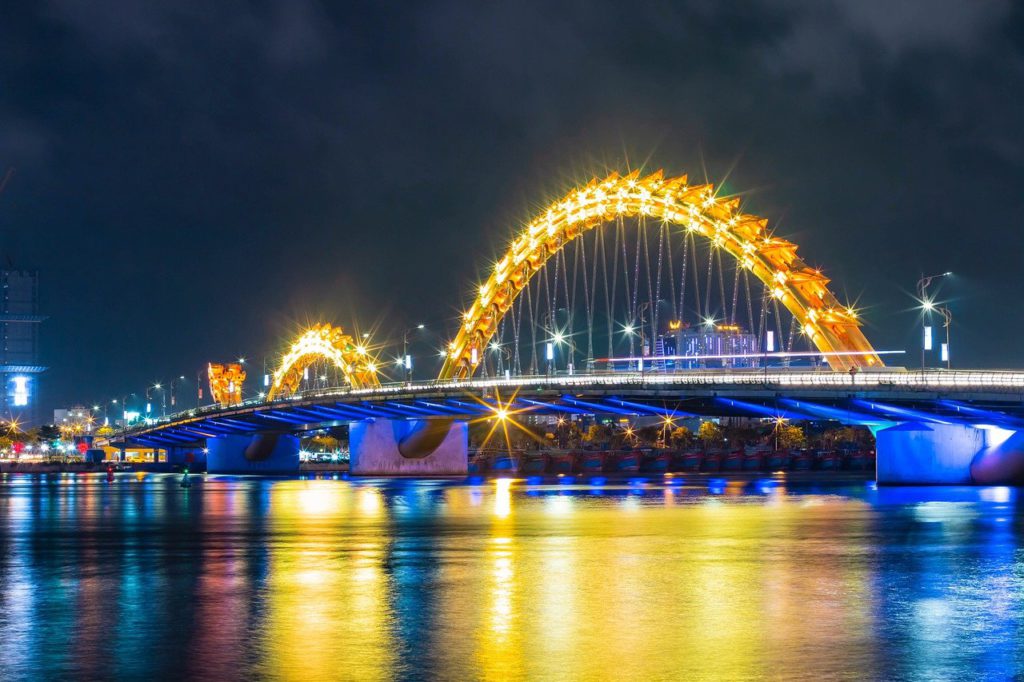 Take in the Night Market
Wondering what to do in Da Nang at night? Well, the city has an impressive number of bars and clubs. But if you're after something with a local flavor, don't miss Son Tra's Night Market. Bustling all evening, it's the biggest of its kind in the city. Here, you'll find mouthwatering street food, drinks, and souvenir stalls.
The seafood, in particular, is excellent here. And you can be sure to pick up a clothing bargain if you're looking to update your wardrobe. Unlike many night markets that cater exclusively to tourists, this one has the local seal of approval too.
Opening hours: 6 pm – 11.30 pm
Address: An Hai Bac, An Hai Trung, Son Tra
Be sure to spend some time in Da Nang if you're passing through Central Vietnam! And read our guide to the former Vietnamese capital of Hue whilst you're there. You can also discover Da Nang as part of our ultimate coastal road trip.
---
About TourHero
TourHero is a social travel platform that enables you to travel with like-minded people and fall in love with the journey. We work closely with handpicked local operators to ensure every experience curated is unique and exclusive to your travel group. Come with us on epic adventures and create memories that last a lifetime!