While Thailand has a whole collection of hidden islands just waiting to be explored, there are times when nature beckons you away from the sea. If you crave a relaxing forest retreat in the remote mountains of Nothern Thailand, look no further than beautiful Chiang Mai, where you will find incredible treehouses that offer comfortable beds and a rustic way of life amidst undisturbed greenery. We've curated a list of incredible treehouse villas in Chiang Mai (and one a little further afield in Pai worth checking out) for your next nature retreat, all of them unique in their own way.
Travel safety in Thailand
While Thai authorities have resumed limited inbound tourist flights and now allow travelers from 56 countries to enter Thailand without a visa, certain conditions must be met prior to entry, such as submitting a negative COVID-19 test beforehand. Always remember to check the status of Thailand's travel restrictions before flying.
Why is treehouse accommodation so popular in Thailand?
As the name implies, treehouse villas are distinctly constructed in and around trees, whether it be high up in their canopies or around their sturdy trunks and branches. Often crafted by hand from materials found in the jungle, they often take sustainability and the environment into consideration. But perhaps the most unique thing about these villas is that they evoke a sense of adventure as you camp in these little hideaways, allowing you the chance to rediscover your inner child!
Thailand's lush and soothing countryside forests, already perfect for trekking and exploring, are the best places for these treetop villas and jungle dwellings to thrive! And, of course, every type of traveler can enjoy a treehouse, whether they be couples looking for a secluded and romantic getaway, families wanting a unique experience for the kids, or solo travelers looking for adventure.
Treehouse villas in Chiang Mai for your next nature retreat
Fern Paradise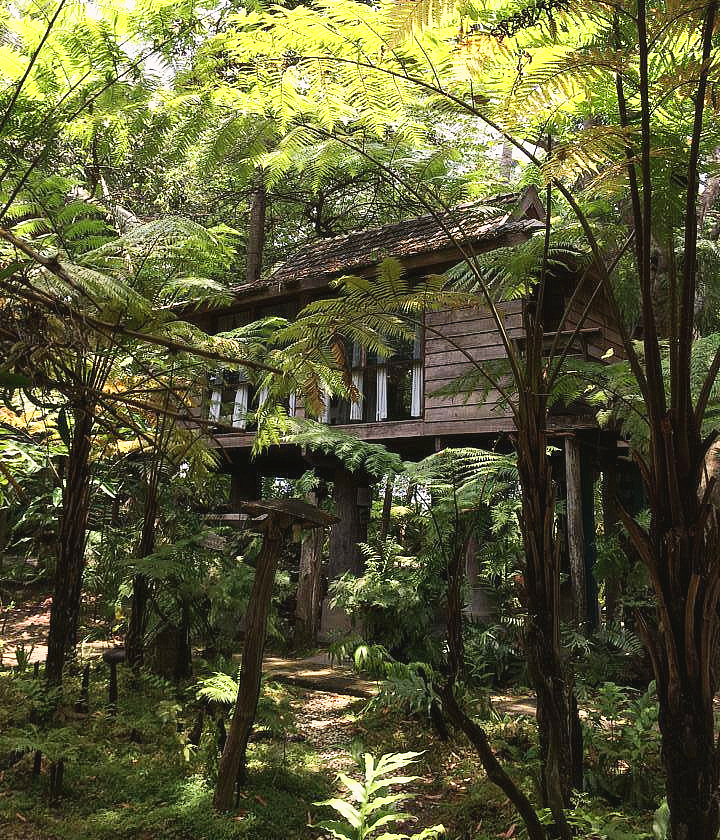 What we love about Fern Paradise: Fern Paradise is made up of a collection of self-contained authentic "rice barn" villas, each one surrounded by perfectly lush greenery and named after several fern species, such as the superior two-storey Davalia Barn and the large 120m² Adiantum Barn, which houses a private jacuzzi.
Located on the outskirts of Chiang Mai's city limits, about a 30-minute drive away, you will find the gorgeous family-run Fern Paradise offering an assemblage of nine wooden villas surrounded by a delightful jungle of over 300 types of ferns. While each villa may bear the signature wood-crafted appearance of a typical treehouse, built on stilts amidst tree canopies and fitting seamlessly into the surroundings, these villas are actually quite special. All of them are lovingly restored rice barns built in the authentic Lanna architectural style.
The Lanna Kingdom, also known as Lannathai, was one of the first major Siamese kingdoms in Thai history, founded in the northern region of present-day Thailand in the late 13th century. Since ancient times, rice has been a valuable staple in Siam and the Lanna Kingdom. The Lanna people who live scattered throughout the eight northern provinces of the country once used these unique barns, or "Lhong Khao", as rice storage sheds to keep their grain surplus after a harvest. The modern age has seen less of a need for such rice barns as farmers choose to sell their entire harvest to agents and only buy their rice as needed. As a result, these rice barns are now rare. Fern Paradise prides itself on preserving examples of this distinctive architectural heritage.
A stay in the heart of this fern sanctuary provides the perfect opportunity to immerse yourself in a slice of Lanna culture while providing a peaceful escape.
Getting there
Location: 73/1 Moo 5 Sansai, Amphr Sansai, Chiang Mai 50210, Thailand
Distance from Chiang Mai International Airport: 20 kilometers — approximately 30 minutes by car
Tree House Hideaway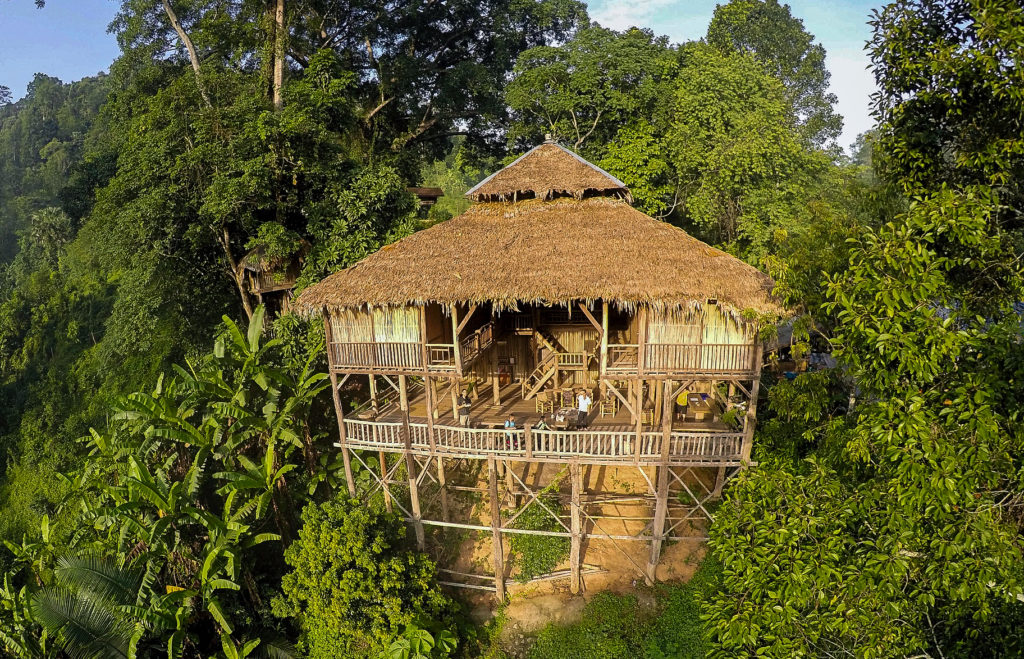 What we love about Tree House Hideaway: The hideaway's communal main terrace provides guests with the perfect place to interact, relax, share meals, and admire amazing views of the surrounding treescape. The terrace itself is fitted with sturdy railings and a securely-built wooden floor, making it a family-friendly space suitable for those traveling with toddlers and teenagers.
Escape Chiang Mai's busy city and head north to find a secluded mountain village surrounded by giant trees. Here, you can stay in a large wooden treehouse that boasts gorgeous panoramic views of the forest-clad mountainside in all its lush glory. With just seven rooms in total, Tree House Hideaway is more of an offbeat homestay rather than a resort or hotel, but it provides an experience like no other, offering immersive guided activities like elephant meet-and-greets and jungle trekking to hidden waterfalls.
You will need to book through their "tour system" to access their special jungle hideaway. By signing up for one of their unique overnight tours, you'll get to choose from their ensuite bedrooms or rooms with shared bathrooms complete with clean bedding, mosquito nets, western toilets, and hot water showers, and have all your meals provided! All tours with Tree House Hideaway include pick-up and drop-off in Chiang Mai city, and an English-speaking guide.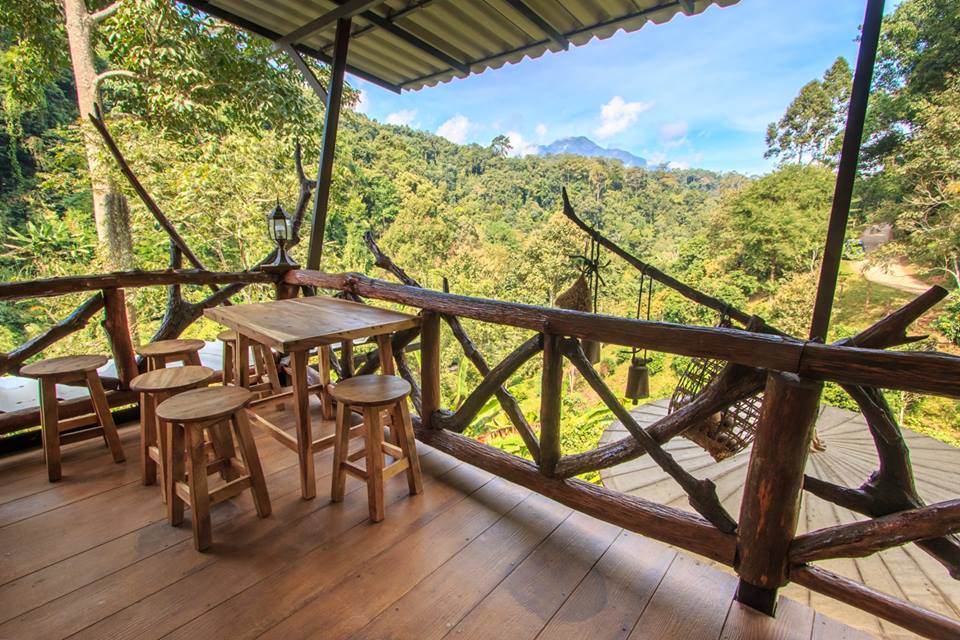 Getting there
Location: Mae Mae Village, Mae Na, Chiang Dao District, Chiang Mai 50170, Thailand
Distance from Chiang Mai International Airport: 80 kilometers — approximately 1 hour and 30 minutes by car
Rabeang Pasak Treehouse Resort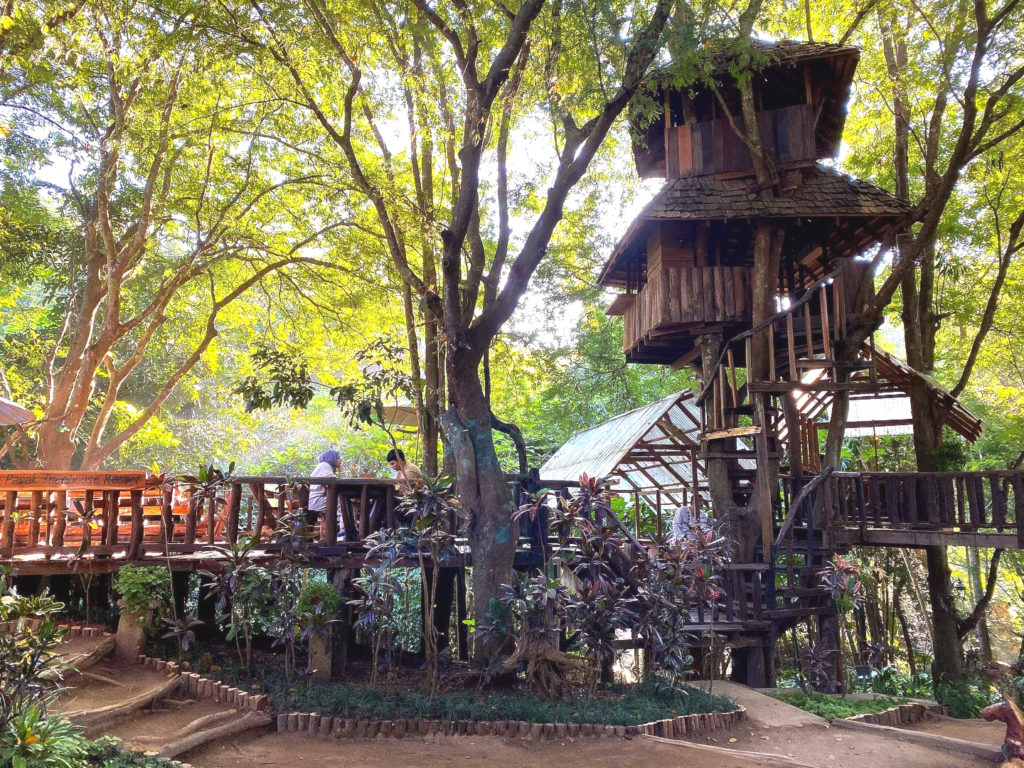 What we love about Rabeang Pasak Treehouse Resort: All the treehouses in the resort are uniquely designed and come in various shapes, sizes, heights, and dimensions. Choose from a house by the river, or one surrounded by bamboo trees, or even one built amidst the sturdy branches of wild longan trees!
Rabeang Pasak Treehouse Resort is a family-owned treehouse resort located three kilometers from Pasak Ngam village, about 70 kilometers northeast of Chiang Mai city. Surrounded by a beautiful teakwood forest, this little village of wooden cottages and houses is the beloved project of retired architect Mr. Bullsiri (Lee) Suwannachin. From its humble beginnings in 2010 as a family vacation home, the estate was opened to the public in 2012 and now boasts a collection of eight cottage treehouses and three family treehouses, each one unique and designed with the natural surroundings in mind. All treehouses are equipped with a private bathroom, balcony, and seating area.
As one of the more well-known treehouse resorts in Chiang Mai, Rabeang Pasak Tree House Resort has a reputation for offering a perfect retreat for travelers looking to make the most of the great outdoors amidst Chiang Mai's natural wonders. Plenty of attractions can be found in the surrounding area such as the Pasak Ngam Temple, Swamp Forest Trail, Bat Cave, and Mae Kuang Dam, all within walking or cycling distance.
Getting there
Location: Luang Nuea, Doi Saket District, Chiang Mai 50220, Thailand
Distance from Chiang Mai International Airport: 75 kilometers — approximately 1 hour and 30 minutes by car
The Giant Chiangmai
What we love about The Giant Chiangmai: It's a scenic Instagram-worthy cafe and a cool little hideaway all rolled into one!
The Giant Chiangmai shot to fame on Instagram as one of the most scenic and relaxing cafes in the area. With its beautiful terrace nestled under a huge tree overlooking evergreen mountains and hills, there is no better place to enjoy a cup of freshly-brewed coffee and a slice of cake. But while throngs of people flock here to grab a seat, most don't realize you can also book a room here to stay the night.
You can expect a cozy and comfortable stay here, with free Wi-Fi in all rooms and public areas, toiletries provided, and, of course, access to the popular cafe and its food and drinks. With just five rooms on offer — two standard and three deluxe — you'll want to make your reservations well in advance to avoid disappointment. Of course, even if you aren't staying, we recommend dropping by the cafe anyway! You won't want to miss it.
Getting there
Location: Baan Pok Village, Huai Kaew subdistrict, Mae On, Chiang Mai 50130 Thailand
Distance from Chiang Mai International Airport: 60 kilometers — approximately 1 hour and 22 minutes by car
Pai Treehouse Resort
What we love about Pai Treehouse Resort: Stay here for the sightseeing. There are plenty of unique attractions in the area, including hiking trails, hidden cafes, and a hot spring.
Pai Treehouse Resort is, as you've guessed, not quite in Chiang Mai Province. It is located a little further afield in the southern end of laid-back Pai, 20 kilometers past the border where Chiang Mai Province ends and Mae Hong Son Province begins. While the distance to get here from Chiang Mai's city center crosses the two-hour mark, we definitely think it's worth the scenic journey through the region's winding mountain roads to get to beautiful Pai.
Nestled amidst greenery and some of the most gorgeously landscaped gardens in the area, Pai Treehouse Resort reflects the serenity and tranquility of its surroundings. Here, you'll find rustic treehouse accommodation and spacious wooden villas on stilts that feature warm-toned wooden furnishings and simple comforts. The best part about Pai Treehouse Resort is its close proximity to several attractions. Go strawberry picking and bamboo rafting, or visit the scenic Pai Hot Springs located just a couple of kilometers away. Experienced hikers might want to explore the nearby Pai Canyon to catch some stunning views.
Getting there
Location: 90 Moo 2, Tambon Maehee, Amphur Pai, Mae Hong Son 58130 Thailand
Distance from Chiang Mai International Airport: 126 kilometers — approximately 2 hours and 45 minutes by car
We hope we've inspired you to stay in one of these charming treehouse villas in Chiang Mai next time you visit!
---
About TourHero
TourHero is a social travel platform that enables you to travel with like-minded people and fall in love with the journey. We work closely with handpicked local operators to ensure every experience curated is unique and exclusive to your travel group. Come with us on epic adventures and create memories that last a lifetime!