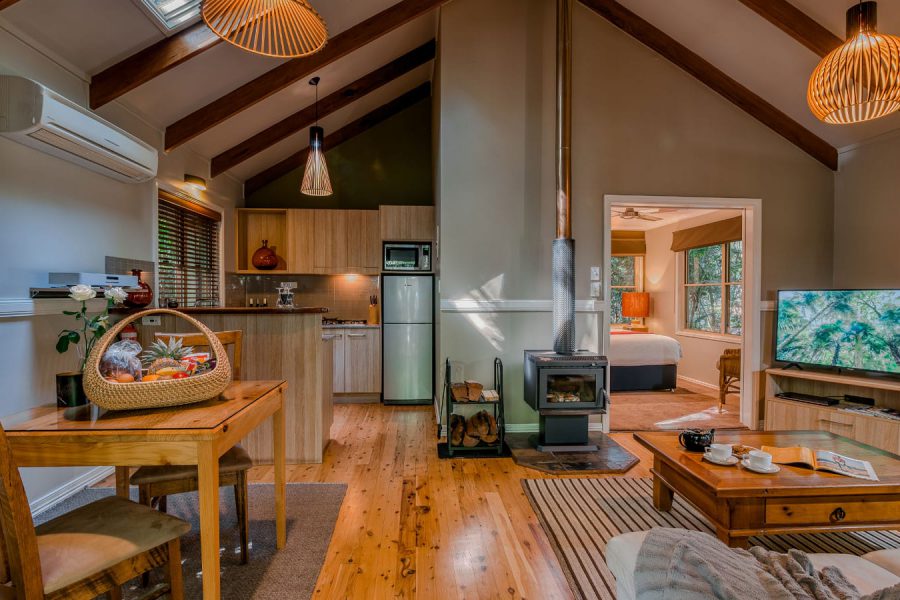 The seafront towns of the Sunshine Coast boast sun-soaked beaches and impressive surf, but the hinterland hides its own secrets: dreamy rainforest retreats, romantic treehouse cabins, and lush hills filled with the birdsong of honeyeaters and king parrots. Up in the hinterland, you'll be hard-pressed to find a more charming mountain village than Montville, mentioned in our Ultimate weekend guide to Queensland's stunning Sunshine Coast. Declared as one of the Top 10 Most Welcoming Destinations in Australia in Booking.com's Traveller Review Awards 2021, Montville is where you'll find some of the best Sunshine Coast retreats. As a bonus, Montville is just a 90-minute drive away from Brisbane, making it a super easy escape from the city!
We've curated a list of our five favorite retreats in and around Montville, Sunshine Coast. Read on to explore them all.
Narrows Escape Rainforest Retreat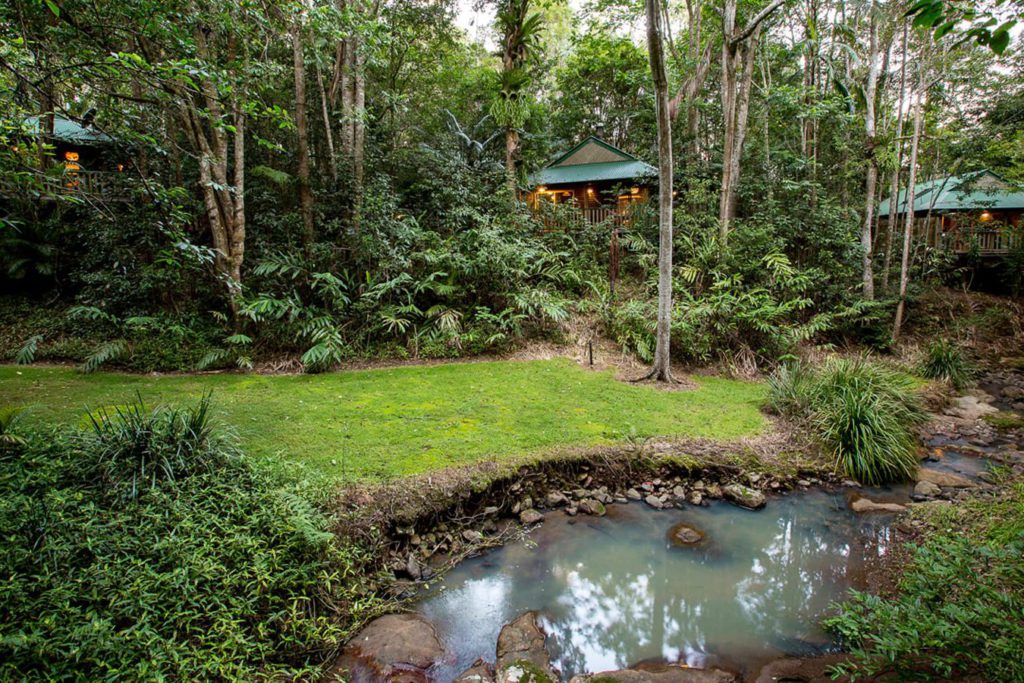 What we love about Narrows Escape Rainforest Retreat: Eco-certified and proud of it, Narrows Escape Rainforest Retreat sources local Australian products and constantly looks for ways to make the property greener, be it recycling food scraps in compost and worm farms, reducing single-use plastics, switching to biodegradable products, or implementing solar panels.
Invite nature to your doorstep. With six beautiful rainforest villas to choose from, Narrows Escape Rainforest Retreat is a slice of paradise that definitely earns a spot on this list. Built right into the rainforest, each villa benefits from sublime jungle views, giving you the perfect reason to sit out on the spacious wooden deck, lounge in the outdoor hammock, or cook up a gorgeous meal over the barbecue. Some villas are perched right next to an incredibly-picturesque bubbling creek, for that extra touch of nature. And, of course, all the little luxuries are provided: fluffy robes and slippers, a breakfast hamper, complimentary port, artisan chocolates, luxury bath products, the works — all ready to greet you on your arrival.
Website: https://www.narrowsescape.com.au/
Address: 78 Narrows Road, Montville QLD 4560, Australia
Misty View Cottages
What we love about Misty View Cottages: Beautiful lake views from every cottage, and wonderful little touches that make your getaway all the more memorable: gourmet chocolates on arrival, well-placed candles that add to the mood lighting, and hot croissants delivered to your door each morning.
Misty View Cottages is all about igniting romance. With just four beautiful self-contained cottages wrapped in an atmosphere of seclusion, each one catering to couples looking for a quiet getaway, you will find everything you need here — nature, privacy, views, and decadence. Each cottage is nestled cozily amongst the estate's 20 acres of emerald gardens and rainforest, overlooking the sparkling Lake Baroon. The lake is a sight to behold each morning in the early hours of dawn, when a gentle blanket of mist cloaks the surface, truly bringing the name of the property — Misty View — to life.
Every cottage is furnished with comfort in mind, fitted with the likes of a private balcony with barbecue facilities, spa bath with views, fully-equipped kitchen, crackling log fireplace, plush bathrobes, and luxury linens. For the real pleasure-seekers, the estate's signature Lalique Cottage provides a little more oomph with a private heated plunge pool and spacious sundeck complete with an impressive king-size daybed for lounging.
Website: https://mistyview.com.au/
Address: 284 Western Ave, Montville QLD 4560, Australia
Secrets on the Lake
What we love about Secrets on the Lake: The flagship "Secrets" penthouse treehouse sits high in the rainforest on a ledge, backed against a grove of palms and ancient cedar trees. As the icing on the cake, you'll also have access to your own private waterfall.
Secrets on the Lake is situated right on the impeccable shores of Lake Baroon, its grounds stretching down to the foreshore of its tranquil waters and encompassing a colonial-style Lake House, manicured gardens, and beautiful jetty from which you can try your hand at fishing for bass. The estate boasts 11 different cabins to choose from, including a handful of secluded luxury treehouse cabins, each one the epitome of a honeymooner's paradise. To make your getaway even more unforgettable, jazz up your stay with indulgent add-ons, from petal endearments to relaxing massages to special picnic hampers.
Book a stay in one of the treehouses and you'll be greeted with a delightful food basket jam-packed with everything you need to start the day. For some extra indulgence, Secrets on the Lake has its own award-winning in-house cafe, Dining on the Deck, to provide delicious meals. Perched in the rainforest with prime views of Lake Baroon and the surrounding mountains, food is taken to the next level here, with the likes of crab risotto, four-hour braised lamb shank, and twice-baked gruyere soufflés making an appearance on the lunch menu.
Website: https://www.secretsonthelake.com.au/
Address: 207 Narrows Rd, Montville QLD 4560, Australia
Spicers Clovelly Estate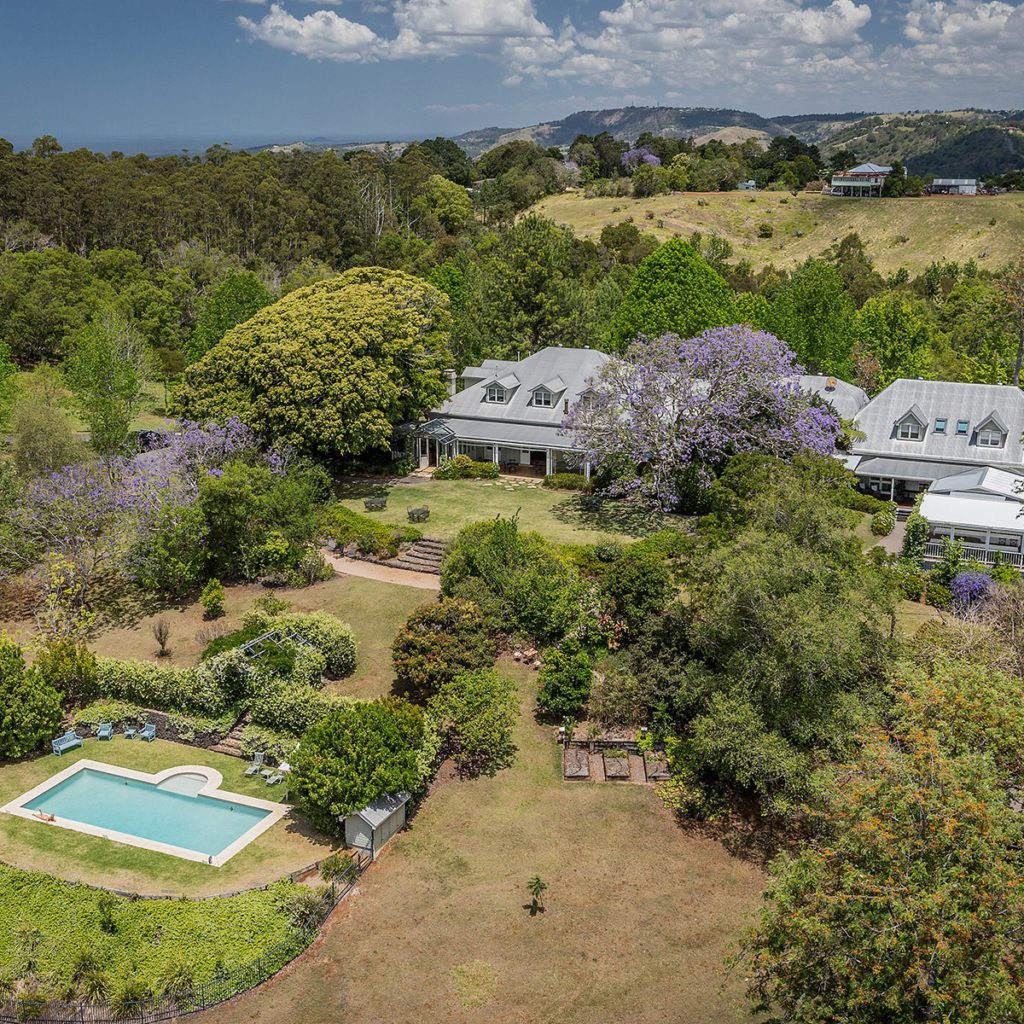 What we love about Spicers Clovelly Estate: Luxury is truly the name of the game here, with the likes of spa suites, an award-winning restaurant, marble bathrooms with heated flooring, and extensive manicured gardens giving guests every feeling of comfort and extravagance.
Every incredible Spicers Retreat around the country provides guests with an extraordinary experience and the Spicers Clovelly Estate achieves this with a decadent theme of chic French-inspired luxury, taking the feeling of joie de vivre to new heights. Set amidst a 22-acre estate studded with fig trees, majestic jacarandas, and gardens of magnolias and gardenias, Spicers Clovelly brings European living to life.
Book a stay in one of the suites, or book out the entire luxuriously-appointed Montville House if you plan to bring the whole family — it's perfect for groups of up to 12. Need a bit more nature to complete your stay? It's an easy 10-minute drive to the entrance of Kondalilla National Park from Spicers Clovelly.
Website: https://spicersretreats.com/retreats/spicers-clovelly-estate/
Address: 38-68 Balmoral Rd, Montville QLD 4560, Australia
The Falls Montville
What we love about The Falls Montville: The Falls Montville sits just 350 meters from the entrance of Kondalilla National Park, giving you easy access to the rainforest walking trails and waterfalls hidden in its depths.
The Falls Montville is conveniently situated a stone's throw from the national park and just a three-minute drive from Montville's main stretch of charming cafes, galleries, and boutiques. Even so, the estate's cottages and beautiful Manor House are wildly secluded, surrounded by lovely gardens. For a couple's retreat, book a stay in one of the romantic rainforest cottages, which gives you and your beau everything you need, complete with rainforest boardwalk access, gourmet food hampers delivered to your door, fresh pastries daily, and complimentary chocolates and coffee, among other delights.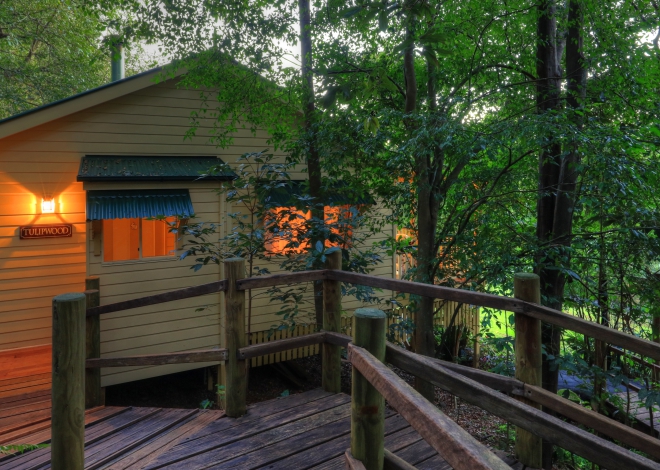 The Falls Montville also caters to bigger groups of up to eight people in its signature historic Queenslander Manor House. An exceptional accommodation option decked out in European-style furnishings and art, you'll find four beautiful bedrooms with private ensuite bathrooms, a delightful country kitchen, spacious wrap-around decks, manicured gardens, and impressive valley views gracing the property. Perfect for wedding guests, families, bridal groups, and corporate retreats!
Website: https://thefallsmontville.com.au/
Address: 20 Kondalilla Falls Road, Montville QLD 4560, Australia
We hope we've given you plenty of inspiration on where to go for your next hinterland getaway with our list of Sunshine Coast retreats!
---
About TourHero
TourHero is a social travel platform that enables you to travel with like-minded people and fall in love with the journey. We work closely with handpicked local operators to ensure every experience curated is unique and exclusive to your travel group. Come with us on epic adventures and create memories that last a lifetime!