⚠️ Update: November 11, 2021

Entry conditions for international travelers

International flights continue to operate. Travelers arriving in Kenya must present a negative result for a COVID-19 PCR test taken no more than 96 hours before departure. International travelers must also present a QR code generated after completing a Traveler Surveillance Form.

Easing of domestic restrictions

The longstanding nightly curfew that had been in effect between 10 pm and 4 am nationwide was lifted on October 20, 2021. Safety precautions such as mask-wearing and capacity restrictions must still be adhered to.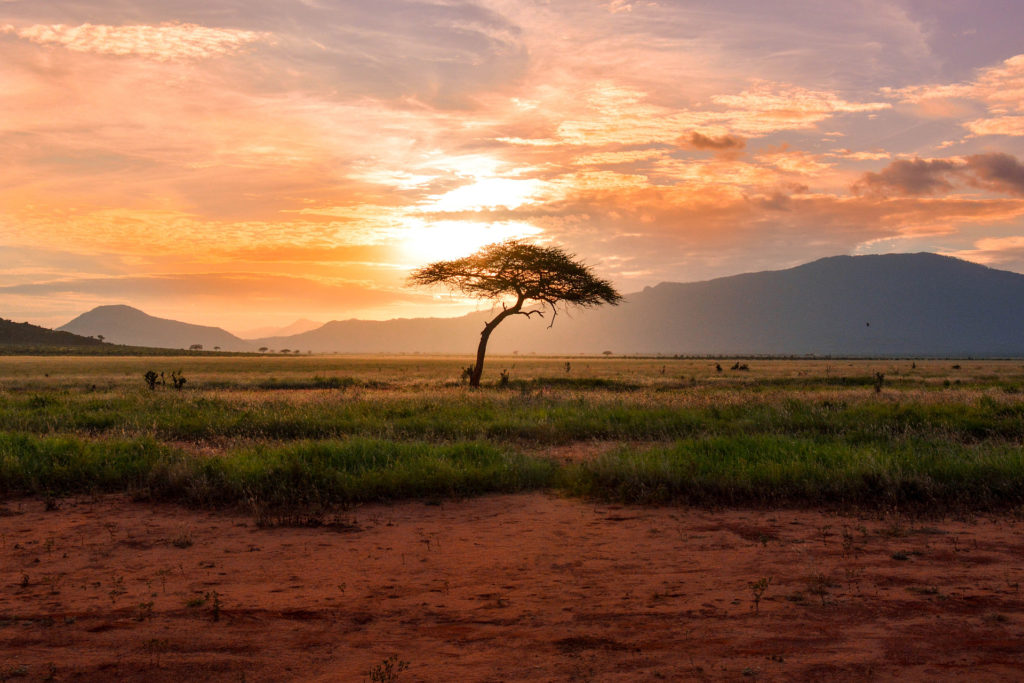 COVID-19 has changed travel and tourism in a big way. With borders around the world still closed and many of us now exercising a greater degree of caution in choosing where to go, planning your next trip can be tricky. On the bright side, a growing number of countries have been making big changes to entry conditions and safety procedures to bolster traveler confidence. Kenya is one such example, having reopened to tourism with the resumption of international flights on August 1, 2020. We seek to answer the important question: Is it safe to travel to Kenya amidst the COVID-19 pandemic? Read on to find out what the East African country is doing to make tourists feel comfortable in light of the situation.
The WTTC Safe Travels Stamp
As one of the top destinations in Africa to be awarded the global Safe Travels Stamp, issued by the World Travel & Tourism Council (WTTC), tourists can rest assured that Kenya has implemented stringent hygiene and safety protocols throughout the country. Find out more about the WTTC Safe Travels protocols here, and remember to look out for the little green stamp wherever you go.
Getting into Kenya: International airport measures
Ready to fly? To ensure smooth air travel on your journey, it's worth taking note of additional protocols implemented by the Kenya Airports Authority (KAA) across the country's international airports.
Quarantine will not be required for travelers entering Kenya from any one of the "low to medium risk" countries listed on the KAA website who are able to present a negative COVID-19 test certificate, obtained within 96 hours prior to travel. The test must be digitally verified via the My COVID Pass tool. More information on public health documentation processing and the latest entry/exit restrictions can also be accessed there.
While moving around in airports, travelers are advised to follow these guidelines:
Maintain a distance of at least 1.5 meters from others
Follow social distancing markings on the floors when queuing
Wear a face mask at all times
Wash and sanitize hands regularly
Make contactless payments wherever possible
Use the self-check-in kiosks provided
Health and Safety Protocols for the 'New Normal'
To reinforce the WTTC Safe Travels protocols, Kenya's Ministry of Tourism and Wildlife has prioritized new tourism responsibilities under its "Magical Kenya" initiative. This includes publishing a comprehensive guide that highlights Health and Safety Protocols for the 'New Normal'. Protocols are applicable to all tourism enterprises across the country.
Here, we cover the major areas where these new protocols have been implemented: National parks and reserves, safari tours and operators, accommodation, and transportation services.
National parks and reserves
Kenya has long attracted an influx of tourists looking to enjoy the spoils of the country's vast grasslands, spectacular landscapes, and incredible wildlife reserves. It is currently the height of the Great Migration, which spells excitement at the Maasai Mara National Reserve. From now until October, some 1.2 million wildebeests, accompanied by herds of zebras, gazelles, and elands, make the frantic journey to the bountiful reserve from the Serengeti plains of neighboring Tanzania. If you could add one item on your bucket list for African experiences, this would be it.
These are some preventative and protective measures implemented across the national parks and reserves of Kenya for your safety:
Rangers on duty are to conduct security checks and direct visitors to screening desks to undergo COVID-19 precautionary protocols, including temperature checks
Customer service staff are to ensure all facilities at points of sales and points of interests — machines, equipment, ticketing booths, etc — are in working order and are sanitized frequently throughout the day
Customer service staff are to maintain physical distancing at all times and encourage visitors to make cashless payments where possible
The number of visitors allowed at a specific attraction site will be staggered to mitigate overcrowding
Safari tours, operators, and guides
Every park in Kenya is perfect for social distancing travel — you only need to watch out for some of the more fearsome animals for your safety! Of course, whether you choose to explore the plains of the Maasai Mara National Reserve, visit the flamingo paradise of Lake Nakuru National Park, or traverse Amboseli National Park to admire Mount Kilimanjaro in the distance, it is best to do so with certified safari providers. All professional safari guides and operators must comply with new safety protocols before they can resume services.
These are some preventative and protective measures implemented by professional safari tour operators and guides across Kenya for your safety:
Safari providers are to carry valid COVID-19-free certification for their core staff, and subsequently maintain COVID-19 prevention guidelines prescribed by the Ministry of Health and relevant agencies
Safari guides must carry sanitizers at all times, and its regular use is encouraged
Guides and guests are to wear appropriate personal protective equipment (PPEs) at all times, and additional disposable PPEs shall be made available in vehicles for use at all times
Contactless thermometers must be made available for temperature checking in vehicles
An accurate register of guests who have been on the tour, or who have interacted with the tour guides, must be recorded
Handling of cash is to be minimized or eliminated via online mobile payments or use of credit/debit cards
Accommodation
From lodges to guesthouses, campsites to hotels, accommodation options are plentiful around Kenya. Many providers have already reopened to tourists, taking care to implement extra protocols for guest safety. The Elewana Collection, for example, has been working hard to safeguard against COVID-19 through a phased reopening of its 16 boutique lodges across Kenya and Tanzania under rigorous new health, hygiene and safety standards. Many others have followed suit in the safety department, such as the Instagram-famous Giraffe Manor in Nairobi, and the dreamy Mara Serena Safari Lodge.
These are some preventative and protective measures you can expect at accommodation establishments across Kenya for your safety:
Rooms shared between non-family and non-group members must be occupied at 50% or less capacity, determined by a 4- to 5-meter minimum space between beds
Hand sanitizers are to be made available in public areas to ensure easy access for guests and staff
Guest room air conditioning and ventilation arrangements are to be enhanced and maintained after each check-out
Contact surfaces are to be thoroughly cleaned and disinfected, with bedding and linen to be handled with care to avoid prolonged contact
Turndown services are to be restricted to facilitate minimal contact
Extra decor items such as cushions and throws will be removed
Tourist transportation services
The many tour operators around Kenya provide different modes of transportation that allow travelers to get to the heart of the action and cross the vast savannahs of the country. From land cruisers to hot air balloons, boats to coaches, each vehicle is subject to enhanced safety protocols.
These are some preventative and protective measures implemented by tourist transport services across Kenya for your safety:
All tourist transport vehicles are to be sanitized before the start of each trip — all surfaces including handrails, door handles, seats, and tables will undergo disinfection
Hand sanitizers are to be made freely available for guests to use throughout the journey
Except in an emergency, vehicles are not to make stopovers at locations outside of the prearranged designated point
Minibuses, land cruises, and similar overland vehicles must not carry more than 7 passengers, unless guests are traveling within the same family unit
Large coaches with 23 seats and more must not operate at more than 70% passenger capacity
---
Know of more protocols that answer the question is it safe to travel to Kenya? Share them with us!
---
About TourHero
TourHero is a social travel platform that enables you to travel with like-minded people and fall in love with the journey. We work closely with handpicked local operators to ensure every experience curated is unique and exclusive to your travel group. Come with us on epic adventures and create memories that last a lifetime!