The modern-day adventurer has it made! Gone are the days when a traveler couldn't survive without a map, guidebook, and a professional level of organization. These days, travel apps do all the hard work for you, and all you need is a mobile phone to get around and ensure your trip goes without a hitch.
In our pick of the best travel apps below, you'll find some great resources for booking cheap flights, finding great accommodation and even conversing with the locals. We've also included a few travel apps to help you make the most of any experience in the wilderness. Read on!
Flightradar24
Travel is a joy, a thrill and a great privilege, but no one enjoys hanging around in airports waiting for delayed flights. Flightradar24 tracks over 180,000 flights from over 1,200 airlines in 4,000 airports and a whopping 150 countries. You'll be able to see the status of your planned flight well in advance of your departure time, meaning greater prep for those hours spent at the airport.
There's also a fun side to Flightradar24. Simply by pointing your phone at the sky, you'll be able to track an aircraft in mid-flight and see their corresponding flight information. That's pretty cool! You can also get a pilot's-eye view of any flight you wish. Okay, we're not sure how useful that is, but it'll sure help to kill time as you wait for your own flight to be confirmed!

Available on: Android & iOS
Flightradar24 price: Free; more features available for $9.99 per annum
PackPoint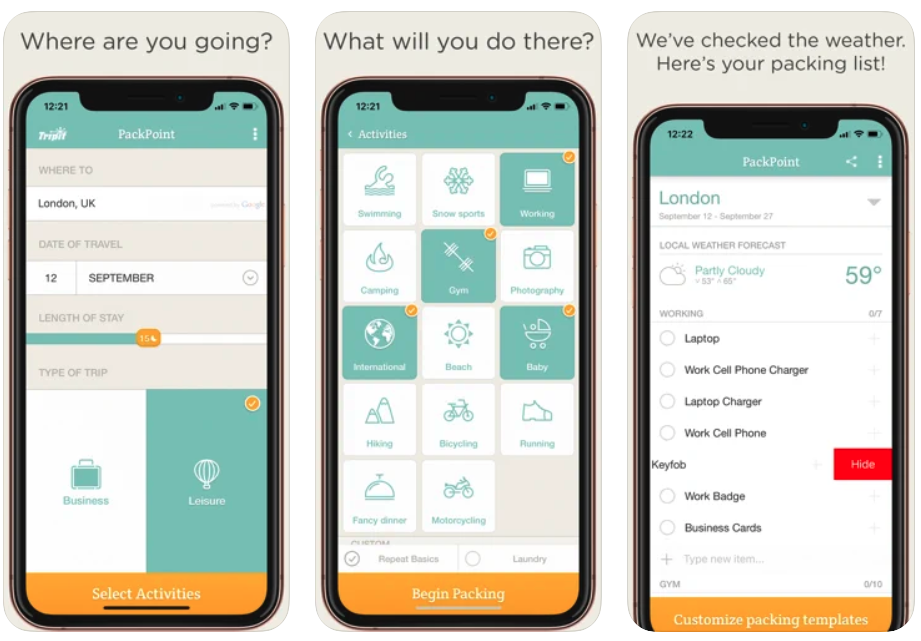 When you're traveling without mom's assistance, who's going to make sure you have everything you need? The PackPoint app of course! Although it doesn't cook your favorite meal or offer hugs when you need them, it'll certainly organize your packing lists effortlessly. Through the app, you can build different lists based on activities and themes. The app will also offer suggestions based on the weather, so you won't forget to pack your waterproof items if rain is forecast. The premium paid-for version allows you to build customized packing lists, rather than use the app's pre-set activities stated.
PackPoint Price: Free; $2.99 per year for more customization
Stellarium
Just imagine — your adventure has led you to a campsite, somewhere far from the bright lights of the city, and you look up to a star-filled sky and wonder "what's that?" If you've ever glanced at the night sky and wished your knowledge of the solar system was a little more thorough, Stellarium is the app for you. Learn all the constellations you see in the inky black canvas above, spot planets, satellites and more! And if you want the app to work out in the remote wilderness where you've got zero connection, no worries: the premium paid-for version of the app will work offline.
Some apps for travel are great for keeping you organized — this one will help expand your mind and heighten your overall experience!
Featuring all 1.69 billion known stars, other deep-sky objects and comets, plus more than 10,000 asteroids and most satellites visible from the Earth, Stellarium is a thing of beauty and magic. Simply set your viewing location, date and time, and et voila! The magnificent night sky above you will be instantly translated.
Stellarium price: Free; more features available for $9.99+ per annum
Skyscanner
This is one of the better-known travel apps and no intrepid explorer should leave home without it. Most of us travel on a budget, and flights are a definite way of making a saving. Skyscanner searches millions of flights from a vast supply of airlines and offers a huge range of options. It'll show you the cheapest flights, the quickest routes and even offer alternative dates if a great deal can be found for your chosen destination. Their customized search is unparalleled and you can filter your searches using a myriad of options — filter by flight duration, number of stops, airline name, travel class, departure times and arrival times.
Skyscanner price: Free
Airbnb
Another famous app for travelers is Airbnb. This one likely needs no introduction, however, did you know that using the app version of Airbnb displays more images per listing if you download it to your phone as opposed to simply trawling through their website on a browser? If you've somehow managed to escape using Airbnb so far, here's the gist: Airbnb is a listing site for hotels, hostels, apartments and houses to rent, even for short-term stays. Imagine a cozy little home in the middle of a traditional Italian town owned by a local family, surrounded by views you can't get from any old chain hotel. You're not going to find this type of property listed on a big hotel aggregator website. Airbnb is your one-stop shop for all your unique accommodation needs.
Simply enter the details of where you wish to stay and the type of property you're looking for, and you'll be presented with a superb range of places. Using the app, it's also easier to communicate with the host of your property, making it quicker to arrange timings or last-minute changes to your travel plans.
Airbnb price: Free
HERE WeGo
A map is a must when landing in a brand new place, and HERE WeGo is the best of the bunch. No internet connection is necessary to use this free app — simply download the map of the country you're visiting in advance and you'll be able to access it whenever you wish. There are also some super-handy features, including saving your starting point (e.g. your hotel), and the app calculating time and distance between two points when walking and using transport. Some cool features include public transport routes for more than 1,900 cities around the world, turn-by-turn voice guidance for drivers, and even a parking finder.
Here We Go price: Free
Trail Wallet
We've mentioned the importance of budgeting before. Trail Wallet is dedicated to keeping an eye on your expenses. You can set the app to look after your money by trip, or by a specific timeframe, and you can input a daily budget so you know if you've exceeded your limits. Once everything is set up, all you need to do is enter the details of every ATM withdrawal or payment you make, and Trail Wallet will do the rest.
Available on: iOS
Trail Wallet price: Free for 25 entries; $4.99 for unlimited
Google Translate
Often overlooked by travelers is the huge difference a little smattering of the local language can make. No matter where you are in the world, opening a conversation with "hello" in the national language is far more likely to see that chat spread further. This is very useful if you need directions or help in a difficult situation. Here's where Google Translate can help!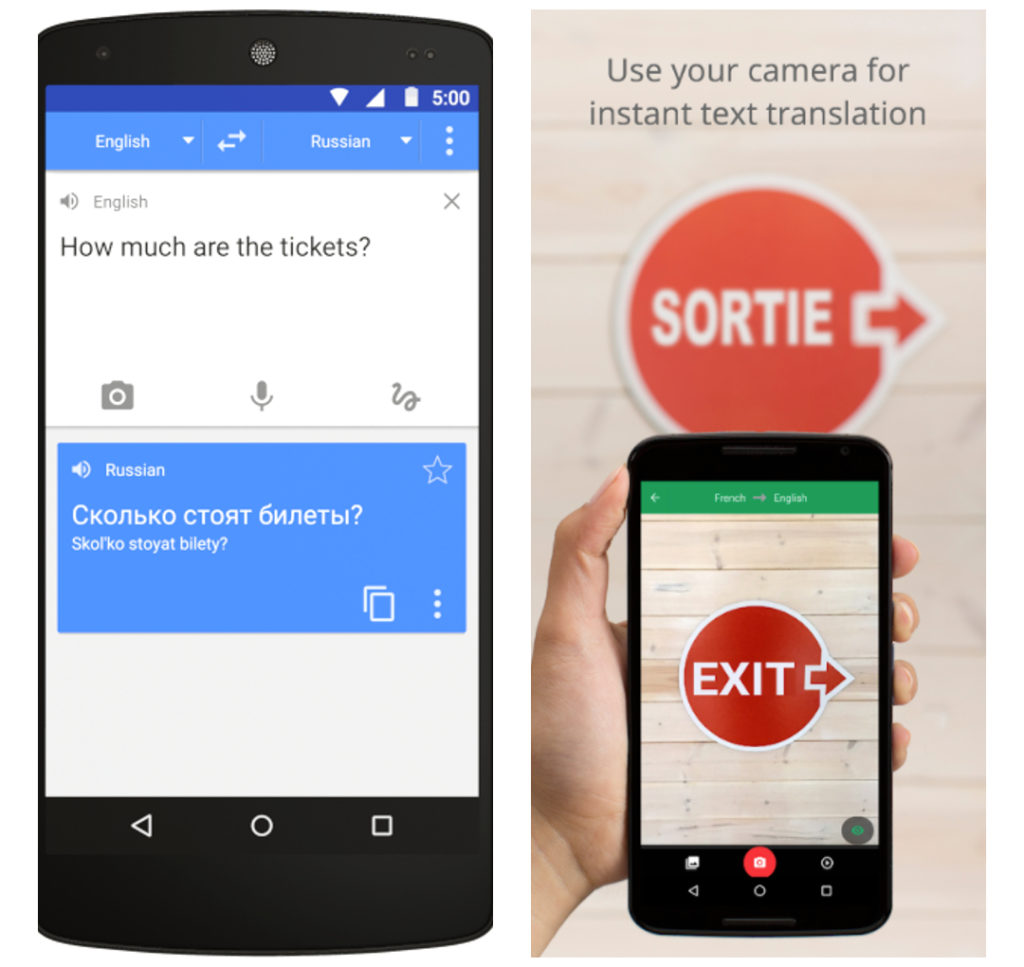 Google Translate can be downloaded as an app straight to your phone, and it works much the same as the browser version, but with even more unique features! For example, you can utilize the tap-to-translate function, where you can copy text in other apps and tap the Google Translate icon to translate, or you can use the instant camera translation function by pointing your camera at something you wish to translate. It comes in 103 different languages, with 59 available without internet access. Try it — travel is much more fun when you can converse with local people!
Google Translate Price: Free
Flush Toilet Finder
We all need to 'go' sometime, right? Imagine you've just landed in a new city and you've yet to master the art of asking where the nearest restroom is. With Flush Toilet Finder you can avoid those uncomfortable situations by finding the nearest public toilet to your location. Over 100,000 public restrooms are listed, with information about disabled access or a fee to enter. Trust us, you won't regret downloading this sanitary gem.
Flush Toilet Finder price: Free
Withlocals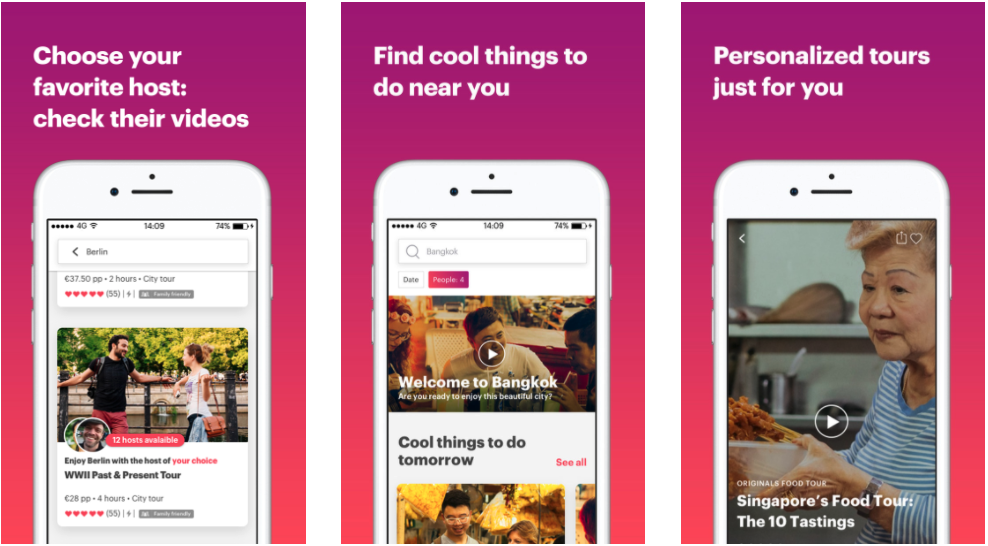 The most memorable travel experiences generally come with a little local knowledge, and Withlocals puts this at your fingertips! The app enables you to converse with local people across Europe and Asia, find recommendations and some real off-the-beaten-track experiences. Many of the contacts will be happy to invite you to their house for dinner, giving you the kind of experience that few commercially-guided tours can offer.
Withlocals price: Free
Visiting new places should be memorable, so reduce the chances of things going wrong by having the best travel apps at your fingertips. Wherever you're planning to travel anytime soon, we wish you all the best, and hope you have the adventure of a lifetime when you do!
---
About TourHero
TourHero is a social travel platform that enables you to travel with like-minded people and fall in love with the journey. We work closely with handpicked local operators to ensure every experience curated is unique and exclusive to your travel group. Come with us on epic adventures and create memories that last a lifetime!