⚠️ Update: November 11, 2021

Entry conditions for international travelers

Turkey is open to tourists. All arriving passengers must submit a negative COVID-19 PCR test taken within 72 hours of departure unless they have proof of being fully vaccinated (no less than 14 days ago) or proof that they have recovered from COVID-19 in the last six months. Certain travelers may be subject to stricter restrictions including mandatory quarantine, such as those who have recently been in Brazil, South Africa, Nepal, Afghanistan, Pakistan, India, Bangladesh, and Sri Lanka.

You may be randomly tested at the airport upon arrival — anyone who tests positive must quarantine for 14 days.

All travelers must complete an Entry Form at least 72 hours before their departure.

Domestic restrictions

Face masks and social distancing are mandatory in public places nationwide.

Most businesses are permitted to operate, subject to hygiene and social distancing requirements.

The COVID-19 pandemic has changed travel forever. Many international borders remain closed to tourists and most countries have strict restrictions in place. Fortunately, travel is slowly beginning to regain traction. Turkey is one such country where the majority of its international borders are open while it continues to keep up with stringent health and safety practices for all its travelers. We ask the hard question — "Is it safe to travel to Turkey during the COVID-19 pandemic?" so you can make the right choices and feel comfortable on your trip.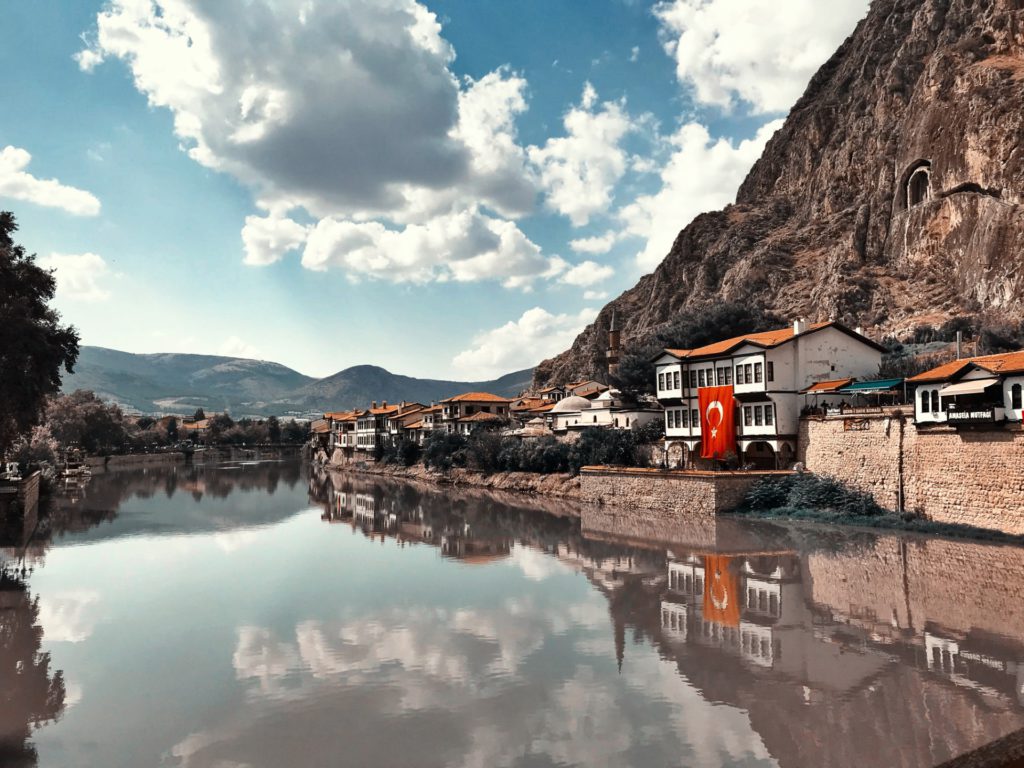 Turkey is the incredible transcontinental country that straddles Europe and Asia. The history of Turkey dates back centuries to the Ottoman Empire, also known as the Turkish Empire, which came to be one of the world's most powerful states in the 15th and 16th centuries. Today, Turkey remains vibrant, cosmopolitan, and thriving.
Turkey has opened its borders to certain international travelers. Most travelers are required to submit a negative certificate for a COVID-19 PCR test (taken no more than 72 hours prior to departure) to enter the country if they are unvaccinated.
Read on to discover the answer to the question, is it safe to travel to Turkey?
What do I look out for before planning a trip to Turkey?
The Safe Travels Stamp by WTTC
Turkey has been awarded the Safe Travels Stamp by the World Travel and Tourism Council (WTTC), which recognizes their commitment to safety for all travelers. Read more about the WTTC and the new Safe Travels protocols here.
The Safe Tourism Certification Program by TGA
Alongside the WTTC, the Turkey Tourism Promotion and Development Agency (TGA) has also introduced the Safe Tourism Certification Program. Tourist attractions, agencies, and accommodation that adhere to extensive measures imposed for the well-being of travelers will be awarded this certification.
The TGA has outlined criteria for accommodation, food and beverage facilities, and tour and transfer vehicles. From there, the agency has shortlisted a list of certified accommodation facilities, restaurants, and tour and transfer vehicles on the TGA website. Be sure to keep an eye out for this certification when planning your itinerary to Turkey!
COVID-19 insurance
The TGA also recommends travelers to purchase the Tourist Protection and Support Insurance with COVID-19 coverage before their travels to Turkey. This policy covers the medical expenses of patients who are treated at hospitals with a positive COVID-19 diagnosis. Find out more here.
Choosing your destination
Istanbul is Turkey's most populous city and is considered one of the world's largest cities in terms of population. Being around such large volumes of people may be uncomfortable for some during the pandemic. Fret not! Turkey boasts a bevy of destinations where you can travel outdoors and safely keep your distance from others.
Cappadocia
Cappadocia's otherworldly volcanic landscape is a must-see when you visit Turkey. Best known for its scenic hot air balloon rides, cave-dwelling homes, and dramatic topography, Cappadocia is every nature-lover's dream come to life.
The ever-so-popular activity of hot air ballooning over Cappadocia's landscapes has since resumed as of July 1, 2020. Flight crews are to impose limited capacity on each balloon to ensure that social distancing measures are met.
Pamukkale
Pammukkale is a UNESCO World Heritage Site known for its mineral-rich thermal waters and mesmerizing white terraces located in the southwest region of Denizli. Many visit these magical thermal pools for its supposed healing properties for cardiovascular, skin, and nerve diseases.
The area has imposed the highest standards of hygiene for guests in order to curb the spread of the virus. Currently, cafes, restaurants, beaches, parks, and business establishments have resumed business in the region.
Istanbul
While highly popular, Istanbul arguably must not be missed during your travels to Turkey. The Bosphorus, an important waterway in Turkey, divides the city into its European and Asian sides, making this city a unique amalgamation of cultures. This glorious city never fails to surprise with its structural feats of ancient religious architecture, thriving arts scene, and world-renowned delicious Turkish cuisine.
Most tourist attractions, beaches, parks, restaurants, and cafes in Turkey are currently open with safe distancing measures in place. Make sure to double-check before heading to a destination.
Istanbul Airport
The Istanbul Airport, one of Turkey's main travel hubs, is also the first airport in the world to be accredited through the new Airport Health Accreditation Program, launched by the Airports Council International (ACI) World and ACI Europe. The ACI's accreditation program assesses new health measures and protocols in place to ensure the safety of all travelers based on the ACI's Aviation Business Restart and Recovery guidelines.
The airport has implemented strict measures to curb the spread of the virus as it welcomes international travelers. These include:
A dedicated Hygiene Team to remind passengers to keep a distance from each other
High-tech smart screening thermo-scan sensors for temperature monitoring
A ventilation system to increase the circulation of fresh air
Special sanitization mats to disinfect passengers' shoes and luggage before entering the airport
Ultraviolet-based tunnels to disinfect airport security trays and baggage surfaces
The Grand Bazaar
The Grand Bazaar is one of Turkey's oldest and largest markets. You'll never know what you might find in this sprawling market – the bazaar boasts over 60 covered alleyways to explore and over 6,000 shops. From homeware to unique Turkish souvenirs, the Grand Bazaar offers some of the most unique shopping experiences you can find.
The bazaar suffered one of its longest closures due to the pandemic. However, as of June 1, 2020, this iconic bazaar has since reopened its doors to tourists. Several safety guidelines include the mandatory wearing of masks and a limited number of customers in stores.
Sultanahmet Mosque
The Sultanahmet Mosque, also known as the Blue Mosque, is a major tourist attraction located in the European part of Istanbul. The blue tiles surrounding its walls make it one of the most active mosques in the city. Many frequent to the mosque to pray or to simply admire its stunning beauty.
As of May 21, 2020, mosques all over Turkey have reopened. The Sultanahmet Mosque is currently open with social distancing measures in place. This means that those performing their prayers can also occupy the yard of the mosque or Sultanahmet Square. Disinfection is routinely conducted at the mosque and police officers are also on-site to ensure security.
Museums in Istanbul
Istanbul is home to over 80 museums that cover archaeology, history, modern art, fine art, and more. Many of these museums have reopened their doors to visitors. A few contemporary art museums that are currently open to visitors include:
Istanbul Museum of Modern Art (Istanbul Modern)
Pera Museum
Sabanci University Sakip Sabanci Museum
Arter museum
These museums encourage guests to make online reservations with pre-arranged timings to stagger the number of visitors that occupy a museum at one time. Social distancing markers are also placed on the ground to remind visitors to keep a safe distance. Masks are required and visitors must disinfect their hands and take their temperature before entering the museum.
Know of more protocols that answer the question is it safe to travel to Turkey? Share them with us.
---
About TourHero
TourHero is a social travel platform that enables you to travel with like-minded people and fall in love with the journey. We work closely with handpicked local operators to ensure every experience curated is unique and exclusive to your travel group. Come with us on epic adventures and create memories that last a lifetime!