The beautiful Sunshine Coast, located in Queensland, stretches from the coastal city of Caloundra, near Brisbane, to the sweeping sands of Noosa's northern shores. True to its name, the region boasts year-round sunshine, an impressive collection of tropical beaches — 100 of them! — and a mild climate perfect for exploring the outdoors. Compared to the glitzy Gold Coast located 170 kilometers south, the Sunshine Coast remains a lesser-known gem to out-of-towners. But, as you'll soon see, this understated cousin boasts plenty of character and hidden natural treasures. Beyond the sparkling beaches and lovely coastal towns, both of which draw throngs of domestic tourists looking for sand, surf, and sun, the Sunshine Coast hides a myriad of gems up in the rural hinterland, from excellent hiking trails to jaw-dropping views of the Glass House Mountains.
Want to know how to have the ultimate Sunshine Coast weekend getaway? Look no further. Here's our two-day Sunshine Coast itinerary that covers everything you need to see and do.
About the Sunshine Coast
The Sunshine Coast is located in South East Queensland on the Coral Sea coastline, approximately 100 kilometers north of the state's capital, Brisbane. Its urban area spans roughly 60 kilometers of coastline and hinterland. With a population of over 350,000 inhabitants, it is the third-most populous area in Queensland.
The earliest residents of the Sunshine Coast were the indigenous Gubbi Gubbi and Wakka Wakka people. In the 1860s, European settlers established simple jetties and ports in the area for the timber industry, which made use of the native tree species found in the area, including red cedar, bunya, beech, tallowwood, and kauri pine, among other native hardwoods and softwoods. Much of the timber felled in the Sunshine Coast region had been instrumental in the creation of infrastructure around Brisbane.
The 1890s saw the rise of agriculture. Small farms began to replace the timber economy, in particular pineapple and sugarcane farms. As the population grew, hamlets and towns emerged. But it was only after World War II that the Sunshine Coast transformed into a holiday and surfing destination. Following the development boom of the 1960s and 70s, tourist attractions grew, and the Sunshine Coast began to attract people from all walks of life, including those drawn to alternative lifestyles.
Today, the Sunshine Coast is made up of six sub-regions: Caloundra, Kawana Waters, Maroochydore, Buderim, Coolum, and Nambour. The region is also home to more national parks than any other region in Queensland. These include Mapleton Falls National Park, Glass House Mountains National Park, Kondalilla National Park, Noosa Heads National Park, and the Great Sandy National Park.
The best time to visit the Sunshine Coast
For best weather at the Sunshine Coast:
Visit during the autumn months from September to November when daytime temperatures are still warm and rainfall is low. That said, there is no wrong time to visit the Sunshine Coast as the region generally experiences a pleasantly mild climate throughout the year alongside some of the highest levels of sunshine in the world. On average, summer temperatures fall between 21 – 28°C from December to February, and winter temperatures fall between 11 – 22°C from June to August.
Peak season at the Sunshine Coast:
The busiest time for the Sunshine Coast is during the school holidays in June and July, so avoid these months if you want a quieter getaway. Lodging and accommodation may also cost more than usual between June and August.
How to get to the Sunshine Coast
By plane: Virgin Australia, Jetstar, and Qantas service the Sunshine Coast direct from major cities, including Melbourne, Sydney, Adelaide, and Cairns. You can also fly in from Auckland via Air New Zealand.
The Sunshine Coast Airport is located 30 kilometers north of Caloundra, the southernmost town in the Sunshine Coast. From the airport, it is easy to rent a car to help you get into town.
By car: The nearest major city is Brisbane. Brisbane International Airport is located 90 kilometers — roughly a 70-minute drive — from Caloundra.
Sunshine Coast itinerary: The ultimate weekend explorer's guide
Route map
Day 1: Mary Cairncross Scenic Reserve – Montville – Kondalilla Falls – Caloundra
Roam the trails at Mary Cairncross Scenic Reserve
Start your day bright and early for your drive up north from the bustling city of Brisbane. Enjoy views of the famous Glass House Mountains in the distance as you get close to the Sunshine Coast hinterland. Your first stop is the 55-hectare jewel of the Mary Cairncross Scenic Reserve, its subtropical rainforest a delightful treasure trove of diverse plant and animal life. Here, it's easy to get lost in the tranquility of bird calls and dappled sunlight as you make your way through the various walking trails. The rainforest loop, pademelon loop, and picabeen loop are easy circuits you can trek, all under two kilometers. Keep your eyes peeled — the reserve is home to over 300 species of flora, 141 species of birds, various reptiles, amphibians, and a few adorable marsupials including adorable kangaroo-like pademelon.
Pop into world-class Rainforest Discovery Centre to find a host of multi-sensory learning experiences and displays. Here, journey through the 150-meter Elevated Glider Gallery Boardwalk to see the rainforest from a different perspective, or head to the viewing deck for breathtaking panoramas of the heritage-listed Glass House Mountains in all their glory, the distinctive peaks of the hill cluster towering above the coastal plain of the Sunshine Coast like sentinels.
You can pre-book guided rainforest walks conducted by knowledgeable volunteers to gain a more intimate understanding of the biodiversity and sights within the reserve. Pre-booked guided walks are available between 9 am and 4:30 pm daily.
Getting to Mary Cairncross Scenic Reserve: The reserve is located approximately 90 kilometers north of Brisbane, tucked in the Sunshine Coast hinterland. Follow directions to 148 Mountain View Road, Maleny, Queensland. The drive will take between 1 – 1.5 hours depending on traffic.
Opening hours: 7 am – 6 pm daily (rainforest walks), 9:30 am – 3:30 pm daily (Rainforest Discovery Centre)
Explore the mountain village of Montville
Just 10 minutes away, charming Montville awaits you with its collection of art galleries, coffee shops, and boutique stores. The drive to get here rewards you with sweeping panoramic views of Balmoral Ridge and beyond. Spend a couple of hours exploring the main street of Montville. Pop into Fudgyboombahs for some handmade fudge, perfect for sweet tooths. With dozens of fudge flavors ranging from classic vanilla bean to out-of-this-world chili chocolate, ginger cream, and strawberries and cream, you'll be spoilt for choice! Don't forget to visit the quaint Clock Shop, its walls lined with hundreds of ticking clocks that chime and cuckoo every few minutes. For lunch, enjoy some comfort food at Montville Cafe Bar and Grille, renowned for its charming black-and-white Tudor building and laid-back pub atmosphere.
Getting to Montville: Montville is located 12 kilometers north of the Rainforest Discovery Centre at Mary Cairncross Scenic Reserve. Follow signs to Maleny – Montville Road and continue onto Balmoral Road. Once you hit Main Street, you're in Montville's beating heart.
Trek to the 80-meter Kondalilla Falls
Drive five minutes north and you'll come to Kondalilla National Park. Shaped by volcanoes 28 million years ago, the natural landscape here is both scenic and spectacular, its protected subtropical and eucalypt forests hiding some beautiful secrets. Kondalilla means "rushing waters" in the local Aboriginal tongue, which aptly describes the beautiful 80-meter-tall Kondalilla Falls. This iconic waterfall and its refreshing rock pools are a favorite swimming hole destination for Brisbane and Sunshine Coast locals.
It's easy to get to the waterfall — trek the moderate 4.7-kilometer Kondalilla Falls Circuit, which brings you to the base of the falls and to the top, taking about two hours to complete. The trail is well-maintained and family-friendly.
Getting to Kondalilla National Park: From Montville, travel two kilometers north via Mapleton Montville Road, then turn left onto Kondalilla Falls Road. You'll find a car park at the end, servicing the Kondalilla National Park entrance.
Catch an epic sunset at Kings Beach
Journey 40 minutes to Caloundra, one of the Sunshine Coast's lovely coastal towns that's all about seafront restaurants, sunset sips, specialty coffee, sweeping coastal views, and superb beaches. Make your way to Kings Beach in time for a beautiful sunset. Crowned Australia's number one beach by the Surf Lifesaving Queensland in 2015, Kings Beach remains the most popular surf beach in Caloundra. If you're looking for casual beachside dining, drop into Kings Beach Bar and order up a freshly-made burger, munch on yummy tacos, sip on a cocktail, and enjoy the sea breeze.
Kings Beach Bar opening hours: Wednesday – Saturday: 6 am – 9 pm, Sunday: 6 am – 8 pm, Monday – Tuesday: 6 am – 4 pm
Getting to Caloundra: From Kondalilla National Park, head back to Montville and follow signs for the M1 heading towards Brisbane. Merge onto the M1, take exit 188A for State Route 6/Caloundra Road toward Caloundra, turn left onto Sugar Bag Road and continue onto Queen Street. You will eventually reach Moreton Parade at Kings Beach.
Spend the night at the chic Loea Boutique Hotel
Drive up to Maroochydore and rest your head at Loea Boutique Hotel, a tranquil coastal retreat located close to the Maroochy River. Each of the 10 elegant and airy rooms is decorated with calming hues and minimalist furnishings. All rooms at Loea feature King beds, luxury bedding, ensuite bathrooms, and a private outdoor deck.
Getting to Loea Boutique Hotel: Head north and hit the Sunshine Motorway, take the exit toward State Route 6 and Bradman Avenue, follow directions to 361 Bradman Avenue, Maroochydore QLD 4558.
Day 2: Mooloolaba – Mt. Coolum – Noosa
Get a dose of sunshine at Mooloolaba Beach
Catch some morning sun at Mooloolaba Beach, one of the more developed beaches you'll find in the area. We highly recommend a walk along the Esplanade, a stretch that features delightful restaurants, shops, and boutiques. Take your pick of any of the cafes along the walk and have a leisurely breakfast with a large flat white. Then, head to the beachfront boardwalk for a scenic stroll overlooking golden sands and the sparkling surf. Make your way towards Alexandra Headland — just an easy 20-minute walk — and encounter some of the most Instagram-worthy spots on the Sunshine Coast!
Getting to Mooloolaba Esplanade: From Loea Boutique Hotel, it's an easy 10-minute drive to Mooloolaba Beach. Get on the Sunshine Motorway and take the Mooloolaba Road exit to Buderim Avenue. At the end of Buderim Avenue, turn right onto Mooloolaba Esplanade.
Drive to Mt. Coolum and hike the 800-meter track to the summit
If the weather remains dry, it's time to tackle the 200-meter Mt. Coolum! A favorite hiking area amongst the locals, the volcanic dome-shaped hill provides an excellent lookout for breathtaking views of the coast. There is an 800-meter track to the summit that meanders through a variety of ecological zones, from tropical forest to dry scrub. The trail can be conquered in about 40 minutes and is certainly worth the view!
Getting to Mt. Coolum: Mt. Coolum is a 30-minute drive up north from Mooloolaba Beach. Drive in the direction of Sunshine Coast Airport and continue a further 7 kilometers to reach Mt. Coolum.
Get boozy at the Land & Sea Noosa Brewing Company
Continue north and stop for lunch at Land & Sea Noosa Brewing Company for some good food, excellent beer, and an awesome atmosphere. But don't just treat this as a rest stop to refuel. Take the time to do a tour of the brewery, combined with a tour featuring 'Fortune' Noosa Heads Distillery in the same location, and delve into the action of both crafts — learn how each brand produces their craft beer and fine spirits through a 90-minute immersive experience, complete with a sampling of both Land & Sea's craft beers and 'Fortune's' fine spirits! Bookings are required for tours.
Getting to Land & Sea Noosa Brewing Company: From Mt. Coolum, drive 25 kilometers north, following directions to 19 Venture Drive, Noosaville 4566.
Opening hours: Sunday – Thursday: 12 – 8 pm, Friday – Saturday: 12 – 9 pm
Go on an eco-walk around Noosa Heads National Park
Noosa Heads National Park, which stretches across more than 9,800 acres of land, boasts an incredible seaside location, easy accessibility, and surprising biodiversity for a national park situated at the doorstep of Noosa's bustling tourist town. At the Noosa Headland section, you'll find 15 kilometers of hiking trails. Here, you'll want to hike the iconic 5.4-kilometer Coastal Walk. Spend a good four hours on this trail and marvel at spectacular sea views, passing eucalyptus trees, banksias, giant kauri pines, and casuarinas. Make sure to look up — you might find koalas snoozing up in the trees. But also watch your step, as there have been sightings of echidnas scuttling across the ground! During whale migration season between July and October, keep your eyes on the sea for sightings of humpback whales.
Getting to Noosa Heads National Park: From Land & Sea Noosa Brewing Company, head east on Venture Drive toward Project Avenue, then turn left onto Eumundi Noosa Road, continue onto Eumundi Road, turn right onto Gibson Road, and follow the road until you get to Noosa Parade. Take Park Road and drive to the end to find the national park carpark.
Spend your evening at Hastings Street
Image above photographed by @lumea_photo.
Finally, make your way to Hastings Street, just a five-minute drive from the national park entrance. Home to flashy boutiques, beachside resorts, popular restaurants, and bars, this is the spot to do a bit of shopping and dining before you conclude your weekend with a well-deserved dinner! Indulge in some delicious Italian food at Locale, or wow your palate with modern Australian cuisine at the scenic Sails right on the beachfront.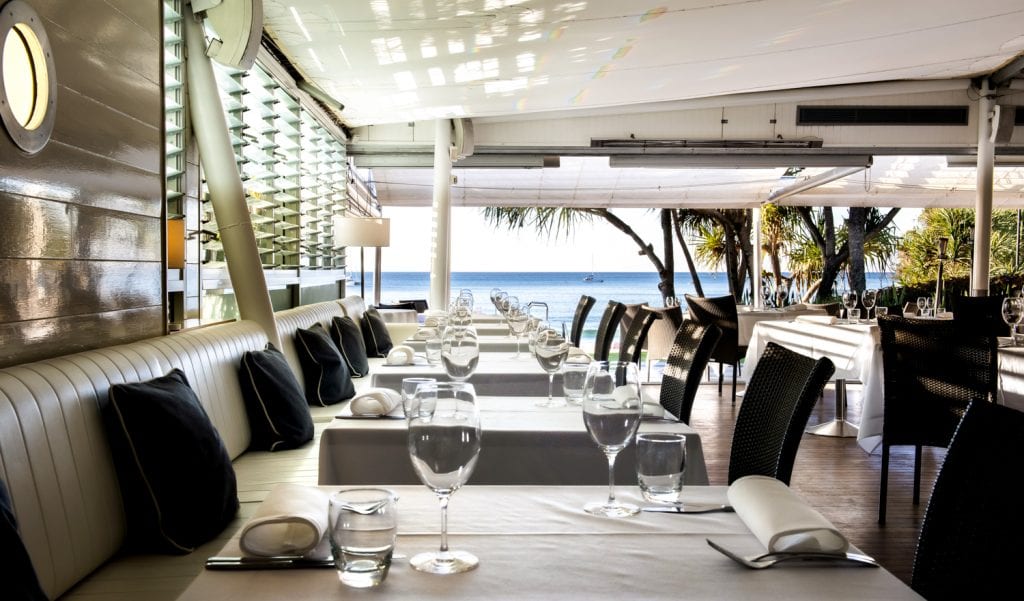 Getting to Hastings Street: Hastings Street is 1.3 kilometers from the national park entrance. Head back on Park Road and turn onto Hastings Street at the roundabout.
We hope we've given you plenty of inspiration to explore South East Queensland with our Sunshine Coast itinerary!
---
About TourHero
TourHero is a social travel platform that enables you to travel with like-minded people and fall in love with the journey. We work closely with handpicked local operators to ensure every experience curated is unique and exclusive to your travel group. Come with us on epic adventures and create memories that last a lifetime!