The Gold Coast may be famous for its buzzing beaches and epic theme parks, but if you want a change of pace and scenery, head inland for all the magic. The iconic Tamborine Mountain takes the cake as the Gold Coast's most accessible hinterland hideout for a relaxing getaway. Located on the doorstep of the city, nestled in the iconic Scenic Rim of South East Queensland, the picturesque area boasts a unique blend of eco-tourism activities, incredible walking trails, hidden waterfalls, excellent mountain views, and amazing food and wine. Spoil yourself and discover one of Queensland's greatest hidden treasures. Here's our comprehensive two-day guide on the best things to on Tamborine Mountain!
About Tamborine Mountain
Tamborine Mountain is considered part of the Gold Coast hinterland and is located in the rural paradise region of South East Queensland's Scenic Rim, in itself set in the foothills of Australia's Great Dividing Range. It may be called a "mountain", but Tamborine Mountain is actually a 28 km2 plateau, created by an outpouring of lava 22 million years ago from the eruption of Mount Warning. The name is also a collective term for the region's main villages: North Tamborine, Eagle Heights, and Mount Tamborine. The highest point of Tamborine Mountain sits at an elevation of about 570 meters above sea level.
"Tamborine" calls to mind the musical instrument — the tambourine — and is often misspelled as such, though the location has no connection to the instrument. The name stems from the Aboriginal Yugembah language for "wild lime", referring to the finger lime trees that grow in the region. Alternative spellings for Tamborine include "tchambreem", "goombireen", and "jambreen".
Much of the plateau and its surroundings comprise of wet subtropical habitats. Tamborine Mountain supports a large population of plant and animal species, hosting an impressive 65 percent of all plant species and 85 percent of all animal species found in the Gold Coast area. Animals found here include glossy black cockatoos, marbled frogmouths, ground-dwelling Albert's lyrebirds, short-beaked echidnas, and even platypuses. High rainfall and fertile volcanic soil on the plateau allow rich crops of avocados, mangoes, macadamias, and kiwifruit to flourish.
With its cool climate, beautiful scenery, and close proximity to Brisbane and the Gold Coast's city center, the region has developed a strong tourist industry.
When to visit Tamborine Mountain
With its subtropical highland climate, temperatures are usually 4 to 5°C degrees cooler than the Gold Coast's surrounding lowlands. Expect an average maximum temperature of 25°C in summer and 17°C in winter. The area experiences most of its rainy season between December and March, when it is warmer. Visit during the winter months for sunny and dry weather, but remember to bring some extra layers for nighttime temperatures, which can sometimes drop below 10°C.
How to get to Tamborine Mountain
Tamborine Mountain's main tourist hub, Gallery Walk, is located roughly 70 kilometers from Brisbane's city center (about an hour's drive), and approximately 40 kilometers from Surfers Paradise (about 45 minutes' drive).
From Brisbane: Tavel south towards the Gold Coast, following the M3 and M1. Take the exit for Yatala (North) and follow signs for Beaudesert-Beenleigh Road. Travel on Beaudesert-Beenleigh Road, then turn onto Tamborine Mountain Road and continue until you reach Eagle Heights Road on the left. At the end of Eagle Heights Road, turn left at the roundabout for Gallery Walk on Long Road.
From Surfers Paradise: Drive inland towards Nerang and get onto Beaudesert-Nerang Road. Turn right onto Mount Nathan Road and follow signs for Maudsland Road. On Maudsland Road, turn down Tamborine-Oxenford Road. Drive until you reach Macdonnell Road. At the roundabout, turn right to find Gallery Walk on Long Road.
Ultimate travel itinerary — Best things to do on Tamborine Mountain in 48 hours
Route map
Day 1 — Gallery Walk, Tamborine Rainforest Skywalk, Fortitude Brewing Co., Witches Falls Winery
Have breakfast at Gallery Walk and explore charming shops
Set off early so you have plenty of time for a leisurely drive up the winding roads leading to Tamborine Mountain. Your immediate destination? The famous Gallery Walk, of course! This charming stretch along Long Road is the perfect place for your first introduction to Tamborine Mountain and its laid-back, welcoming culture. Gallery Walk is home to several dozen shops, boutiques, art galleries, handicraft stores, restaurants, and cafes. Have a yummy breakfast at one of the many delightful cafes, then indulge in some shopping to pick up a few trinkets. You'll find everything from handmade clocks to collectible glass figurines to jewelry studios here. Don't forget to try some exotic flavors of fudge and ice cream at the specialty parlors!
Address: Long Road, Tamborine Mountain QLD 4272, Australia
Opening hours: Most shops are open from 10 am – 4 pm
Get a bird's-eye view of nature on the Tamborine Rainforest Skywalk
Full up on breakfast, hop back into the car and take a short 10-minute drive through the forests surrounding Cedar Creek to where the incredible steel bridges of Tamborine Rainforest Skywalk hide. Here, an amazing walk through the 30-acre, privately-owned rainforest estate awaits. Spend an hour exploring the forest floor trails and 300-meter skywalk that takes you 30 meters above the creek and rainforest for absolutely jaw-dropping views. Tamborine's lush landscape has never looked so good from up here!
Address: 333 Geissmann Drive, Mount Tamborine, QLD 4272
Opening hours: Daily, 9:30 am – 4:00 pm (last ticket sale)
Stop at Fortitude Brewing Co. to sample some locally-made beer
Double back to Long Road to find the spacious Fortitude Brewing Co., housed in a gorgeous venue that also doubles as an actual working brewery. Hungry? Whet your appetite and indulge in quintessential pub staples like fish and chips and made-to-order gourmet pizzas for a hearty lunch. Of course, don't be shy about the beer! If you or your traveling companions are up for a little taste test, order up a beer paddle and sample a range of fresh Fortitude beers, all brewed on-site. If you're lucky, you might even catch some live music at the venue, so grab a seat!
Address: 165 Long Road, Mount Tamborine, QLD 4271
Opening hours: 11 am – 3 pm (Monday to Friday), 11 am – 4 pm (Saturday and Sunday)
Enjoy vineyard views and picnic vibes at Witches Falls Winery
Skipped the beer? More of a wine person? Head to Witches Falls Winery and give your taste buds a bit of a treat. You'll find this magical hideaway tucked amongst a dreamy green-and-gold landscape of fir trees, grapevines, and avocado trees. Pick your way through a platter of cheese, chutneys, and crackers while sipping a glass of wine and enjoying the afternoon sun outdoors. Don't pass up the chance to pick up a bottle or two from the cellar as well, just for keeps.
Wine tastings must be booked in advance.
Address: 79 Main Western Road, Mount Tamborine, QLD 4272
Opening hours: 10 am – 5 pm (Sunday to Thursday), 10 am – 7 pm (Friday), 10 am – 6 pm (Saturday)
Have a cozy stay at the Scottish-inspired Stonehaven Manor Guest House
After a day of exploring Tamborine Mountain, you deserve some quiet relaxation. For a unique accommodation option, the Stonehaven Manor Guest House will transport you all the way to Scotland with its delightfully-themed interiors. Romantic, cozy, and nestled amidst lovely gardens flanked by rainforest greenery, this luxurious mansion exudes warmth and comfort through its plush furnishings, while also seamlessly embracing its lush tropical surroundings. Room amenities include a double spa, air-conditioning, Wi-Fi, and king-size bed. As a bonus, the restaurants along Gallery Walk are just a few minutes away, so you can head over there for an easy breakfast the next morning.
Address: 79 Geissmann Drive, Tamborine Mountain, QLD 4272
Day 2 — Curtis Falls, Tamborine Mountain Distillery, Cedar Creek Estate, Glow Worm Caves
Explore the Curtis Falls walking track
After breakfast, make your way to Curtis Falls for a leisurely morning walk in the heart of nature. The moderate 1.1-kilometer walking track takes you through a pristine, untouched eucalyptus forest brimming with staghorn ferns, banyan trees, and vines. This trail eventually leads to a hidden waterfall with a natural rock pool filled with fish, eels, and turtles. Depending on how wet the season is, the cascade you encounter may appear as a raging torrent, or a gentle curtain of water trickling into the pool below. If you're lucky, you might catch a platypus in its natural habitat, or cross paths with camouflaged birds and lizards that dwell on the forest floor.
Address: 14-18 Dapsang Drive, Eagle Heights, QLD 4271
Step into the award-winning Tamborine Mountain Distillery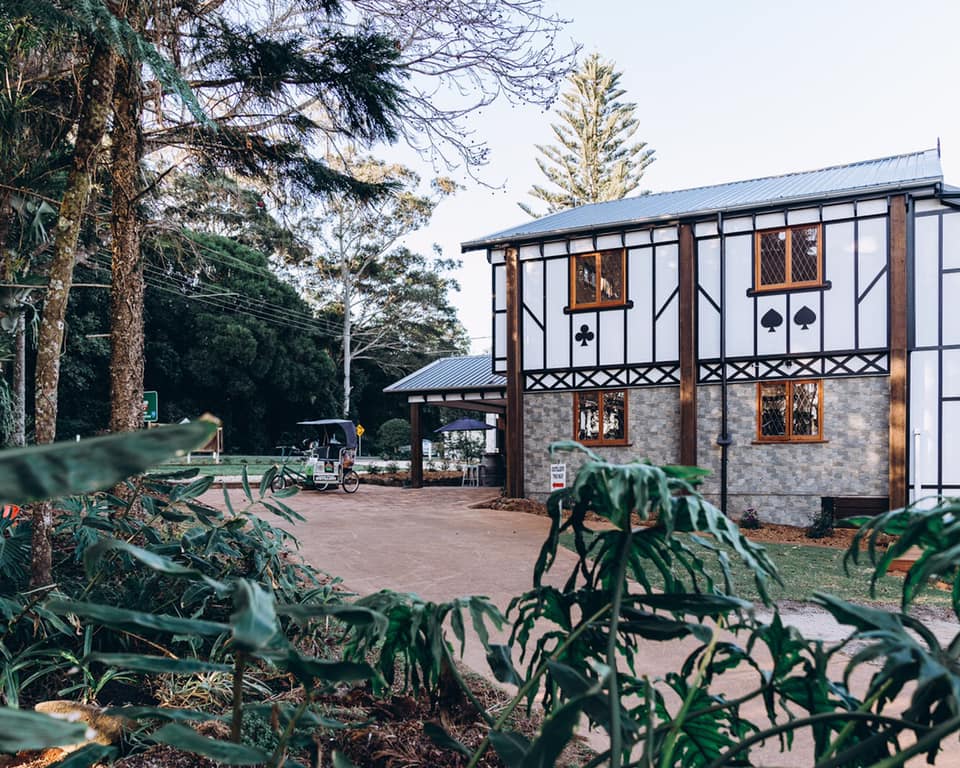 After your morning trek, head to your lunch destination, but not before stepping into the charming Tamborine Mountain Distillery for a quick gander. Housed in a beautiful Elizabethan Tudor-style building, this small, privately-owned distillery is where you'll find an array of liqueurs, schnapps, vodkas, and spirits, all infused with a modern take on unique Australian flavors. Think flavors imbued with the likes of forest herbs, Davidson plum, eucalyptus gum leaf, lemon myrtle, wattle seeds, and macadamia.
Winner of over 300 international awards, it's worth every moment of your time to explore the options and select a few bottles of the good stuff to bring home.
Address: 10 Macdonnell Road, Tamborine Mountain QLD 4272
Opening hours: 10 am – 5 pm (daily)
Immerse yourself in the tranquil settings of Cedar Creek Estate for lunch
The 22-acre Cedar Creek Estate is the type of hidden gem that you'll be glad you discovered. Manicured wedding-esque gardens, grassy knolls, and stunning lake views make for a fairy-tale atmosphere that you'll immediately fall in love with. The vineyards offer the perfect location for a laid-back lunch, with lovely views from the outdoor deck, gazebo, or veranda. Nosh on mains of braised lamb, char-grilled Mediterranean vegetables, and slow-roasted duck, then explore the estate's dedicated art gallery to admire the works of Arthur Hamblin, renowned for being the "Father of Australian Outback Art".
Address: 104-144 Hartley Road, Tamborine Mountain QLD 4272
Opening hours: Restaurant is open from Wednesday to Sunday, 10 am – 4 pm. Lunch sittings are at 11:30 am and 1:30 pm.
See a colony of glow worms up close in a magical cave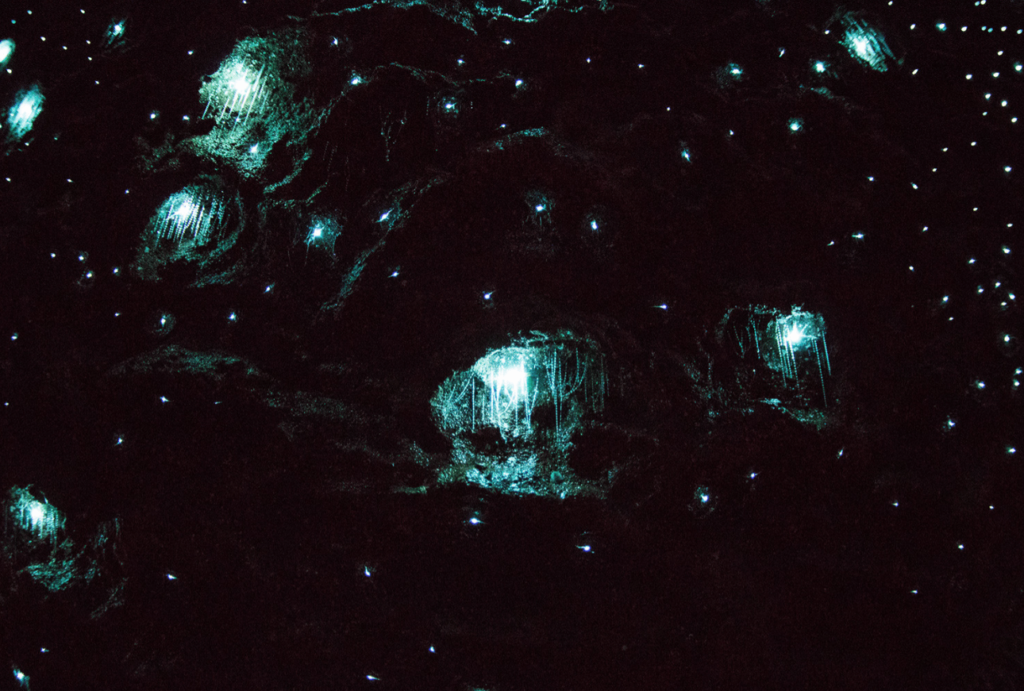 You might be surprised to find out that Cedar Creek Estate is not just about its vineyard, restaurant, and art gallery. The team has also taken on a unique conservation initiative by setting up a purpose-built cave that mimics perfect environmental conditions to house a colony of native Tamborine Mountain glow worms. Glow Worm Caves Tamborine Mountain is located on the grounds of Cedar Creek Estate, so you won't have to go far. Take a guided tour through the cave for an up-close look at the thousands of glow worms that live here and learn about their behavior and life cycle! As the cave is purpose-built for conservation and not a natural area, glow worm sightings are guaranteed and can be seen at any time of the day.
You must book your tour in advance for a guaranteed spot.
Address: Cedar Creek Estate, 104-144 Hartley Road, QLD 4272
Opening hours: 10 am – 3 pm (Monday to Friday), 10 am – 4 pm (Saturday and Sunday)
Catch epic views at the "Hang Glider Lookout"
It's time to head back to the coast. On the journey back down, be sure to check out one of the most epic lookouts in the area. Part of Robert Sowter Park, the "Hang Glider Lookout" is a scenic stretch along Main Western Road that overlooks a steep escarpment. The nickname for the lookout stems from many hang gliding and paragliding enthusiasts using this cleared section as a launch site. If you're lucky, you may catch one of these hobbyists in action as they run, jump, and glide their way down to the landing below! The view here is absolutely Instagram-worthy, so make sure to get a few snaps before you continue your journey back towards the coast.
Address: 294-298 Main Western Road, North Tamborine, QLD 4272
And that's Tamborine Mountain wrapped up! We hope we've given you plenty of inspiration on the best things to do on Tamborine Mountain in two days with our detailed travel itinerary! Looking for a different hinterland experience? Be sure to explore the Sunshine Coast as well — check out our guide to the best Sunshine Coast rainforest retreats and hinterland cottages located in Montville.
---
About TourHero
TourHero is a social travel platform that enables you to travel with like-minded people and fall in love with the journey. We work closely with handpicked local operators to ensure every experience curated is unique and exclusive to your travel group. Come with us on epic adventures and create memories that last a lifetime!