Iceland, the country of glaciers and volcanoes, has long been a bucket list destination for travelers. While the pandemic continues to halt international travel around the world, Iceland's positive track record for containing the spread of COVID-19 has paid off. The country has recently decided to ease its travel restrictions further — good news for anyone thinking of planning a trip. In this article, we answer the important question: "Is it safe to travel to Iceland right now?" Read on to learn of Iceland's updated entry conditions and what you can expect upon arrival.
Border reopening: Who can travel to Iceland for leisure?
Iceland is open to all travelers (regardless of their origin) who have been vaccinated against COVID-19 or who have been previously infected with COVID-19. These travelers are welcome to visit Iceland if they can present either:
These travelers will be exempted from border measures such as having to undergo prior COVID-19 PCR testing, screening, and quarantine. Click here for more information.
Can I still enter Iceland if I do not qualify for these exemptions?
Travelers without proof of vaccination or previous infection may still enter Iceland if they fulfill certain conditions such as taking a COVID-19 PCR test 72 hours prior to travel. Click here for more information.
Flying into Iceland: Safety at Keflavík International Airport
Keflavik International Airport, Iceland's largest airport and main hub for international travel, has recently been listed as one of the 33 inaugural winners of the award for 'Best Hygiene Measures by Region' following a survey done by Airports Council International (ACI). The airport has been recognized for its success in responding to COVID-19 concerns.
Keflavik International Airport has gone the extra mile to ensure all visitors feel safe and comfortable. This includes:
Increasing the frequency of cleaning within the terminal building, especially in high-traffic areas.
Ensuring touchpoints such as kiosks, doorknobs, check-in counters, and handrails are sanitized multiple times a day.
Installing hand sanitizer dispensers at kiosks and check-in counters.
Encouraging visitors to check in online to minimize touchpoints on their journey from the terminal to the aircraft.
Keep an eye out for the Clean & Safe logo
To help you identify establishments that have adopted good sanitation and hygiene practices, keep a lookout for Iceland's Clean & Safe logo when exploring the island. This way, you'll know which tourism businesses are working hard to adhere to government and public health standards. Businesses that have fulfilled the requirements on the checklist of official regulations and instructions concerning cleaning and disinfecting will be able to display the stamp.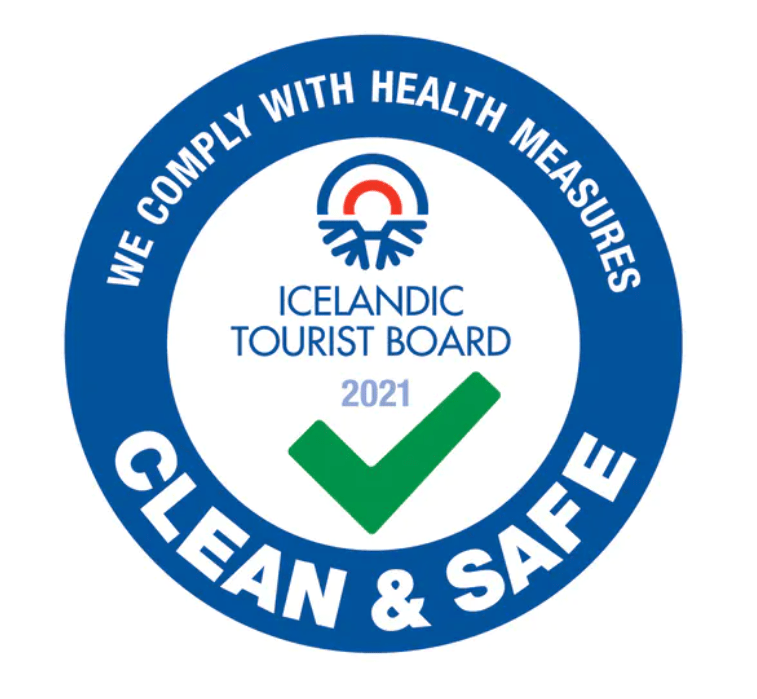 Around Iceland: General health and safety measures
Social distancing rules and capacity limits
A two-meter social distancing requirement is currently in effect. The only exception to this rule is if you are attending an event where guests are allocated booked seats.
Gatherings of more than 20 people are not allowed.
Use of face masks
Face masks must be worn wherever it is not possible to observe the two-meter social distancing rule, including on public transportation, in taxis and coaches, and in shops.
Popular activities and attractions
The majority of Iceland's best attractions are found in the great outdoors, meaning there is less of a need to worry about social distancing and mask-wearing requirements. However, there are some activities and locations that require you to be in close proximity to others — in this section, we cover some examples of safety protocols you can expect at such attractions.
Visiting Hallgrimskirkja
You'll find the iconic Evangelical-Lutheran Church of Hallgrimur (or Hallgrimskirkja) in Iceland's capital, Reykjavík. It is one of the most visited places in Iceland — and for good reason! At 74 meters tall, it towers above the city magnificently, and its unusual design alone makes it worth visiting. Its concrete facade was designed to resemble the natural landscape of Iceland, with vertical columns inspired by the basalt columns at Svartifoss Waterfall on the south coast.
Admission to the church is free, but it is important to take note of its limited opening hours.
Following COVID-19 safety protocols implemented by the government, no official religious services or events are allowed to take place in Hallgrimskirkja. However, the church is open to individuals and families from 11:00 am to 3:00 pm every day, meaning tourists are still allowed to take a peek.
To keep in line with Iceland's capacity regulations for gatherings, the staff of the church may limit the number of people in the church, staggering the entry where required.
Harpa Reykjavik Concert Hall and Conference Centre
The architecturally-stunning Harpa Reykjavik Concert Hall and Conference Centre is where lovers of music, dance, and theater come to enjoy themselves. One of Reykjavik's most distinctive landmarks, the award-winning concert venue has established itself internationally and has attracted over 10 million visitors since its opening in 2011. Pay a visit, stay for a performance, and admire the impressive architecture. The venue is home to the Iceland Symphony Orchestra, Icelandic Opera, and the Reykjavik Big Band, all of which hold numerous concerts annually.
As an indoor venue, the Harpa Reykjavik Concert Hall and Conference Centre has implemented important preventative and protective measures. These include:
Frequent cleaning of main areas within the building, with special attention paid to frequently-touched objects and surfaces.
Provision of alcohol-based hand sanitizers for conference guests.
Ensuring all equipment rented out for events — such as microphones, pointers, and keyboards — are thoroughly disinfected between speeches and presentations.
Encouraging guests to avoid directly touching frequently-used surfaces such as elevator buttons, handrails, and touchscreens.
Whale watching
Visitors are allowed to head out on a voyage to experience the magic of whale watching, a must-do activity while you're in Iceland. To ensure you feel safe while observing minke whales, humpback whales, white-beaked dolphins, porpoises, and other iconic Iceland wildlife out at sea, tour operators have made sure to follow government guidelines and implement protective measures for your safety. For example, North Sailing has resumed whale watching and comply with Clean & Safe protocols, adapting their regulations and asking guests to follow certain protocols: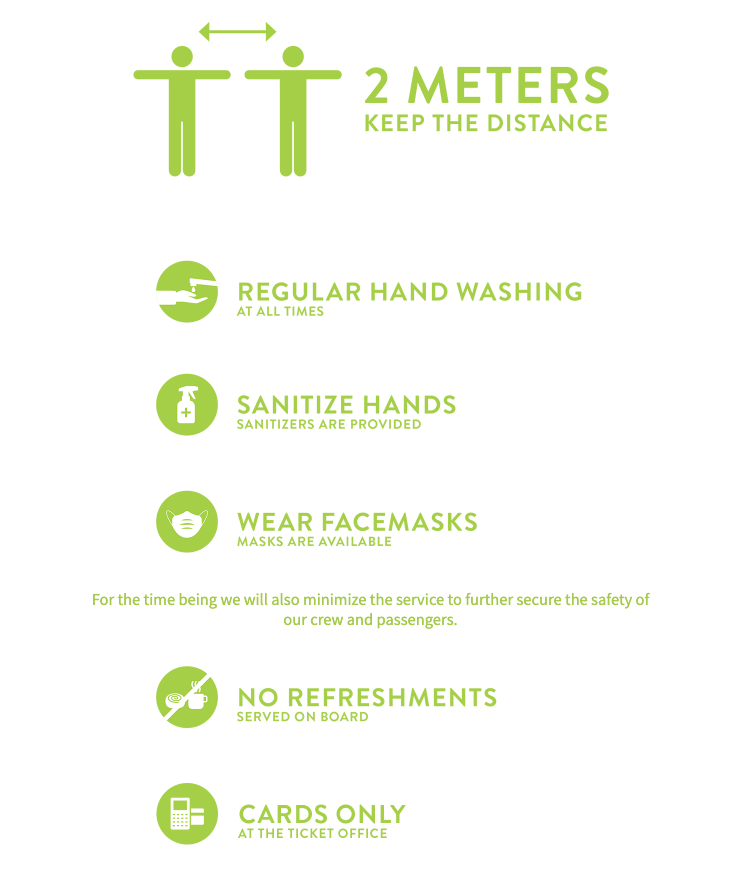 Scenic helicopter tours
Above image taken by Sólveig Pétursdóttir.
Yet another bucket list activity, scenic helicopter tours allow you to explore the country in a completely unparalleled way. Nordurflug Helicopter Tours offers various scenic flights that you can book, giving you the best opportunity to witness magnificent volcanoes, craters, glaciers, and mountains from a bird's-eye view. They've jumped on the COVID-19 safety bandwagon as well and you can expect the following commitments:
Increased cleaning and sanitization of all guest spaces and helicopter interiors.
Provision of hand sanitizer dispensers throughout the base and also in the helicopters.
Enhanced hygiene protocols for all team members.
Increased communication among staff; any staff members feeling unwell will be encouraged to stay at home for 14 days.
Northern lights viewings
No trip to Iceland is complete without witnessing the magic of the northern lights. One of the best ways to see the northern lights is to join a guided tour and journey out of the city limits to enjoy the show at the best possible viewing site. The team at Reykjavík Excursions does all the hard work for you, employing a team of professionals who study the weather and aurora forecasts so they may pick the best location each night for your excursion.
Reykjavík Excursions also takes the safety of its passengers and employees seriously. You can expect the following measures when you go on one of their tours:
Coaches are sanitized before each tour.
Coaches are limited to 80% capacity to ensure social distancing between strangers on board.
Guests can access hand sanitizers on all coaches and are given the chance to access sinks for handwashing at every stop.
Guides and front-line staff are made to wear gloves when handling guest's credit cards and receiving vouchers.
Sanitizing kits are made available for purchase. Kits are to include masks, gloves, and travel-sized hand sanitizers.
Know of more protocols that answer the question is it safe to travel to Iceland? Share them with us! For more travel inspiration, read our guide on 5 hidden towns to add to your Iceland travel plans right now.
---
About TourHero
TourHero is a social travel platform that enables you to travel with like-minded people and fall in love with the journey. We work closely with handpicked local operators to ensure every experience curated is unique and exclusive to your travel group. Come with us on epic adventures and create memories that last a lifetime!