With miles of coastline, surfing, amusement parks, history, culture, and a great nightlife, Da Nang is a must-visit for any traveler to Vietnam. If you've got a few days to spend there, be sure to check out 10 fabulous things to do in Da Nang and make sure you get the most from the city! But, of course, the adventure needn't stop once you get beyond the outer reaches of Da Nang itself.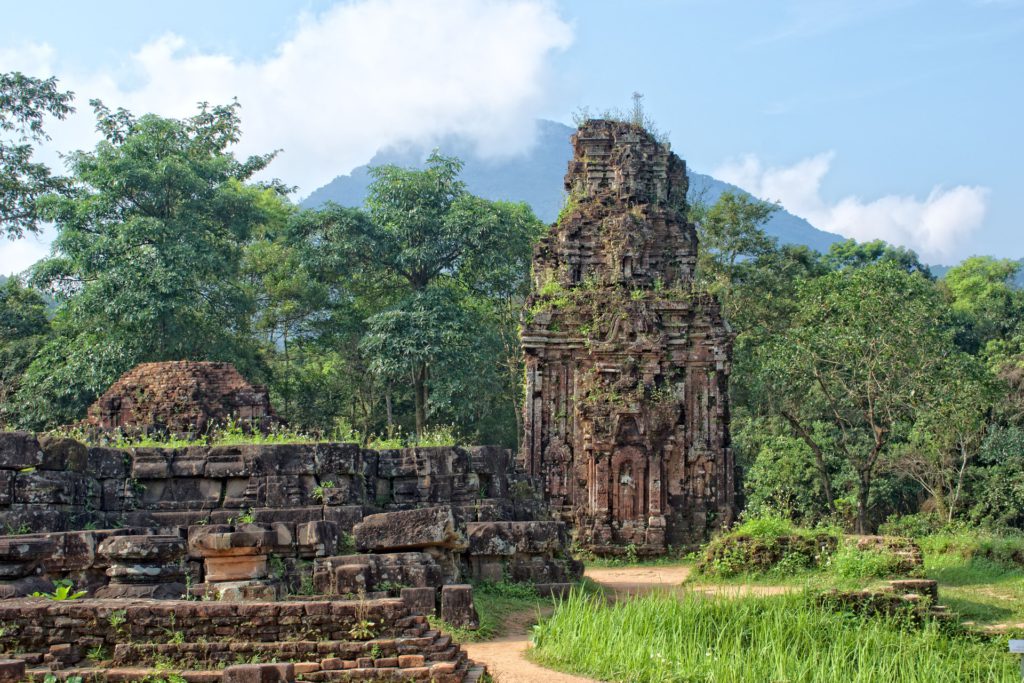 Venture further afield and embark on some wonderful day trips to get your fill of the region and its richness. As well as having the major stops of Hue to the north and Hoi An to the south, there's a world of excitement to be had on a day's excursion. Read on to explore our handpicked collection of exciting day trips from Da Nang!
Ba Na Hills & The Golden Bridge
Perhaps the most famous day trip from Da Nang is to the Ba Na Hills theme park, and rightly so! A sprawling replica of a medieval village, the park is set atop Ba Na Hills mountain and is a must-visit for all ages and interests. A cable car ride takes you to the resort via the iconic and highly-Instagrammable Golden Bridge, one of the biggest highlights of Ba Na Hills that has taken social media by storm since opening in 2018. Set amidst forested hills and "held up" by giant concrete hand sculptures emerging from the ground, this 150-meter-long architectural marvel treats visitors to impressive views.
If that's not enough, visit the Fantasy Park, where you'll find rides, a dinosaur park, a climbing wall, wax museum, cinema, and arcade machines. Elsewhere in the resort, you can visit Linh Ung Pagoda, take in street performances, wander around the landscaped gardens, and try not to get lost in the maze! The replica French village is also a delight to wander around, and it's a great reminder of Vietnam's colorful history.
The Ba Na Hills park was initially set up as a hill station during the French colonial period, and boasts some of the best views that you can find anywhere in Vietnam. Remember that at 1485 meters high, the climate can feel cool even at the height of summer, so take some warmer clothes with you as a precaution.
Distance from Da Nang: 42 kilometers
Opening hours: 7.30 am to 9 pm
Website: https://banahills.sunworld.vn/en
Address: Hoa Phu, Hoa Ninh, Hoa Vang, Da Nang
Soak it up at the Hot Springs Park
Nui Than Tai Hot Springs Park offers a completely different Da Nang experience for the entire family. A sprawling oasis set in the middle of a jungle, there are natural hot mineral baths aplenty. It's the perfect place to unwind and treat your body to some serious relaxation.
You'll find much more than just hot springs to enjoy at Nui Than Tai. Grab a map as you enter the sprawling park and enjoy a wander around the whole site. There are natural lakes with pedalos for hire, saunas, steam rooms, jacuzzis, and a spa. There's also a water park featuring outdoor swimming pools, heart-stopping slides, and a dragon-chute for tubing.
Nui Than Tai has plenty of onsite restaurants and bars, plus a small hotel for overnight visitors. Additional services such as facials and mud baths can be purchased in addition to the entrance fee. This is truly the place to rid yourself of any pent-up stress!
Distance from Da Nang: 29 kilometers
Opening hours: 8.30 am to 5.30 pm
Website: https://nuithantai.vn/
Address: QL14G, Hoa Phu, Hoa Vang, Da Nang
Suoi Hoa EcoTourist Site
Suoi Hoa is an off-the-beaten-track destination, found en route to Ba Na Mountain. At present, it's known by locals but rarely visited by tourists. The site is home to the Cu Tu ethnic minority group of people. The project is a successful attempt to open up a once-wild region to visitors, without encroaching upon the natural environment.
The main feature is a walk along the Mo River to the Toc Tien Waterfalls. A stone bridge has been erected to cross the main pool, and inflatables can be hired for a leisurely float! Close to the main pool, you can visit a scale model of a Cu Tu house and learn how the local people live.
The site is clearly signposted off the main road connecting Da Nang to Ba Na Hills. It is approximately 2 kilometers from the cable car station, which takes you to the resort itself. You'll find motorbike parking just off the main road. Here, there are cafes in which to recharge and hire a guide if needed. From then on, the 200-meter path to the falls is for walkers only.
Distance from Da Nang: 40 kilometers
Opening hours: 24 hours
Website: http://suoihoa.vn/
Address: Hoa Ninh Commune, Hoa Vang, Da Nang
Go back in time at My Son Sanctuary
UNESCO Heritage Site My Son Sanctuary, referred to as the "Ang Kor Wat of Vietnam", was built by the Cham people who ruled over much of Central Vietnam from the 2nd century until the 17th century. Originally from Borneo, the Cham people are mostly Hindu and now make up one of Vietnam's 54 ethnic minority groups.
Initially housing more than 70 separate temples and sculptures, My Son sadly suffered during Vietnam's wars of unification and independence. 17 are still in place in their original form. Many of the surrounding ruins have been partly rebuilt thanks to a conservation project.
For centuries, My Son stood as a site for worship as well as a meeting place for the Cham leadership. Set in the midst of jungle-land, the sanctuary is a gateway to another world. Emerge from the brush and you'll think you've just wandered onto the set of an Indiana Jones movie!
Those interested in Cham history can find out more in Da Nang's Museum of Cham Culture or by visiting the wonderful Cham Island just across the water from Hoi An. Read our travel guide to Cham Island for more insight!
Distance from Da Nang: 43 kilometers
Opening hours: 6 am to 5 pm
Address: Thon, My Son, Duy Xuyen
Drive the Hai Van Pass to Lang Co Beach
The Hai Van Pass is one of Vietnam's most famous — and most thrilling — roads. It's often taken as a scenic route when traveling between Da Nang and Hue, to the north. But if Hue is not on your agenda, the pass makes for a wonderful day trip. Use the picturesque Lang Co Beach as your final destination.
The pass itself is steeped in history, once dividing the Cham Kingdom from the Dai Viet — major empires that ruled over much of central and south Vietnam. At the top of the pass, you can stop to take in the panorama. Here, you'll be standing right on the site of a former military base, used during the American War.
Your destination of Lang Co Beach not only offers some of the most beautiful sands to be found in Vietnam, but you can also take a hike to Elephant Falls. A forest walk with some scrambling on rocks, the path opens up with a host of pools in which to bathe. Even in the hottest weather, the water remains cool!
Distance from Da Nang: 40 kilometers
Opening hours: 24 hours
Address: Lang Co, Phu Loc, Thua Thien, Hue
We hope we've inspired you to take some day trips from Da Nang! If you've got a few extra days to spend in Central Vietnam, don't miss our perfect travel itinerary for Hue to keep you inspired.
---
About TourHero
TourHero is a social travel platform that enables you to travel with like-minded people and fall in love with the journey. We work closely with handpicked local operators to ensure every experience curated is unique and exclusive to your travel group. Come with us on epic adventures and create memories that last a lifetime!