Lush jungles, vibrant villages, and stunning beaches make up the island of Bali. The most popular location in the Indonesian archipelago, this spiritual respite brings travelers of all kinds looking to relax in the sand, surf the azure waves, hike the greenery, and dig deeper into the island's wealth of culture. It's no wonder Bali has been a top wellness retreat destination for decades.
Whether you're considering planning a destination retreat in Bali or you've been waiting for an opportunity to arise, here is a comprehensive guide of locations, accommodations, and activities to help you get started and build the perfect itinerary for your community.
Best time to go to Bali
The island of Bali features a tropical climate with temps ranging from 70 – 90 degrees Fahrenheit throughout all 12 months. While the weather remains warm, you'll want to consider Bali's precipitation before planning a retreat.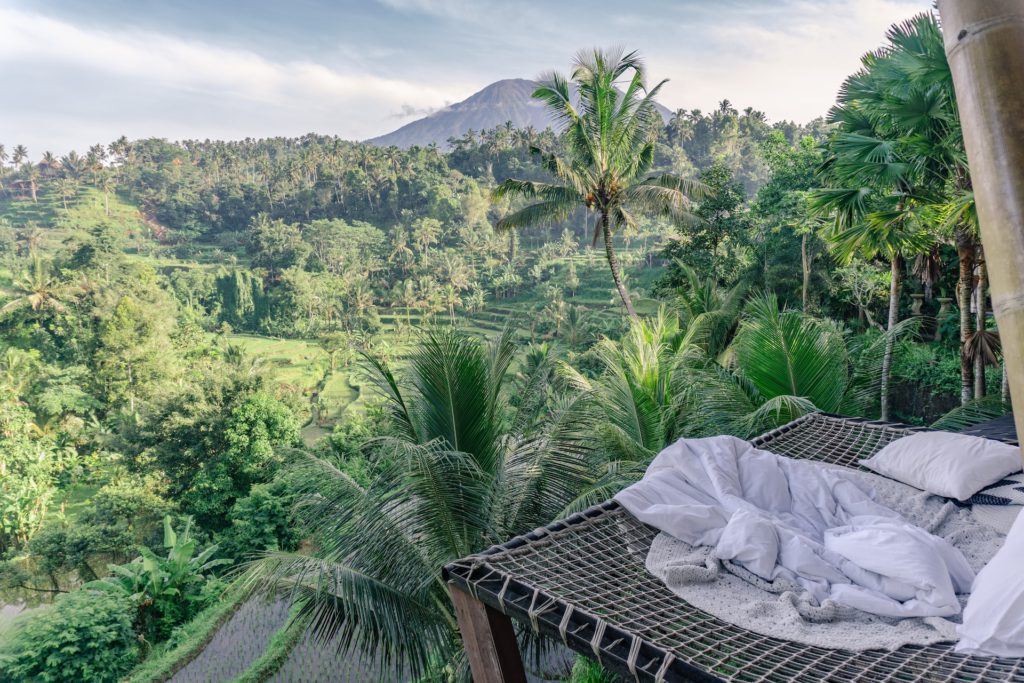 Bali has two seasons: the rainy season and the dry season. The island's rainy season is from November through March and experiences significant rainfall during this time. In months like January and February, it will rain every day, making outdoor excursions and beach days nearly impossible. You'll also deal with high temps, humidity, and mosquito issues.
The island's dry season is from April through October, bringing clear, sunny skies and limited rain. The weather is perfect for beach-going, water sports, and adventure activities. However, this time of year comes at a cost — literally — as this is peak tourist season for the island. July and August feature the highest number of tourists, and with that spike comes an increase in room rates and activities.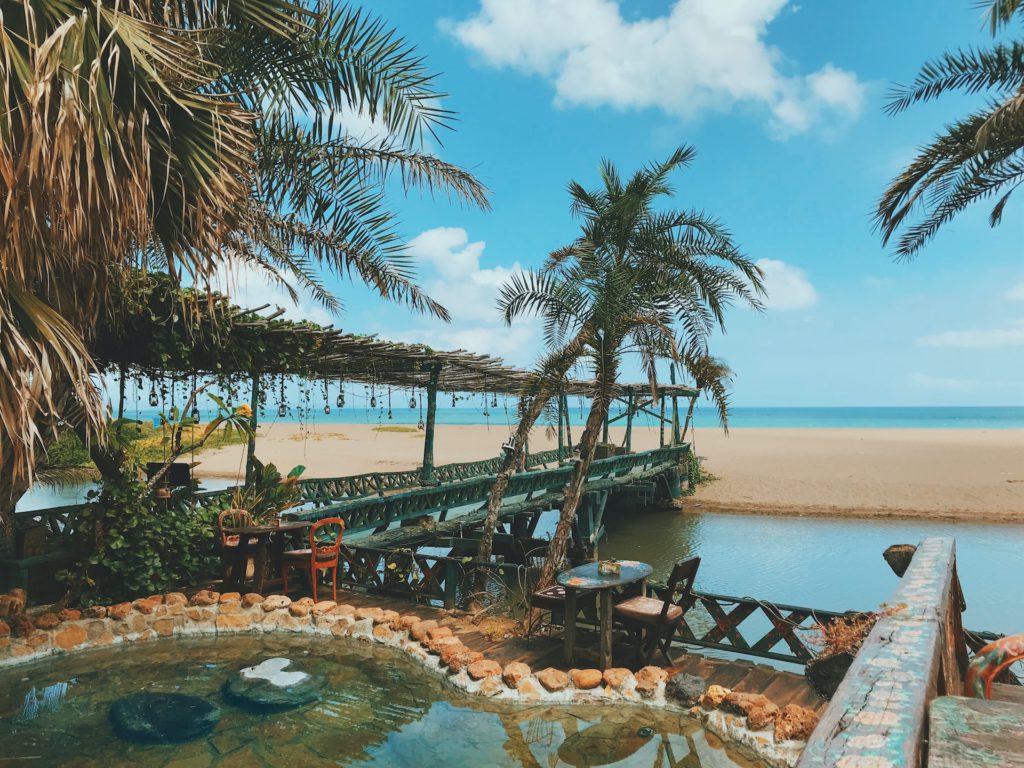 Your best bet for Bali is during the shoulder months of April/May and September/October. You'll still enjoy nice weather and clear skies, but the room rates will drop, and you'll find less tourists at most iconic landmarks such as temples, waterfalls, and beaches. If you can plan a retreat during the shoulder season, you can count on great weather and a happy community of travelers.
Location, accommodations and amenities
When considering Bali for a wellness retreat, you have a wealth of options when it comes to location, amenities, and all the extras. Check out the options below to help you match the retreat vibe with the location's atmosphere, connecting to the local culture and environment whenever possible.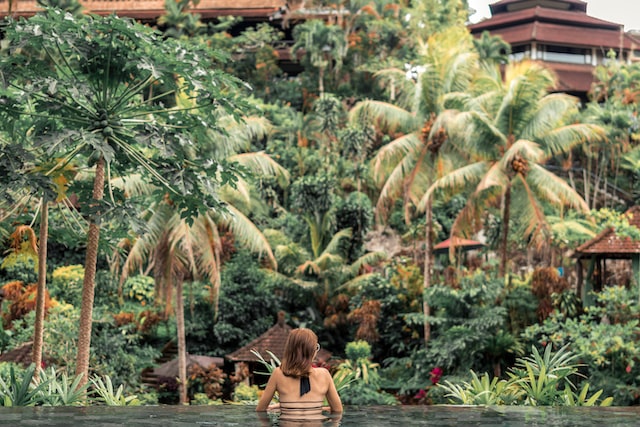 Throughout Bali, you can choose from the following accommodation types:
Wellness retreat centers: geared specifically towards wellness and retreat groups
High-end resorts: luxury rooms and amenities that can cater to wellness groups
Boutique hotels: intimate and posh; some can offer spaces and rates for wellness groups
Eco-lodges for all price points: nature immersions that can often cater to wellness groups and their needs
Community hostels and guest houses: budget option for easy-going groups that are geared towards relaxation, yoga, and fitness
Regarding environment and vibe, Bali has a few main themes:
Beachside paradise: Chill on the shoreline and enjoy the sun and sand every single day

High-end resorts
Boutique hotels & retreat centers
Hip hostels & surf schools

Jungle immersions: Hidden hideaways in the lush greenery that focus on pampering and relaxation

Luxury villas
Spa & holistic resorts
Eco-chic retreats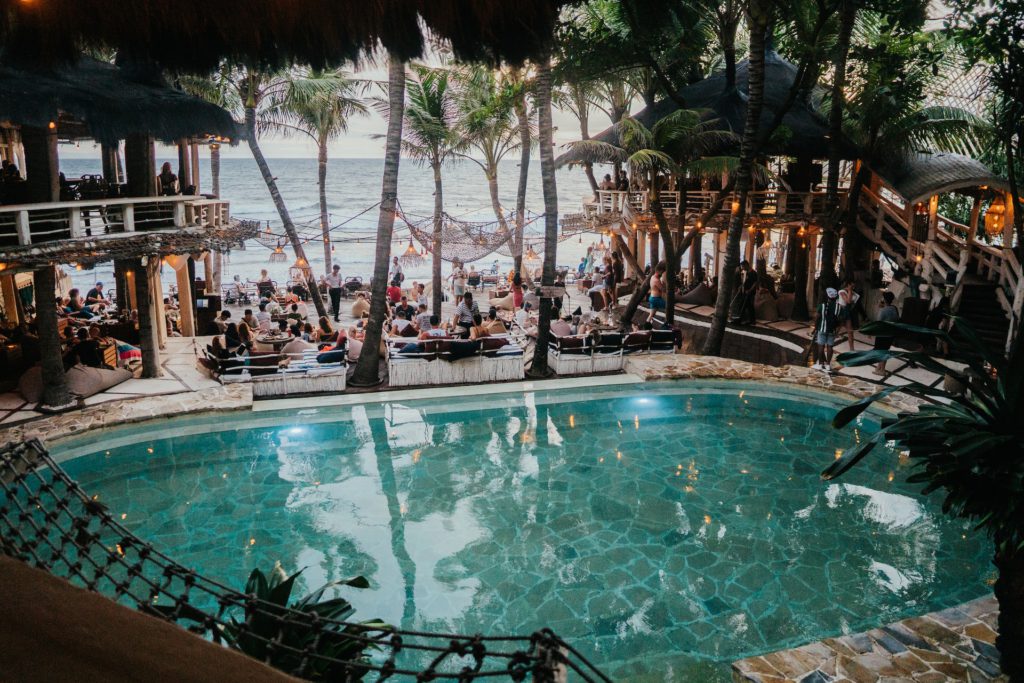 When it comes to food and amenities, you'll be spoiled for choice in this island paradise:
Food options: Most resorts feature an all-inclusive meal plan and offer organic/local fare, vegan/vegetarian/gluten-free spreads, and healthy additions such as smoothie bars and supplements.
Spa treatments: Along with stellar food, most resorts and retreat centers feature an on-site spa with modern and holistic practices, such as massages, facials, Ayurvedic treatments, and more.
Cultural connections: Especially at the jungle resorts, you'll find an array of cultural activities on site, such as cooking classes, village visits, dance shows, and Canang sari workshops to name a few.
While there are a wealth of possibilities when it comes to location choice, here are a few top options when creating wellness retreats in beautiful Bali. These options welcome groups large and small and offer an array of accommodations and activities to ensure you and your community have a stellar experience from beginning to end.
Ubud
When it comes to spiritual retreats, yoga workshops, and wellness, look no further than the majestic town of Ubud.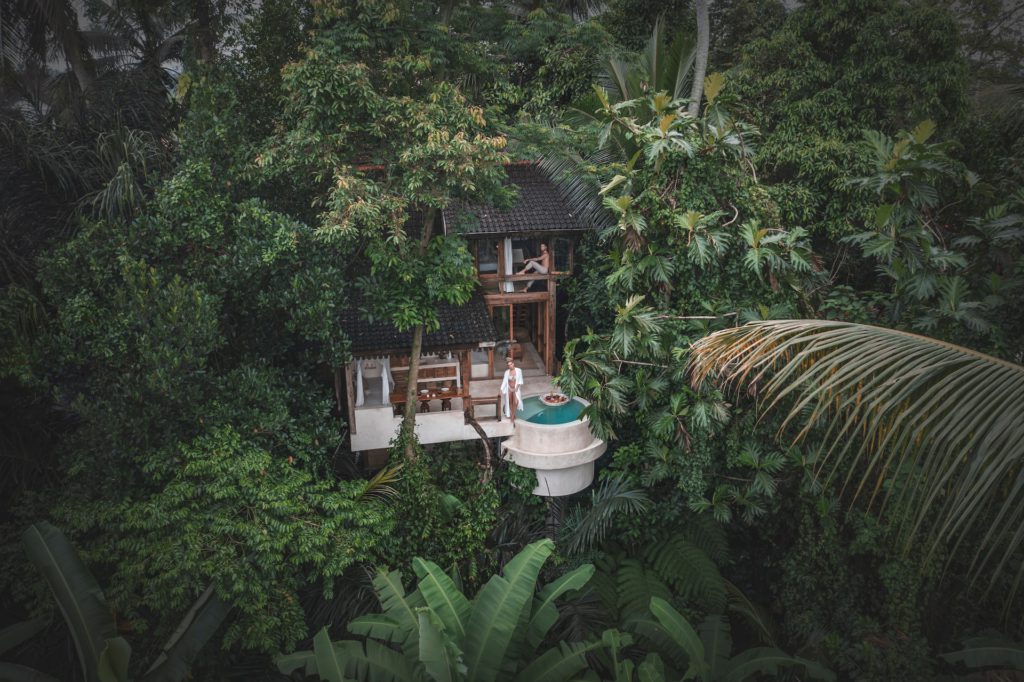 Vibe: Spiritual site, cultural connections, jungle joy
Pricing: $$ – $$$$
Ubud is the heart and soul of Bali, with its emerald rice terraces, ancient temples, sacred holy springs, and lush jungle backdrop. It's also a popular location for art, vegan/vegetarian food options, and every holistic spa service you can imagine.
Many come here each year to host retreats because the local resorts and communities offer an array of packages and activities to fit every retreat type, as many of these properties were created with health and wellness in mind. You can hike a volcano at sunrise, relax in the hot springs, connect with the locals during various hands-on workshops, and experience sacred ceremonies at the temples and historical landmarks.
Activities
Because Bali is a small island, you can see most of it from any location. Ubud is a great choice because it's situated in the center of the island. Here are a few of the top activities people choose to explore during their time in Ubud that can make a great addition to any health and wellness itinerary.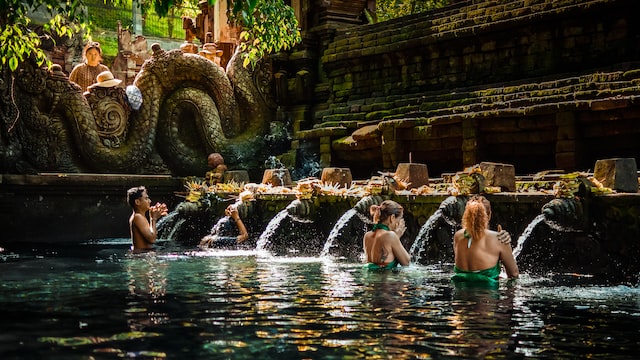 Holy water temple purification ceremony
Yoga and meditation sessions
Temple tours and historical sites
Village visits (meetings with priests, families, communal meals, cooperatives, etc.)
Coffee and food tours
Volcano hikes and hot springs
Cooking lessons and craft workshops
Vegetarian and vegan cafes
Art galleries and studios
Spa services (massage, Reiki, Ayurvedic treatments, etc.)
Canggu
For chill vibes and slow-paced energy, Canggu is your best bet.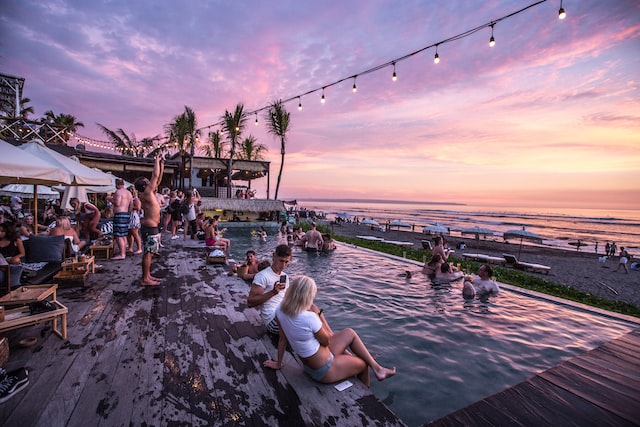 Vibe: Beachside fun, hippie vibes & surf shops, chill & laid back
Pricing: $ – $$$
Canggu is a chill coastal haven, known for its hostels, vibrant nightlife, and surfers of all ability levels. This area brings a younger crowd (body and mind) and those who are looking for the simple pleasures Bali has to offer with beachside bars, boutique shops, and killer waves.
With the many surf schools along the coastline, Canggu also welcomes fitness buffs and yogis who want to enjoy a delightful Balinese vacation while remaining centered and focused on healthy food and body movement. You don't have to go far for food, fun, and spiritual alignment when you stay in Canggu.
Activities
The beach and the sun are the driving factors for activities in Canggu. Here are a few things to add to your retreat schedule to make it the best it can be!
Beachside relaxation
Surfing and surf lessons
Water sports
Fitness and adventure activities
Restaurants and bars
Nightlife
Day trips to beaches, temples, and nature sites
Seminyak
If high-end luxury and coastal bliss are calling your name, look no further than Seminyak.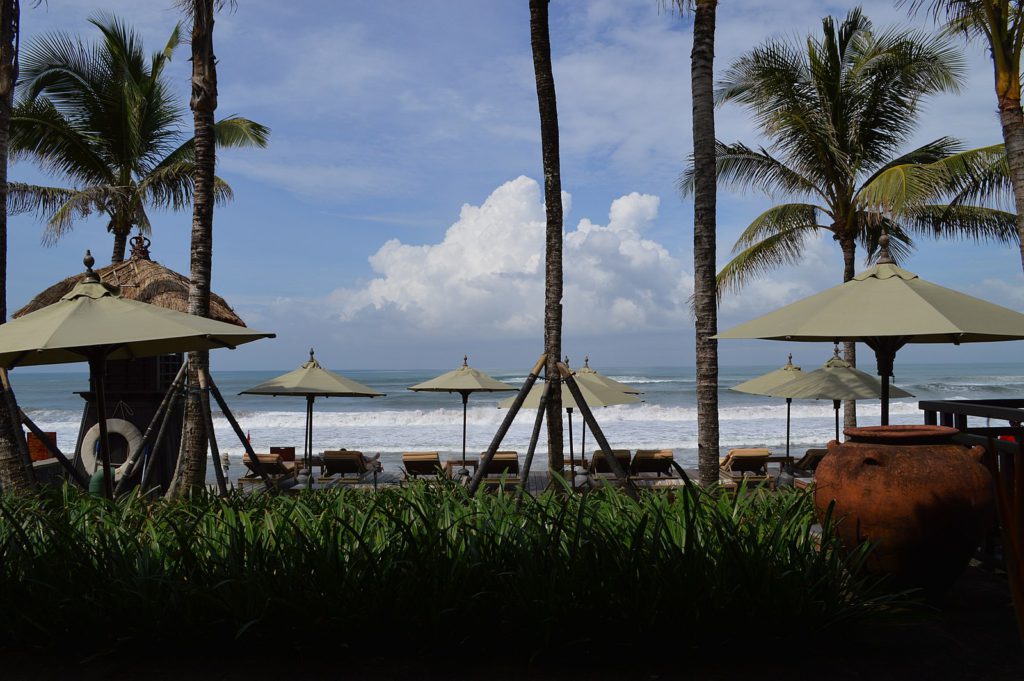 Vibe: High-end resorts, beachside fun, spa-heaven & hip nightlife
Pricing: $$$ – $$$$
Seminyak is a high-end haven of posh resorts, elevated shopping options, and luxe spas. By day, you'll find chic beach clubs and sunbathing. By night, the area hosts an array of sleek bars and clubs, along with a large assortment of delicious gastronomy for all types of travelers.
While you may spend more money to stay in this part of Bali, you get what you pay for, which translates to stunning views of the coastline, elevated pampering, and star-studded accommodations. You can still travel to all the temples, nature sites, and spiritual experiences, but you'll rest your head in an opulent paradise. However, this area is highly sought-after, which means peace and quiet may not always be an option depending on where you choose to stay.
Activities
Seminyak is known for its pampering resorts and nightlife, but there is more to see from this beautiful respite.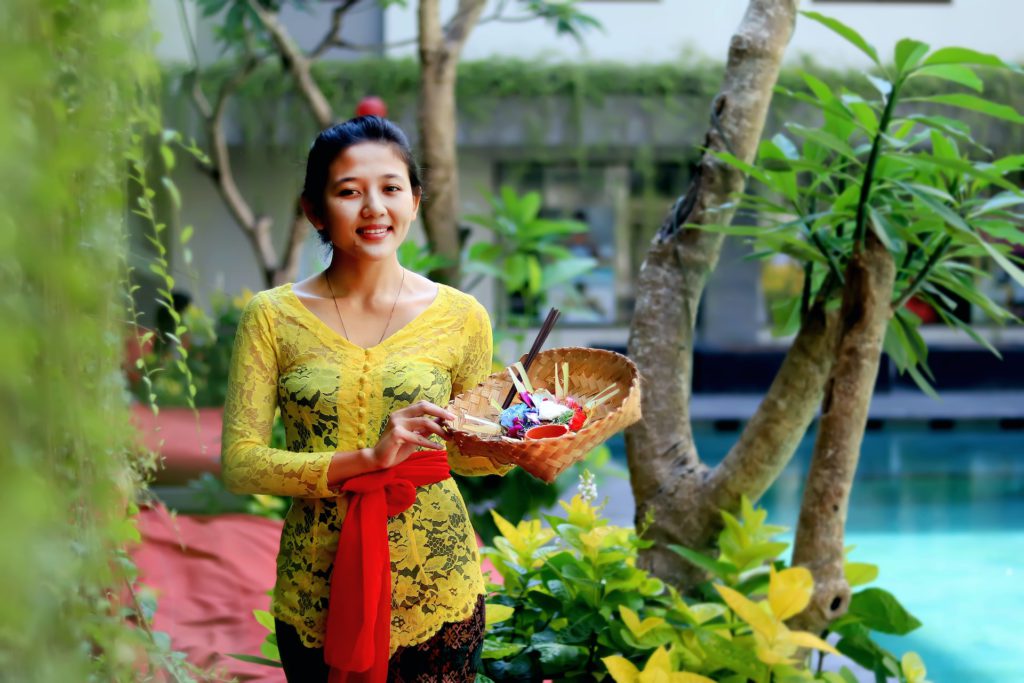 Beachside relaxation and beach clubs
Elevated spa services (massages, facials, mani/pedis, etc.)
Water sports and body movement
Restaurants and bars
Nightlife
Day trips to beaches, temples, and nature sites
Jimbaran
The quiet respite you never knew you needed.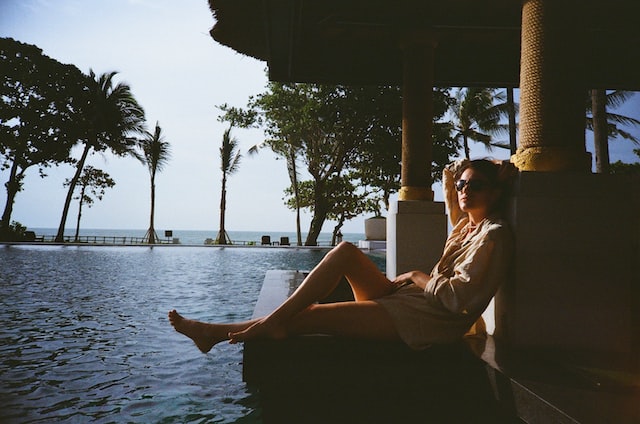 Vibe: Beachside vibes, small village feel, gastronomy galore
Pricing: $ – $$$
A small fishing village, Jimbaran is an often overlooked part of Bali. Known for its beachfront seafood stalls, you'll be spoiled for choice when it comes to delicious fare. This quiet area is the perfect place for a retreat, as you won't find large crowds and bustling resorts. You'll be immersed with the locals in a way you just can't find in the rest of the major beach towns.
That doesn't mean you'll be left to your own devices, as this area of Bali offers a more intimate connection with the local culture and nature. From surfing and shopping to immersive experiences, Jimbaran can offer most retreat types a luxury space to relax, learn, and grow.
Activities
You may be away from the bustling resorts and downtowns, but that doesn't mean you're on your own for fun. Here are a few of the top activities most choose when they stay in this part of the island.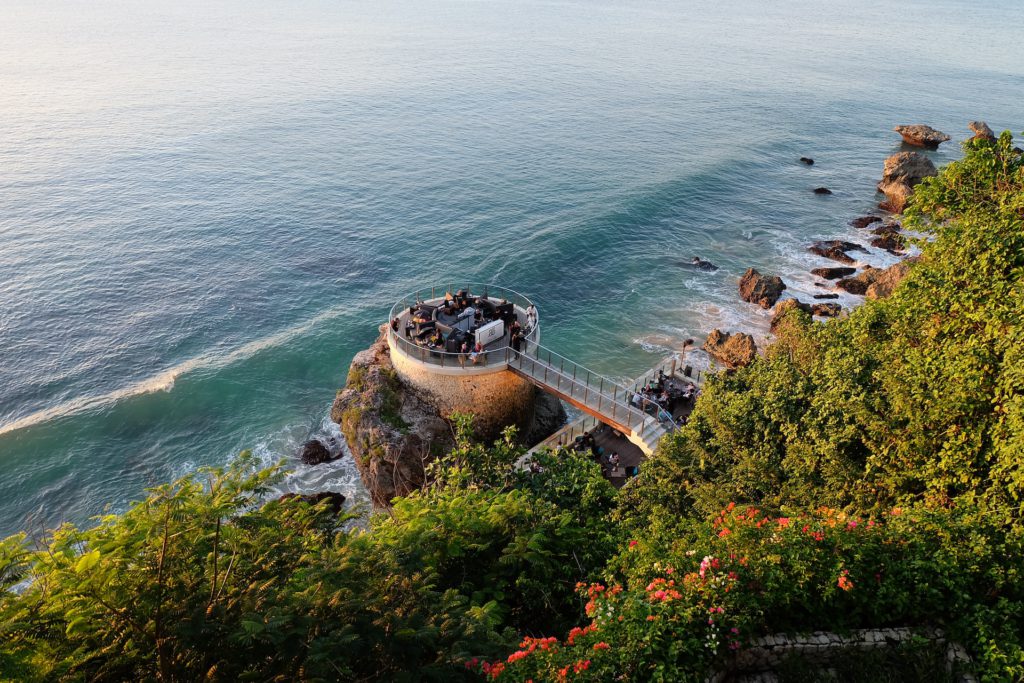 Beachside relaxation
Surfing and water sports
BBQ seafood stalls
Cultural tours
Spa services (massages, facials, mani/pedis, etc.)
Day trips to beaches, temples and nature sites
Other options in Bali
While these towns and villages are the top locations for wellness retreats, the island is comprised of many more unique and picturesque locations throughout. Tegallalang is just north of Ubud and features the same type of high-end resorts and luxury options. For a truly secluded experience, select a location like Sideman where you can immerse yourself in the jungle and heal away from the world.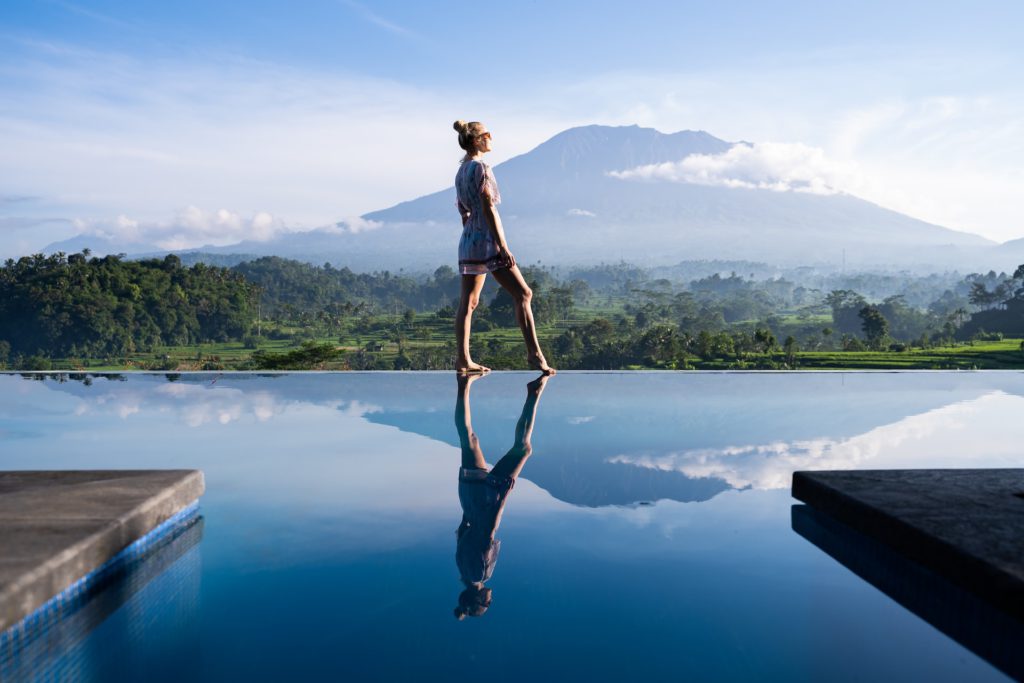 For more beachside bliss, consider a resort in Nusa Dua or Nusa Penida, both picture-perfect locations for fun in the sun and ultimate relaxation. You can also get away from the more crowded resorts by picking a location such as Pekutatan and other spots in West Bali where tourists are less likely to stay. However, picking a location like Kuta, while popular, gives you easy access to food and fun.
Budget, pricing and markups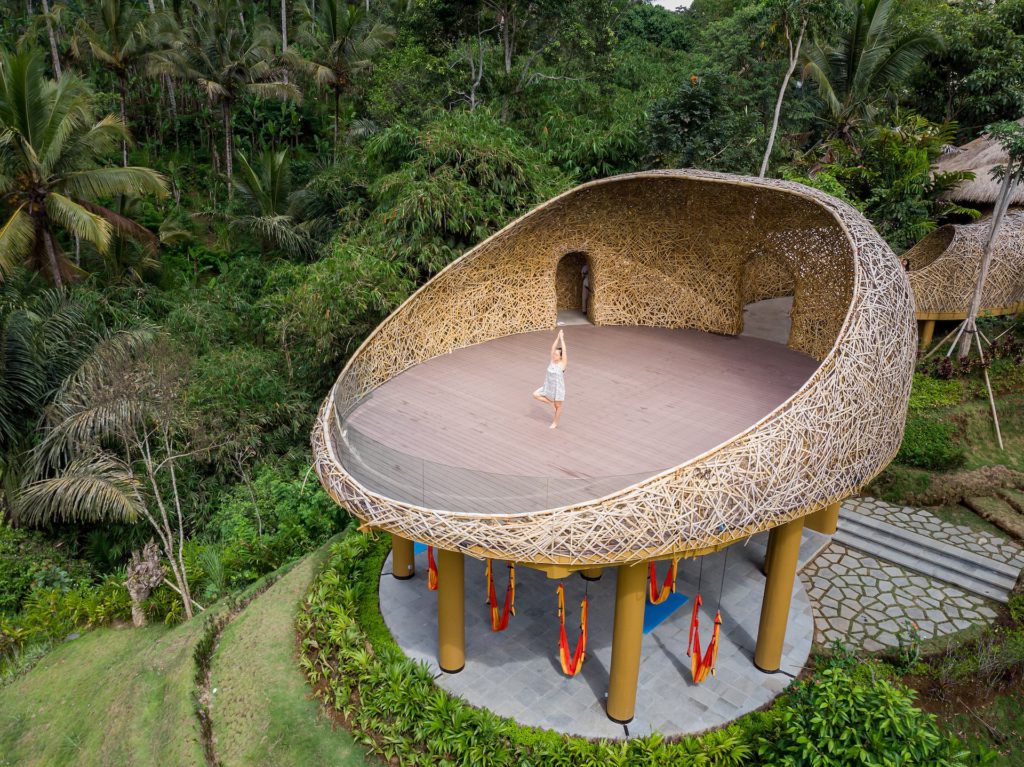 The first thing to consider when planning a destination wellness retreat is the price. Ask yourself these three questions to get started:
What can your community afford to pay?
What is your community willing to pay when it comes to a retreat?
What type of location, services, and amenities will they expect?
Bali can be a cheaper destination option, but cost boils down to two points: accommodation choice and markup.
Accommodation choice: There are a lot of affordable luxury options in Bali, but that luxury extends to five-star status which leads to five-star prices. For most locations, you can spend anywhere between 500 USD and 1000 USD for five to six nights with meals. However, there are resorts that also offer packages with activities, spa amenities, wellness classes, and more. This can cause the price to jump closer to 2000 USD per person.
Markup: Within your pricing, you also want to consider your markup. Are you planning to take a large portion for your time, or are you considering a smaller fee with the option of add-ons to make a cut? You can create a stellar itinerary in Bali for relatively cheap, leaving you a decent profit margin, depending on your community's budget. Consider all the angles after you've decided on your accommodation.
If Bali seems like the right choice for you, let's get planning! Reach out to us with any questions, and we will help you create the perfect wellness itinerary in this island paradise.
---
About TourHero
TourHero is a social travel platform that enables you to travel with like-minded people and fall in love with the journey. We work closely with handpicked local operators to ensure every experience curated is unique and exclusive to your travel group. Come with us on epic adventures and create memories that last a lifetime!