Las Vegas is known for its vibrant strip filled with neon lights and casinos, but did you know Sin City has so much more to offer? Check out this list of 12 things to do in Las Vegas besides gamble to help you create the perfect Vegas itinerary.
See a little piece of Vegas history at The Neon Museum
The Neon Museum, aka the neon boneyard, is a must-see on any trip to Vegas. This 2.6-acre landscape is home to the retired neon signs that once hung on some of the most popular and famous casinos on the strip. Some of the pieces have been restored while others are the ancient relics of another time. If you book a night visit, you can tour the property and see the signs lit up under a Las Vegas sky!
Play at Area 15
Area 15, not to be confused with Area 51, is a newer attraction that's gaining attention on the Vegas scene. To truly understand it, you have to experience it. This large complex is doused in blacklight and day-glow all times of the day and night. You'll find various bars and restaurants, VR simulators, arcades, flight tracks, an interactive Meow Wolf exhibit with murder-mystery task, and so much more. You can attend the venue at most hours of the day, with innovative events and live DJs popping up throughout the week. For kids and adults, this complex is sure to impress everyone in your group!
Walk to the Fountains of Bellagio for an amazing water show
Want a fun (and free) activity to add to your Vegas to-do list? Walk over to the Bellagio and check out their incredible water show. This extravagant fountain experience delights audiences every 30 minutes from 3:00 pm to 7:00 pm Monday through Friday and every 15 minutes from 7:00 pm to midnight. You'll enjoy music, colored lights, and a whole lot of water!
Enjoy a Cirque du Soleil experience
Vegas is known for its spectacular shows, especially its variety of Cirque du Soleil performances. These shows include high-energy acrobatics, dancing, gymnastics, vibrant music, engaging narratives, and so much more. "O" at the Bellagio is a long-standing favorite that takes place in a large arena with a massive pool. Beatles fans will love the Love show at the Mirage, paying homage to the music and the era in which it was written and originally performed. However, you can't leave Vegas without seeing Mystère at Treasure Island, the original must-see Cirque du Soleil production that combines high-energy acrobatics set to the rhythms of Taiko drums. See one or see them all!
Take a helicopter ride over the Grand Canyon
While the city itself has a lot to offer, you're also super close to a lot of stellar national parks. Get away from the hustle and bustle of the strip and take a helicopter ride to the Grand Canyon. You'll get to see the strip and this natural wonder from a new perspective while you soar high over the landscape. You can even book yourself a tour that sees you having lunch next to the Colorado River with a champagne toast included!
Visit the Mob Museum
Do you like those murder-mystery shows? Obsessed with true crime podcasts and documentaries? If so, you can't leave Las Vegas without stopping by the Mob Museum. Officially known as The National Museum of Organized Crime and Law Enforcement, their mission is to advance the public understanding of organized crime's history and impact on American society. Walk through the various exhibits and be sure to stop by the underground speakeasy and distillery for a drink, too!
Ride the High Roller
Soar high above the Las Vegas Strip on the largest observation wheel in North America. Take a spin 550 feet over the neon lights with 360-degree views. This 30-minute ride is a great way to see the area and enjoy a drink or two with friends. The Higher Roller is located at The LINQ and is open from 2:00 pm through midnight, offering happy hour deals, drink packages, and more. Check out the mountain views during the day and watch the city come alive at night!
Mingle with celebrities at Madame Tussauds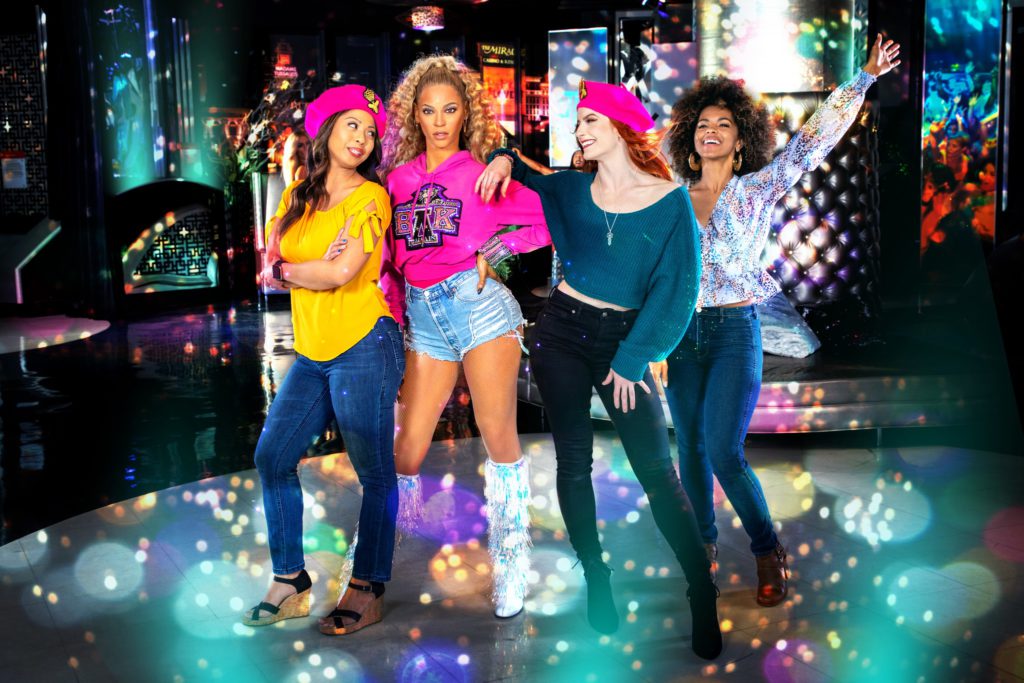 Madame Tussauds is an iconic wax museum that has locations across the globe. A trip here during your time in Vegas promises a whole lot of fun. Pose with your favorite celebrities, play in the Marvel 4D Universe exhibit, and become part of the show! The Vegas location also features The Hangover bar, referencing the famed Vegas movie. Enjoy film-themed drinks with your wolf pack and start the night here with fun and laughs!
See your favorite musical artist
Vegas always has something to do, especially when it comes to music. Musical artists of all kinds flock to Vegas for residencies, performing their hits with production you won't find anywhere else on the planet. From Usher and Cher, to Barry Manilow and Luke Bryan, there is something for everyone in the city of sin. The line-up is always changing, so find your favorite artist and book that trip!
Enjoy a day trip to a national park
Sticking with the nature theme, there are other parks to consider when thinking about escaping the city life on your next Vegas vacation. Day trips to Bryce Canyon, Antelope Canyon, and Red Rock are all easily accessible through a variety of tour options and companies. From scooter tours to luxury minibus tours, you can find the perfect option to fit your budget, timeframe, and style.
Get wild at an iconic day-club pool party
Are you the party type? We thought so. When you come to Vegas, you can't leave without experiencing a day-club pool party. The city of lights hosts world-renowned DJs with flowing drinks and activities and contests that will keep you energized and smiling. Wet Republic at the MGM Grand is a long-time favorite, along with the Encore Beach Club, and Marquee Dayclub at the Cosmopolitan. You can also check out Drai's Beachclub and the high-end luxury of the Ayu Dayclub at Resorts World.
Soar high above the strip on a zip-line adventure
Vegas is all about adventure and risk, so why not have some fun while you're here! There are various zip-line courses that fly high over the strip where you can get your heart racing and your night started right. A fan-favorite is the SlotZilla experience on Fremont Street. You can fly like a superhero or swing from the top of the platform. You can also check out the FlyLINQ at The LINQ. Speed towards the High Roller at 35 miles per hour while you take in all the sights of the city by day or night.
Las Vegas has so much to offer, even if you don't gamble. Reach out to TourHero today and let us help you book your ideal Vegas trip!
---
About TourHero
TourHero is a social travel platform that enables you to travel with like-minded people and fall in love with the journey. We work closely with handpicked local operators to ensure every experience curated is unique and exclusive to your travel group. Come with us on epic adventures and create memories that last a lifetime!