While glamorous camping — glamping — can seem a little excessive and many of us still love the idea of roughing it out in the wilderness in a barebones tent, you have to admit that there's something special about indulging in something a little fancier. This is especially the case when we feel like splurging on an unforgettable vacation. We're talking about spacious tents with wireless internet, proper beds, hot meals, private en suite bathrooms, and even daily housekeeping at your campsite. If you're ready to take a break from the hustle and bustle of everyday life to escape into the wild without compromising on comfort, we've curated a list of the best glamping sites across the United States that we guarantee will make you want to book a stay, stat.
It's worth noting that most of these glamping locations only open bookings during the spring and summer season — be sure to check rates early and book well in advance so you don't miss out. Bookmark this page, take some notes, and plan your next glamping vacay!
Best glamping sites in the US
Safari West, Santa Rosa, California
Sometimes, the wilderness is closer to home than you imagine. Safari West is proud to delight its guests with an authentic African adventure right in the heart of California's wine country across a 400-acre property that features an actual wildlife preserve. We love the idea! And the cherry on top? You can stay overnight at one of the thirty luxury glamping tents here. If you've ever wanted to explore the Serengeti right on the oak-studded hillsides of the Sonoma grasslands where nearly 1,000 animals including antelopes, wildebeest, giraffes, and zebra roam about, this is your best opportunity. You don't even need to leave the country.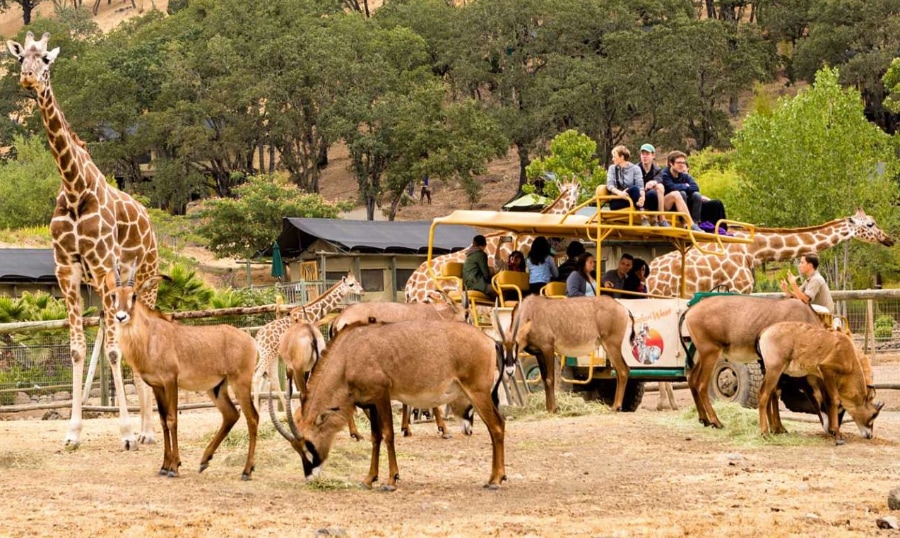 After your wildlife adventure, sleep cozily in your own private safari tent decked out in all the necessary modern comforts to make your stay feel as hotel-like as possible in the wild. Think comfortable beds, tent materials sourced from Botswana, handcrafted furniture, polished hardwood floors, a private viewing deck, and an en suite bathroom with towels and toiletries. Be lulled to sleep by the sounds of your wildlife neighbors and have the most incredible glamping experience that's as close to spending your night on Africa's savannahs as you can get.
Address:
Safari West
3115 Porter Creek Road
Santa Rosa, CA 95404
Alila Ventana Big Sur, Big Sur, California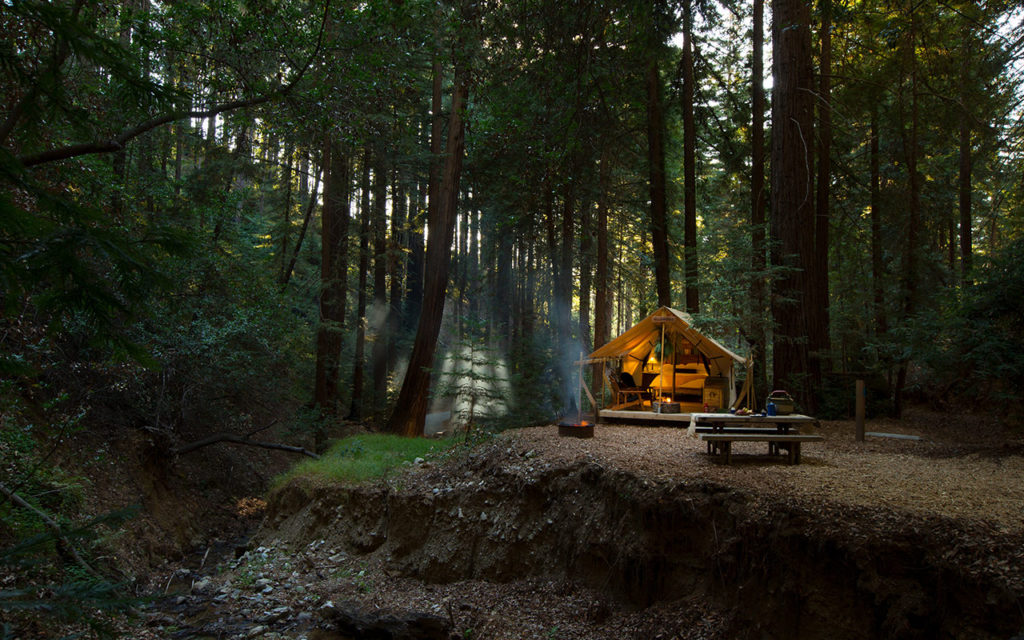 Alila Ventana Big Sur is an iconic luxury resort perched on the edge of the rugged landscape of California's Central Coast. Emanating a woodsy-chic vibe, this impressive adults-only property is set on 243 acres of rolling meadows and towering redwoods. While the main resort makes headlines as the pinnacle of luxury, it's the dreamy tents that they've added to their collection that we want to talk about. After renovating Ventana in 2017, they've brought glamping to the property. 15 purpose-built tents now enhance the secluded 20-acre redwood canyon, giving guests the chance to spend moments ensconced amidst the towering ancient redwood trees.
For a rustic-luxury twist on classic camping, Ventana's canvas tents all feature some serious frills. Expect the likes of luxury hotel linens lining plush custom-designed glamping mattresses, cozy embellishments in the cabin-style decor, instant hot and cold running water, wood-burning fire pits, a picnic table, electric lamps and power outlets, and access to the glamping Bath House featuring teak-enclosed showers with heated floors, marble vanities, and full hotel amenities. Tuck yourself into the glorious redwood forest and spend a night or two wrapped in nature.
Address:
Alila Ventana Big Sur
48123 Highway 1
Big Sur, CA 93920
Under Canvas Glacier, Coram, Montana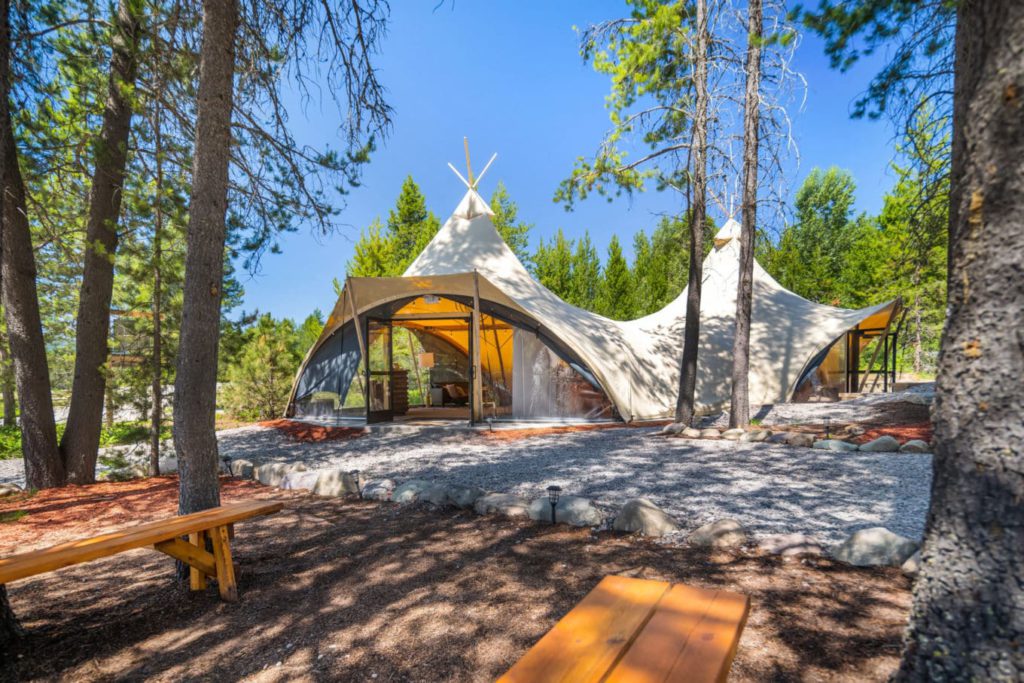 If you're thinking of taking a weekend to explore the incredible Glacier National Park, where pristine forests stretch up into snowcapped mountains, fields of wildflowers bloom in spring and scenic lakes ripple in the alpine breeze, Under Canvas Glacier is a delightful glamping site to lay your head. Just seven miles from the entrance of the national park, Under Canvas dishes out a one-of-a-kind opportunity to experience Montana's "Big Sky Country" in the wilderness with various styles of tents, from lofted treehouse canvas tents to safari-inspired suites.
With the usual glamping comforts — spacious beds, luxe linens, organic bath products in your private bathroom, a wood-burning stove with complimentary firewood to keep you warm and toasty — you have the bonus of a dedicated experience concierge to help you plan some awesome adventures and tours in the area. Want to go whitewater rafting or fly fishing nearby? They'll arrange something for you!
Address:
Under Canvas Glacier
101 Under Canvas Road
Coram, MT 59913
The Resort at Paws Up, Greenough, Montana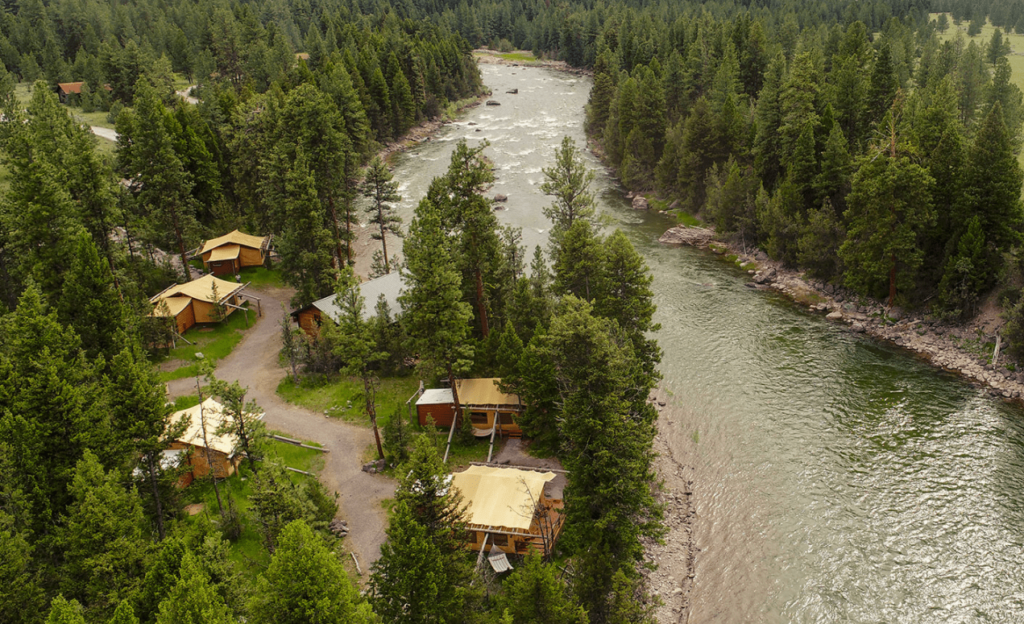 Without a doubt, The Resort at Paws Up earns its place on our list of best glamping sites. An expansive 37,000-acre working Montana ranch, this sprawling gem sits quietly in the heart of pristine wilderness. Ten miles of the bubbling Blackfoot River meanders through the property, more than 300 resident elk call the surroundings home, and a couple of hundred Black Angus cows roam the ranch pastures. Here, a vast menu of wilderness adventures awaits you. There's a smorgasbord of seasonal activities that will keep any guest occupied. We're talking thrilling ATV rides, river canoeing, downhill mountain biking, skiing, dog sledding, sleigh rides, hot air ballooning, cattle drives, clay shooting, horseback riding, and more. There's enough land on this outdoor playground to go around!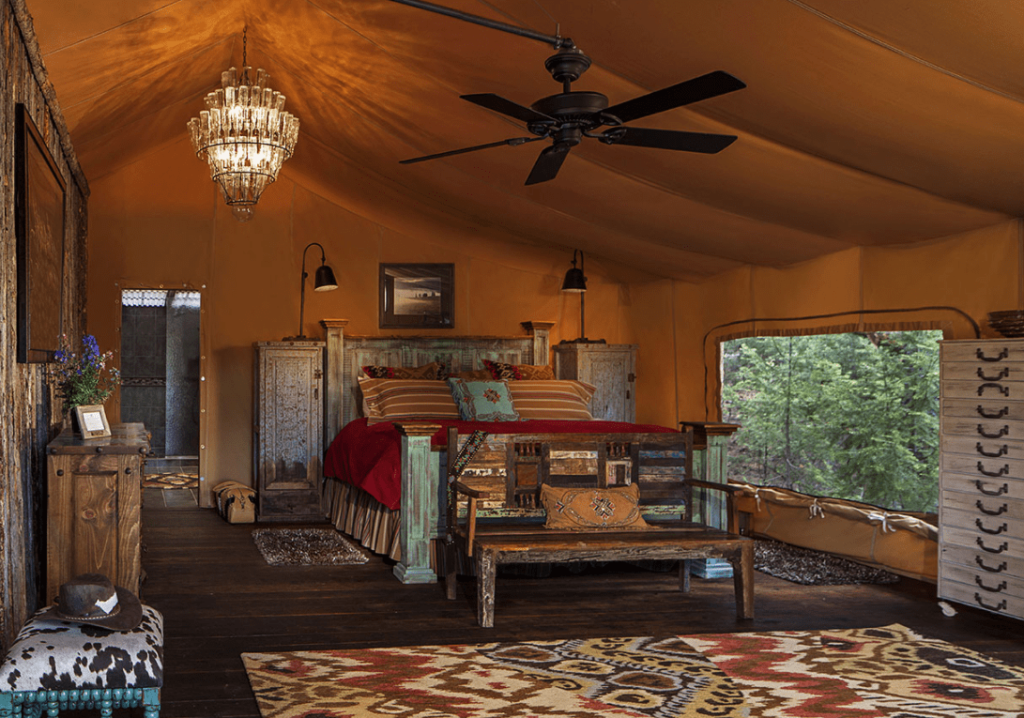 On the glamping front, Paws Up offers six separate campsites at different locations, each decked out in luxury safari-style tents that offer an impressive array of amenities. Depending on the view you want, the size of your group, and how secluded you'd like your tent to be, each campsite offers distinct characteristics. First-class service is the norm — expect daily housekeeping and even a camping butler who'll cater to your every whim. Very much an all-inclusive experience, rates include daily breakfast, lunch and dinner with beverages, and even round-trip transfers to and from Missoula International Airport. If you want celebrity treatment coupled with your glamping experience, Paws Up will make that a reality.
Address:
The Resort at Paws Up
40060 Paws Up Road
Greenough, MT 59823
Collective Yellowstone, Big Sky, Montana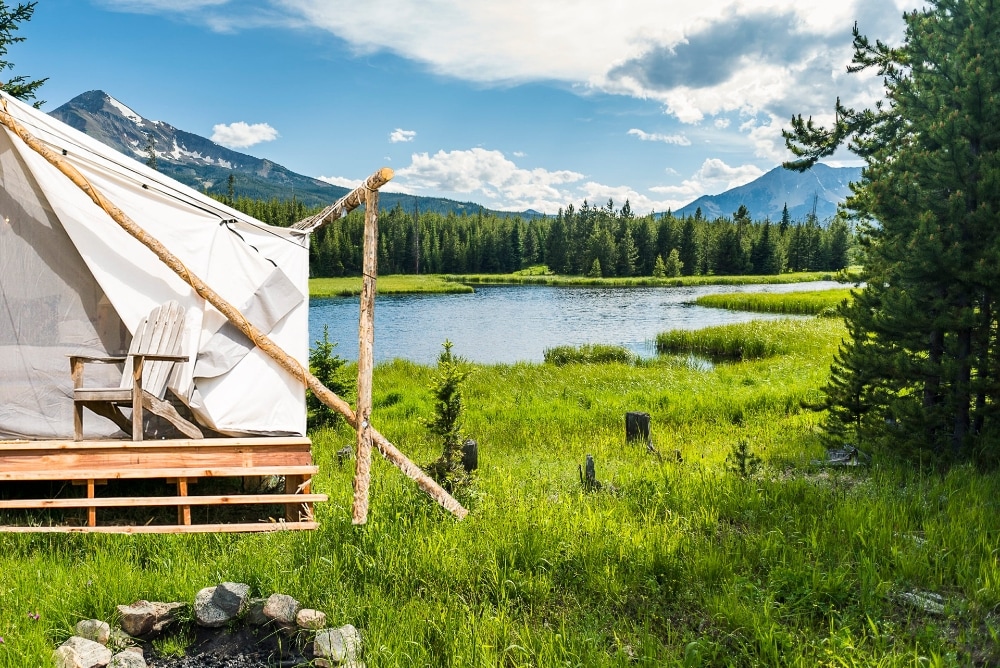 Part of the Collective Retreats portfolio of accommodations, the Yellowstone addition fits their MO of creating retreats that embrace the landscape with decor and furnishings that fit the surroundings. If you're looking a quintessential glamping location nestled within the exclusive Moonlight Basin in Big Sky, Montana, surrounded by lake, forest and mountain scenery, this is the spot for you. And just an hour away lies the iconic Yellowstone National Park.
Sleep in one of the Summit Tents. A rustic touch gives these elevated tents an outdoorsy feel, but you can rest assured you'll be pampered with spacious beds, 1,500 thread-count linens, electricity and bedside sockets to keep your gadgets fully charged, and a private en suite bathroom complete with a full flush toilet, rain shower, hot water, and spa bath products. On top of your complimentary daily breakfast, take advantage of a yummy s'mores kit to elevate your campfire experience. For the adventurous, get in touch with Collective's concierge to plan your bucket list activities — there's plenty you can do, including horseback riding, fly fishing, hiking, and mountain biking. Need pampering? Organize an in-tent massage!
Address:
Collective Yellowstone
1800 Wazee Street
Denver, CO 80202
Dunton River Camp, Dolores, Colorado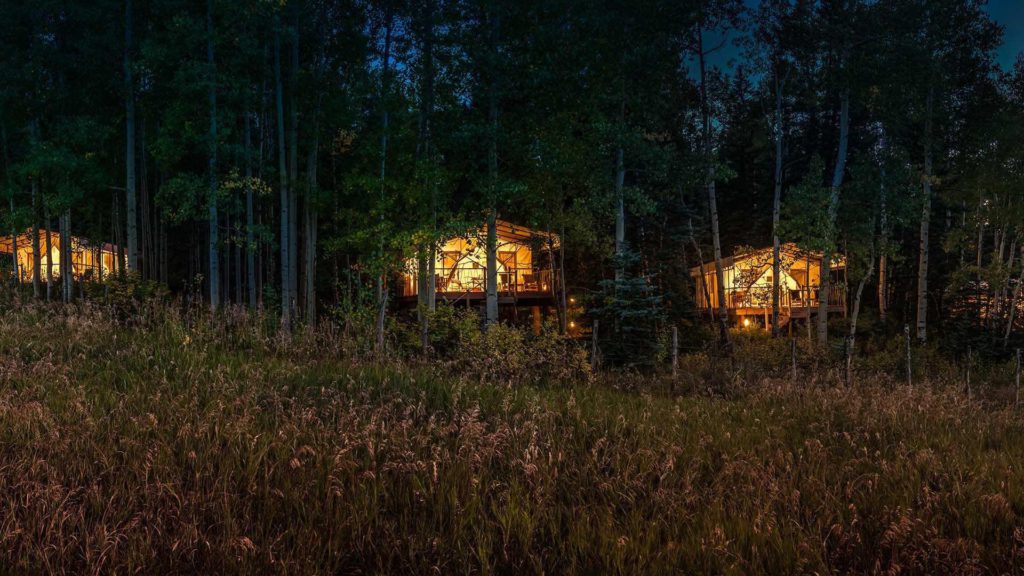 You'll find the tranquil Dunton River Camp set in a lush meadow flanked by the San Juan Mountains, its gently sloping grounds located just 20 feet from the West Fork of the meandering Dolores River. Sitting on a former cattle ranch dating back to the late 1800s, Dunton River Camp showcases approximately 500 acres of rolling fields and secluded forest. Amongst all this peaceful scenery lie eight luxury tents in two styles: River Tents that overlook the flowing waters of the West Fork, and Mountain Tents nestled in the trees with views of the slopes. No matter what you choose, you'll be able to immerse yourself in pure nature without sacrificing your modern comforts. This is a glamping site designed for exploring the wilderness of South Western Colorado without distraction.
Each indulgent safari-style tent sits on a 640-square-foot wood platform anchored to bedrock. Kitted out with Wi-Fi, two stoves, king-size beds, marble sinks, full-size bathtubs, on-demand hot water, and even towel warmers, your overnights are set! On the grounds, you'll find other unique facilities: a spa tent, a riverside sauna, and the cozy farmhouse: a cabin-like building that's been standing since the 1800s. Nightly rates here include all meals and beverages, use of the sauna, as well as complimentary use of mountain bikes to explore the trails leading into the San Juan Mountains.
Address:
Dunton River Camp
50014 Road 38
Dolores, CO 81323
Huttopia White Mountains, Albany, New Hampshire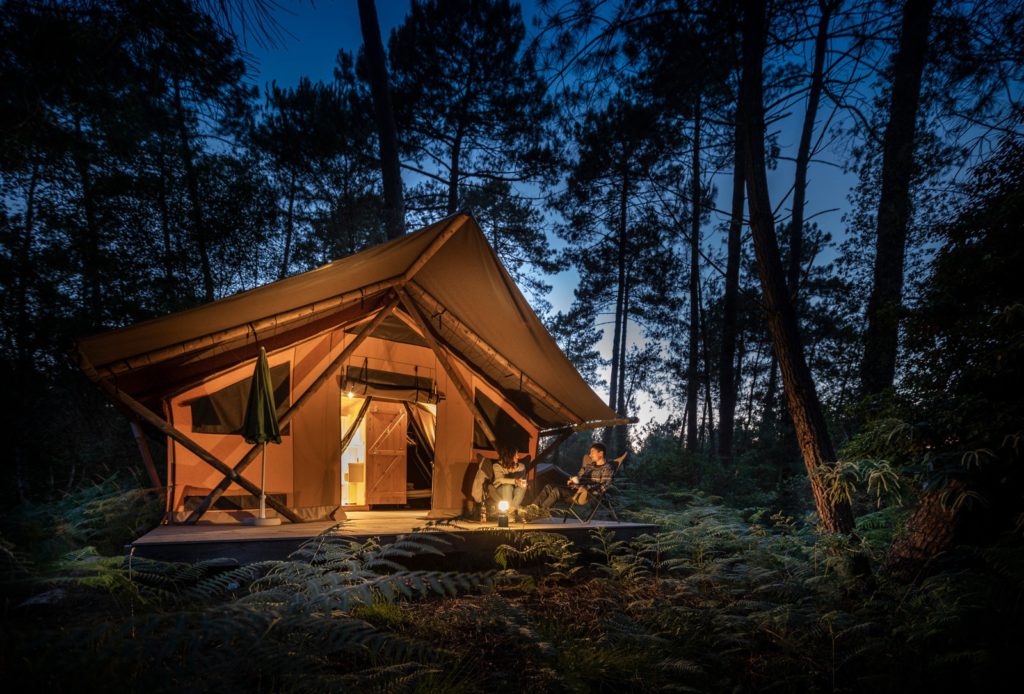 Huttopia — pioneers of elevated camping in the heart of natural environments — has had plenty of experience in the glamping scene in Europe. Its White Mountains outfit, opened in 2017, is their first destination to launch in the United States, and its terrific location makes this glamping site a great contender on our best glamping sites list. Located less than three hours from downtown Boston, nestled amidst a secluded paradise with the beautiful Iona Lake at its doorstep and scenic views at every turn, Huttopia White Mountains makes for a wonderful escape into the wilderness for a weekend. A small collection of wood-and-canvas tents are available, all with many of the comforts you'd find at home — electricity, real beds, shower amenities, sheets and towels, and heavy blankets to stay warm. The largest Trappeur tent (fitted with a private compact bathroom, two bedrooms, beds with mattresses, and a kitchenette) is able to fit up to five people.
There are some great facilities at the campsite to make good use of, from a heated saltwater pool to a neat little onsite bistro crafted out of an Airstream trailer equipped with a full commercial kitchen and a snazzy flatbread pizza oven. And don't forget: you're surrounded by the delightful trailheads and swimming holes of the White Mountain National Forest. Bring along your own kayak, paddleboard, or canoe (or rent them at the campsite), go fishing for largemouth bass, and engage in some evening activities available during the high season like live music gigs and s'mores nights!
Address:
Huttopia White Mountains
57 Pine Knoll Road
Albany, NH 03818
Sandy River Outdoor Adventures, Rice, Virginia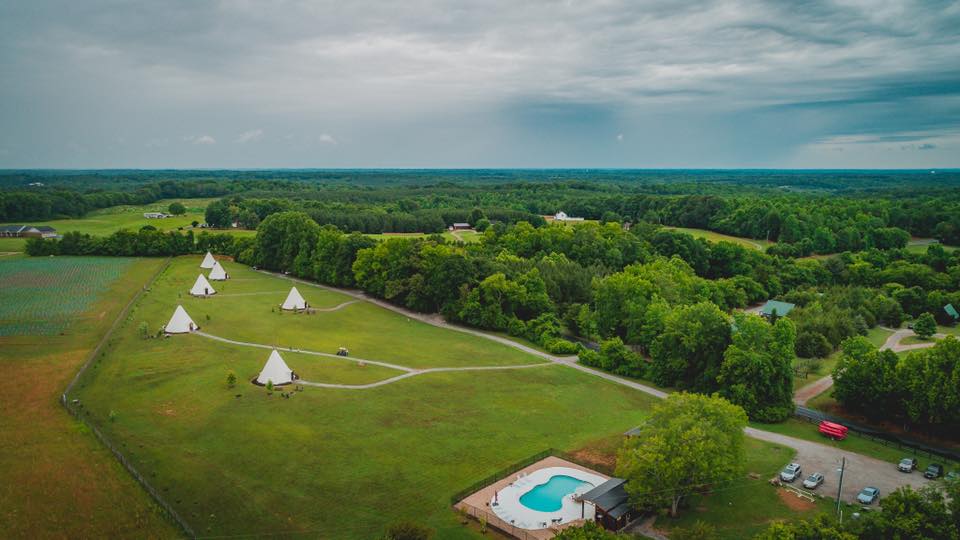 Rounding off our list of best glamping sites in the US is the family-owned and operated Sandy River Outdoor Adventures. While we've mainly seen safari-style tents offered at most glamping locations, Sandy River offers six highly-Instagrammable tipi tents that include the likes of heated floors, air-conditioning, a kitchenette, and a full bathroom to add to the indulgent experience. Sandy River itself is a multi-adventure venue that caters to families, friends, couples, and groups. Other than tipi lodgings, you'll find log cabins, an adventure park with an extensive high ropes course and over 20 ziplines, a swimming pool, and bike and boat rentals to complete your stay.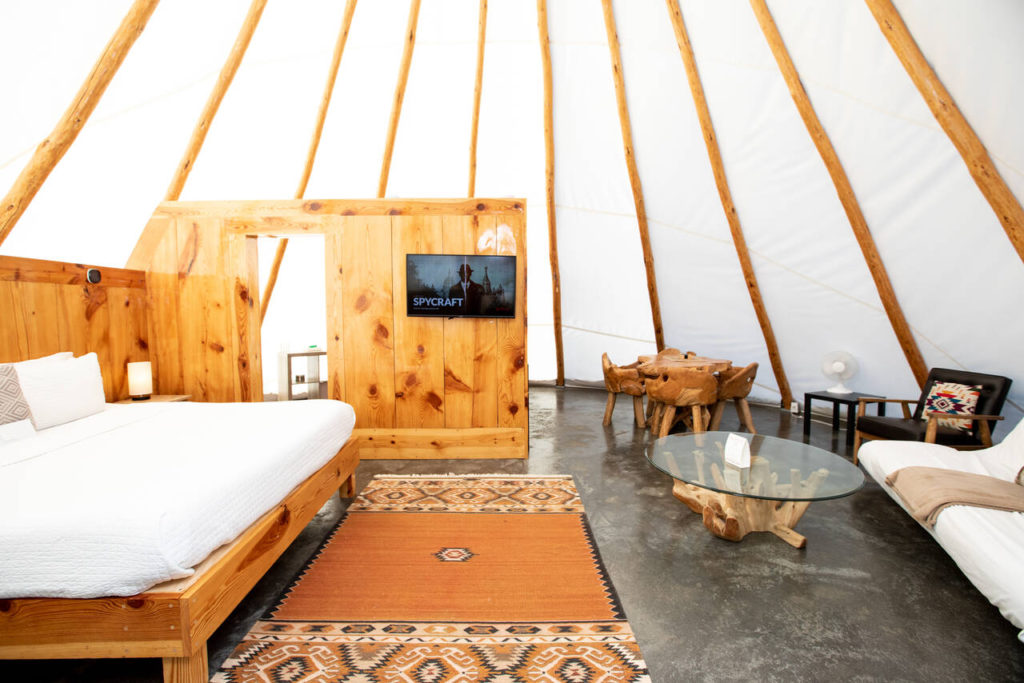 Of course, being on farmland, you can expect some quintessential farm stay experiences — enjoy seasonal vegetables from the garden, nosh on fresh eggs laid by the resident hens, and wander the expansive grounds of Sandy River. If you're looking for a fun, rustic-chic way to spend your downtime near Farmville, Virginia, book out one of the spacious Sandy River Outdoor Adventures tipis for a memorable vacay. The bonus? Accommodations are open year-round, even during winter, so there's no bad time to plan your stay.
Address:
Sandy River Outdoor Adventures
147 Monroe Church Road
Rice, VA 23966
---
With this list of best glamping sites, we hope you now have a few good ideas to plan your future luxury camping adventures in the wild. We have more ideas to inspire you if you enjoy the great outdoors — check out our article on the most epic US national park road trips!
---
About TourHero
TourHero is a social travel platform that enables you to travel with like-minded people and fall in love with the journey. We work closely with handpicked local operators to ensure every experience curated is unique and exclusive to your travel group. Come with us on epic adventures and create memories that last a lifetime!