Miami is a melting pot of culture, art, and music. With its pristine beaches, various water activities, and entertainment venues of all kinds, it seems anyone can find their place in "the magic city". If you're planning a trip to Miami, use this nightlife guide to create the perfect itinerary.
Nightclubs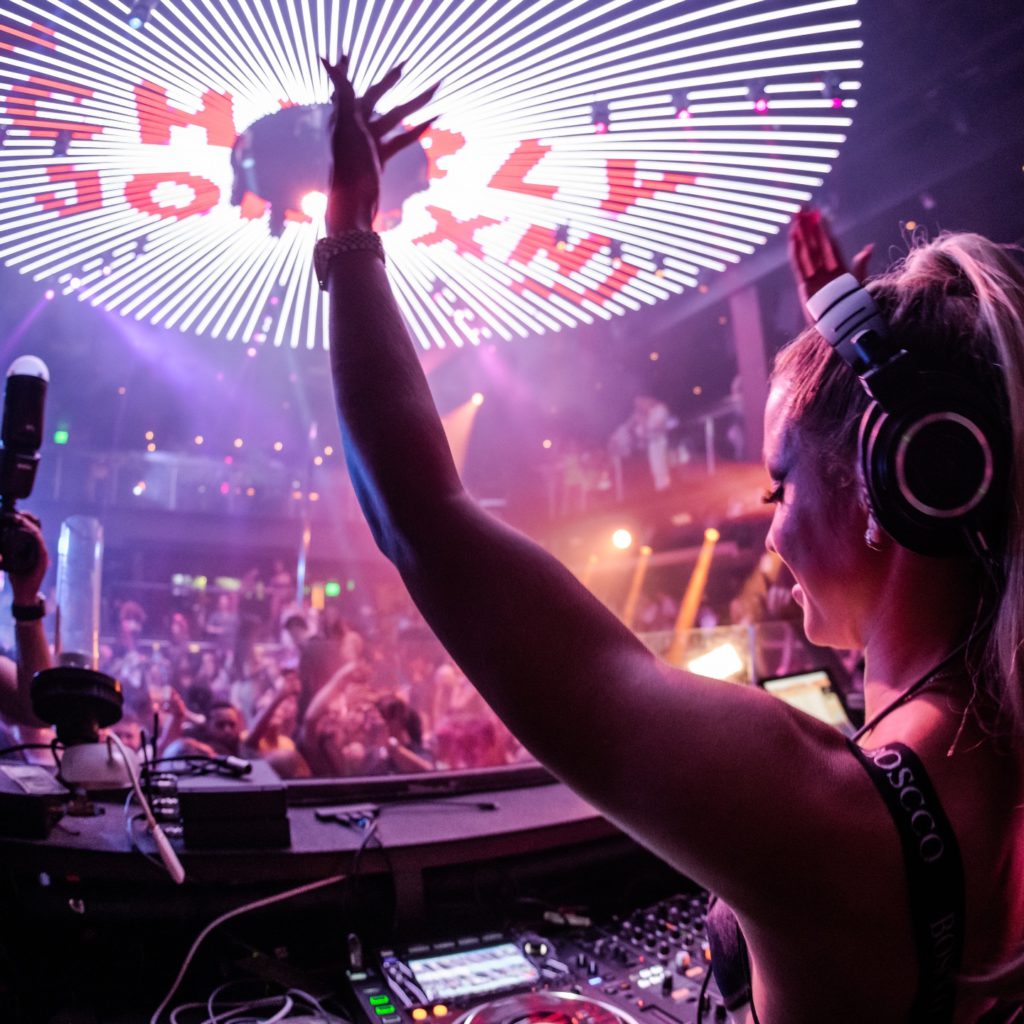 Miami nightlife is comprised of various aspects of music, art, food, and culture, but its club scene is known around the world. This city has a venue for every type of traveler. Check out the list below to find yours.
VIP status
Miami has a high-class vibe with clubs that reflect the celebrities that live and party there, which means there is no shortage of VIP options when it comes to Miami nightlife. If you're looking for that royal treatment in a gorgeous venue, look no further than these four clubs:
Best bang for your buck
Looking to have a fun night out but don't want to break the bank? This list has the perfect selection of clubs that will make you feel like a star without spending a fortune.
Casual and chill
You don't have to dress up and spend thousands to listen to international DJs and dance in a posh venue. This list of clubs gives you the best of all worlds without breaking the bank or your closet.
Bars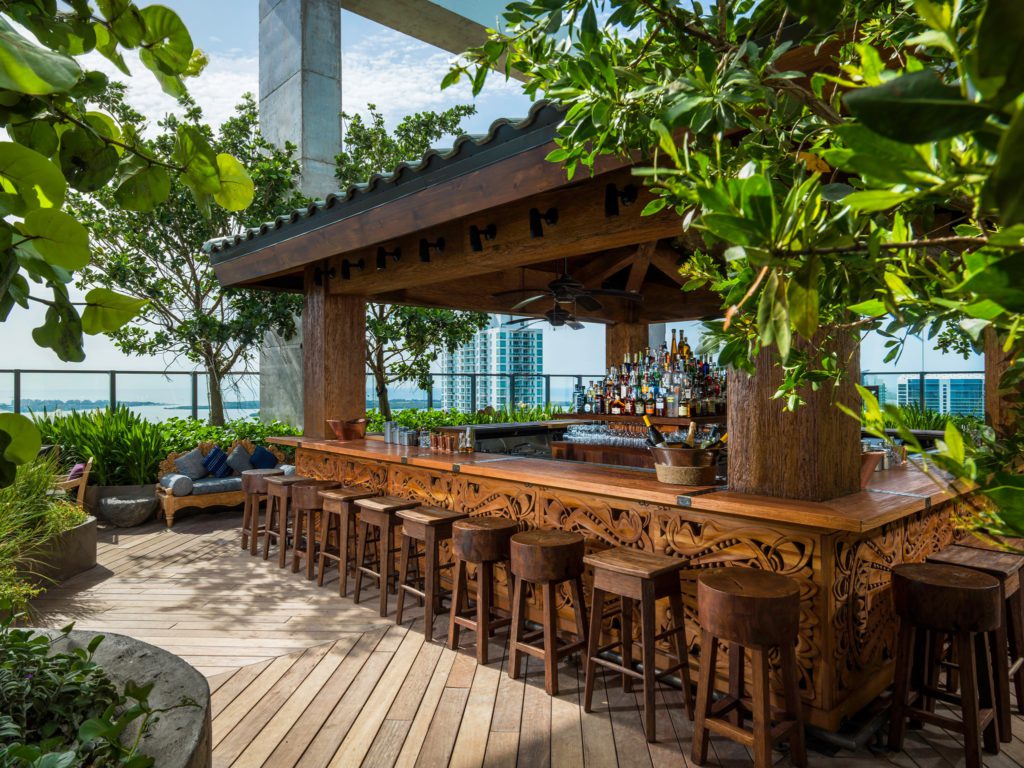 Clubs not your scene? Miami is also home to an incredible array of bars and restaurants that range from cash-only dives to celebrity-status venues. This list can help you get started when it comes to planning your Miami getaway.
Rooftop bars
Nothing beats a good rooftop bar, especially in a warm-weather city like Miami. This short list of rooftop bars covers our favorites, each with their own style, flair, and fun.
Artsy and hip
Bougie and hip have become the name of the bar game in most of the major cities. Check out these artsy bars that are sure to impress, from the decor to the drinks!
Dive bar central
There's nothing better than a great dive bar, and Miami has some of the best. Here are a few local favorites that will make you feel right at home in the city.
Bayside Marketplace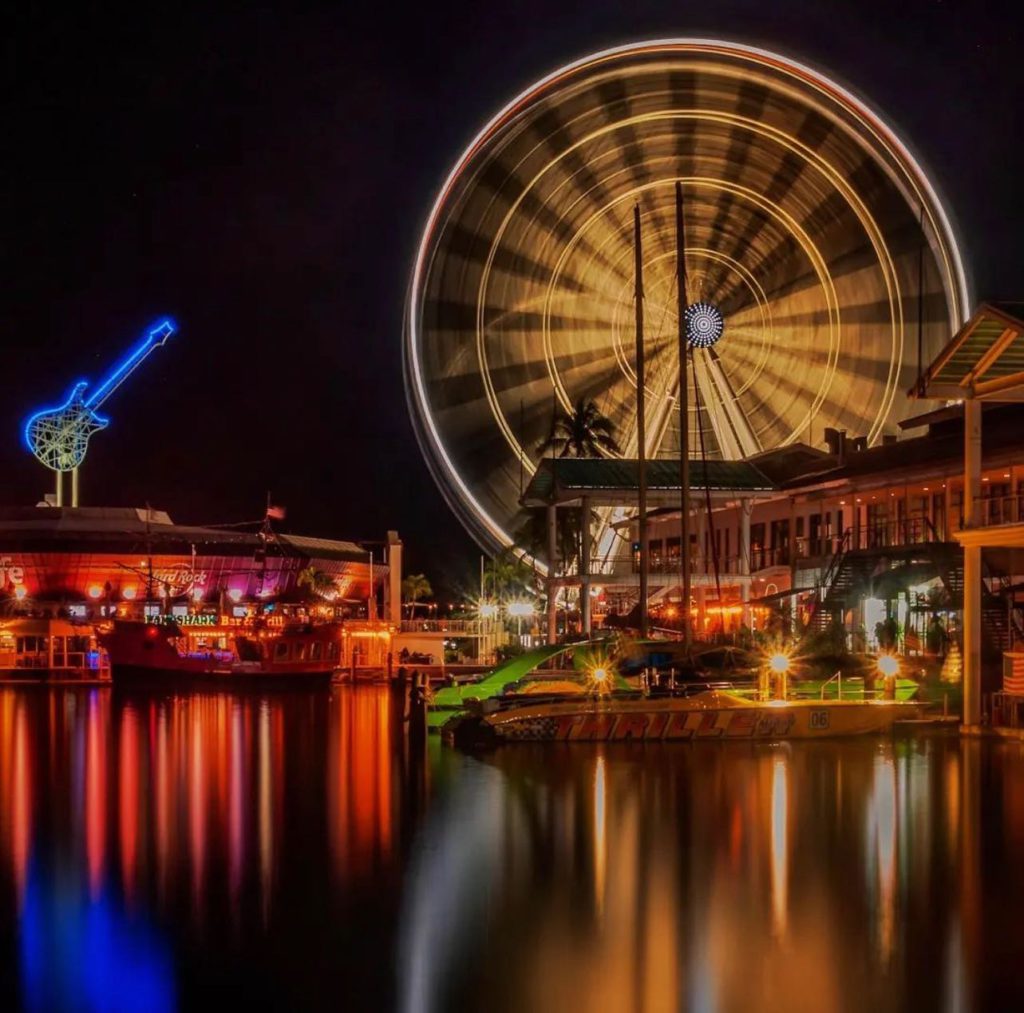 The Bayside Marketplace is located on the water in downtown Miami. This night (and day) time hotspot has everything from stellar restaurants and brand-name shopping favorites to fun zones and water sports. We recommend checking out the Skyview Observation Wheel, a perfect Miami nightlife activity. Enjoy the custom light show and the neon glow of downtown from leather seats with catering options for special events. Do some shopping, enjoy a ride high above the city, then grab dinner and drinks for a perfect night out.
Sunset cruises
If you're heading to Miami for vacation, you have to get out on the water at least once, and what better way than a sunset cruise? The area offers all kinds of sailing options, some with open bars and booze cruise themes, some featuring live music and DJs, and others offering full dinner options. Cruise around Biscayne Bay, sail past Millionaires Row, and enjoy the colorful sky as the sun sets over the Miami coastline.
Strike a pose in the Miami Design District
The Miami Design District is a vibrant retail and arts neighborhood that features fashion stores, art galleries, public art installations, and elevated eateries. This 18-block expanse is the real deal, with storefronts for brands like Prada and Balenciaga. Walk around and window shop, enjoy a high-end meal, and stop by the most popular installations for selfies. Our recommendations are the Buckminster Fuller's Fly's Eye geodesic dome and the Sol LeWitt's sculpture garden.
Head to Lincoln Road Mall
If you love to eat and shop, make your way to Lincoln Road Mall. This 10-block walkable strip features indoor and outdoor dining of all kinds, from food trucks to elevated fare. You can shop until you drop at stores such as American Eagle and Gap to high-end options like Diesel and Lacoste. Check the local schedule for live events, too. The area offers movie nights, farmers' markets, antique shows, and more!
Get cultural
Miami has a diverse grouping of cultures, and what better way to spend a night in Miami than immersing yourself in at least one! During your time in the city, check out Little Havana for sumptuous food options, play dominos in Maximo Gomez Park, enjoy an artsy show at the Tower Theater, or dance the night away at one of the live music clubs. Next, make your way to Little Haiti. Here, eat up all the Caribbean delicacies, explore the marketplaces for souvenirs, and take in the art galleries to fully connect with Haitian culture.
FAQ about Miami
A few other things to note about Miami nightlife before heading to the city:
Hours of operation
Miami bars close at 2:00 am, however, many bars and clubs have licenses that allow them to stay open until 5:00 am. Some clubs even have 24-hour liquor licenses!
Transportation
Miami has various taxi services that you can call as the night plays out. In some areas, you may be able to hail a taxi, but they are not as common compared to places like LA and New York. You can also use app services, such as Uber and Lyft, too. For public transit options, Miami has the elevated Metrorail and Metromover train systems, along with the Metrobus that covers 95 routes.
Safety
Overall, Miami is a safe city, but like any city, there are some areas you don't want to be walking around in at night. Stay with your group, don't go wandering away from crowds, and call a cab if you have a long walk back to your accommodation.
Need help planning a Miami getaway? Reach out to us at TourHero, and let us take the work out of travel.
---
About TourHero
TourHero is a social travel platform that enables you to travel with like-minded people and fall in love with the journey. We work closely with handpicked local operators to ensure every experience curated is unique and exclusive to your travel group. Come with us on epic adventures and create memories that last a lifetime!